Khao Lak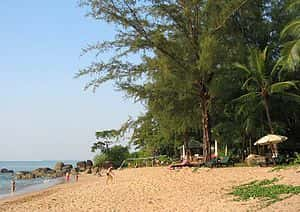 Khao lak Sex Guide advises where to find sex, working girls, prostitution, street hookers, brothels, red-light districts, sex shops, prostitutes, erotic massage parlors, strip clubs and escorts in Khao lak, Thailand.
Khao Lak (เขาหลัก) is a 20 km long strip of coastal resorts in Phang Nga Province on the Andaman Sea beaches of Southern Thailand, about 100 km north of Phuket Town. When the disastrous tsunami of 2004 struck South Asia, the Khao Lak region was the hardest-hit area in Thailand with over 4,000 fatalities, more than 3,000 more who were never accounted for, and thousands who were injured. It has since made an impressive recovery and is once again a popular tourist destination. Unlike Phuket, the many resorts in the Khao Lak area cater mainly to families and those looking for peace, quiet, and nature.
Sex Scene and Prostitution
Some people find the girly bars distasteful. For others it is all part of the colour and vibrancy of the nightlife scene, while for some it is the main reason for coming to Khao Lak. The sex tourism sector in Khao Lak is not near the scale of that found in Bangkok or Pattaya but it is still an attraction for a large number of visitors.
You do not need to be an active participant to go to the go-go bars. Couples, families and tour groups mingle with the sex tourists wandering around the bars. For many visitors to Thailand, a visit to a go-go bar or sex show is on their must do list. If you are not offended then it is a great place to drink and people-watch. Everyone is welcome in the bars. If you go as a couple or make it clear that you do not want the attention of the girls then they will leave you alone (eventually). However if you want to talk to the girls in the beer bars they will be happy to have a chat or play bar games such as connect-four or dice games. If you want to reward them for their time, then buy them a drink or give a tip.
Where to Get Sex Now
It is easy to get sex online in Khao Lak. You just need to find the best available girls. See Girls Online Here!
Red Light Districts
There is no window type red-light district in Khao Lak, but the prostitution is common at the massage shops and bars.

You can always visit Takua Pa which is a 48,000 citizen town some 35 km northeast of Khao Lak. It's also in the Phang Nga province and has much better nightlife and more prostitution than Khao Lak. There is pretty much nothing to do during the day in Takua Pa and most tourists visit Takua Pa for the waterfalls at the daytime and hookers for the nighttime. Short time rooms in Takua Pa costs 500 thb. If you have good driving skills, it is better to rent your own motorcycle as there are no taxis in Takua Pa and otherwise you'll have to pay the taxi or moto driver a high fee since they have to wait for you while you visit massage salons, bars and fuck hookers in the short time rooms.
Prostitutes and Sex Workers
There is no such scene in Khao Lak. There is no area specifically designated as a girly bar zone. There are plenty of bars and there are few Thai girls in those bars that are willing to go with men for money. However, please do not make the horrible mistake of assuming that any attractive Thai girl in a tourist bar must be available. It may seem strange but Thailand is still a very conservative country and most girls will be deeply offended to be treated in such a way. If a girl is available she will make let you know.
As far as we know there is only one bar in Khao Lak that could be considered as strictly a girly bar. The Tha Bar is on the main road in Bang Niang. It is not brazen, there are no girls wrapped around poles and no girls dragging men in off the street. However if you go in then girls will approach and make themselves available. They have rooms, the bar fine is around 500-baht and the girl is around 1,500-baht.
Street Hookers
Khao Lak is more popular with families and you will not find street walkers like in Pattaya or Phuket. Anyway it is Thailand so you'll find a few rooming around the restaurants.
Go go Bars
Usually when you enter a bar, it won't be long before one of the ladies has approached you, but if you'd rather sit alone and choose one, they'll leave you alone. In the actual go go venues, they'll press you to buy a drink. Drinks in Khao Lak go go bars aren't too expensive but there is a premium on the so-called 'lady drinks', which are about 120-150 baht and generally watered-down. This is how girls earn their night's bar wages.
Then there is the 'bar fine'. When you have decided to take a girl home, you'll have to pay this to the mamasan (supervisor), which can be up to 500 baht, but usually 300 baht. You should also agree to a price for the girl before leaving and this will be anything from 1,000 to 3,000 baht (depending on short time or whole night), and how pretty she thinks she is.
Nightclubs
Zantika Pub has a high stage for the live band, 2 floors and younger party crowd who are mainly locals. Rarely any freelancer girls, but many hot girls after midnight.
Build Factory is about 1km further down north the main road from Zantika Pub.
Build Factory is popular among the sexy Khao Lak girls who have white skin and are very slim. Red Label costs 1000thb. So the price and value is great. There are some freelancer girls also at the Build Factory nightclub, but mostly just normal hot girls looking to have fun.
Erotic Massage Parlors
Many massage parlours in Thailand are just that - places to get a good massage. Most massage parlours will give just a massage if that is what the customer wants but some also offer extra services (a massage with a 'happy ending'). Open-air massages and massage parlours where the customers are separated by curtains will only offer massage. Massage parlours that provide a private room may well offer extra services.
Khao Lak is one of the most popular family tourism destinations in Thailand and therefore the massage business is completely different to Phuket and there are much less massage salons and massage girls shouting on the streets. But if you like to get a massage in Khao Lak, the cost ranges from 200 to 500 baht. Extra services vary from 300 to 2000 baht. Most massage salons in Khao Lak stay open only until the midnight.
There are no Soapy Massage or body to body massage parlors in Khao Lak and most massage salons in Khao Lak look very "clean" from the outside. But you can still see some sexy girls at the massage salons with mini skirts, but their outfit is not as flashy as in Phuket example.
Transsexuals / Ladyboys
You can find Khao Lak ladyboys from the dating sites, tinder, from the few massage shops, nightclubs and from the streets at night.

Moo Moo Cabaret Bar has a 1,5h show going on every night at 10pm and the entance is free of charge. Drink prices are following: beer 120 thb, spirits and coctails 150 to 200 thb . Normally you are not allowed to take photos at these type of shows, but the polite staff and dancers of the Moo Moo Cabaret Bar usually allow the photos. Moo Moo Cabaret Bar is open until 1 am and t-girls are usually very happy if they can have drinks with you.
Ladyboy massage parlors
In almost half of the massage parlors in Khao Lak you can find at least one ladyboy. They are willing to do happy ending massage if you give them some tip (300 - 500 bath).
Street Action
There are lots of freelance ladyboys around Khao Lak. The best and most crowded place to find a ladyboy is outside of Entertainment area while closing. You can see alot of ladyboys on the streets in late night after bars closes and they come to you. The average price for a ladyboy prostitute from the street is between 400-1500 baht. It depends how good you negotiate. Be always aware because its common that they try to steal something or find up reasons to get more money after sex.
Gay and Lesbian
Gay modeling in internet is getting more popular all the time and it's a big market alongside with gay porn. You can watch gay live sex also in Khao Lak as long as you are connected to internet. Check it out: Gay Live Sex Video Chat
Sexual Services for Women
If you are open to local men, your chances of dating are not much worse than in other countries. To be fair: It's true that a western woman will have it a bit more difficult than her western counterpart. Thai guys don't throw yourself at you – and those that do are usually no good. But there is definitely an interest and curiosity from the side of Thai men that is often challenged by shyness and a lack of English skills. Plus many Thai men approach women in a very subtle way. Maybe you've been approached and didn't even notice it. Learning the language and Thai culture will make your live easier (again: Duh! It's common sense!).
Sex Shops and Adult Stores
If you don't feel like visiting or cannot find any local sex shops in Khao Lak, you can easily order adult products from Online Sex Shop. In Khao Lak there are lots of street hustler selling fake Viagra, Cialis and Kamagra. You can fin dildos and porn dvd movies under the table from street vendors.
Escort Services & Agencies
Finding an escort when you're travelling can be a bit tricky. An ideal alternative to escorts is a girl who is looking for a mutually beneficial relationship. There are thousands of horny girls willing to do anything for a generous guy. Click Here to hookup with a beautiful young woman now.
You'll find a lot of escorts in Khao Lak online.
Sleeping
Can you bring girls back to your hotel? Some Khao Lak hotels don't mind you bringing bar girls back to your room as long as you are discreet, while others forbid it or will try to charge you extra.
Stay Safe
Always wear a condom - it is just not worth the risk. If you do not have a condom then the girl should have one.
Remember no matter how lovely the girl may seem, she is working in an industry that is likely to corrupt. When the girls first arrive in Phuket, they are usually well-mannered Thai country folk. However, they very quickly learn the tricks of the trade. And above all else, they are working for money.
If you take a girl back to your hotel then many hotel receptions will ask to see the girls ID card. They do this to ensure the girl cannot get away with committing a crime against you. Theft is the main danger. You go to the shower and she takes your wallet and leaves. You go to sleep and she takes your valuables and is gone. You are not looking and she takes your jewelry before kissing you good-bye. Remember if the girl knows you are on holiday for two weeks, then she can disappear for two weeks. If you take a girl from a beer bar or go-go she will be easier to trace but it is no guarantee. You could consider asking to see the girls ID card yourself. It might not be romantic or charming but let's face it, this is not romance. You can check her date of birth to be sure she is over 18 by subtracting 543 from the Thai year.
There have been many reports from Bangkok and Pattaya of girls doping customers. The last thing the customer remembers is having a drink with a girl and the next thing he knows he is waking up with a stunning headache and his valuables gone. There have now been a few confirmed reports of this happening in Phuket. Men are often reluctant to report these crimes so there is no knowing how prevalent this is in Phuket. We do not believe it is common in Phuket but still it is a good idea to be careful with your drinks.
Theft from customers is not the most common scam. The girls know they can make much more money if the customer gives it voluntarily. The sob stories the girls tell their customers are brilliant heart-tugging tales of woe designed to elicit sympathy. The punch line will invariably be that she needs to make big money to pay for someone's hospital care or to save her family from starvation. The old-hands call them sick buffalo stories and treat them with great scepticism. In fact, there is often an element of truth to the stories. The girls do come from poor backgrounds and their families are often suffering hardship. That does not mean the final punch line for money is true or that you have any responsibility to pay for it.
Another common scam is the girl will tell the man she will stop working in bars and be faithful to him, if he can send her money. The man will then go home and send the girl regular payments thinking he is keeping her out of the bar. Many of the girls have several western boyfriends on the go at the same time sending money and they are still making more money from new customers in their bars.
It is not fair to portray all the girls as scam masters. Many are honest, hard working girls trying to make a living as best they can. Lots of western men have married Thai girls they met in bars and are very happy. However, the sex industry is a corrupting influence and you should be on your guard. There are no hard-and-fast rules - every girl is different and should be judged individually. A good dose of cynicism is sensible.
See Also