Siem Reap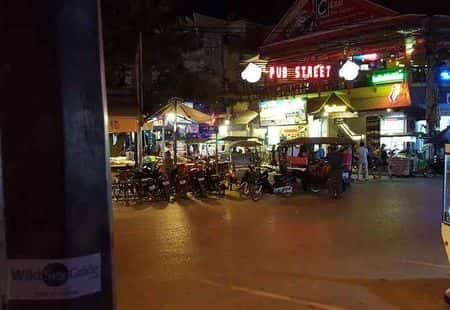 Siem Reap Sex Guide advises where to find sex, working girls, prostitution, street hookers, brothels, red-light districts, sex shops, prostitutes, erotic massage parlors, strip clubs and escorts in Siem Reap, Cambodia.
The town of Siem Reap, in northern Cambodia, is the primary access point for the Angkor Archaeological Park.
Sex and Prostitution in Siem Reap
Prostitution in Cambodia is illegal, but prevalent.
WikiSexGuide User (Hand E. Mann) Review, September 2015: "The tuk-tuk drivers and motor bike taxis in Siem Reap are experts at helping tourists find girls. Approach them by day or take a walk after sunset and it won't be long before someone rolls by with an offer to take you to the girls.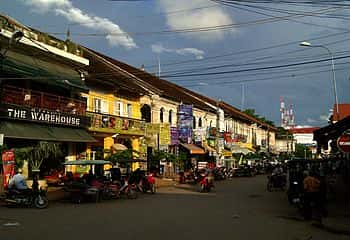 Two street girls quoted me $60 for all night, $30 for an hour or $40 for an hour with two. The tuk-tuk was $3 and the room was $10. Condoms were $1 each so take your own because I used three."
In 2018 prices have drastically increased due to the popularity of the city. You can still find girls for $50 one hour one girl and try to bargain for $40 with "mamasan" but you'll not have local girls for this price, however generally the" room" is included. Nice looking girls and local are between $70 - $100 and even more including the room.
Pricing Policy
Pricing policy of Khmer (Cambodian) prostitutes is quite clear. Prices are basically determined by the nationality of the customer. Minimal, basic service cost - $20 for a date. There is a lot of countries, and Cambodia is not an exception, where it is possible to negotiate with the girl and try to go with her for less money, but it is considered as a mauvais ton, and to get paid less than twenty mean now to lose the face and respect. Usually, twenty dollars price is only for Khmer people and the foreigners, long time living in Cambodia. It has been said that local men can sometimes get it much cheaper (for example less than $5). Fee for travelers is a little bit different. For the barangs - the white tourists - 20 - 30 dollars to pay, the Chinese and Japanese - are even more expensive - up to $50. Finally, the highest fee is established for black skin tourists - a hundred dollars and not a cent less. This is due to the fact that for some reason black guys cause Khmer woman absolutely sincere, undisguised disgust. To go with a black man for less than a hundred dollars and all the girlfriends will be laughing! Incidentally, black men are blaming Khmer prostitutes for racist behavior.
Siem Reap is considered as one of the most popular centers of tourist attraction when it comes to amazing night life, bars and nightclubs. Apart from that, you can come across some girly bars where one might get hooked up with a localite with an intention of getting lucky with her. However, there are no soapy massage parlors in and around the place. Instead of that, there are several Karaoke bars situated in and around Siem Reap. So, you can get an alternative it seems. It is to be noted that are various happy ending massage service providers in and around the place. Street hookers are found in plenty as well.
Red Light Districts
When the sun goes down, the city's Red-light district emerges.
WikiSexGuide User (Hand E. Mann) Review, September 2015: "Pub Street is near the Old Market and has many tuk-tuk drivers and motorbike drivers who will approach men who aren't accompanied by women. There are many girls there and they are just as forward. There are plenty to choose from so don't settle for the first one to make an offer. You can always go back half an hour later."
Khmer Pub Street
There is a strip of beergardens that serve food and beer in an outdoor setting. They have girls sitting near the entrance. You can choose to have one sit with you for about $1.50 - $2.00, You would be asked to tip her a few bucks when you leave. Beer is $1, sometimes only $0,50! Some of the girls would be willing to go home with you for about $50, but you can try negotiating. This strip is located near the Platinum KTV. Walk past it and you will find 2-3 blocks full of these beer gardens. It's on the same block as the Hub Station Club. You can just click this link to find: Khmer Pub Street
In 2018 Khmer Pub Street is still a nice place, I've enjoyed good food, cheap beers and nice company there but when it comes to more, most girls will refuse or charge even more than $100. Moreover most girls there haven't a really good English.
You can always choose to take a look around the place and visit various locations where adult services are available in plenty. The street workers and freelancers can also be hired for the purpose of availing adult entertainment services from them.
Prostitutes and Sex Workers
WikiSexGuide User (Hand E. Mann) Review, September 2015: "I was approached by numerous girls, paid two of them for an hour and never saw a pimp or any sign of trouble. I paid after the event."
Because of the review above, this information might be outdated or doesn't just happen that often: Siem Reap - for unknown reasons, is the only Cambodian town for love-for-sale business controlled by local pimp clans who oversee all the Khmer and Vietnamese prostitutes. Unfortunately, you cannot find a prostitute without some male will ask you to pay the full amount of money for girl services. As a rule, in Siem Reap, you have to pay 100% of the price an advance in the pocket of pimps.
Early in the night a sex worker in Siem Reap will let the client entertain her first, having drinks, dancing and playing games of pool before the business starts. As the night wears on and the prospect of going home empty handed looms, however, the sales pitch gets more aggressive. It's no surprise either. With the punishments handed out by angry pimps for an unsuccessful night, the girls here are very motivated sellers. Nobody wants to be the one coming home empty handed when the sun comes up.
As already discussed, the prostitutes and sex workers are mostly found working in bars, nightclubs and some massage parlors. You may visit any of these places and expect to be served well by the working girls there.
Street Hookers
Price of a street prostitute in Siem Reap is around US$30.
Rumor tells that most clubs, beergardens and KTVs are closed. That also means that there are more working girls and ladyboys on the streets of Siem Reap.
There are lots of street walkers hanging around the bar street. Police do raids to this area sometimes and drive away the hookers.
One can find street hookers in and around the Pub Street area in Siem Reap. These hookers would easily go with you for a short time sex in a hotel room. You may have to pay them an amount of 20-30 USD for the service they would provide.
Hookup and Pick Up Local Girls
Meeting local girls and getting laid for free is fun! Read more on how to pick up girls in Siem Reap: https://hookuptravels.com/wiki/Siem_Reap
Live Sex Cams
Can I watch Live Sex Cams in Siem Reap? - Yes, you can! Basically you can watch our online live sex shows for free anywhere in the world if you're connected to internet. Join to get 10 free private teasers and 9.99 credits for free! You can choose any girl from our trusted Live Sex Cams!
Live Sex Cams are booming at the moment. Webcam models can be found from all over the world and you can find girls, guys, trannies, couples and groups of different ages performing to you. Watching live sex shows is usually free, but if you buy some credits, you will have much better chances to see adult action as desired! It's possible also to hire a webcam model to a private chat room where you can ask the person to fulfill your fantasies.
Where to Get Sex Now
It is easy to get sex online in Siem Reap. You just need to find the best available girls. See Girls Online Here!
Adult Locations
From places where street hookers are found to night markets and other girlie clubs and bars in and around the place, adult locations can be found widely spread. As mentioned earlier, the Pub Street area is considered as a place for adult attraction in Siem Reap.

Escort Services and Agencies
Unfortunately we don't list in this category!
Finding an escort when you're travelling can be a bit tricky. An ideal alternative to escorts is a girl who is looking for a mutually beneficial relationship. There are thousands of horny girls willing to do anything for a generous guy. Click Here to hookup with a beautiful young woman now.
There aren't many escort agencies in Siem Reap, but now when internet using is getting more popular, escort services are getting more popular as well. So you can browse the internet and search for some escort agencies that might be available in and around Siem Reap.
Erotic Massage Parlors
Unfortunately we don't list in this category!
There are quite a few massage parlours in Siem Reap, and definitely not all of them are offering massage only. The best massage parlors can usually be found around the Pub Street. Usual cost for one hour massage is from $6 to $8. But it can be bargained down to a $4. Common trick that massage places do is they have the youngest and prettiest girl getting the clients in and then older girls do the massage. Other trick is that you pay $6 for one hour massage. But once you are naked and lying down on the massage bed on your face down; you will suddenly feel 8 hands on you (4 girls). These girls will massage you the full time or until you cum and then you need to pay the same $6 for all of them.
You can always bargain with them if you know this. So either tell them to leave or say that you will pay example $10 for 4 girls massage.
Hand job will cost around $5 to $20 more.
You won't find soapy massage parlors in and around Siem Reap. However, other happy ending massage parlors have the facility of providing extra services for adults. The girls working in these parlors offer hand jobs as well. You can choose to enjoy Khmer Body Massage for an amount of approximately 5 USD.
If you want to go local, with girls that are not specialized in foreigners, I found a small erotic massage parlor. When you are at the intersection of road number 6 with the river, go about one kilometer direction East (airport on your back). You will see a big Honda sign on your left handside. On the opposite side of the road, on your right, a big street begins - Lok Taneuy Road, although there are no signs. Take that road for about 500 meters. On the opposite side, you will see a sign "579 massage". The place is very small and basic, cabins are separated by thin walls and their "doors" are just a curtain, privacy is minimal, so is hygiene (don't forget your condoms). The girls speak only three words of English: massage, sleep and OK.and don't have the same looks as those of Pub Street. Sex is US$ 30 and not very sophisticated, but the girls are super nice though and I had a very good time with one of them.
Brothels and Sex Clubs
Some of the Karaoke Bars and Erotic massage parlors in Siem Reap sell sex, so these premises are the local version of bordellos which are quite cheap for western standards. You visit these karaoke bars and local massage parlors in order to enjoy services that are related to adult entertainment and recreation. The girls outside the massage parlors offer hand jobs as well.
Strip Clubs and Striptease
Apparently there are no strip clubs in Siem Reap. But if you pay enough for the local prostitutes, they will dance to you all night long. You can either take them to cheap hotels or they might provide you with private rooms
Karaoke and KTVs
These are hostess clubs popular with the locals, room charges are about $5-10 per hour, beer is $2-4. And the girls are about $5-$10. Most of these places are fronts for prostitution, but it's up to the girl if she's willing to go home with you. It will cost you anywhere from $45 - $100 for that. Many of these places are two menus. One for Cambodians, which has cheaper prices, and one for foreigners, which have higher prices. If you see that the beer is $4, they probably gave you the foreigner price.
There has been rumors that KTVs in Siem reap have been shut down, but according to WikiSexGuide User (Hand E. Mann) Review, September 2015, most KTVs are still running as usual.
Platinum Entertainment.
Premier.
Gold Sand (金沙).
Pyramid.
Pink Paradise.
La Luna.
Chanel.
Venus.
New Star.
Feelings.
Top Town. WikiSexGuide User (Hand E. Mann) Review, September 2015: "Top Town is a KTV and there were 40 girls sitting around the foyer. The mamasan was very pushy and was more like a sergeant-major so I left. You will wait in a lounge and she will send in girls until you find one that you like. You will pay $60 for an hour. You and your girl are taken to a room about two minutes away. The motorbike and room cost extra."
There are several karaoke bars that can be found in and around Siem Reap. Apart from that, you can also find KTV bars available in Siem Reap. You can rent a private karaoke room to spend time with the girl of your choice. The small KTVs are available for an amount of approximately 1.50 USD. In case of bigger clubs, it might cost you up to an amount of 10 USD for an entire night.
Swinger Clubs and BDSM
ALT.com is the best place for local singles, swingers, and couples in the BDSM community to connect with those interested in submissive sex, power exchange, locating persons for new slave roles, erotic BDSM, bondage & fetish sex, as well as live sex dates. Find thousands of play partners for whatever your fetish may be; bondage, foot, cockold, spankings, role-play, electric or water play, sadism and masochism. So whether you have the desire to explore your unrealized fetish fantasies, or you are extremely experienced and would love to train someone new, ALT.com is a community designed for people with like-minded interests to find and connect with each other.
Swinger clubs (lifestyle clubs), are formal or informal groups that organize sex-related activities or establishments where patrons can engage in sex acts with other patrons. Probably your best choice is to find an open minded tourist couple to have fun with. In case you are not comfortable in approaching couples directly, then consider joining online adult forums and swinger's communities. This would help you get in touch with enthusiastic couples and shall also allow you to stay updated with the latest news related to swinging activities and parties.
Sex Shops and Adult Stores
If you don't feel like visiting or cannot find any local sex shops in Siem Reap, you can easily order adult products from Online Sex Shop.
You can find Viagra from the Siam Reap pharmacies, but there are counterfeit drugs floating around in most pharmacies in Cambodia, so be a careful. In order to avoid such complications, simply go online and buy they desired product. That would be easier and safer as well.
Love Hotels and Short Time Hotels
Love hotels are popular in some parts of Asia, especially in Japan. There are also many love motels and short-time hotels in South America. Unfortunately you cannot find any real Japanese style love hotels in Siem Reap.
WikiSexGuide User (Hand E. Mann) Review, September 2015: "The working girls know where the hotels are that rent by the hour."
If you hire services of the local sex workers, then they might take you to the hotels that allow unmarried couples and short time female companions to enter.
Nightclubs and Bars
Rumor tells that most clubs, beergardens and KTVs are closed. That also means that there are more working girls and ladyboys on the street in Siem Reap.
Mickeys might be the only hostess-bar in town. As a second choice you can try The Doghouse (most of the time empty) or Tuk-Tuk Bar and X-Bar (late in the night/early morning).
Siem Reap is one of the most preferred destinations when it comes to nightlife and fun. You can find nightclubs and bars belonging to various price categories. One can try getting cozy with the local bar girls. They might offer you sex in exchange of money.
Gay and Lesbian
Gay modeling in internet is getting more popular all the time and it's a big market alongside with gay porn. You can watch gay live sex also in Siem Reap as long as you are connected to internet. Check it out: Gay Live Sex Video Chat
Same-sex sexual activity is legal in Cambodia when it involves non-commercial acts between consenting adults in private.
Gay Saunas and Bathhouses:
MEN's Sauna Siem Reap, near Wat Po Lanka
Gay Massages:
Hatha Khmer Siem Reap, #0092, rue 22
Bars for mixed Gay and Lesbian guests:
Station Wine Bar, Street 7. Mo, Tu, We, Th, Fr, Sa, Su: 08:00 p.m. - 01:00 a.m.
Linga Bar, Near the Old Market
If you find you may get some gay friendly hotels in and around Siem Reap. There are availabilities of gay friendly bars in and around the place as well. In case, you find it a bit of an issue to locate such places, then take help from the internet. You can also join several communities and forums available online that are related to adult discussions and activities. This will help you develop further insight in such matters. Apart from that, one can become a member of online gay and lesbian dating sites. You will be able to find your gay and lesbian partners more efficiently and easily. But before meeting any of them, consider taking some time to know the person very well.
Other Adult Services
As discussed earlier, there are sex massage parlors and brothels located in and around Siem Reap. So, one can take some time out of his schedule and choose to visit these places in order to avail the adult services that are on the menu.
Dating
Dating in Siem Reap can be a bit tricky due to cultural differences, so your best bet is to sign up for a dating site before your trip so you can meet a few locals ahead of time. AdultFriendFinder.com lets you meet local members in Siem Reap and get to know them on a personal basis before you arrive. Take advantage of site features like live chat and member to member webcams so you can begin flirting before arranging a face-to-face meeting. Since your time in Siem Reap may be limited, get to know each other's desires beforehand, so that when you meet you can start having some real fun.
How to find Sugar Babies and Sugar Daddies
If you are looking for an alternative to escorts in Siem Reap with a girl who doesn't charge by the hour, sugar dating is the ideal solution. There are thousands of beautiful young women at SecretBenfits willing to do anything for a man who will help them pay their bills.
Often referred to as the "Tinder for Older Guys", SecretBenfits matches hot young women interested in pampering older gentlemen. You don't have to be a millionaire at SecretBenfits.com, you just need to be a respectful gentleman who knows how to treat a woman.
Transsexuals and Shemales
Finding someone for transsexual dating when you're on the road can be a bit tricky, so your best bet is to sign up for a dating site before you go so you can find locals ahead of time. TSdates.com is a dating site designed to help you find exactly what you are looking for in your hookup in Siem Reap. Take advantage of site features like live chat and member to member webcams so you can begin flirting before arranging a face-to-face meeting. With over 40 million members, and thousands of transsexual members around the world, TSdates.com is the world's largest site of sex-minded friends for discreet encounters and will help you find your next transsexual play partner.
Where can I find shemales in Siem Reap? You can watch transsexual live sex shows in Siem Reap as long as you are connected to internet. Check Now: Tranny Live Sex Video Chat

You should be careful if you have sex with a Cambodian ladyboy prostitutes. Some of them try to steal your valuables or scam you in other ways. Western and Asian tourists typically pay US$10-30 for a sex with a transgirl in Siem Reap.
You can often find tranny streetwalkers in Bar Street area.
Sok San Rd. has some LB parlors.
If you are interested, you can find different kinds of ladyboy shows on the stage in Siem Reap's night market area.
You may browse the internet in order to find transsexual and shemale escorts advertising their range of adult entertainment services. In Siem Ream you can find ladyboys offering their services to the ones who are willing to avail. So, finding ladyboys and shemale companions in Siem Reap will not be a big deal it seems.
Sexual Services for Women
If you are open to local men, your chances of dating are not much worse than in other countries. To be fair: It's true that a western woman will have it a bit more difficult than her western counterpart. Cambodian guys don't throw yourself at you – and those that do are usually no good. But there is definitely an interest and curiosity from the side of Cambodian men that is often challenged by shyness and a lack of English skills. Plus many Cambodian men approach women in a very subtle way. Maybe you've been approached and didn't even notice it. In Siem Reap you will find also plenty of tourist guys on their way to see Angkor Wat.
You can hire the services of male escorts in Siem Reap or one can simply try and get lucky with a local guy, in case the person is horny enough to spend time with. However, you should always know that it could be a risky thing to share too much of personal information with any random guy. So, always avoid doing that while you are on the verge of getting intimate with the person.
Sleeping and Girl Friendly Hotels
In Cambodia you can always hand out some money if the hotel security gives you a trouble when you bring girls to your room.
Girl Friendly Hotels in Siem Reap:
Grand Soluxe Angkor Palace Resort&Spa
Siddharta Boutique Hotel
Golden Banana Boutique Resort
Borei Angkor Resort&Spa
Bunwin Boutique Hotel
Karavansara Retreat and Residences
Bopha Angkor Hotel
Tara Angkor Hotel
Golf Angkor Hotel
Sonalong Boutique Village and Resort
Golden Sand Hotel
Claremont Angkor Boutique Hotel
Dara Reang Sey Angkor Hotel
Parklane Hotel (reports of $10 joiner fee for a guest)
Angkor Dream Villa
Alliance Villa - charges $10 per girl.
The Mekong Bed&Breakfast
My Home Villa
Jasmine Lodge
Green Town Guesthouse
Hotel 89
Mostly the sex workers and local prostitutes know about certain hotels and other places in Siem Reap, where they would allow guests to enter and share a room with their female companion on a short time basis.
Stay Safe
Most locals are decent people just trying to make an honest living, but a few shady characters try every trick to take advantage of travellers' good will. Be alert to deceptive dealers, but don't let suspicion ruin your trip.
Convenience stores have been known to give incorrect change and pocket the rest. Check your change before you walk out of the store and point out any short changing. Most likely they will admit to their "mistake" and give you the right change.
Street vendors and beggars in competition for generous travellers' handouts have developed cunning, if underhanded, techniques to get your attention (and money). The "beggar army" of young children will come up to you in the crowd and grab your hands, leading you to a store where they will then try and have you buy food/baby milk/water for them. Baby milk (infant formula) seems to be a popular one. It might sound like a more humanitarian way to help than simply giving them money, but once you leave the store the goods you bought for them are sold back to the store owners or to other locals and the cash goes to an adult. Young women with babies cradled in a krama perform a similar trick.
Donation-collectors for orphanages may approach you in the street claiming to be volunteer workers, showing you convincing photos of themselves in the orphanage and a clip board listing the generous donations made by foreign travellers. Though these young adults may be well groomed and speak excellent English it's possible that your donation will go directly into their pockets. A donation (either of money, or your time) to a recognised charity might be a better way to help.
Baby-milk scams may be encountered in the centre of town, outside supermarkets. A very poor looking woman will beg for some milk powder, pointing to her baby. If one cracks and buys the milk, she later returns it to the shop, and the money is split half-half.
US currency is commonly used in Cambodia. Dollar bills need to be checked, as you will find out that you wont be able to change bills with any tiny cut. Fake dollar bills are also wide spread, you will even find some coming from your favorite local ATM.
NGO safari should be avoided. Do not schedule any orphanage visit unless this is the main purpose of your trip.
It is common to be invited to take part in a card game. Don't start playing under any circumstances as you will be "the mark" despite the fact that they will tell you they are scamming a third party. He or she is part of their team and they will be tricking you.
It goes without saying that it is really important for each and every visitor to stay safe while they are planning to get involved in adult activities with either the working girls or with any localite. Avoid being too close to someone at first. Take some time and understand the person's behavior. If you are convinced that everything is fine, then you may think of taking things to the next level. Apart from that, never forget to consider using condoms while you are about to get into a sexual relationship with someone. Care should be taken that too much excitement does not make you neglect factors related to health and sanitation.
See Also