Batam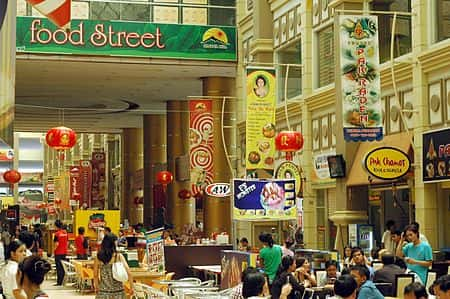 Batam Sex Guide advises where to find sex, working girls, prostitution, street hookers, brothels, red-light districts, sex shops, prostitutes, erotic massage parlors, strip clubs and escorts in Batam, Indonesia.
Batam is a small but busy island in Indonesia of 45km x 25km and nearly a million people, hundreds of multinational owned factories, towns, shopping centres and gateway to the Riau Islands.
Sex and Prostitution in Batam
Prostitution is illegal in Batam. However, like in many countries, everyone turns a blind eye. You can get to this island from Singapore in one hour by ferry.
The NED or Nagoya Entertainment District is supposed to be the Batam entertainment center of this Indonesian island. Wherever there is a special economic zone there is whore mongering too. Batam is also a weekend sex destination for male Singaporeans who dont want to pay Singapore prices for working girls.
However, you have to prioritize the importance of being safe and secured while involving in sexual activities. If you are a first timer and looking for ways to avail and enjoy sexual services in Batam, then consider doing a bit of research before reaching the place. This will help you develop an insight regarding the availability of places and venues offering services related to adult entertainment and recreation. You can even approach an individual who has an experience in availing sexual services in Batam. Last but not the least, the online sites and sources are always available in the internet. So, that can be helpful option as well.
Red Light Districts
There is no official red-light district in Batam like the ones in Amsterdam or Bangkok, but all the action happens in Nagoya Entertainment District. There is a high number of girlie bars, pubs, dodgy massage parlours and plain brothels in this area. There are also a number of ordinary discos and pubs where you can meet local lasses. Unlike in Singapore and Thailand, there do not appear to be any freelancer prostitutes in these places.
The main spot for some mongering in Batam and the Nagoya is the tavern Lusy's Oar House which has connected a gogo club called Banana, Batams only Gogo. Near this are more naughty bars like The Jungle and Ice Pub.
In Batam close to Singapore appears a good red light entertainment area called Nagoya. To get there you need to take a ferry. Each place has 200 - 500 girls but in late night many girls are already booked out!. Girls cost about 50 SGD (in 2010) for one whole night.
However, you can find certain bars and parlors offering sexual services and other related actions. There are several massage centers available in Batam. The adult oriented ones offer extra and special services for interested clients. These types of services are generally offered and provided by the working girls recruited by the individual massage parlors. Apart from that, one can also choose to opt for freelancers.
Prostitutes and Sex Workers
Many Batam girls can be found in nightclubs and bars in most areas. They look usually just like the girl next door, albeit with a bit more make up on, and they usually dress to please the eye. For the most part, they are gentle, easy to be with, and a lot of fun if you want to dance, drink and have a little fun with. Most will be yours for the whole night for about 500,000 Rupiah although prices range from 200,000 Rupiah to 1,500,000 Rupiah and more – depending on the season, the time of night and the situation".
To take a girl back to your hotel for all night costs you about 300,000R. This price might be now days higher. Some people say that prices have gone up.
You can visit various bars and nightclubs in order to get hooked up with the bars girls and other freelancers whom you may find in and around the venues. In case, you do not see anything relevant and helpful, consider opting for online adult forums and communities. You can always get in touch with other enthusiastic visitors and tourists at those online forums. Take some time out and join the conversation in order to stay updated with all sorts of relevant and latest news.
Street Hookers
Street whores stand in the walkway. Normally they ask for massage and their normal target is foreigner. If you look Indonesian, normally you won't be disturbed. Price is varied, depends on negotiation. Price: 200.000 - 500.000 Rupiah. But you should choose to stay medically safe and healthy before availing the services of street hookers. If the working girl offering the service is not healthy and medically fit, then the chances of certain health issues and other diseases might increase. So, it is vital for an individual that he should always confirm whether the streetwalker is healthy enough to provide her client with the desired sexual service.
Live Sex Cams
Can I watch Live Sex Cams in Batam? - Yes, you can! Basically you can watch our online live sex shows for free anywhere in the world if you're connected to internet. Join to get 10 free private teasers and 9.99 credits for free! You can choose any girl from our trusted Live Sex Cams!
Live Sex Cams are booming at the moment. Webcam models can be found from all over the world and you can find girls, guys, trannies, couples and groups of different ages performing to you. Watching live sex shows is usually free, but if you buy some credits, you will have much better chances to see adult action as desired! It's possible also to hire a webcam model to a private chat room where you can ask the person to fulfill your fantasies.
Where to Get Sex Now
It is easy to get sex online in Batam. You just need to find the best available girls. See Girls Online Here!
Adult Locations
There are some nice adult venues in Batam. You can try out the massage parlors and spas that have the availability of special massage services for male adults. Apart from that, there are certain bars and nightclubs that can be visited if someone is planning to get lucky with a girl over there. However, it is quite important that the girl turns out to be equally attracted towards the person who's approaching her.

Escort Services and Agencies
Unfortunately we don't list in this category!
Finding an escort when you're travelling can be a bit tricky. An ideal solution for having an alternative for escorts is Ashley Madison. There are thousands of horny girls waiting for you. Find all the beautiful young women at AshleyMadison.com!
You'll find some escort services online. These days, there are various escort service agencies and independent service providers offering and promoting their range of escort services and other activities online. So, getting in touch with them online and hiring their service with just a click of a mouse is really an easy thing to do in this matter.
Erotic Massage Parlors
Unfortunately we don't list in this category!
There are many massage centers that are decent establishments that offer a professional massage service. Then again there is a lot of the dodgy massage parlors that will provide you a massage and depending on the girl, will offer you that happy ending you might want. An hour massage can be as low as 75,000Rp.
Below is the list of some famous massage parlors:
Sport Massage, (Location: Near Goodway Hotel, Nagoya)
Pas Massage, (Location: Near Newton area, Nagoya)
Moonlight, (Location: Near Pujabahari Market, Nagoya)
You can go through the various types of massage services online and decide the one you would like to avail. The female masseurs working for various parlors and adult spas would eventually come up with the offer of providing adult services which they often call extra services or special massage.
Brothels and Sex Clubs
Ask any taxi or motorbike driver in Nagoya Entertainment District. Most of them just try to take you to a Brothel. The place is full of them. You can avail and enjoy adult entertainment services available in the brothels over there. Apart from that, you can hire escort services online in order to enjoy sexual activities and services in Batam. If you are visiting a brothel based area, then make sure that you know at least something about the place beforehand. This will help you to stay aware and shall make you knowledgeable regarding each and everything that is associated with the brothel based areas and the people around.
Strip Clubs and Striptease
PP Banana pub in Nagoya might have strip shows some times, but heard that it is rear. You can ask the local people including taxi drivers and vendors if they know regarding the availability of strip clubs and lap dance joints in and around Batam.
Karaoke and KTVs
KTVs (hostess karaoke bars with beautiful female staff) are popular in some parts of Asia and you can also find some of them from Batam. You can find certain KTVs and Karaoke bars in and around Batam, but chances are there that most of them might turn out to be family oriented. So, you can always check and confirm the category in which the particular KTV or the karaoke bar belongs before visiting the place.
Swinger Clubs and BDSM
ALT.com is the best place for local singles, swingers, and couples in the BDSM community to connect with those interested in submissive sex, power exchange, locating persons for new slave roles, erotic BDSM, bondage & fetish sex, as well as live sex dates. Find thousands of play partners for whatever your fetish may be; bondage, foot, cockold, spankings, role-play, electric or water play, sadism and masochism. So whether you have the desire to explore your unrealized fetish fantasies, or you are extremely experienced and would love to train someone new, ALT.com is a community designed for people with like-minded interests to find and connect with each other.
Swinger clubs (lifestyle clubs), are formal or informal groups that organize sex-related activities or establishments where patrons can engage in sex acts with other patrons. It's hard to find any of these clubs in Batam. Tourist couples are your best chance. If you are looking for swinging activities in and around Batam, then you can look for foreign couples who might be interested in swinging activities. Apart from that, one can choose to go online and become a member of online swinging communities and clubs. This will help you stay connected with other swingers across the globe.
Sex Shops and Adult Stores
If you don't feel like visiting or cannot find any local sex shops in Batam, you can easily order adult products from Online Sex Shop.
There are many street hustlers that are selling viagra, cialis and kamagra. Some street vendors also sell sex toys in Batam. If you want to explore discreet ways to shop in such cases, then considering the online sex shops and adult stores will always come into play.
Love Hotels and Short Time Hotels
Love hotels are popular in some parts of Asia, especially in Japan. There are also many love motels and short-time hotels in South America. Unfortunately you cannot find any real Japanese style love hotels in Batam. If there are short-time hotels near by, usually the working girls know all of these places. If you are hiring the services of the local working girls, then chances are there that they might take you to such cheap and short time hotels in order to provide you with the private sexual service you have desired for.
Nightclubs and Bars
There are many nice nightclubs and bars in Batam where you can try your luck to find sex for free. Also prostitutes like to search customers from the clubs. So, all you need to do is to keep your eyes open and see whether you can spot any working girl around the bar premise trying to look for potential customers. Apart from that, one can get lucky with the bar girls if she is equally interested towards you for free sex and fun
Gay and Lesbian
Gay modeling in internet is getting more popular all the time and it's a big market alongside with gay porn. You can watch gay live sex also in Batam as long as you are connected to internet. Check it out: Gay Live Sex Video Chat
Batam Centre Hotel and Montigo Resorts Nongsa are gay friendly hotels in Batam. If you are looking for some causal dating and similar activities in Batam, then choose to opt for the online dating sites in this matter. You can get connected with likeminded people over there. This can make the entire process of meeting and hooking up with gay and lesbian easier as well.
Other Adult Services
You can ask local working girls about special services you have in mind. You can even approach the escort service providers and ask them if they can come up with any kind of extra or personalized sexual service for entertainment and adult recreation.
Dating
Dating in Batam can be a bit tricky due to cultural differences, so your best bet is to sign up for a dating site before your trip so you can meet a few locals ahead of time. AdultFriendFinder.com lets you meet local members in Batam and get to know them on a personal basis before you arrive. Take advantage of site features like live chat and member to member webcams so you can begin flirting before arranging a face-to-face meeting. Since your time in Batam may be limited, get to know each other's desires beforehand, so that when you meet you can start having some real fun.
How to find Sugar Babies and Sugar Daddies
If you are looking for an alternative to escorts in Batam with a girl who doesn't charge by the hour, sugar dating is the ideal solution. There are thousands of beautiful young women at SecretBenefits willing to do anything for a man who will help them pay their bills.
Often referred to as the "Tinder for Older Guys", SecretBenefits matches hot young women interested in pampering older gentlemen. You don't have to be a millionaire at SecretBenefits.com, you just need to be a respectful gentleman who knows how to treat a woman.
Transsexuals and Shemales
Finding someone for transsexual dating when you're on the road can be a bit tricky, so your best bet is to sign up for a dating site before you go so you can find locals ahead of time. TSdates.com is a dating site designed to help you find exactly what you are looking for in your hookup in Batam. Take advantage of site features like live chat and member to member webcams so you can begin flirting before arranging a face-to-face meeting. With over 40 million members, and thousands of transsexual members around the world, TSdates.com is the world's largest site of sex-minded friends for discreet encounters and will help you find your next transsexual play partner.
Where can I find shemales in Batam? You can watch transsexual live sex shows in Batam as long as you are connected to internet. Check Now: Tranny Live Sex Video Chat

Many men that attempt to utilise Batam's sex industry while on holiday in Batam are duped by Shemale. There are gangs of these feminine looking rouges that hang around Batam's back streets. They prowl the early hours of the morning like tomcats and they seek out drunken tourists looking for misadventure.
Generally the ladyboys in Batam are not as good at covering their true sexual identity as their counterparts in other places in the world. So it is surprising just how many men are deceived into taking a lady-boy back to their rooms. It would seem that most men who dabble with Batam's sex industry have had the, "I took home a ladyboy but I didn't sleep with her" experience. Alcohol consumption tends to have a lot to do with this as most of these characters appear less than convincing when looked at in the daylight hours.
There are ladyboy escort services available. You can find them advertising online in their individual websites and on other adult forums and communities. You can expect to find some relevant results by choosing to take a look at the internet and find for ladyboy escort service websites and other portal over there.
Sexual Services for Women
For female it is easy to find a companion in whole Indonesia but not like in Bali. Female visitors can try and approach the local men to find out if they are interested in having sex for free. Apart from that, one can hire the services of male escorts by getting in touch with them via websites and other online platforms.
Sleeping and Girl Friendly Hotels
Goodway hotel, just opposite the main cluster of bars known as the Nayoga Entertainment District, is girl friendly.
If you looking for gay friendly hotels, try Batam Centre Hotel and Montigo Resorts Nongsa.
At times, the prostitutes and local sex workers are quite aware of the availability of sleeping and girl friendly hotels. If you are willing to find and hire room for few hours in order to enjoy sexual activities, then hiring the services of the local sex workers and prostitutes can be of some help.
Stay Safe
Batam is generally safe during the daytime hours, but at night if you are in the entertainment areas of Nagoya you should exercise caution. Do not walk alone at night, if you want to leave somewhere and it is late, find someone else who is leaving or about to leave, or stay until it closes and then all go together. If you really have to get back to your hotel call the hotel and have them send a car to pick you up. As the taxis are not regulated or owned by a central group (like Bluebird in Jakarta) you may not be safe hiring a taxi off the street either. Walking in groups or two or three is probably okay but do not get into discussions with the locals as you may be asking to have your wallet or purse taken from you. If this happens, don't chase, just walk back to where you were or to the hotel and report to the police later.
Traveling safe is another matter. The roads around Batam are OK, but not maintained to the highest standard. The taxi drivers in particular delight in driving as fast as they can and they really like to overtake on a curve or bend. If you feel at all uncomfortable ask the driver to slow down, tell him you are not in a hurry, usually they are OK, although we did have to yell at one in Indonesian a few times to get him to drive safely.
If you have to drink it is always better to do it in your own hotel or a family restaurant-cum-bar. If you have to go to an ordinary bar, you must opt for a VIP room or you might land up in "ecstasy" which is nothing but drugs. There have been instances where drugs were put in one's bag unknowingly and then trap the visitor in the cop net where it will be really tough to "free" oneself unless you are a localite.
If you are planning to get indulged into sexual activities, then remember to do that quite carefully and stay absolutely wise and alert in such matters. This is going to help you in several matters and situations. It is to be noted that using condom is a must and one should never neglect its importance. Condoms are considered as one of the necessities and some of the most essential things when it comes to protection while having sex. So, you should always understand such vital aspects and consider staying safe and alert forever.
See Also