Cialis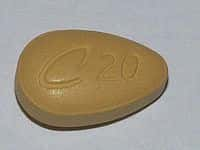 Tadalafil is a PDE5 inhibitor marketed in pill form for treating erectile dysfunction (ED) under the name Cialis, and under the name Adcirca for the treatment of pulmonary arterial hypertension. In October 2011 the U.S. Food and Drug Administration (FDA) approved Cialis for treating the signs and symptoms of benign prostatic hyperplasia (BPH) as well as a combination of BPH and erectile dysfunction (ED) when the conditions coincide. It initially was developed by the biotechnology company ICOS, and then again developed and marketed world-wide by Lilly ICOS, LLC, the joint venture of ICOS Corporation and Eli Lilly and Company. Cialis tablets, in 2.5 mg, 5 mg, 10 mg, and 20 mg doses, are yellow, film-coated, and almond-shaped. The approved dose for pulmonary arterial hypertension is 40 mg (two 20-mg tablets) once daily.
Tadalafil is also manufactured and sold under the name of Tadacip by the Indian pharmaceutical company Cipla in doses of 10 mg and 20 mg.
Tips for Cialis use
1. GET INTO THE MOOD. Cialis won't give you an instant erection. It only works when you're sexually aroused.
2. TAKE YOUR TIME. Cialis can work for up to 3 hours. So relax. There's plenty of time. Begin by taking Cialis 30 minutes to 1 hour before having sex.
3. EAT SMART BEFORE YOU START. Cialis can be taken with or without food. But to get the quickest results, avoid high-fat meals before taking Cialis.
4. IF AT FIRST YOU DON'T SUCCEED. For most men, Cialis works the first or second time. But some men need to ease back into sex. And remember, Cialis should not be taken more than once a day.
If you still don't get results, your doctor may be able to provide tips for you and/or adjust your dosage.
Safety information
Do not take CIALIS if you:
take medicines called "nitrates" such as isosorbide dinitrate or isosorbide mononitrate which are often prescribed for chest pain as the combination may cause an unsafe drop in blood pressure use recreational drugs called "poppers" like amyl nitrite and butyl nitrite are allergic to CIALIS or ADCIRCA (tadalafil), or any of its ingredients. Call your healthcare provider or get help right away if you experience any symptoms of an allergic reaction, such as rash, hives, swelling of the lips, tongue or throat, or difficulty breathing or swallowing After taking a single tablet, some of the active ingredient of CIALIS remains in your body for more than 2 days. The active ingredient can remain longer if you have problems with your kidneys or liver, or you are taking certain other medications.
Stop sexual activity and get medical help right away if you get symptoms such as chest pain, dizziness, or nausea during sex. Sexual activity can put an extra strain on your heart, especially if your heart is already weak from a heart attack or heart disease.
Do not take Cialis if you have had
heart problems such as chest pain (angina), heart failure, irregular heartbeats, or have had a heart attack
high or low blood pressure or have high blood pressure that is not controlled
stroke
liver or kidney problems or require dialysis
retinitis pigmentosa, a rare genetic (runs in families) eye disease
severe vision loss, including a condition called NAION
stomach ulcers or a bleeding problem
a deformed penis shape or Peyronie's disease
an erection that lasted more than 4 hours
blood cell problems such as sickle cell anemia, multiple myeloma, or leukemia
Before taking Cialis tell your healthcare provider about all the medicines you take especially if you take
medicines called "nitrates" which are often prescribed for chest pain
alpha-blockers often prescribed for prostate problems
blood pressure medications
medicines for HIV or some types of oral antifungal medications
some types of antibiotics such as clarithromycin, telithromycin, erythromycin (several brand names exist, please contact your healthcare provider to determine if you are taking this medicine)
other medicines or treatments for erectile dysfunction (ED)
Avoid While Taking CIALIS
Do not use other ED medicines or ED treatments while taking CIALIS.
Do not drink too much alcohol when taking CIALIS. Drinking too much alcohol can increase your chances of getting a headache or getting dizzy, increasing your heart rate, or lowering your blood pressure.
Side Effects Of Cialis
The most common side effects with CIALIS are: headache, indigestion, back pain, muscle aches, flushing, and stuffy or runny nose. These side effects usually go away after a few hours. Men who get back pain and muscle aches usually get it 12 to 24 hours after taking CIALIS. Back pain and muscle aches usually go away within 2 days. Call your healthcare provider if you get any side effect that bothers you or one that does not go away.
Uncommon but serious side effects include:
An erection that won't go away: If you get an erection lasting more than 4 hours, seek immediate medical help to avoid long-term injury.
In rare instances, men taking prescription ED tablets, including CIALIS, reported a sudden decrease or loss of vision or hearing (sometimes with ringing in the ears and dizziness). It's not possible to determine if these events are related directly to the ED tablets or to other factors. If you have a sudden decrease or loss of vision or hearing, stop taking any ED tablet, including CIALIS and call a healthcare provider right away.
See Also