Ko Samet
Ko Samet Sex Guide advises where to find sex, working girls, prostitution, street hookers, brothels, red-light districts, sex shops, prostitutes, erotic massage parlors, strip clubs and escorts in Ko Samet, Thailand.
Just 200 km from Bangkok in the Gulf of Thailand, the T-shaped island of Ko Samet is known for its white sandy beaches, exotic coral and clear waters. Ko Samet has developed steadily over the past decade or so, but it hasn't been the victim of over-zealous construction found on Ko Samui and Ko Chang). The island is surrounded by tropical coral reefs and relatively clean seas. Tourists can also enjoy delicious cuisine and fine nightlife.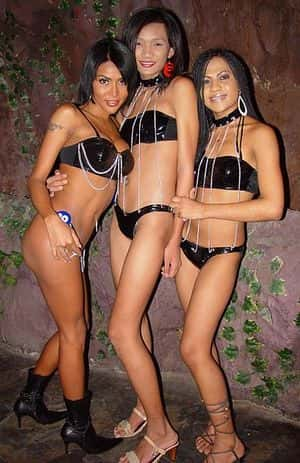 Sex Scene and Prostitution
It's a popular tourist destination for both Thais and foreigners. Many expats who live at Pattaya or Bangkok do visit Ko Samet over the weekend and party 24h. This is a small island with mostly backpackers, expats and locals. There is a little bit prostitution in the island, but Ko Samet is more known as a hook up spot, than the sex tourism destination.
Prostitutes and Sex Workers
In Samet you can find freelance prostitutes from the beach bars. There are lots of them dancing an partying. They try to get contact with foreigners to attract them. If you are young so it's easy to get free pussy otherwise you need to pay 500 - 1500thb for sex.
Street Hookers
There are no actual street whores in Ko Samet, but you can find freelance girls walking back to back from the bars and pick them up on the streets.
Go Go Bars
There are few lady bars where to pick up girls in Samet. It's a small island so you wont miss them. Price to have sex in Samet is 500 -1500 thb.
Erotic Massage Parlors
You can find many massage parlors from the Ko Samet downtown where you can also find 7/11 shop. Oil Massage prices start from 250 baht and some of the massage parlors also provide Happy Ending, but not all!
Ladyboys and Transsexuals
Known in Thai by the jokey term Kathoey. You may also hear them called ladyboy, he-males or she-males. Katoeys are of course men who look like women. Some have had varying degrees of gender altering surgery. Some take hormones to increase their female attributes. Some just dress and make up as females. Whilst some (like the three in the photo) are easy to spot, there are others that make very attractive women and if you saw them in the street, you really would not know they were men. There are many stories of men picking up women in bars only to find when they get back to their hotel that she is in fact a he. These are not just legends - it really does happen.
Street Action
There are few freelance ladyboys around Samet. The best place to find a ladyboy is outside of beach bars while closing. The average price for a ladyboy prostitute from the street is between 400-1500 baht. It depends how good you negotiate. Be always aware because its common that they try to steal something or find up reasons to get more money after sex. Most ladyboys who are in Ko Samet also use WeChat so you can find them using the app. Sometimes there are also trannies in the street that connects the nightclub and the pub area.
Gay and Lesbian
Gay modeling in internet is getting more popular all the time and it's a big market alongside with gay porn. You can watch gay live sex also in Ko Samet as long as you are connected to internet. Check it out: Gay Live Sex Video Chat
There are plenty of thai tourists who do visit Ko Samet occasionally and part of them are gays, so you can easily find sexy gay guys from Ko Samet bars and pubs.
Sexual Services for Women
If you are open to local men, your chances of dating are not much worse than in other countries. To be fair: It's true that a western woman will have it a bit more difficult than her western counterpart. Thai guys don't throw yourself at you – and those that do are usually no good. But there is definitely an interest and curiosity from the side of Thai men that is often challenged by shyness and a lack of English skills. Plus many Thai men approach women in a very subtle way. Maybe you've been approached and didn't even notice it. Learning the language and Thai culture will make your live easier (again: Duh! It's common sense!).
Sex Shops and Adult Stores
If you don't feel like visiting or cannot find any local sex shops in Ko Samet, you can easily order adult products from Online Sex Shop.
You can buy Viagra, condoms and morning after pills from the Ko Samet pharmacies. 7/11 sells condoms and lube.
Escort Service
Ko Samet is not the best place for sex tourism. It is a calm, rather relaxes destination. There is only one night club Old-Amsterdam where you will find a lot of freelance girls. Be ready to pay around 500 bat to barfine a girl or a ladyboy.
Sleeping
In Ko Samet almost every hotel accepts to bring company to hotel room. Not a big deal. Sometimes hotels can ask for some extra cash, so you can ask before booking the room to be sure.
Sex Shops and Adult Stores
If you don't feel like visiting or cannot find any local sex shops in Ko Samet, you can easily order adult products from Online Sex Shop. In Ko Samet there are few street hustler selling fake Viagra, Cialis and Kamagra. You can fin dildos and porn dvd movies under the table from street vendors.
Stay Safe
Ko Samet is relatively safe place to stay. All kind of sexual transmitted diseases can be found in Ko Samet. Be aware of ladyboys, they try to steal valuables from tourists and customer. Just use common sense.
There are pros and cons when it comes to taking a Thai freelancer prostitute back to your room:
Cons:
You will not know if your companion has been checked for sexually transmitted diseases.
There's more of a personal security risk. She could drug you and rob you of anything that's not nailed down. This may not happen if the hotel you are staying in requires sex workers to leave their I.D. cards with security. But still, be careful.
Pros:
You don't have to pay a bar fine so you'll save 500 Baht - 600 Baht.
Many speak a decent amount of the English language.
You don't have to pay for bar drinks which will save you another few hundred Baht.
Drinking alcohol on the streets is legal (except religious observances). So you can buy a beer for cheap at a 7-Eleven and stand around and check out the local talent absolutely free.
See Also