Ko Samui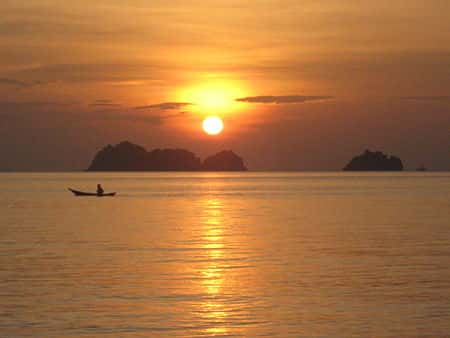 Ko Samui Sex Guide advises where to find sex, prostitution, hookers, brothels, erotic massage parlors and escorts in Ko Samui, Thailand.
Ko Samui is an island in the Gulf of Thailand, some 700 km south of Bangkok and about 80 km from the eastern coastline of Southern Thailand. Samui is an easy going place where most people are on vacation. There are plenty of bars and some specifically have sexy Thai girls hanging around waiting to keep you company while here. These prostitutes needn't be thought of as sleazy or dangerous and the whole atmosphere is relaxed and fun.
Sex and Prostitution in Ko Samui
Koh Samui has prostitutes like any other Thailand tourist area. But it's all quite casual, harmless and limited to designated areas. These hookers in Samui, known as bar girls, simply work as hostesses in bars and will go home with you for a fee.
Districts
Chaweng is the beach on the east coast of Ko Samui and has a reputation for a pristine white beach and an excellent nightlife infrastructure especially on the northern end of the beach.
Red Light Districts
Samui prostitutes don't work out of cubicles in dark alleys with red lights, or massage parlours; it's all quite casual and for about 500-2,000 baht you can take any one home to your hotel.
Prostitutes and Sex Workers
Prostitutes in Samui are not difficult to find, they are considered part of the attraction by authorities who turn a blind eye to the obvious (a lucrative 'business'). If you're visiting Koh Samui on holiday, you can easily wander into the warrens of bars in Chaweng or Lamai and find Thai hookers. You can even arrange for them to accompany you all week for a fee and that is around 500THB to 1000THB + bar fine if the girl is from bar.
Street Hookers
There are plenty of street whores in Chaweng and Lamai beach area. Koh Samui hookers cost 500 - 1000thb for sex. You can try to bargain the price always.
Hookup and Pick Up Local Girls
Meeting local girls and getting laid for free is fun! Read more on how to pick up girls in Ko Samui: https://hookuptravels.com/wiki/Ko_Samui
Live Sex Cams
Can I watch Live Sex Cams in Ko Samui? - Yes, you can! Basically you can watch our online live sex shows for free anywhere in the world if you're connected to internet. Join to get 10 free private teasers and 9.99 credits for free! You can choose any girl from our trusted Live Sex Cams!
Live Sex Cams are booming at the moment. Webcam models can be found from all over the world and you can find girls, guys, trannies, couples and groups of different ages performing to you. Watching live sex shows is usually free, but if you buy some credits, you will have much better chances to see adult action as desired! It's possible also to hire a webcam model to a private chat room where you can ask the person to fulfill your fantasies.
Where to Get Sex Now
It is easy to get sex online in Ko Samui. You just need to find the best available girls. See Girls Online Here!
Adult Locations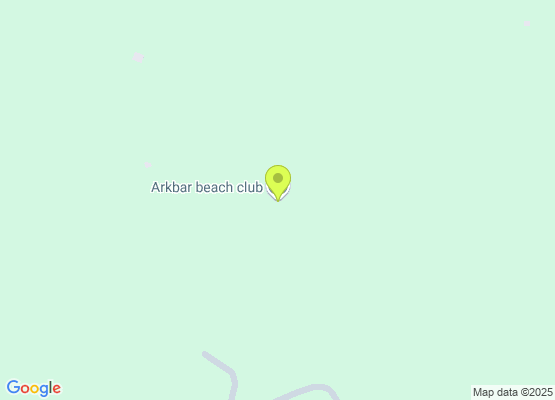 Escort Services and Agencies
Unfortunately we don't list in this category!
Finding an escort when you're travelling can be a bit tricky. An ideal alternative to escorts is a girl who is looking for a mutually beneficial relationship. There are thousands of horny girls willing to do anything for a generous guy. Click Here to hookup with a beautiful young woman now.
There is quite good selection of Escort services online in Ko Samui, but you will not really need them if you have the power to walk out from you hotel.
Erotic Massage Parlors
Unfortunately we don't list in this category!
Ko Samui is filled up with massage parlors. The girls will propose them self to you and give you all the naughty suggestions during the massage or even before.
Brothels and Sex Clubs
There aren't any legal brothels in Ko Samui but in some massage parlors you will get extras, and sometimes even possibly full service.
Strip Clubs and Striptease
There aren't any western style strip clubs in Koh Samui.
Karaoke and KTVs
KTVs (hostess karaoke bars with beautiful female staff) are popular in some parts of Asia but you cannot find any of them from Ko Samui.
Swinger Clubs and BDSM
ALT.com is the best place for local singles, swingers, and couples in the BDSM community to connect with those interested in submissive sex, power exchange, locating persons for new slave roles, erotic BDSM, bondage & fetish sex, as well as live sex dates. Find thousands of play partners for whatever your fetish may be; bondage, foot, cockold, spankings, role-play, electric or water play, sadism and masochism. So whether you have the desire to explore your unrealized fetish fantasies, or you are extremely experienced and would love to train someone new, ALT.com is a community designed for people with like-minded interests to find and connect with each other.
Swinger clubs (lifestyle clubs), are formal or informal groups that organize sex-related activities or establishments where patrons can engage in sex acts with other patrons. Your best choice is probably to find an open minded tourist couple to have fun with.
Sex Shops and Adult Stores
If you don't feel like visiting or cannot find any local sex shops in Ko Samui, you can easily order adult products from Online Sex Shop.
You can get sexy lingerie etc. from most department stores, markets and sometimes street vendors, especially in downtown bar areas. You can also find, fake Viagra, Cialis, etc..sex toys sold by the street vendors there.
Love Hotels and Short Time Hotels
All the working girls know the nearest places where you can rent a room for an hour or two.
Nightclubs and Bars
There are many nice nightclubs and bars in Ko Samui where you can try your luck to find sex for free from tourists and locals.
Go Go Bars and Girlie Bars
In Chaweng there is an area of girlie bars situated around Chaweng Lake, behind the beachfront resort area. Lamai has a similar arcade about halfway down the main street. These places have plenty of open air bars full of prostitutes, where you can casually wander around and, if a bar (and its girls) grab your fancy, you simply wander in and relax over a beer. Some may have sports on big screens, along with pool tables; others, live music to keep you occupied.
You can then invite one of the hostesses to join you, or one might approach you if you're shy. You're under no pressure, though she might ask for a drink (more expensive, as 'lady drinks'). If you get bored you can simply pay your bill and move on to another bar.
Once you've found a girl you like, you discreetly discuss a fee with her, and this ranges from about 1,000 to 3,000 baht, depending on how beautiful she is, how much you really want her, how slow/busy it is, and whether you want her to stay all night or 'short time'. This you settle later, but you will have to pay a bar fine (300-500 baht) for her to leave the bar before the end of her shift. What you get up to after that is entirely up to you.
How it works to get bar girl?
Usually when you enter a bar, it won't be long before one of the ladies has approached you, but if you'd rather sit alone and choose one, they'll leave you alone. In the actual go go venues, they'll press you to buy a drink. Drinks in Samui go go bars aren't too expensive but there is a premium on the so-called 'lady drinks', which are about 120-150 baht and generally watered-down. This is how girls earn their night's bar wages.
Then there is the 'bar fine'. When you have decided to take a girl home, you'll have to pay this to the mamasan (supervisor), which can be up to 500 baht, but usually 300 baht. You should also agree to a price for the girl before leaving and this will be anything from 1,000 to 3,000 baht (depending on short time or whole night), and how pretty she thinks she is.
Beer Bars
These Samui bar girls are generally from the poor northeast of Thailand and send much of the money they earn back to their families. It's, therefore, worth remembering that, whether or not you agree with the concept, the girls themselves do not deserve to be blamed or looked down upon. Sex work is work in Thailand, and should be understood from this perspective.
The bars on Samui tend to be low-key affairs; there are no big brothels and even the beer-bar complexes in Chaweng and Lamai adopt a more personal approach and, therefore, avoid the kind of hard-sell tactics that the likes of Pat Pong in Bangkok employ. Recently, slightly more sophisticated venues have been set up, such as Dream Girls in Soi Green Mango.
Freelance Bars
Downtown Chaweng is full of back to back bars and restaurants with a wide variety of cuisines and atmospheres. While the bars along the main street and side streets tend to be more packed. You can find local freelancer girls from almost every bar in Chaweng. Price for freelance prostitute is between 400 - 1500 thb for full service.
Green Mango Club and Disco, Samui's main nightclub, the main tourist spot. Lots of local freelancer girls hang around in the club.
Henry Africa's, Soi Green Mango. Lively bar, packed every night with tourists, expats and local girls. Free pool (3 tables), very friendly staff.
Reggae Pub, Chaweng institution, but don't be fooled by the name: some nights are more techno than Marley, but this area does tend to be more laid back. Many local freelancer girls.
Gay and Lesbian
Gay modeling in internet is getting more popular all the time and it's a big market alongside with gay porn. You can watch gay live sex also in Ko Samui as long as you are connected to internet. Check it out: Gay Live Sex Video Chat
Lesbian, gay, bisexual, and transgender (LGBT) persons in Thailand may face legal challenges not experienced by non-LGBT residents. Thailand is one of the most tolerant countries in Asia in regard to homosexuality. Both male and female same-sex sexual activity are legal in Thailand, but same-sex couples and households headed by same-sex couples are not eligible for the same legal protections available to opposite-sex couples.
Other Adult Services
Dating
Dating in Ko Samui can be a bit tricky due to cultural differences, so your best bet is to sign up for a dating site before your trip so you can meet a few locals ahead of time. AdultFriendFinder.com lets you meet local members in Ko Samui and get to know them on a personal basis before you arrive. Take advantage of site features like live chat and member to member webcams so you can begin flirting before arranging a face-to-face meeting. Since your time in Ko Samui may be limited, get to know each other's desires beforehand, so that when you meet you can start having some real fun.
How to find Sugar Babies and Sugar Daddies
If you are looking for an alternative to escorts in Ko Samui with a girl who doesn't charge by the hour, sugar dating is the ideal solution. There are thousands of beautiful young women at SecretBenfits willing to do anything for a man who will help them pay their bills.
Often referred to as the "Tinder for Older Guys", SecretBenfits matches hot young women interested in pampering older gentlemen. You don't have to be a millionaire at SecretBenfits.com, you just need to be a respectful gentleman who knows how to treat a woman.
Transsexuals and Shemales
Finding someone for transsexual dating when you're on the road can be a bit tricky, so your best bet is to sign up for a dating site before you go so you can find locals ahead of time. TSdates.com is a dating site designed to help you find exactly what you are looking for in your hookup in Ko Samui. Take advantage of site features like live chat and member to member webcams so you can begin flirting before arranging a face-to-face meeting. With over 40 million members, and thousands of transsexual members around the world, TSdates.com is the world's largest site of sex-minded friends for discreet encounters and will help you find your next transsexual play partner.
Where can I find shemales in Ko Samui? You can watch transsexual live sex shows in Ko Samui as long as you are connected to internet. Check Now: Tranny Live Sex Video Chat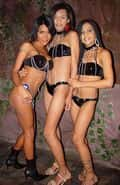 Trannies are also known in Thai by the jokey term Kathoey. You may also hear them called ladyboy, he-males or she-males. Kathoeys are of course men who look like women. Some have had varying degrees of gender altering surgery. Some take hormones to increase their female attributes. Some just dress and make up as females. Whilst some (like the three in the photo) are easy to spot, there are others that make very attractive women and if you saw them in the street, you really would not know they were men. There are many stories of men picking up women in bars only to find when they get back to their hotel that she is in fact a he. These are not just legends - it really does happen.
Ladyboy Massage Parlors
In almost half of the massage parlors in Samui you can find at least one ladyboy. They are willing to do happy ending massage if you give them some tip (300 - 500 bath).
Ladyboy Street Action
There are lots of freelance ladyboys around Samui. The best and most crowded place to find a ladyboy is outside of Entertainment area while closing. You can see alot of ladyboys on the streets in late night after bars closes and they come to you. The average price for a ladyboy prostitute from the street is between 400-1500 baht. It depends how good you negotiate. Be always aware because its common that they try to steal something or find up reasons to get more money after sex.
Sexual Services for Women
In Koh Samui, it is not uncommon for sexy Thai beach boys, tour guides and "rent boys" to have sexual relations with female Western backpackers in exchange for gifts or just pure cash.
If you are open to local men, your chances of dating are not much worse than in other countries. To be fair: It's true that a western woman will have it a bit more difficult than her western counterpart. Thai guys don't throw yourself at you – and those that do are usually no good. But there is definitely an interest and curiosity from the side of Thai men that is often challenged by shyness and a lack of English skills. Plus many Thai men approach women in a very subtle way. Maybe you've been approached and didn't even notice it. Learning the language and Thai culture will make your live easier (again: Duh! It's common sense!).
Sleeping and Girl Friendly Hotels
Can you bring girls back to your hotel? Some hotels don't mind you bringing bar girls back to your room as long as you are discreet, while others forbid it or will try to charge you extra.
Stay Safe
Ko Samui is relatively safe place to stay. All kind of sexual transmitted diseases can be found in Ko Samui.
Be aware of ladyboys, they try to steal valuables from tourists and customer. Just use common sense.
There are pros and cons when it comes to taking a Thai freelancer prostitute back to your room:
Cons:
You will not know if your companion has been checked for sexually transmitted diseases.
There's more of a personal security risk. She could drug you and rob you of anything that's not nailed down. This may not happen if the hotel you are staying in requires sex workers to leave their I.D. cards with security. But still, be careful.
Possibility of too young girls. You don't want any problems with the police do you?
Pros:
You don't have to pay a bar fine so you'll save 500 Baht - 600 Baht.
Many speak a decent amount of the English language.
You don't have to pay for bar drinks which will save you another few hundred Baht.
Drinking alcohol on the streets is legal (except religious observances). So you can buy a beer for cheap at a 7-Eleven and stand around and check out the local talent absolutely free.
See Also