Viagra
VIAGRA (sildenafil citrate) is prescription medicine used to treat erectile dysfunction (ED).
Sildenafil citrate, sold as Viagra, Revatio and under various other trade names, is a drug used to treat erectile dysfunction and pulmonary arterial hypertension (PAH). It was originally developed by British scientists and then brought to market by the US-based pharmaceutical company Pfizer. It acts by inhibiting cGMP-specific phosphodiesterase type 5 (PDE5), an enzyme that promotes degradation of cGMP, which regulates blood flow in the penis. Since becoming available in 1998, sildenafil has been the prime treatment for erectile dysfunction; its primary competitors on the market are tadalafil (Cialis) and vardenafil (Levitra).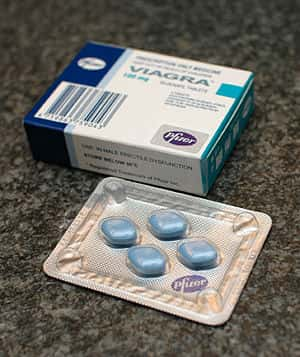 Tips for taking Viagra
HOW TO GET THE BEST RESULTS FROM VIAGRA?
TRY THESE FOUR THINGS TO HELP GET THE BEST RESULTS FROM VIAGRA:
1. GET INTO THE MOOD. VIAGRA won't give you an instant erection. It only works when you're sexually aroused.
2. TAKE YOUR TIME. VIAGRA can work for up to 4 hours. So relax. There's plenty of time. Begin by taking VIAGRA 30 minutes to 1 hour before having sex.
3. EAT SMART BEFORE YOU START. VIAGRA can be taken with or without food. But to get the quickest results, avoid high-fat meals before taking VIAGRA. A fatty meal—like a cheeseburger and fries—can slow your body's ability to absorb the drug. When this happens, VIAGRA may not work as quickly.
4. IF AT FIRST YOU DON'T SUCCEED… For most men, VIAGRA works the first or second time. But some men need to ease back into sex. So if VIAGRA doesn't work, don't give up. Try taking it again the next time you want to have sex—on a different day. And remember, VIAGRA should not be taken more than once a day.
If you still don't get results, your doctor may be able to provide tips for you and/or adjust your dosage.
Safety information
Do not take VIAGRA if you take nitrates, often prescribed for chest pain, as this may cause a sudden, unsafe drop in blood pressure. Discuss your general health status with your doctor to ensure that you are healthy enough to engage in sexual activity. If you experience chest pain, nausea, or any other discomforts during sex, seek immediate medical help. In the rare event of an erection lasting more than 4 hours, seek immediate medical help to avoid long-term injury. If you are older than age 65, or have serious liver or kidney problems, your doctor may start you at the lowest dose (25 mg) of VIAGRA. If you are taking protease inhibitors, such as for the treatment of HIV, your doctor may recommend a 25-mg dose and may limit you to a maximum single dose of 25 mg of VIAGRA in a 48-hour period. In rare instances, men taking PDE5 inhibitors (oral erectile dysfunction medicines, including VIAGRA) reported a sudden decrease or loss of vision. If you experience sudden decrease or loss of vision, stop taking PDE5 inhibitors, including VIAGRA, and call a doctor right away. Sudden decrease or loss of hearing has been rarely reported in people taking PDE5 inhibitors, including VIAGRA. It is not possible to determine whether these events are related directly to the PDE5 inhibitors or to other factors. If you experience sudden decrease or loss of hearing, stop taking VIAGRA and contact a doctor right away. If you have prostate problems or high blood pressure for which you take medicines called alpha blockers, your doctor may start you on a lower dose of VIAGRA. VIAGRA should not be used with other ED treatments. VIAGRA should not be used with REVATIO or other products containing sildenafil. VIAGRA does not protect against sexually transmitted diseases, including HIV/AIDS. The most common side effects of VIAGRA are headache, facial flushing, and upset stomach. Less commonly, bluish vision, blurred vision, or sensitivity to light may briefly occur.
Side effects
Get emergency medical help if you have these signs of an allergic reaction
hives
difficulty breathing
swelling of your face, lips, tongue, or throat.
During sexual activity, if you become
dizzy or nauseated
have pain
numbness
tingling in your chest, arms, neck, or jaw, stop and call your doctor right away.
Stop using sildenafil and call your doctor at once if you have a serious side effect such as
sudden vision loss
ringing in your ears, or sudden hearing loss
chest pain or heavy feeling, pain spreading to the arm or shoulder, nausea, sweating, general ill feeling
irregular heartbeat
swelling in your hands, ankles, or feet
shortness of breath
vision changes
feeling light-headed, fainting
penis erection that is painful or lasts 4 hours or longer.
Less serious side effects
warmth or redness in your face, neck, or chest
stuffy nose
headache
memory problems
upset stomach
back pain
Countries Where You Can Buy Viagra Without a Prescription
Europe
Asia
North America
South America
See Also