Phnom Penh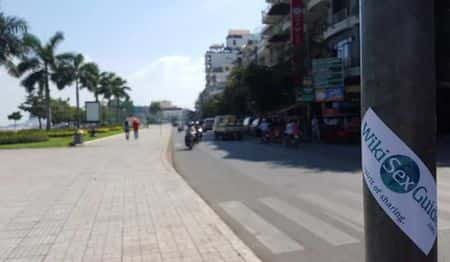 Phnom Penh Sex Guide advises where to find sex, working girls, prostitution, street hookers, brothels, red-light districts, sex shops, prostitutes, erotic massage parlors, strip clubs and escorts in Phnom Penh, Cambodia.
Phnom Penh is the capital and largest city of Cambodia, located at the confluence of the Mekong and the Tonle Sap rivers.
Sex and Prostitution in Phnom Penh
Prostitution in Cambodia is illegal, but prevalent.
Phnom Penh's sex industry is world famous, though far less glamorous than the likes of Pattaya or the Philippine's Angeles City. There are numerous businesses in the city center that ever-obliging tuk-tuk drivers will be happy to take you to. These are more tailored to Asian customers that prefer Vietnamese women, who dominate Phnom Penh's regulated sex scene.
Phnom Penh is also popular stop over place for the backpackers and at there is a backpackers street called Street 278 which is a must visit place when you get tired of fucking the sex workers. From here you will find plenty of backpackers girls such as horny Australian party girls and Scandinavian hipster girls.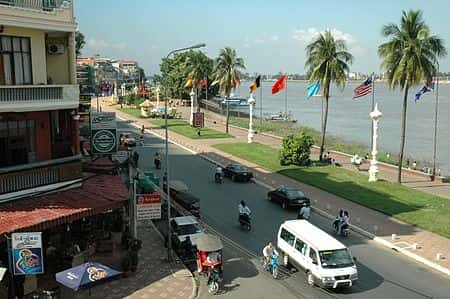 The pricing policy of Khmer (Cambodian) prostitutes is quite clear. Prices are basically determined by the nationality of the customer. Minimal, basic service cost - $20 for a date. There are a lot of countries, and Cambodia is no exception, where it is possible to negotiate with the girl and try to go with her for less money, but it is considered as a mauvais ton, and to get paid less than $20 means losing face and respect. Usually, $20 is only for Khmer people and the foreigners, long time living in Cambodia. It has been said that local men can sometimes get it much cheaper (for example less than $5). Fee for travelers is a little bit different. For the barangs - the white tourists - $20 - $30, the Chinese and Japanese pay even more, up to $50. Finally, the highest fee is established for black skin tourists - a hundred dollars and not a cent less. This is due to the fact that for some reason dark skin causes Khmer woman absolutely sincere, undisguised disgust. To go with a black man for less than a hundred dollars and all the girlfriends will be laughing! Incidentally, blacks are blaming Khmer prostitutes for racist behavior. Customer review 26th of July 2015: "Money is green. They don't discriminate the color of green. I have been there several times."
Female Escorts
Escorting business in Phnom Penh is growing all the time.
Check out WikiSexGuide Adult Classifieds!
Prostitution in Phnom Penh is pretty much active. It is basically a large red light area where one can find street prostitutes and other sex workers offering their services to various people. However, it may be a bit less glamorous as compared to Pattaya, but the prostitution and sex scene in Phnom Penh is world famous. Several sex tourist and enthusiasts consider this place as one of the most ideal destinations. However, it is always suggested that you should know the place really well at first before deciding to go ahead and avail the sexual services available for adults.
Red Light Districts
There is no centralised red-light district in Phnom Penh, but the area around Street 130, Street 136 and Street 51 (also 104) is where the majority of bar girls can be found, at any time of the day or night. Most of the bars are little more than brothels with beer, although some run a clean, friendly operation. All of the girls that work there are available to takeaway, at around US$15-25 for a 'short time' or up to US$50 for the whole night, depending on your bargaining skills. A bar fine of $10 will also need to be paid to take the merchandise off the premises, although make sure your hotel accommodates such visitors to avoid a scene on your return.
Street 51 was originally known for the Walkabout Hotel and bar and is in the meantime the busiest redlight nightlife area in Phnom Penh with its clubs Heart of Darkness and Pontoon. Street 51 has several hostess and other bars and the Golden Sorya entertainment complex with around 30 restaurants, shops and bars and restaurants makes it the place to go at nights.
Phnom Penh's Street 104 is the busiest tourist area right on riverfront with plenty of bars and guesthouses. Street 104 is one of the hostess bar areas in the city.
Phnom Penh's Street 136 is the busiest tourist area right on the riverfront with plenty of bars and guesthouses. Street 136 is one of the hostess bar areas in the city. Right at riverfront are girlie bars lining up. A bit further behind on the street is the for its live music events famous Sharky's Bar, which is as well known for having plenty of freelance girls hanging out.
The Chicken Farm, also known as Svay Pak and k11 which was located outside the city of Phnom Penh is mostly closed these days, thanks to the international activists. Some brothels are still active in the area and short time costs $15 and up there.
This place is itself considered as one of the biggest red light districts including several cheap hotels and bars where you can get girls easily. One can try and get cozy with the working girls here. But, they should always consider checking out whether each and everything about the place is fine and safe enough. One may find hookers around the streets of Phnom Penh as well. If the person still finds it difficult, then he can always take help from someone who is aware of such things in detail. The adult entertainment activities occur largely at the bars clubs situated in this place.
Prostitutes and Sex Workers
Pricing policy of Khmer prostitutes is quite clear. It has been explained by a professional massage therapist, working at one of the Phnom Penh hotels. Prices are basically determined by the nationality of the customer. Minimal, basic service cost is $20 for a date.
Many of the freelance girls are drug addicts as someone not on drugs would make a happy powerface daily at 5am in the morning. Those which are on drugs would not really care about making any checks and you have a high risk to get any presents when going with freelances for funny hours. Those who wanna reduce the risk a bit better pick up their girls from a western run bar and hope the owner is at least a bit serious about it.
Many of the prostitutes and sex workers are found in and around the Street 51, Street 136 and Street 130. These girls are mainly the bar girls. They are available all throughout the day and of course during the night. These girls working at these places are available for takeaway. You will need to pay them money for the service they will be providing either for a short period of time or a long one. The price asked for the service can be negotiated, which will depend on your skills of bargaining
Street Hookers
Street prostitutes are often the cheapest sex workers you can find in Phnom Penh. You can find street walkers in Phnom Penh from these areas:
Places where to find streetwalkers in Phnom Penh are Wat Phnom, 154 between 63 & Monivong
Places like Street 136, Street 130 and Street 51 are some of the areas where you may come across freelancers or other working girls offering their services for the purpose of adult entertainment and more. You can even take a walk around the place, visit certain clubs and restaurants where you may find working girls ready to get cozy with you. That would surely work as a great luck for anyone who is in search for the same.
Hookup and Pick Up Local Girls
Meeting local girls and getting laid for free is fun! Read more on how to pick up girls in Phnom Penh: https://hookuptravels.com/wiki/Phnom_Penh
Live Sex Cams
Can I watch Live Sex Cams in Phnom Penh? - Yes, you can! Basically you can watch our online live sex shows for free anywhere in the world if you're connected to internet. Join to get 10 free private teasers and 9.99 credits for free! You can choose any girl from our trusted Live Sex Cams!
Live Sex Cams are booming at the moment. Webcam models can be found from all over the world and you can find girls, guys, trannies, couples and groups of different ages performing to you. Watching live sex shows is usually free, but if you buy some credits, you will have much better chances to see adult action as desired! It's possible also to hire a webcam model to a private chat room where you can ask the person to fulfill your fantasies.
Where to Get Sex Now
It is easy to get sex online in Phnom Penh. You just need to find the best available girls. See Girls Online Here!
Adult Locations
There are many different clubs in Phnom Penh where you can find sex workers. Talking of adult locations, you can visit discos and nightclubs in Phnom Penh. One can expect to meet friendly and fun loving women there. But, you should be careful enough to get hooked up with the right person in this matter. This will keep you safe from all odds and unfortunate consequences.
Plenty of adult locations with Phnom Penh escorts and freelance girls are at Pontoon and Street 136.
Local girls from Phnom Penh do not party much, and most Phnom Penh girls do not have an interest in hooking up with a foreign men at these clubs and bars, unless they have money.
The Street 278 is a backpackers paradise, where you can find nightlife and actual foreign tourist girls looking to meet wealthier foreign men and possibly hook up with them and stay at a nice hotel with them.
Escort Services and Agencies
Unfortunately we don't list in this category!
Finding an escort when you're travelling can be a bit tricky. An ideal alternative to escorts is a girl who is looking for a mutually beneficial relationship. There are thousands of horny girls willing to do anything for a generous guy. Click Here to hookup with a beautiful young woman now.
Hourly escort prices in Phnom Penh start from as low as $30. 24 hour (overnight) stays start from as low as $50.
UPDATE July 2015: The cheapest quote you will receive nowadays will be $50 and even that will usually be from an ice-head and/or a girl with two babies already and a Khmer husband back in the province.
High-end escorts are $100+, to include most of the Darlin Darlin set, several NOVA workers, and even (shockingly) several Pontoon girls.
The modern Cambodian girl is very social media savvy and knows how to use Facebook, Tango, Viber, Line, etc. to snare over-paying foreigners and sponsors...
An attractive, light-skinned Cambodian girl 18-23 could easily get $200+ per escort session and she'll have a new wealthy or upper middle class Chinese (or Korean, or Malay, or Indian, or Russian, etc) client flying in each and every weekend to spend time with her.
Cambodian escort models range from age 18 to 40 and some work for the agencies who take a small cut.
Please note that many Cambodian escorts have daytime jobs and are not available each night of the week. They have jobs ranging from bank tellers to secretaries to market vendors, to even one who works at a mini-mart, the Cambodian version of 7-Eleven!
The average salary for working class Cambodians is often just $150-$200 per month, so many young women will supplement their income by meeting foreign customers for companionship.
Even just a $10 but especially a $20 tip on top of the agreed-upon price is very much appreciated by these working girls.
Phnom Penh has both freelance/independent escorts and agency based working girls as well. So, one can choose to avail services from either of the two available options. You can take a look at their websites that are available these days.
Erotic Massage Parlors
Unfortunately we don't list in this category!
There is one area of town where you cannot go wrong. It is on Sotheros Boulevarde, just south of Sihanuk Boulevarde. The area is called Bassac and it is easily found by its landmark 1960s building (which is now in a state of near ruin, but filled with people). If you ask a moto driver to take you to \"Building\", pronounced \"Bo-dang\" by the locals, you will end up in front of it. A stone's throw further south you will see a row of newly constructed townhouses, most of which are now massage parlors. Go in and order an oil massage. The girls are on site 24/7 and if you find a favorite and she's not there they will call her to come.
The oil massages are $8 and the standard tip is $10. Of course, some girls will try to get more, and who can blame them?. Just smile and stay at $10. She's on the clock with them and will stay with you for the whole hour. It only takes a minute or so of bargaining for her to realize that $10 is better than $0.
One word of warning, these places are not for sex. Police charge places to overlook their acts, and these places are not paying the kind of money that gives police the incentive to overlook it.
No worries though. All the drivers and guys on the street will likely ask you if you would like a girl on your way in, and again on the way out. They will bring one or two on a moto in a few minutes and you can go with her to a guesthouse down the street. It should be $5 for the room, but the girls charge $14 and up for short time.
Alternatively, the girls in Cyceree Bar at No 13, Street 49 are up for pretty much anything. Negotiate what you want in the bar before paying a bar fine for them.
There are innumerable ways to get laid or avail adult entertainment services while you are in Phnom Penh. The erotic massage parlors present in and around the place are some of the destinations where one can expect to avail adult massages and other services from the working girls. There are several dedicated erotic massage parlors with guaranteed happy endings. There are basic private massage rooms available. The girls may charge an amount somewhere around 10 USD for an hour.
Brothels and Sex Clubs
Some massage parlors are operating as brothels in Phnom Penh. Just ask politely before you pay any money. Since Phnom Penh has the highest number of prostitutes in the entire Cambodia region, the availability of brothels and sex club is not an issue here. One can find several cheap brothels and clubs where one can avail adult entertainment services by paying the working girls their service charge. The prostitutes mainly deal with the foreigners in massage parlors, nightclubs, hostess bars and more
Strip Clubs and Striptease
There are no actual western style nude bars in Phnom Penh where girls strip naked and pole dance. However there are lots of "girlie bars" where one can find sexy girls dancing and selling sex. These type of venues are also great if you are planning to have an bachelor party/stag party in Phnom Penh. If you intention is to find girls at these places who would be ready to get intimate with you, then always choose to seek help from the one who knows about these things beforehand. An experienced person or a localite can always make things easier and more convenient for you.
Karaoke and KTVs
Some Beer Gardens in Cambodia are similar to KTV´s. In some places they have a karaoke option and the bar girls will keep you company. If you are trying to get intimate with the bar girls, always try and analyze their traits, If you find something unusual and suspicious about them, then avoid being too close to them. Generally, the working girls in bars and KTVs are client friendly.
Swinger Clubs and BDSM
ALT.com is the best place for local singles, swingers, and couples in the BDSM community to connect with those interested in submissive sex, power exchange, locating persons for new slave roles, erotic BDSM, bondage & fetish sex, as well as live sex dates. Find thousands of play partners for whatever your fetish may be; bondage, foot, cockold, spankings, role-play, electric or water play, sadism and masochism. So whether you have the desire to explore your unrealized fetish fantasies, or you are extremely experienced and would love to train someone new, ALT.com is a community designed for people with like-minded interests to find and connect with each other.
Swinging culture is not common in Phnom Penh. Your best bet to find other open minded couples is to search among the other tourists. If you are not too confident of approaching couples directly for swinging activities, then you can always become a member of several swinging clubs and communities. This shall allow staying updated and knowing relevant details and news related to swinging parties and activities in Phnom Penh.
Sex Shops and Adult Stores
If you don't feel like visiting or cannot find any local sex shops in Phnom Penh, you can easily order adult products from Online Sex Shop.
There are few street hustlers that are selling fake Viagra, Cialis and Kamagra. Some vendors also sell sex toys. Pharmacies do also sell Potency Pills and condoms. However, in order to get an easy solution regarding this matter, you can always try out online shopping stores.
Love Hotels and Short Time Hotels
Love hotels are popular in some parts of Asia, especially in Japan. Unfortunately you cannot find any real love hotels in Phnom Penh. All the prostitutes in Phnom Penh know the nearest short-time hotels where you can go with a girl to have sex. There are certain cheap hotels where you will be allowed to enter with your local girlfriend. However, staying away from people those who appear to be suspicious will be helpful. If you find someone like this who is willing to take you to such hotels, then avoid that person. At times, the local sex workers are well informed about the availability of love hotels. So, hiring their service might serve your purpose.
Nightclubs and Bars
There are many some nightclubs and bars in Phnom Penh where you can try your luck to find sex for free. In many bars there are also freelancer prostitutes searching for customers. So, you can visit those nightclubs and bars in search for a female companion. There are some girlie bars where you may also find working girls and sex workers offering adult services for their guests.
Gay and Lesbian
Gay modeling in internet is getting more popular all the time and it's a big market alongside with gay porn. You can watch gay live sex also in Phnom Penh as long as you are connected to internet. Check it out: Gay Live Sex Video Chat
Same-sex sexual activity is legal in Cambodia when it involves non-commercial acts between consenting adults in private. While traditional cultural mores tend to be tolerant in this area, even expressly providing support for people of an intermediate or third gender, LGBT rights legislation has not yet been enacted by the ruling government.
Gay Saunas and Bathhouses in Phnom Penh:
Galaxy Khmer, 18 Street 246
Romantic Sauna-Spa & Fitness, 59, Street 350
Amam Cafe & Spa, 20A rue 390
Bars for mixed Gay and Lesbian guests:
Blue Chilli Bar, 36, Street 172
Gay Massages:
Hatha Khmer Phnom Penh, 32B, rue 368
In case you want to date a lesbian or gay partner, then consider being a member of various online dating sites. Apart from that, you can also try and get lucky with a localite who would be interested to get cozy with you.
Other Adult Services
There are lots of girlie bars near to the riverfront. In some of the bars you can buy a beer or a drink for a lady and then you can chat and probably kiss with her if you want. Girls get commissions of those drinks. From some places you can also ask to take a working girl to your hotel. That would cost about $5-10 for the bar and then you usually can negotiate the final price with the girl. Usually after the girl has left your hotel, the receptionist comes to your room and ask if everything is OK. Hotels want to keep their customers safe. Many of these girls come to work to the capital city from country side. You can find different type of girls here. Some of them are very attractive and some of them are not. When you go inside lot of girls come to talk with you if they don't have clients at the moment. You can first just drink a beer by yourself and watch how everything works in the bar. You can also politely ask the girls to leave your table if they are too aggressive and you can also ask a particular girl to sit next to you if you find her interesting. It's common to play pool or just having fun conversations with them. Most of them are very smiley and funny. Of course if you spend all evening with the same girl and buy her drinks, she might get tipsy. That is sometimes more fun for you both or sometimes it can be depressing if the girl don't like her job.
The real action doesn't heat up until after 23:00, when travellers and working girls become open season. Independent working girls, also known as freelancers or streetwalkers, are not staff, so you don't pay a bar fine. They ply their trade from bar to bar looking for customers. These girls are not tied to a bar and pocket most of their earnings.
The biggest girlie Heaven in Cambodia is Pontoon. And here the girlies can dress the way they like and get a decent chair surrounded by ambience. When the show is over in the big clubs at 4am, they all move into Golden Sorya around the corner where the parties go on until the next day starts.
First of all, with your first acquaintance with a template go-go bar somewhere in the middle of Phnom Penh, be prepared for the fact that you can easily be refused. Khmer women are very willful, stubborn, and often can be bitches. If suddenly you have something unpleasant for the girl near the bar, it is cause for her to deny you without any hesitation or doubt, sometimes referring to some suggested reason.
List of some girlie bars in Phnom Penh.
Walkabout (24 hours), One of the best places to find freelance workers, the 24hr kitchen and guesthouse means you may never leave. Open: 24 hour; Corner of Street 51 & 174, tel: +855 23 211 715.
Martini Pub. Made famous in the 90s by visiting UNTAC workers, this bar advertises for the hungry, bored and lonely. Good drinks and lots of ladies, it also features an outdoor cinema and gaming room. Open: 19:00-03:00; #110, Street 173, tel: (011) +855 11 874 416.
Sharky Bar, The original Phnom Penh club bar, with plenty of space indoors and out, is a popular mainstream institution with a huge dancing area that is always packed with girls. Open: 17:00-02:00; tel: +855 12 228 045.
Heart of Darkness (after midnight), Cambodia's most well-known nocturnal party bar. The modern version is far more stylish than its notorious predecessor; the game table on the dance floor sees more negotiating than pool. Full to the Khmer rafters on Friday and Saturday nights. Open: 20:00-04:00 (Sunday-Thursday), 20:00-05:00 (Friday-Saturday); #38 Street 51, tel: +855 23 222 415.
Pontoon (after midnight), Walkabout area @ Sorya night mall. Pontoon is next to Riverhouse and Heart of Darkness one of the best clubs in Phnom Penh. It's daily a full house and the place where all freelance girlies are going.
69 Bar, Small, lively hostess bar in the heart of the red light area, back from the riverfront. The girls like to drink, dance and play games. Open: 18:00-06:00; #25 Street 136, tel: +855 13 413 413.
Dream Bar, A more relaxing atmosphere than its neighbours, offering music that is not at volume 11 and chatty staff. Open: 16:00-02:00; #38Eo, Street 118, corner of Street 5, tel: +855 23 991 369, mobile: +855 12 947 555.
Flora Bar, A cosy hostess bar with hands-on staff. The couches in the back are for the open minded and adventurous. Open: 16:00 to late; #5, Street 136, tel: +855 16 366 610, mobile: +855 12 366 610.
Nay Nay Star Bar, A stylish hostess bar with the usual girls, sports and alcohol. The upstairs guesthouse can be convenient. Open: 19:00-02:00; #5Eo, Street 102, tel: +855 12 769 536.
Oasis Bar, A great location in the middle of the nightlife circuit, with decent drink prices and reasonable music. Oasis is a good place for a drink with the ever-thirsty staff. Open: 16:00-03:00; #35Eo, Street 136, tel: +855 92 409 177.
Candy Bar, One of the bigger complexes, with the 24hr sports-friendly venue offering plenty of hostesses in addition to comfortable seating, music at conversation volume and an upstairs guesthouse. Open: 24 hour, Happy hour 09:00-21:00; #24-26, Street 136, tel: +855 15 691 969, mobile: +855 12 963 639.
Oscar's, Oscar's is a charming hostess bar @ Phnom Penh's 104 street. The owner and his friends play live rock music from wednesday to sunday from 10pm 5 times a week. +855 (0)89 48 28 27.
Riverhouse is one of the best running clubs in Phnom Penh located right on the touristic riverfront. Address: #157 E1, Sisowath Quay. Phone: +855 (0)23 220 180. Location: Riverfront.
You can find also other Hostess Bar Girls in Street 104, Street 136, Street 51, near Golden Sorya.
BDSM
There are no official fetish or BDSM clubs in Phnom Penh. This does not mean you can not find such activities. Luckily there are escorts who provide BDSM services and actually few girls who you can even call dominatrixes.
At times, the escort girls have some unique and interesting range of adult services and offerings in store for their clients.
Dating
Dating in Phnom Penh can be a bit tricky due to cultural differences, so your best bet is to sign up for a dating site before your trip so you can meet a few locals ahead of time. AdultFriendFinder.com lets you meet local members in Phnom Penh and get to know them on a personal basis before you arrive. Take advantage of site features like live chat and member to member webcams so you can begin flirting before arranging a face-to-face meeting. Since your time in Phnom Penh may be limited, get to know each other's desires beforehand, so that when you meet you can start having some real fun.
How to find Sugar Babies and Sugar Daddies
If you are looking for an alternative to escorts in Phnom Penh with a girl who doesn't charge by the hour, sugar dating is the ideal solution. There are thousands of beautiful young women at SecretBenfits willing to do anything for a man who will help them pay their bills.
Often referred to as the "Tinder for Older Guys", SecretBenfits matches hot young women interested in pampering older gentlemen. You don't have to be a millionaire at SecretBenfits.com, you just need to be a respectful gentleman who knows how to treat a woman.
Transsexuals and Shemales
Finding someone for transsexual dating when you're on the road can be a bit tricky, so your best bet is to sign up for a dating site before you go so you can find locals ahead of time. TSdates.com is a dating site designed to help you find exactly what you are looking for in your hookup in Phnom Penh. Take advantage of site features like live chat and member to member webcams so you can begin flirting before arranging a face-to-face meeting. With over 40 million members, and thousands of transsexual members around the world, TSdates.com is the world's largest site of sex-minded friends for discreet encounters and will help you find your next transsexual play partner.
Where can I find shemales in Phnom Penh? You can watch transsexual live sex shows in Phnom Penh as long as you are connected to internet. Check Now: Tranny Live Sex Video Chat

There are some bars in Phnom Penh where one can find almost only ladyboys. You can ask tuktuk or moto drives more, or you can notice these type of places if you look inside and see more than usual amount of tall girls. Some of these TS/TV/TG and CDG girls are very attractive and it is not too easy to notice the difference between natural born girls and them. See Also: How to Spot a Ladyboy
You should be more careful if you are with a tranny prostitute, as they often are more likely the ones who might steal your valuables or scam you. See Also: Common scams
For high-end shemale escorts you must search online and these t-girls often charge much more than the trannies who work at the trans-girl bars.
There are several ladyboy bars situated in and around Phnom Penh. Visiting these places may help you find some hot transgender and shemales offering services along with companionship. Blue Chilli on Street 178 is one such venue that is relevant to thus topic.
Sexual Services for Women
If you are open to local men, your chances of dating are not much worse than in other countries. To be fair: It's true that a western woman will have it a bit more difficult than her western counterpart. Cambodian guys don't throw yourself at you – and those that do are usually no good. But there is definitely an interest and curiosity from the side of Cambodian men that is often challenged by shyness and a lack of English skills. Plus many Cambodian men approach women in a very subtle way. Maybe you've been approached and didn't even notice it.
Women looking for guys to get lucky with can either hire the services provided by the male escorts or they can try to get cozy with the local men. But one should also know how to approach a stranger and convince them in such matters
Sleeping and Girl Friendly Hotels
In Phnom Penh almost every hotel accepts to bring company to hotel room. Not a big deal. Sometimes hotels can ask for some extra cash, so you can ask before booking the room to be sure.
There are also options for a short time room where you can bring company. All the prostitutes know the closest short time rooms around.
Make SURE you check if your hotel require the girls to bring a valid ID card. Many hotels do this today and a copy or replica of the ID card is NOT accepted. So you might end up barfining a girl just to get her rejected at the hotel reception. To avoid this ask if they hotel require girls to show ID (that is the law, but many hotels ignore it) and ask if the girl have a valid original ID card BEFORE you pay the barfine.
The peak tourist season in Phnom Penh is from November to March. The rooms can be a bit more pricy then, but usually there are plenty of available rooms during every season.
Girl Friendly Hotels:
Eureka Villas
Circa 51 Boutique Residence (there is prostitutes in nearby areas)
Paddy Rice
Manor House
Mittapheap Hotel
Aqua Boutique Guesthouse
Indochine 2 Hotel
Circuit Hotel - Nana Hotel
Royal Inn Hotel
See also: Global list of girl friendly hotels
Apart from these aforementioned hotels, one can get private rooms for availing sex massages form the female masseurs working for several adult massage service centers.
Backpackers
The Street 278 area has turned into a backpackers party district and from here you can find good bars, clubs and many cheap hotels and hostels. If you want to party and have sex with the foreign backpackers at night and fuck hookers during the daytime, then you should pick a room from The Street 278 area.
Stay Safe
As in any big city, be wary walking alone at night. Daytime bag-snatching is common.
There are dozens of girlie bars catering to foreigners in the cross-streets back from the river. Freelance girls are picked up at establishments like Heart of Darkness, Sharkys Bar, Riverhouse Lounge and Martini Pub.
HIV is carried by about one in eight of Cambodia's female sex workers. NGOs have got the HIV rate in the general population down from around 2% to around 1% over the past decade but emerging liberal behaviour coupled with ignorance of safe practices may reverse this gain. Condoms are strongly advised.
Cambodia is a safe and friendly country, with the usual exception for large cities late at night, particularly Phnom Penh, and unobserved luggage or wallets. Bag snatching, even from those on bicycles and motorcycles, is a problem in Phnom Penh. Be discreet with your possessions, especially cash and cameras, and as always, take extra care in all poorly lit or more remote areas. If you are renting a motorcycle it has been advised to purchase and use your own lock for securing it as some of the less scrupulous staff at rental companies have been known to use their copy of the key to steal bikes and leave the traveler paying the exceptionally high value estimation. Police assistance in many cases requires some "facilitation" money in a sort of bidding war between the victim and the criminal with "connections" complicating things further making recovery of the motorcycle difficult.
The Bar Bill Scam
Beware of what is probably the most common scam in Phnom Penh: The Bar Bill Scam. You will be sitting in a bar having fun with the girls buying plenty of lady drinks, and suddenly the mamasan will bring yet another bill to the bill cup and all the girls will go quiet. This is either a fake bill or a marked up bill. They all know when its coming and they are all hoping you wont notice. So a good rule is to pay after each order.
Happy Pizza
You can find Happy Pizza restaurants from Phnom Penh and if you decide to order a one without knowing it is topped up with a Marihuana, it can lead to a very unpleasant situation.
Usually you can decide if you want mild, medium or strong topping, but if you are not experienced weed user, even the mild topping can be too strong for you.
If you decide to try Happy Pizzas, it is not recommended to eat full pizza at the first time. Cost is usually $4 to $10 for Happy Pizza
Crime and corruption
Intending visitors should be aware that the rule of law in Cambodia is inconsistently applied. Crimes usually require bribes to be investigated, and if perpetrators are wealthy or connected to the government they will often be untouchable by police and courts. You should also be aware that the courts are corrupt, so contracts are hard to enforce without some political leverage. All this being said, the violent crime rate is fairly low (especially to foreign visitors), the police are generally friendly and non-threatening, and those with common sense have little to fear.
Land mines
Cambodia suffers from a legacy of millions of land mines left during the war years. However, to tourists, land mines present a minimal to nonexistent threat, as most areas near touristed areas have been thoroughly de-mined. Many tourists mistake electric or sewage warning signs along national highways for land mine signs. HALO Trust, a leading mine removal organization in Cambodia asserts that you would have to drive through the jungle for at least an hour north of Angkor Wat to come across any mines. The threat is to locals in extremely rural areas who rely on subsistence agriculture for their livelihoods.
Nevertheless, in remote areas such as Preah Vihear (near the border) and Pailin (a former Khmer Rouge stronghold), exercise caution: ask for local advice and heed warning signs, red paint and red rope, which may indicate mined areas. Do not venture beyond well established roads and paths.
Prostitution
Prostitutes of both sexes can carry many STDs. The official HIV rate among prostitutes is 34%.
The age of consent in Cambodia is 15, however there are strict laws against prostitution of 15-18 year olds. Prostitution is theoretically illegal but widespread, although generally not overtly aimed at tourists, with the exception of Phnom Penh and Siem Reap. Many bars and clubs have taxi girls wandering the premises. Bear in mind that Southeast Asia has a fast-growing HIV infection rate, and among Cambodian sex workers this is about 1 in 8. So safe sex is a must in all cases. Cambodia had gained notoriety as a destination for pedophiles in the past. This is not the case anymore as prostitution of girls under 18 has all but disappeared from traditional venues.
Public health
Cambodia has a high prevalence of HIV and AIDS, being one of the worst affected countries in Asia. By 1995 there were between 50,000 and 90,000 Cambodians affected by AIDS, according to a WHO estimate. Transmission is mainly through heterosexual contact. Factors contributing to this include poverty, the presence of other STIs which facilitate HIV transmission, and a highly mobile workforce. This pattern is also seen in the sex worker population. Improvement has been seen in the last decade with condom promotion. Since 2001, there has been a "100% condom program" in place, which promoted safe sex.
It is always important for a person to consider certain things before he/she tries to get intimate. Using condom is a must; one should also try and know the person well before getting too close. Apart from that, avoid using or sharing personal details with any random person in bars, nightclubs and other places.
See Also