South America
South America Sex Guide advises where to find sex, working girls, prostitution, street hookers, brothels, red-light districts, sex shops, prostitutes, erotic massage parlors, strip clubs and escorts in South America.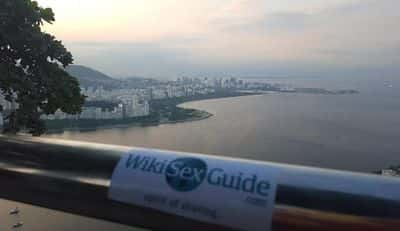 Nestled between the Caribbean, the South Pacific, and the South Atlantic Oceans, South America is the wilder of the Americas and a continent of superlatives.
The world's biggest rainforest and the largest river (Amazon), the highest mountain range outside Asia (the Andes), remote islands (Galapagos Islands, Easter Island and Fernando de Noronha), heavenly beaches (such as in Brazil's Northeastern region), wide deserts (Atacama), icy landscapes (Patagonia & Tierra del Fuego), the world's tallest waterfall (the 979m Angel Falls, in Venezuela) and one of the largest (Iguaçu Falls, Argentina and Brazil), as well as several other breathtaking natural attractions.
Besides, the work of man has also left rare gems on the continent: ruins of ancient civilizations (Machu Picchu and other Inca cities; the Moais in Easter Island) share the continent with world-class metropolises (São Paulo, Buenos Aires, Cordoba (city, Argentina), Bogotá, Caracas, Santiago, Lima and Rio de Janeiro), outstanding modern architecture (Brasilia), European architecture (Buenos Aires), the oldest rock paintings in the Americas (at the Serra da Capivara), strong African heritage (in Salvador, Rio and Montevideo), genuine indigenous (Belém, Manaus, Cuzco, Lima, La Paz), charming cities built in the Andes (Caracas, Medellín, Quito, Santiago de Chile) and Eastern culture (São Paulo's enormous Japanese community), mingled with the fingerprints of Iberian colonizers. Ushuaia, the world's southernmost city and some of its biggest festivities, such as Rio's Carnival and Belem's Cirio de Nazaré, the Tango World Championship, and the Vendimia festival in Argentina, are also part of this incredibly diverse and attractive continent.
Sex Scene and Prostitution
  Top Destinations in South America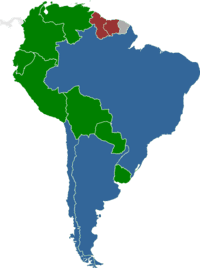 The legality of prostitution in South America varies by country.
Prostitution in Bolivia is legal and regulated. Prostitutes must register and must undergo regular health checks for sexually transmitted diseases (every 20 days). The police are allowed to check whether the prostitutes are registered or not.
Prostitution in Brazil itself (exchanging sex for money) is legal, as there are no laws forbidding adult prostitution, but it is illegal to operate a brothel or to employ prostitutes in any other way.
Prostitution in Chile is legal but bordellos are not.
Prostitution in Colombia is legal as long as it is done in designated "tolerance zones".
Prostitution in Ecuador is legal and regulated, as long as the prostitute is over the age of 18. The ownership of brothels is also permitted. Prostitution is widespread throughout the country.
Prostitution in Guyana is illegal.
Prostitution in Paraguay is legal for persons over the age of 18. Prostitution is common in the country.
Prostitution in Peru is legal and regulated.
Prostitution in Suriname is illegal, but the laws are rarely enforced.
Prostitution in Uruguay is legal for persons over the age of 18. Prostitution is common and it is practiced openly in major cities and tourist resorts.
Prostitution in Venezuela is legal and regulated.
Countries and territories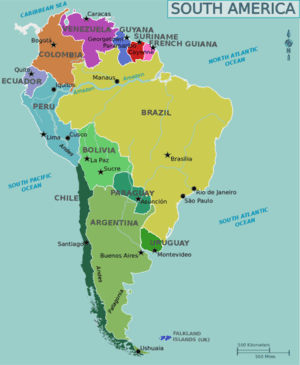 Cities
Female Escorts
Check out WikiSexGuide Adult Classifieds!
Erotic Massage
Check out WikiSexGuide Adult Classifieds!
Hookup and Pick Up Local Girls
Meeting local girls and getting laid for free is fun! Read more on how to pick up girls in South America: https://hookuptravels.com/wiki/South_America
Live Sex Cams
Can I watch Live Sex Cams in South America? - Yes, you can! Basically you can watch our online live sex shows for free anywhere in the world if you're connected to internet. You can choose any girl from our trusted WikiSexLive.com! Join to get 10 free private teasers and 9.99 credits for free!
Live Sex Cams are booming at the moment. Webcam models can be found from all over the world and you can find girls, guys, trannies, couples and groups of different ages performing to you. Watching live sex shows is free, but if you buy some credits, you will have much better chances to see adult action as desired! It's possible also to hire a webcam model to a private chat room where you can ask the person to fulfill your fantasies. Try now! WikiSexLive.com
Sleeping
Check out: Global list of girl friendly hotels
Stay Safe
South America has some reputation for crime, with Brazil, Colombia and Venezuela being noted as the most dangerous. As with anywhere else in the world, the right travel planning can mitigate any dangers.
Wearing or carrying items which may identify you as an affluent tourist can be a mistake. You shouldn't pack anything that you would be upset to lose. Leave expensive jewelry, watches and other items of value at home and only carry what you need. That goes for credit cards and other documents as well; if you have no need for them leave them behind in the hotel safe, only take what money you are likely to spend with you.
See Also