Ipoh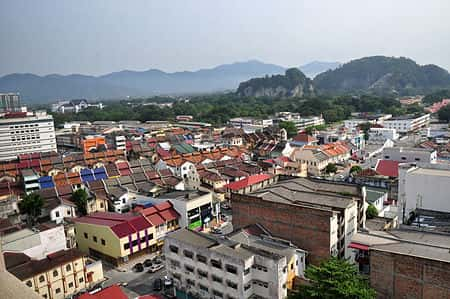 Ipoh Sex Guide advises where to find sex, working girls, prostitution, street hookers, brothels, red-light districts, sex shops, prostitutes, erotic massage parlors, strip clubs and escorts in Ipoh, Malaysia.
Ipoh is the state capital of Perak, on the west coast of peninsular Malaysia. It is the country's fourth largest city and a gateway to the Cameron Highlands.
Sex and Prostitution in Ipoh
Prostitution is illegal in Malaysia. Demand for prostitution has created a problem of people trafficking from China and other nearby countries. Sexual services, however, are widely available and laws banning prostitution remain largely unenforced.
Malaysian law is pretty strict on native Malay muslims drinking, as a result it is unlikely to encounter Malay girls at night. That said, plenty of Chinese and Indian girls do indulge. Malay girls have darker skin than other ethnic groups on the peninsula and many are extremely attractive and feminine. If you want to meet a nice Malay woman, your best bet is Borneo as East Malaysia is considerably more conservative.
However, you can look for brothels and other places offering similar kind of adult activities and services in Ipoh. You may find streetwalkers offering their range of services at certain areas in and around Ipoh. Always consider being a bit choosy with your selection of prostitutes and services related to prostitution. Being a bit cautious and careful in such matters will always keep you safe and away from potential hazards. You will be able to find many fun pubs, nightclubs and fancy hotels located in and around the town.
Red Light Districts
There is no window type red-light district in Ipoh. However, you can try out asking the local men if they know a place that can offer adult entertainment and brothel based services for visitors and potential clients. You can visit certain night time places in Ipoh in order to see if streetwalkers are available.
Prostitutes and Sex Workers
There is a huge disparity in the earnings of a high class prostitute and a lower end hooker in Ipoh. A high class call girl with a regular clients would be able to earn as much as RM2,000 per night, or even more. She often also works as a Guest Relations Officer (GRO) at an exclusive karaoke lounge to solicit for clients and earn a salary with tips as well. Lower class working girls generally earn just enough for the basic living necessities. They would be lucky to earn RM50 a night. Some supplement their income working as GROs for tips in budget karaoke lounges locally called papaya farms.
Prostitutes in Malaysia not only ply their trade in nightspots and hotels but also double up as masseuse (locally referred to as massage girls) working at massage parlours, Spas, health centres etc in the city centre.
One can find escort service agencies advertising their services online. You can visit any of these sites in order to hire personal services meant for adult fun and recreation. Apart from that, you can get Malaysian and Chinese escort girls willing to serve their clients by providing some of the most desired range of erotic treatments. However, proper and latest information is always important for an individual to collect beforehand.
Street Hookers
Ipoh streetwalker prostitute price: 150-250RM for Sex session. They will take you to short time hotels to have fast sex. Be aware of belongings an STD's. You can also choose to use the internet and contact working girls living near Ipoh. You might meet girls those who would not ask you to pay them for having sex. These days married, unmarried and many desperate housewives often look for sex partner in the internet. Try out getting in touch with one of them and you can get lucky soon.
Hookup and Pick Up Local Girls
Meeting local girls and getting laid for free is fun! Read more on how to pick up girls in Ipoh: https://hookuptravels.com/wiki/Ipoh
Live Sex Cams
Can I watch Live Sex Cams in Ipoh? - Yes, you can! Basically you can watch our online live sex shows for free anywhere in the world if you're connected to internet. Join to get 10 free private teasers and 9.99 credits for free! You can choose any girl from our trusted Live Sex Cams!
Live Sex Cams are booming at the moment. Webcam models can be found from all over the world and you can find girls, guys, trannies, couples and groups of different ages performing to you. Watching live sex shows is usually free, but if you buy some credits, you will have much better chances to see adult action as desired! It's possible also to hire a webcam model to a private chat room where you can ask the person to fulfill your fantasies.
Where to Get Sex Now
It is easy to get sex online in Ipoh. You just need to find the best available girls. See Girls Online Here!
Adult Locations
You may find various adult oriented hotels in Ipoh. And apart from that, one can also hire a private Ipoh trip by getting in touch with the escorts and other adult service providers. They might help you in this matter and can take you to various places that are meant for adults and their recreation.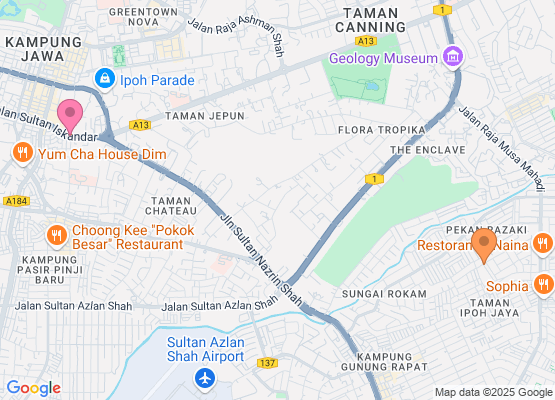 Escort Services and Agencies
Unfortunately we don't list in this category!
Finding an escort when you're travelling can be a bit tricky. An ideal alternative to escorts is a girl who is looking for a mutually beneficial relationship. There are thousands of horny girls willing to do anything for a generous guy. Click Here to hookup with a beautiful young woman now.
There is a large selection of escorts online from Ipoh. So one can visit those online sites and go through the available range of escort services in order to find out his favorable one. Escort services are basically provided on in call and out call basis. So, the interested person can choose the service according to his preference.
Erotic Massage Parlors
Unfortunately we don't list in this category!
Price for erotic massage in Ipoh depends of your negotiation skills and sexual treatments wanted.
For sauna and massage about RM 66 to 93 (40-45 mins)
For extended session of 1 hour, about +RM 14-20 extra
For HJ about +RM 80 to 100
For BJ about +RM 100 to 150
For FS about +RM 150 A full package with sauna and FS will therefore cost about RM 230 or just over S$100
There are many massage parlours offer hand job services in Ipoh. Very limited massage parlours which offers full sex services. Not to put high expectation. Rare gems will usually not appear in any of the massage parlors in Ipoh.
Robin health spa, Jalan Mustapha Al-Bakri. (THIS BUSINESS IS PROBABLY CLOSED) Facility include spa services, massage, TV room, foot massage etc and full sex service. Often offer China girl, sometimes Thai or Indonesian prostitutes, recently Vietnamese girls available. RM 150-200. Talk to the captain, don't be shy he usually very friendly. There is a room with selection of prostitutes in it. Facility environment often being complain a bit old and sometime could look cocky or scary to some.
If you are in Ipoh looking for erotic massage parlors, then consider going through the internet once. You will be able to find suggestions and list of websites dealing with the contact details and other information regarding erotic massage parlors in Ipoh. After going through those details and online advertisements, you can easily decide and figure out the best massage parlors and spas in Ipoh having the facility of extra services meant for adults.
Brothels and Sex Clubs
There is a lot of night life and activities here in this area including KTV, restaurant, discotheque etc. Often in weekends quite crowded especially there is marriage ceremony dinner night. Ample amount of parking spaces. But the brothel is in the discotheque itself. Get into the discotheque (very n ...
274, Jalan Sultan Iskandar
Brothels in Ipoh are not easy to find for some. Due to religious and social tension, brothels are often hide away and established in discrete location in Ipoh.
Not limited to but as following:
Tiffany health spa, Jalan Leong Boon Swee. Same street and one block away from the Honda showroom. 2nd floor. Thai prostitute price ranging from RM 80-1?? in 2012. Facilities are old sometimes dirty and cocky for some. Prostitutes offer sex services, straight to the point and no hanky-panky. Usually there is a man below the facility look after police raid. Take your own risk as prostitution is illegal in Malaysia.
Health spa, Jalan Medan Ipoh 1F. Near MH Hotel, Ipoh Garden East, next to KTV. Ground floor. Chinese / Vietnamese prostitute price ranging from RM 150- 180 in 2013. Facilities are new, very basic and simple sometimes wall peel paints and cocky for some. Take your own risk as prostitution is illegal in Malaysia.
Local people in Ipoh often have discrete contacts to some "brothers" where they operate prostitution "on the run". They often operate business running from one hotel to another, to reduce risk of getting caught. Should say that the quality of prostitutes for the "brothers" are quite acceptable, often they have several Chinese prostitutes. Again, rare gem are sometimes found here but it doesn't happen often. Again don't put international high hope and expectation in Ipoh. It is risky also. They usually accept business to those he have in his telephone directory only. Price ranging RM 150-250 for sex service depending on the quality. Once appointment made, he will tell you to go to certain hotel and meet you in certain floor. He will guide you from one room to another for viewing the prostitute. Often this is safe and not easily get caught in Ipoh history.
So, the best way to find brothels in Ipoh is to get in touch with these people who have information regarding the availability of brothels and sex clubs in Ipoh. If you face problem getting in touch with the localites, then consider online adult websites and communities in order to find established brothels or similar places where you can enjoy sexual activities and services offered by the working girls.
Strip Clubs and Striptease
There are no legal strip clubs in Ipoh Malaysia. You have to look for underground strip clubs if these places are available at all. However, in case of finding and visiting secret strip clubs, one should always consider self awareness as there remains high risk of scams and other issues.
Karaoke and KTVs
KTVs (hostess karaoke bars with beautiful female staff) are popular in some parts of Asia but you cannot find any of them from Ipoh. There are certain KTV and musical lounges located in and around Ipoh. But most of them might turn out be family oriented places. So, an individual looking for adult oriented KTVs and Karaoke bars can ask the local guys to help. If there's any place available in Ipoh where adult services are offered in KTVs, then the local guys might come up with satisfactory answers.
Swinger Clubs and BDSM
ALT.com is the best place for local singles, swingers, and couples in the BDSM community to connect with those interested in submissive sex, power exchange, locating persons for new slave roles, erotic BDSM, bondage & fetish sex, as well as live sex dates. Find thousands of play partners for whatever your fetish may be; bondage, foot, cockold, spankings, role-play, electric or water play, sadism and masochism. So whether you have the desire to explore your unrealized fetish fantasies, or you are extremely experienced and would love to train someone new, ALT.com is a community designed for people with like-minded interests to find and connect with each other.
Swinger clubs (lifestyle clubs), are formal or informal groups that organize sex-related activities or establishments where patrons can engage in sex acts with other patrons. Swinging action in Ipoh is very hard to find.
You can try asking the foreigners if they are interested in any kind of swinging activities in Ipoh. If you find this awkward, then consider using the online websites and communities where you can get in touch with a number of other couples interested in swinging activities. So, this will eventually make the entire process easier for you.
Sex Shops and Adult Stores
If you don't feel like visiting or cannot find any local sex shops in Ipoh, you can easily order adult products from Online Sex Shop.
Sex shops are not accepted in Malaysia. Sex toys and adult related toys can be found from several street vendors. Also Cialis, Viagra and Kamagra can be bought from many Pharmacies. You can also visit the online sex shops and adult stores that are widely available these days. One can purchase his/her product directly from those websites and can expect the item to reach their place within a stipulated time frame.
Love Hotels and Short Time Hotels
There are many short-time hotels in Ipoh where you can rent a room for an hour or two and have sex with your partner. You can also rent these rooms overnight. This will depend on your choice whether you want a room for few hours or for an entire night. However, do stay a bit careful and know the people around you well before entering a cheap hotel. This will help you stay safe and secured from potential risks and chances of being a victim of fraudulent acts.
Nightclubs and Bars
There are some nice nightclubs and bars in Ipoh where you can try your luck to find sex for free. But be careful when you are about to approach a girl in order to get lucky with her. You won't find each and every girl willing to have sex for free. However, exceptions might be there. So you need to understand and recognize those girls before approaching them for intimate and adult oriented activities.
Gay and Lesbian
Gay modeling in internet is getting more popular all the time and it's a big market alongside with gay porn. You can watch gay live sex also in Ipoh as long as you are connected to internet. Check it out: Gay Live Sex Video Chat
LGBT rights are largely unrecognized in Malaysia. Though many Malaysians are generally tolerant towards, and accepting of, LGBT individuals, the government retains the colonial era penal code criminalising sodomy. Social attitudes towards the LGBT community are also shaped by Islam, the official religion in Malaysia. Homosexuality is a crime hence gay and lesbian tourists should be self-aware and careful.
Dman Male Massage - 1/F 94-A Jln Raja Ekram, 012-517-7677, 016-203-5123.
Located in a discreet shophouse in the town center, in the first row of shops in front of RegaLodge Hotel. The one and only gay-owned and managed business in Ipoh. Quiet ambience with 9 individual massage rooms and a selection of Malay and Chinese masseurs on hand from Ipoh and neighboring villages.
Gay meeting places
Birch Memorial Clock Tower, Old Town and surrounding car park. Mostly late at night after the nearby food center closes. Stretches down to the double storey car :park below.
Garden in front of Ipoh Railway Station, around and near the fountain. Very cruisy after 8pm until morning, especially holidays.
Ipoh Club Padang in front of St Michael School.
2 Jln Teh Lean Swee. Shopping center is cruisy on weekends and during public holidays
The swimming pool at the Ipoh Stadium has gay cruisers.
You can either visit any of these places mentioned above in order to enjoy gay and lesbian actions or you can opt for yet another easy and smart method. The online gay and lesbian dating sites and other forums can come into play as well. You will find thousands of interested gay and lesbian people posting their ads and other profile details in search of interested partners to get hooked up with. Thus, joining such communities will be able to make things favorable and convenient.
Other Adult Services
Ask the escort girls in Ipoh if they can come up with extra and innovative adult services for their clients. Client friendly professional escorts might help you if they have anything else available, apart from the regular range of services.
Dating
Dating in Ipoh can be a bit tricky due to cultural differences, so your best bet is to sign up for a dating site before your trip so you can meet a few locals ahead of time. AdultFriendFinder.com lets you meet local members in Ipoh and get to know them on a personal basis before you arrive. Take advantage of site features like live chat and member to member webcams so you can begin flirting before arranging a face-to-face meeting. Since your time in Ipoh may be limited, get to know each other's desires beforehand, so that when you meet you can start having some real fun.
How to find Sugar Babies and Sugar Daddies
If you are looking for an alternative to escorts in Ipoh with a girl who doesn't charge by the hour, sugar dating is the ideal solution. There are thousands of beautiful young women who are willing to do anything for a man who will help them pay their bills.
Often referred to as the "Tinder for Older Guys", Sugar Dating matches hot young women who are interested in pampering older gentlemen. You don't have to be a millionaire to meet a sugar baby. Click Here if you are a respectful gentleman who knows how to treat a woman.
Transsexuals and Shemales
Finding someone for transsexual dating when you're on the road can be a bit tricky, so your best bet is to sign up for a dating site before you go so you can find locals ahead of time. TSdates.com is a dating site designed to help you find exactly what you are looking for in your hookup in Ipoh. Take advantage of site features like live chat and member to member webcams so you can begin flirting before arranging a face-to-face meeting. With over 40 million members, and thousands of transsexual members around the world, TSdates.com is the world's largest site of sex-minded friends for discreet encounters and will help you find your next transsexual play partner.
Where can I find shemales in Ipoh? You can watch transsexual live sex shows in Ipoh as long as you are connected to internet. Check Now: Tranny Live Sex Video Chat

You can hire the services of Ipoh ladyboy escorts. They advertise their range of services along with contact details in various websites and adult forums available online. When you are dealing with ladyboys in Ipoh, you should keep few things in your mind.
Golden Rule Number One: if you ask how much and she offers an irresistible price, never accept in glee and follow her immediately up to her flat. Enquire further whether there are any other charges. Is the price inclusive of the room? Are condoms free? Are tissues free? Are towels supplied without charge? Is there a hot shower?
Sexual Services for Women
There are many horny guys in Ipoh willing to have sex for free. Women just need to get in to some local bar to find one for free. But one should stay absolutely aware and consider being safe during such situations. Things might get worse if the local guy you are about to get intimate with, turns out to be a fraud person with ill intentions on mind. You can also use the internet and search using the keywords male escorts in Ipoh. This will help you find relevant pages and other sites where male escorts and gigolos post ads and other details related to their service. One can take a look at those details and choose to hire the service she finds interesting.
Sleeping and Girl Friendly Hotels
The major 5 star hotels don't allow bring guests to room. There are small local hotels that allow prostitutes to rooms. Sexworkers know the short-time hotels where they can bring customers.
Boutique Hotel - 69 & 70, Jalan Dato Onn Jaafar, Ipoh 30300, Malaysia
There is some street hookers hanging around the hotel and they will approach you.
If you fail to find any suitable sleeping and girl friendly hotel in Ipoh, then you can move out of that place and visit other destinations in Malaysia offering rooms on rent for a couple of hours. Kuala Lumpur is one of the biggest sex tourist destinations where you can get sleeping and girl friendly hotels available.
Stay Safe
Ipoh is in general a very safe city, certainly by international standards. However, there are some irritants like beggars, especially at bus terminals. It is better not to attract any unwanted attention by giving money to the beggars as most of them are professional beggars operated by syndicates.
Perhaps not so much a safety thing per se, but at the Central Market in New Town, particularly if you are an orang putih (white person), don't let the traders rip you off (which they are likely to do, if you let them). If the prices are signed clearly, hold them to it! Furthermore, Ipoh is probably not as tourist friendly as publications, such as Lonely Planet, make it out to be.
The city centre is relatively safe, but again, pickpockets do work in the stations. If you are carrying a bag make sure that it's secured (all zipped up). If you have a wallet in your pocket keep a hand near it while exiting the buses. It is not advisable to leave your handbag dangling on your shoulder while walking next to main roads, as motorcycle snatch thefts do happen.
HIV prevalence was high among key affected and vulnerable populations. In 2009, HIV prevalence was 22.1% among injecting drug users, up from the 11% reported in 2007; 10.5% among female sex workers; 3.9% among men who have sex with men; and 9.3% among transgender persons. As of 2009, 0.06% of the 1,021,542 migrant workers screened for HIV were reported positive.
However, personal safety and self-awareness are things one must always consider as their first and foremost priority. For instance, sex tourists trying get intimate with a random person should take some time to understand and analyze situations well. If each and everything seems to be fine, then opening up a bit and getting cozy with a random stranger won't be an issue. Apart from that, one should never neglect the usefulness of condoms during sexual activities.
See Also