Sihanoukville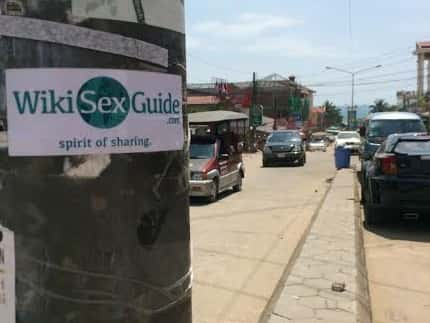 Sihanoukville Sex Guide advises where to find sex, working girls, prostitution, street hookers, brothels, red-light districts, sex shops, prostitutes, erotic massage parlors, strip clubs and escorts in Sihanoukville, Cambodia.
Sihanoukville (Krong Preah Seihanu), formerly Kompong Som and familiarly just Snookyville or even Snooky is a seaside town featuring Cambodia's best-known beaches.
Sex and Prostitution in Sihanoukville
Prostitution in Cambodia is illegal, but prevalent.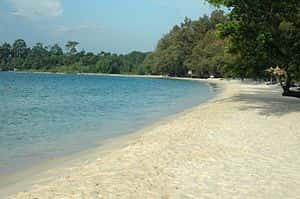 Old men of 50-70 years are hanging around Sihanoukville with their "girlfriends" in the age of "the younger the better". If you are living in Sihanoukville you get used to see couples of grandpapa/young girl combination. The land of dreams and all is possible. It's "beauty for money".
VERY IMPORTANT: DO NOT USE Mototaxis or Tuc Tuc, if you like to go to the places, where you wish to meet ladies! The Mototaxi- and Tuc Tuc drivers CHEATING where they can! The Mototaxis and Tuc Tuc drivers want ALWAYS commission from the bar/shop owners AND from customer! Sometimes up to USD 30.-! Angry blood with driver, customer and bar/massage owner is sure! If you are in Sihanoukville, is much better and more easy for you, if you rent for your holiday a scooter for 6 to 7 dollars per day. All hotels and guesthouse have an offer to rent motorbikes. Take after a map and you can find everything very easy. Also monthly rates available, around USD 70.-.
Pricing Policy
Pricing policy of Khmer (Cambodian) prostitutes is quite clear. Prices are basically determined by the nationality of the customer. Minimal, basic service cost - twenty dollars for a date. There is a lot of countries, and Cambodia is not an exception, where it is possible to negotiate with the girl and try to go with her for less money, but it is considered as a mauvais ton, and to get paid less than twenty mean now to lose the face and respect. Usually, twenty dollars price is only for Khmer people and the foreigners, long time living in Cambodia. It has been said that local men can sometimes get it much cheaper (for example less than $5). Fee for travelers is a little bit different. For the barangs - the white tourists - 20 - 30 dollars to pay, the Chinese and Japanese - are even more expensive - up to $50. Finally, the highest fee is established for black skin tourists - a hundred dollars and not a cent less. This is due to the fact that for some reason Negros causes Khmer woman absolutely sincere, undisguised disgust. To go with a black man for less than a hundred dollars and all the girlfriends will be laughing! Incidentally, Negros is blaming Khmer prostitutes for racist behavior.
There are some guys who say that in this town by the beach you can get sex for as little as 5$, but you have to be very experienced monger to get such a deals!
| | |
| --- | --- |
| | WARNING: Watch out for fake dollars! Always take a look of the change bills you're getting back from the girls or girlie bars. Sometimes you might get back monopoly play money (fake dollars) if you're paying with a big bill (50$ or 100$). This action happens especially if you're in drunk. |
| | |
Girlie Bars
Here are some girlie bars in Sihanoukville:
City or Downtown:
Charlie Harper's, Australian run place, girls mostly in high season
Kangaroo, Australian run place

Victory Hill:
Nice looking girls, and some really hotties too, but the minimum price asked is 30$ ST + 10$ bar fine.
V Lounge, Australian run place
Tropicana, Australian run place.
Upstairs, English run place.
Sahara, Khmer run place.
Sunflower, Khmer run place.
Heartbreak, Khmer run place.

Late Night:
The Golden Lions Square, now main area for girlie bars. You can find more than 10 of girlie bars very near from Golden Lions Square. They are all centralized in a small area next to the road leading to South from the square.
Utopia is one of Sihanoukville's favorite nightspot where everbody meets late night. A couple years ago it was one of the first places in this area, but within the last 2 years it got surrounded by middleclass hotels and has to take down music after 12pm. The innovative owners just made 2010 a new building in the same area, where the power of parties and music is unlimited again. CAREFUL BECAUSE KNOCKOUT DROPS!!! Some ladies put drops in your drinks and often on their breasts! Just happened again few days ago in the Dolphin, around 10 November 2015 with 3 German and 2 Swedish tourists!!!
Dolphin, Khmer owned backpacker party place where freelance and bar girlies after work go. Dolphin is the 5th beachshack counted from the pier on occheuteal beach. Before the partyscene in Shivashack came up and the reconstruction of all shack and the walking zone, it was one of the major partyspots in city for the young traveller crowd. All the girlies from the bars went down after 2AM. Dolphin's partyszene ended when the owner got differences with the freelance girlies in the year 2008. The party and girliescene moved on to Shiva shack after and it's gunfire to Utopia. In April 2011 the owners of Utopia got differences with the girlies, so they moved on to JJ's where the actual partyscene is and maybe Dolphin is getting his comeback with it. CAREFUL BECAUSE KNOCKOUT DROPS!!! Some ladies put drops in your drinks and often on their breasts! Just happened again few days ago in the Dolphin, around 10 November 2015 with 3 German and 2 Swedish tourists!!!

Day time:
Martini is the best running western owned beach shack on Occheuteal beach. It's nice italian owner bought it in the year 2008 and brang it within short time to a very good running place where everybody likes to go. CAREFUL BECAUSE KNOCKOUT DROPS!!! Some ladies put drops in your drinks and often on their breasts!
Otres Marina is by the river at Otres 2 meet friendly girls at the riverside bar and on the boats they have.
If you are all alone in Sihanoukville then you may like to take help from someone who has an experience about such matters. Apart from that there are certain areas where you might end up hooking up with the locals for an intimate moment ahead. It is said that finding prostitutes in Sihanoukville is not a major issue. However, consulting with a person who knows regarding the sex and prostitution scene in Sihanoukville would always be helpful. Apart from that, using the internet and going through various adult blogs and websites might help you develop further knowledge regarding the availability of prostitution in and around Sihanoukville.
Red Light Districts
There are no official red-light districts in Sihanoukville like the ones in Hamburg or Amsterdam, but:
Downtown In downtown have also few places. Downtown is often more cheaper, more safe then on the beach. Mostly erotic massage places.
Charlie Harpers, mostly in high season some girls in the bar. Have bar, restaurant and guesthouse.
Kangaroo Kitchen Guesthouse, Restaurant & Bar, some girls in the big bar with pool table.
Victory Hill could be considered as an unofficial RLD and it's a 200m high hill behind the Victory beach located near the port of Sihanoukville. On top of the hill is the ancient governor's villa. Life at Victory Hill is cozy and laidback. The touristic center with its guesthouses, restaurants and bars is located 500m away from the beach. The Victory area has a wide selection of cheap guesthouses. Rooms for 50-100 usd/month, 3-12 usd/day in guesthouses are common where a room for US $12 normally has an A/C and cable TV is average in almost every room. Plenty of longterm residents are living in this area which is more laidback than the busier Ochheuteal beach. Everbody knows each other after short time at Victory Hill and it's still like a family. Most of the businesses at the bar street at Victory Hill converted within the last years from the traveller scene to girliebars, but it has several cozy restaurants around the corner as well and plenty of new bars without girlies on the main road going down to the port.
Golden Lion Plaza is a small walking zone next to Cambodian Resort with 9 bars and 1 restaurant on Occheuteal beach's 3rd road. This is considered as a girlie area as well.
Chickenfarm means horizontal business in Cambodia. The government set new rules in 2010 and eversince the 5$ business has to be done somewhere else and is not allowed down there anymore. But women are still waiting for customer at this redlight area. More than 1000 Cambodian and Vietnamese girls used to work here. The area is dark and dangerous. Attacks occur often. Go in groups of a least 3 people and never alone down there. Before you visit this area, make sure that the business here is still going on. The Chicken Farm is very long road with many whore houses and a recommended visit during your holiday. The red dirt road is kind of an upside-down shaped U. The bordellos are about 100 feet apart from one another. If you rent a motorbike for US $3 a day, you can cruise through it fairly easily making your holiday exciting. Most of the sex workers can usually be seen at night when the red neon lights are lit to cover their bad looks, or should I say noticeable impurities.

Check out Sihanoukville girlie bars from above.
You may visit various girly bars located in and around the place. People visiting such areas may hook up with someone they find attractive. Bit of course not all girls are ready to get intimate with the person they meet. But there are some girls who would like to go with you and offer certain adult entertainment services for the money you would pay. Since there are no official red light districts in and around Sihanoukville, you can always try your luck by visiting bars and nightclubs.
Prostitutes and Sex Workers
Many of the prostitutes in Sihanoukville are Meth(amphetamine) users. Meth is also known as "ice" or "Jabba" and it's a quite cheap drug what locals like to smoke or sometimes sniff. The drug is highly, highly addictive, but allows taxi girls to stay up working throughout the night and the morning.
The prostitutes here are also known as "taxi girls": women who rent themselves out to foreigners for a night, a day, a week or an entire month. These taxi girls are excellent flirts and are very skilled at convincing foreign men that they're in love, when in fact, this is just their job: a means to an end.
Prostitutes and sex workers are seen flocking in and around the beach areas of the place, where tourists would visit during the night time. So, you may meet the working girls there and ask for their availability and what kind of adult entertainment services are there in store. You can find several freelance prostitutes waiting for their clients. People looking for the same may approach those working girls for having sex or in order to avail any other sexual services that might be available.
Street Hookers
There is not too big difference between a prostitute working in a bar or the street. Basically you can meet a taxi girl on any street walking at night. They might be heading to the bar though.
There are several main centers for the sex tourism activities in Sihanoukville. Occheuteal Beach and Serendipity Beach are host to a number of beach bars that are usually packed full until the wee (or not so wee) hours of the morning. The Occheuteal Beach bars are more popular with the younger backpacker crowd. Taxi girls are always present, but not as much as on Victory Hill, the epicenter of prostitution in Sihanoukville.
You will find working girls offering their services to various men at places such as the Serendipity beach at night, early in the evening you would find many hookers hanging out at a place called Utopia. Apart from that, the Dolphin Shack is said to be one of the best places where you will find freelancers offering their adult entertainment services. JJ's is yet another spot where you can find working girls. The freelancers remain available at the beach from around 10pm and they might stay active till 3 to 4am. You can always negotiate and agree to a price that may go well with both of you.
Hookup and Pick Up Local Girls
Meeting local girls and getting laid for free is fun! Read more on how to pick up girls in Sihanoukville: https://hookuptravels.com/wiki/Sihanoukville
Live Sex Cams
Can I watch Live Sex Cams in Sihanoukville? - Yes, you can! Basically you can watch our online live sex shows for free anywhere in the world if you're connected to internet. Join to get 10 free private teasers and 9.99 credits for free! You can choose any girl from our trusted Live Sex Cams!
Live Sex Cams are booming at the moment. Webcam models can be found from all over the world and you can find girls, guys, trannies, couples and groups of different ages performing to you. Watching live sex shows is usually free, but if you buy some credits, you will have much better chances to see adult action as desired! It's possible also to hire a webcam model to a private chat room where you can ask the person to fulfill your fantasies.
Where to Get Sex Now
It is easy to get sex online in Sihanoukville. You just need to find the best available girls. See Girls Online Here!
Adult Locations
It's very easy to find adult entertainment in Sihanoukville. As mentioned above, several beaches, girly bars and shacks can turn into enjoyable adult locations after night or during the early evening. So, you can consider visiting any of these places. However, a little of precaution and staying alert can be helpful in this matter.

Escort Services and Agencies
Unfortunately we don't list in this category!
Finding an escort when you're travelling can be a bit tricky. An ideal alternative to escorts is a girl who is looking for a mutually beneficial relationship. There are thousands of horny girls willing to do anything for a generous guy. Click Here to hookup with a beautiful young woman now.
There are some escorts services advertising online in Sihanoukville. You can visit the websites of various escort girls in Sihanoukville. They have a structured way of running profession. So, exploring the websites of the working escort girls can definitely help you out in thus matter.
Erotic Massage Parlors
Unfortunately we don't list in this category!
There are 'Massage Parlors' that don't actually do a very good massage. This probably is as close to the seedy side of prostitution as it gets in Sihanoukville. These places range from the established and relatively 'safe' environment of 'Blue Mountain' to the pile of wood, tin and soiled mattresses that is the 'Chicken Farm' down by the port. Both are really only for the 'seasoned veteran' of Asian Life. Treat them like a 'tourist attraction' and you could certainly find yourself in trouble. There are many all inclusive massages and price starts from $20.
Venus Massage 1010 is one of the safest and longest running foreigner friendly establishment in Sihanoukville.
You may find some massage salons and similar places where the working girls have the facility of providing "extra services" to their clients. But you need to pay some extra amount of money in order to add the service to your list of fantasy.
Brothels and Sex Clubs
Most bordellos in Sihanoukville are massage salons or night clubs. Cost to have sex at these places is very cheap and there are many good looking whores to choose from. So, you may visit any of those available massage parlors and salons in order to have sex with the working girls available at those places. However, choose to opt for a place that is genuine, without any intention of making you a victim of fraudulent activities and scams.
Strip Clubs and Striptease
There aren't any real strip clubs in Sihanoukville but you will be able to see some naughty scantily clothed women in Sihanoukville's girlie bars. You may hit those girly bars and enjoy the sight of those working girls. You may try out being cozy with them, if you see that the girls are interested in doing the same.
Karaoke and KTVs
In last few years there have been a big change in KTV business in Sihanoukville. At the moment there are several huge KTVs in different parts of Sihanoukville. The biggest reason for having huge KTV's is probably that Chinese tourism is increasing all the time in Sihanoukville. All the tuktuk drivers know the KTV locations. There have been built also many new big casinos in last few years. You can visit these KTVs and Karaoke bars that are available in and around Sihanoukville. If you are planning to get cozy with someone attractive, then you may try and get lucky at these places if the female stranger you would meet is equally interested to take things to the next level of intimacy with you.
Swinger Clubs and BDSM
ALT.com is the best place for local singles, swingers, and couples in the BDSM community to connect with those interested in submissive sex, power exchange, locating persons for new slave roles, erotic BDSM, bondage & fetish sex, as well as live sex dates. Find thousands of play partners for whatever your fetish may be; bondage, foot, cockold, spankings, role-play, electric or water play, sadism and masochism. So whether you have the desire to explore your unrealized fetish fantasies, or you are extremely experienced and would love to train someone new, ALT.com is a community designed for people with like-minded interests to find and connect with each other.
Swinging is not common in Sihanoukville among the locals. In nearby Otres there is a small swingers scene. You may bump up into a tourist couples who are into a partner swapping or sex parties. Internet classifieds are maybe your best option to search such activities. If you find it uncomfortable to approach any random couple for a swinging activity, then try out being a member of various adult forums and online swingers' clubs. You may find news and updated information that may come into play while you are in Sihanoukville.
Sex Shops and Adult Stores
If you don't feel like visiting or cannot find any local sex shops in Sihanoukville, you can easily order adult products from Online Sex Shop.
There are few street hustlers that are selling viagra, cialis and kamagra. Some vendors also sell sex toys. In case you don't find any suitable place where you can get products related to adult use, then the best thing to do in such case is to go online. These days, there are several online adult stores available. So, choose one and purchase the product of your choice quite easily.
Love Hotels and Short Time Hotels
There aren't any real original Japanese style love hotels in Sihanoukville but you will find plenty of short-time hotels where you can rent a room for an hour. All of the working girls know the short-time rooms near by. Usually a room will cost a couple of dollars for one hour. So, it would be always better if you hook up with a working girl. They might take you to the place where one can get the access to a room on a short time basis. Apart from that, you can get in touch with a local guy you may know. At times, the localites may have information regarding such things.
Nightclubs and Bars
There are lots of bars and few nightclubs in Sihanoukville. In some clubs you can easily spot local prostitutes or semi-pro working girls.
There are lots of young tourist girls partying hard, so if you're not into Khmer girls, you can try to hook up with a foreigner.
However, in both the cases one should know how to identify the ones that are genuine. If you fail to do so, then chances are there that you may end up being trapped or being a victim of fraudulent activities or scams. So, a little of bit of alertness is always suggested. However, in both the cases one should know how to identify the ones that are genuine. If you fail to do so, then chances are there that you may end up being trapped or being a victim of fraudulent activities or scams. So, a little of bit of alertness is always suggested.
Gay and Lesbian
Gay modeling in internet is getting more popular all the time and it's a big market alongside with gay porn. You can watch gay live sex also in Sihanoukville as long as you are connected to internet. Check it out: Gay Live Sex Video Chat
Same-sex sexual activity is legal in Cambodia when it involves non-commercial acts between consenting adults in private.
Here are some gay places to visit:
Cheers Cambodia Gay Boutique Hotel, Restaurant and Bar, #129, Street Borey Kamakor, Sangkat 3
Bar is 15 metres long with 17 hand made custom stools, by far the biggest in Sihanoukville. Seating for over 60 at the moment & standing room for over 200, surrounded by palm trees & gardens the bar is located behind the Hotel so it is very private, the bar is tastefully lit by led lights & we have a music collection of over 70,000 songs & music video's to suite every taste, the bar is made from marble & blue glass shelves, we have a wide choice of drinks, the best food in town & freshly made coffee from our automatic Italian coffee machine which makes each cup freshly from coffee beans.
Pink and Purple, on ochheuteal beach road located behind the on the rocks travel agency
Gay bar in the tourist district close to everything but hidden. New.
Tom's is located just 70 meters from Ochheutal Beach of Sihanoukville Cambodia. Recently awarded the status one of the "Most Beautiful Bays of the World". Bar serves you cocktails, long drinks, budget drinks with special background music and entertainment. Helpful and friendly staff will pay special attention to details. We welcome you to come and spend your holidays with us and let us make your vacation a memorable occasion.
You may probably find gay tourist guides to accompany you throughout your stay in Sihanoukville. Apart from that, if you are really into sexual activities and all, then visit the gay bars that are available in order to find someone and get lucky with them if the person is also interested. One can also join gay dating sites in order to find ideal matches to date or in order to get involved in other activities.
Other Adult Services
BDSM
There are no real BDSM clubs in Sihanoukville, but luckily there are escorts for every taste. Some of the escorts are quite skilled and know some basics of BDSM such as dominating and role playing. Often you need to pay a little extra to get such a services in Sihanoukville.
If you still want to explore anything else, then asking the escort and other working girls can be helpful as well. At times, they might come up with extra services on special demands and requests coming from their clients.
Dating
Dating in Sihanoukville can be a bit tricky due to cultural differences, so your best bet is to sign up for a dating site before your trip so you can meet a few locals ahead of time. AdultFriendFinder.com lets you meet local members in Sihanoukville and get to know them on a personal basis before you arrive. Take advantage of site features like live chat and member to member webcams so you can begin flirting before arranging a face-to-face meeting. Since your time in Sihanoukville may be limited, get to know each other's desires beforehand, so that when you meet you can start having some real fun.
How to find Sugar Babies and Sugar Daddies
If you are looking for an alternative to escorts in Sihanoukville with a girl who doesn't charge by the hour, sugar dating is the ideal solution. There are thousands of beautiful young women at SecretBenfits willing to do anything for a man who will help them pay their bills.
Often referred to as the "Tinder for Older Guys", SecretBenfits matches hot young women interested in pampering older gentlemen. You don't have to be a millionaire at SecretBenfits.com, you just need to be a respectful gentleman who knows how to treat a woman.
Transsexuals and Shemales
Finding someone for transsexual dating when you're on the road can be a bit tricky, so your best bet is to sign up for a dating site before you go so you can find locals ahead of time. TSdates.com is a dating site designed to help you find exactly what you are looking for in your hookup in Sihanoukville. Take advantage of site features like live chat and member to member webcams so you can begin flirting before arranging a face-to-face meeting. With over 40 million members, and thousands of transsexual members around the world, TSdates.com is the world's largest site of sex-minded friends for discreet encounters and will help you find your next transsexual play partner.
Where can I find shemales in Sihanoukville? You can watch transsexual live sex shows in Sihanoukville as long as you are connected to internet. Check Now: Tranny Live Sex Video Chat

You should be more careful if you are with a trannie prostitute. They often are more likely the ones who might steel your valuables if they get a chance.
There are ladyboy dating sites available these days. In case, you are having an issue getting in touch with shemales and transsexual partners in and around Sihanoukville, then try joining such dating sites. This will make the entire process convenient for you. However, try to know the person well before deciding to hook up.
Sexual Services for Women
In Sihanoukville, there is a small gigolo scene for female tourists serviced by local motorcycle taxi drivers.
If you are open to local men, your chances of dating are not much worse than in other countries. To be fair: It's true that a western woman will have it a bit more difficult than her western counterpart. Cambodian guys don't throw yourself at you – and those that do are usually no good. But there is definitely an interest and curiosity from the side of Thai men Cambodian is often challenged by shyness and a lack of English skills. Plus many Cambodian men approach women in a very subtle way. Maybe you've been approached and didn't even notice it.
Hiring gigolos and male escorts can be an option for ladies looking for men to have sex with. Apart from that, hooking up with men via online dating sites can be helpful too.
Sleeping and Girl Friendly Hotels
In Sihanoukville almost every hotel accepts to bring company to hotel room. Not a big deal. Sometimes hotels can ask for some extra cash, so you can ask before booking the room to be sure.
There are also options for a short time room where you can bring company. All the prostitutes know the nearest short time rooms around.
Girl Friendly Hotels and Guesthouses
OTRES MARINA very laid back hotel at Otres 2
SWISS BEACH Guesthouse, directly on Ochheuteal Beach
Central Lodge (very clean and very Girl Friendly), Facebook: https://www.facebook.com/centrallodgesihanoukville/
Lay Lay Guesthouse, downtown Sihanoukville, near CT Clinic
Mean Mean Guesthouse, downtown Sihanoukville, near CT Clinic
Fortuna Hotel, Golden Lion
Seaside Hotel, directly on Ochheauteal Beach
The Harbor Lights Palace-Boutique Hotel
Golden Sand Hotel
Sakal Guesthouse
Chhne Chulsa Hotel
Holiday Villa Nataya, Serendipity street
Beach Road Hotel, Serendipity street
most guesthouses in downtown Sihanoukville
Girl NOT Friendly Hotels and Guesthouses
Zana Beach Guesthouse
Serendipity Beach Resort
Independence Hotel (difficult. In the main building NOT possible!)
Swiss Villa
Grand Sihanouk Ville Hotel (Reception want always high commission! AVOID THIS PLACE!!!)
So, finding sleeping and girl friendly hotels in Sihanoukville is not at all a difficult thing. You can enjoy both the options of hooking up with the local working girls or taking your own local companion to hotels where they allow people to use rooms on short time basis.
Stay Safe
The last part of the Ekareach mainstreet in Sihanoukville leading from the city to Victory Hill is the part where often people on motobykes get attacked from motobykes coming from behind. Two young Khmer guys on it and the guy sitting behind rips the unaware tourist his pocket away what leads often to heavy accidents. You are save when wearing no pockets around your body when driving motobykes. But if you wear any pockets around your body you have a good chance to get attacked after 10pm. The best way coming to Victory Hill from city at night is to take a Tuk Tuk. Tuk Tuks at Victory Hill are available to bring you back to Ochheuteal beach and the regular price is $3.50 for it.
Cambodia is a safe and friendly country, with the usual exception for large cities late at night, particularly Phnom Penh, and unobserved luggage or wallets. Bag snatching, even from those on bicycles and motorcycles, is a problem in Phnom Penh. Be discreet with your possessions, especially cash and cameras, and as always, take extra care in all poorly lit or more remote areas. If you are renting a motorcycle it has been advised to purchase and use your own lock for securing it as some of the less scrupulous staff at rental companies have been known to use their copy of the key to steal bikes and leave the traveler paying the exceptionally high value estimation. Police assistance in many cases requires some "facilitation" money in a sort of bidding war between the victim and the criminal with "connections" complicating things further making recovery of the motorcycle difficult.
Crime and corruption
Intending visitors should be aware that the rule of law in Cambodia is inconsistently applied. Crimes usually require bribes to be investigated, and if perpetrators are wealthy or connected to the government they will often be untouchable by police and courts. You should also be aware that the courts are corrupt, so contracts are hard to enforce without some political leverage. All this being said, the violent crime rate is fairly low (especially to foreign visitors), the police are generally friendly and non-threatening, and those with common sense have little to fear.
Land mines
Cambodia suffers from a legacy of millions of land mines left during the war years. However, to tourists, land mines present a minimal to nonexistent threat, as most areas near touristed areas have been thoroughly de-mined. Many tourists mistake electric or sewage warning signs along national highways for land mine signs. HALO Trust, a leading mine removal organization in Cambodia asserts that you would have to drive through the jungle for at least an hour north of Angkor Wat to come across any mines. The threat is to locals in extremely rural areas who rely on subsistence agriculture for their livelihoods.
Nevertheless, in remote areas such as Preah Vihear (near the border) and Pailin (a former Khmer Rouge stronghold), exercise caution: ask for local advice and heed warning signs, red paint and red rope, which may indicate mined areas. Do not venture beyond well established roads and paths.
Prostitution
Prostitutes of both sexes can carry many STDs. The official HIV rate among prostitutes is 34%.
The age of consent in Cambodia is 15, however there are strict laws against prostitution of 15-18 year olds. Prostitution is theoretically illegal but widespread, although generally not overtly aimed at tourists, with the exception of Phnom Penh and Siem Reap. Many bars and clubs have taxi girls wandering the premises. Bear in mind that Southeast Asia has a fast-growing HIV infection rate, and among Cambodian sex workers this is about 1 in 8. So safe sex is a must in all cases. Cambodia had gained notoriety as a destination for pedophiles in the past. This is not the case anymore as prostitution of girls under 18 has all but disappeared from traditional venues.
Public health
Cambodia has a high prevalence of HIV and AIDS, being one of the worst affected countries in Asia. By 1995 there were between 50,000 and 90,000 Cambodians affected by AIDS, according to a WHO estimate. Transmission is mainly through heterosexual contact. Factors contributing to this include poverty, the presence of other STIs which facilitate HIV transmission, and a highly mobile workforce. This pattern is also seen in the sex worker population. Improvement has been seen in the last decade with condom promotion. Since 2001, there has been a "100% condom program" in place, which promoted safe sex.
Before you decide to spend an entire night with someone you haven't met before, take some time to understand the person and then decide whether it will be safe to proceed any further or not. People should also consider using condoms during their time of sexual activities.
See Also