Leipzig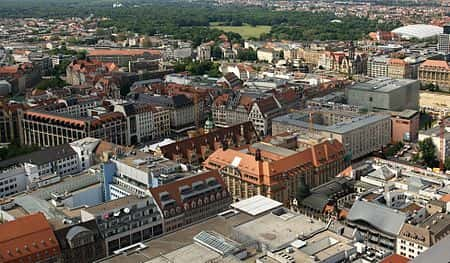 Leipzig Sex Guide advises where to find sex, working girls, prostitution, street hookers, brothels, red-light districts, sex shops, prostitutes, erotic massage parlors, strip clubs, FKK Clubs and escorts in Leipzig, Germany.
Leipzig is the second largest city in the German federal state of Saxony, with a population of approximately 521,000. It is the industrial center of the region and a major cultural center, offering interesting sights, shopping possibilities and lively nightlife.
Sex Scene and Prostitution
Prostitution in Germany is legal, and so are brothels. In 2002, the government changed the law in an effort to improve the legal situation of prostitutes. However, the social stigmatization of prostitutes persists and many prostitutes continue to lead a double life. Authorities consider the common exploitation of women from Eastern Europe to be the main problem associated with the profession.
It is thought that around two thirds of the country's 400,000 sex workers come from other countries, in 1999 only half of the prostitutes came from other countries. Many of the girls come from Eastern European EU countries such as Romania & Bulgaria. Most prostitutes who come from outside EU, are from Ukraine, Russia & South America. Red light districts have also become much more prominent in Germany's major cities - there is approximately 3500 established brothels in Germany and the trade is now big business.
The details of prostitution vary regionally, because the federal states and municipalities decide where and how brothels may operate. (Berlin is the only city without zoning restrictions.) In some places, streetwalkers line up along motorways with open-air booths nearby for quickies. In others, such as Saarbrücken, near the border with a stricter country like France, entrepreneurs are investing in mega-brothels that cater to cross-border demand.
See Also: The Countries With the Most Prostitutes
Where to Get Sex Now
It is easy to get sex online in Leipzig. You just need to find the best available girls. See Girls Online Here!
Red Light Districts
There is no Red-light district in Leipzig like the ones in Frankfurt & Berlin. Best choice is go to the Laufhaus Eros Center (Torgauer Strasse 246, 04347) and have good sex there for under 50€. Best red light district areas in Germany are located at Hamburg and Frankfurt.
Prostitutes and Sex Workers
Every city in Germany has hookers. Leipzig is no different. Brothels and FKK clubs in the city have some hotties working. In Leipzig, street prostitution is forbidden almost everywhere, and the city even has a local law allowing police to fine customers who solicit prostitution in public.
Street Hookers
Regular street prostitution (Straßenprostitution) in Germany is often very well organized and sometimes controlled by pimps. Most German cities however established "Sperrbezirke" (off-limits zones) and charge the street prostitutes an amusement tax, that in the city of Bonn for instance is paid by the streethookers at parking meters, 6€ for a period of about 8 hours at nightime. The same fee is collected from sex workers in apartments and brothels, sometimes by municipal tax collectors in person. Some street whores have a nearby caravan, others use the customer's car, still others use hotel rooms. With recent economic problems, in some bigger cities "wild" street prostitution has started to appear: areas where prostitutes work temporarily out of short-term financial need. A "Sex drive-in", or "Verrichtungsbox", is a facility of structures to enclose cars to provide a safer place for sex workers using cars.
See Also: Tippelzone & Sex drive-in
Where to find Street Prostitutes in Leipzig
Street prostitution is illegal in Leipzig so it hardly exist, but you could find a desperate junkie selling herself if you are lucky. Price for sex with a Leipzig street whore is around 20-30€.
Strip Clubs & Lap Dance
Basic American style gentlemen´s clubs where you can only drink beer, get a lap-dance and nothing else, are not so common in Germany. In Germany most strip joints are hardcore. At some strip clubs you can also have sex with the dancers in a private room provided at the strip joint, or sometimes even take a stripper with you to your hotel room and fuck her there. It is always more expensive to have sex at the nude bar, than what it is in a Laufhaus Brothels. So if you just want to have sex in Germany, it is not recommended to go to the Strip club. Most girls who work as a strippers in Germany come from Eastern Europe and South America. Entrance fee to the nude bar is usually not much, drinks are usually affordable too, but if you order drinks or champagne to the strippers, you can get a huge bill!
Leipzig is not the top destination if you are looking for strip clubs. Other bigger cities in Germany has much better variety of strip clubs.
Metropolis Tabledance Lounge, Große Fleischergasse 4 · Leipzig-City
www.metropolis-leipzig.de +49 341 462 5615. This club has very hot ladies and all you-can-drink special for 30.00 €!
Nightclub Angels Tabledance II, Dessauer Strasse 24 04129 Leipzig
Brothels
Germany has always had brothels and red light districts. About 30 years ago in a town called Lichtenberg outside of Bonn a man started the first FKK Club. The term FKK means "Frei Korper Kultur" Free Body Culture which translates best to "nudist". The difference between a normal brothel and an FKK Club was the presentation and system. The owner and inventor named "Bernd" got tired of the brothel system where price was negotiated, dark lighting, pressure sales and the workers bodies were hidden by clothing. Starting out in his basement he opened the first FKK Club with his own system. Women were totally nude, the club had normal lighting, prices and services were set Above all service was based on quality and customer satisfaction. Bernd's main customer base were local business men. The club is located in a small village in his basement. He charged an entry fee which included all you could drink beer, alcohol and snacks. Women were paid a flat fee for a session which averages about 30 minutes. The concept caught on and soon the club took over the entire home.
As the years went by numerous other clubs opened and used similar terms such as Sauna Club or FKK Club. The main difference is all the clubs offered a sauna but FKK Clubs meant the women were totally nude.
Years ago the clubs were not tourist friendly and one had to speak some German to enter. Today some clubs still limit visitors and forbid entry to some guests. Tour providers have opened many doors to tourists and convinced clubs that foreign visitors were another form of income. Guests are picked up from major airports, transported to the clubs and then to a hotel in the evening. Tours were provided in the English language as well as Japanese. Tour packages came in 6 or 8 day tours and visited 10-12 clubs during the duration. A guide is provided to the guests who explains rules, culture and history of the clubs in their own.
In spa town of Aachen, men may go window-shopping for sex; they can have unlimited sex with as many girls they liked for 99€ at a "flat-rate" brothel in Berlin; or they can visit Pascha, an eight-story "mega-bordello" in Cologne. Prostitutes in Germany all work freelance — instead of being paid a salary, they rent rooms from brothel owners who sometimes still do not question their health or see proof of insurance. The city of Stuttgart is home to high-class brothel Paradise, where girls were required to be completely naked at all times while men walked around in bath robes.
FKK Saunaclubs are very popular in Germany (and also in Austria and Switzerland). The guests pay entry fee (50-150€) and got several services for their money. The most commons services are: solarium, sauna cabin, bar, infrared cabin, showers. The most of Saunaclubs offer erotic or sexual services as well, from porn movies to private sex with girls.
Brothels, FKK & Sauna Clubs in Leipzig
Haus am Wasserturm, Torgauer Strasse.
Three storey building. Official price is 30 Euro although expect to immediately pay another 20 for 'extra services'. Contrary to reports, there appears to be no entrance fee. How to get there : Get a tram from the Central Station. The house is on the right-hand side of Torgauer Strasse and you can't miss it.
Sex World Rote Meile Eroscenter, Dessauer Strasse 24
Maison d Avalon, 19 Plautstraße, Leipzig 04179 – +493414423331
L.u.v. Lounge, 25 Ludwig-Hupfeld-Straße, Leipzig 04178
FKK Saunaclub Leipzig , Torgauer Straße 246, Leipzig, +49 341 24108212
FKK & Saunaclub Europa, Essener Straße 27a, Leipzig, +49 341 2251751
With a day ticket from 50, - € you can enjoy your time here for unlimited stay of daily 12.00 from 02.00 at night! A 10 card is available from 450 €. Lots of hot girls to fuck!
FKK Saunaclub Leipzig, 246 Torgauer Straße, Leipzig 04347 – +49 341 24108212
Club / Studio Die Wohnung, Täubchenweg 72 04103 Leipzig
Club / Studio City Erotic, Emilienstrasse 20 04107 Leipzig
Nightclub Metropolis, Grosse Fleischergasse 4 04109 Leipzig
Working Girl Lucia, Dessauer Strasse 04129 Leipzig
Club / Studio Medusa, Dessauer Strasse 8 04129 Leipzig
Club / Studio Haus 22, Gothaer Strasse 22 04155 Leipzig
Working Girl May, Aurelienstrasse 46 04177 Leipzig
Nightclub Maison Rouge, Gießerstrasse 3 04177 Leipzig
Working Girl Janett, Mühligstrasse 6 04177 Leipzig
Club / Studio FKK Saunaclub Goldstar , Ludwig-Hupfeldstrasse 25 04178 Leipzig
Club / Studio PC Inez, Georg-Schwarz-Strasse 125 04179 Leipzig
Club / Studio Stundenhotel Leipzig, Merseburger Strasse 158 04179 Leipzig
Club / Studio Sina Intim, Permoserstrasse 34 04179 Leipzig
Club / Studio 6 Oase, Plautstrasse 19b 04179 Leipzig
Club / Studio 666 Leipzig, Plautstrasse 21 04179 Leipzig
Club / Studio Avalon Club, Plautstrasse 21 04179 Leipzig
Club / Studio Le Angels, Plautstrasse 21 04179 Leipzig
Club / Studio Sex-Leipzig, Naumburger Strasse 2 04229 Leipzig
Club / Studio The New Villa FF6, Wachsmuthstrasse 10a 04229 Leipzig
Working Girl Alice Neudorfgasse 1, 04277 Leipzig
Club / Studio Tantrastudio Leipzig, Ludwigstrasse 135 04315 Leipzig
Club / Studio Carointim, Riesaer Strasse 49 04328 Leipzig
Laufhaus Eros Center, Torgauer Strasse 246 04347 Leipzig
Nightclub Lounge am Wasserturm, Torgauerstrasse 246 04347 Leipzig
Partytreffs, Pauschalclubs & Swingers Clubs
Partytreffs and Pauschalclubs are a variation on partner-swapping swing clubs with (sometimes, but not always) paid prostitutes in attendance, as well as 'amateur' girls and couples. Single men pay a flat-rate entrance charge of about 50 to 150 euros, which includes food, drink and unlimited sex sessions, with the added twist that these are performed in the open in full view of all the guests. Ladies normally pay a lower entrance fee than men or no entrance fee at all.
Swingers Club FF6 Leipzig, Wachsmuthstr. 10a , 04229 Leipzig
Except on Monday found Saxon Swingers Club FF6 a place to live out their erotic fantasies free. Every Tuesday come free women even in the hottest scene in the swingers club. Saturday couples pay only 25-40 euros. In addition to the standard equipment of the Swingers Club FF6 has only few additional offers. The basic offer and the buffet area has been designed but comfortable for swingers. Phone: +493414299719
Erotic Massage Parlors
City of Leipzig has a good variety of erotic massages available. Average cost is 70-150€ for one hour massage including hand job. Some of the body rub salons also provide blow-job, sex, whipping, golden showers or role-play massages. Just relax while being pampered, enjoy the moment which will guide you to a dream world where you always wanted to be! Most workers at the massage salons come from Asia and Eastern Europe.
Jasmine Body Lounge, Hermann Liebmann-Strasse 21, Leipzig, +49 177 7468646
Monday-Friday 11.00-22.00 clock clock Saturday 11.00-19.00 Sunday on request (5 days in advance) The highlight is the Lingam massage (genital massage). With gentle and stimulating techniques you will cum in the end.Prices: 60min/120 €, 90min/150 € . 120min& 150min/180€
Studio Vital, Coppistraße 66, Leipzig, +49 1522 6475389
Monday - Friday: 10-21 Clock, Saturday: 12 - 18 clock. Erotic, Body to Body and Bondage massage.
Massage Dream, Mariannenstraße 92, Leipzig, +49 175 8878249
Body-to-body (nude) massage 1 hour cost 75€
Lalita - sensual tantra massage , Leibnizstraße 16, 04105 Leipzig (Tel:+49176 70022349)
Mirjam Irene - Tantra Yoni oder Lingam Massage und De-Armoring in Leipzig.
Live Sex Cams
Can I watch Live Sex Cams in Leipzig? - Yes, you can! Basically you can watch our online live sex shows for free anywhere in the world if you're connected to internet. You can choose any girl from our trusted WikiSexLive.com! Join to get 10 free private teasers and 9.99 credits for free!
Live Sex Cams are booming at the moment. Webcam models can be found from all over the world and you can find girls, guys, trannies, couples and groups of different ages performing to you. Watching live sex shows is free, but if you buy some credits, you will have much better chances to see adult action as desired! It's possible also to hire a webcam model to a private chat room where you can ask the person to fulfill your fantasies. Try now! WikiSexLive.com
Dating
Dating in Leipzig can be a bit tricky due to cultural differences, so your best bet is to sign up for a dating site before your trip so you can meet a few locals ahead of time. AdultFriendFinder.com lets you meet local members in Leipzig and get to know them on a personal basis before you arrive. Take advantage of site features like live chat and member to member webcams so you can begin flirting before arranging a face-to-face meeting. Since your time in Leipzig may be limited, get to know each other's desires beforehand, so that when you meet you can start having some real fun.
How to find Sugar Babies & Sugar Daddies
If you are looking for an alternative to escorts in Leipzig with a girl who doesn't charge by the hour, sugar dating is the ideal solution. There are thousands of beautiful young women who are willing to do anything for a man who will help them pay their bills.
Often referred to as the "Tinder for Older Guys", Sugar Dating matches hot young women who are interested in pampering older gentlemen. You don't have to be a millionaire to meet a sugar baby. Click Here if you are a respectful gentleman who knows how to treat a woman.
Swinger Clubs and BDSM
ALT.com is the best place for local singles, swingers, and couples in the BDSM community to connect with those interested in submissive sex, power exchange, locating persons for new slave roles, erotic BDSM, bondage & fetish sex, as well as live sex dates. Find thousands of play partners for whatever your fetish may be; bondage, foot, cockold, spankings, role-play, electric or water play, sadism and masochism. So whether you have the desire to explore your unrealized fetish fantasies, or you are extremely experienced and would love to train someone new, ALT.com is a community designed for people with like-minded interests to find and connect with each other.
Transsexuals / Shemales
Finding someone for transsexual dating when you're on the road can be a bit tricky, so your best bet is to sign up for a dating site before you go so you can find locals ahead of time. TSdates.com is a dating site designed to help you find exactly what you are looking for in your hookup in Leipzig. Take advantage of site features like live chat and member to member webcams so you can begin flirting before arranging a face-to-face meeting. With over 40 million members, and thousands of transsexual members around the world, TSdates.com is the world's largest site of sex-minded friends for discreet encounters and will help you find your next transsexual play partner.
Where can I find shemales in Leipzig? You can watch transsexual live sex shows in Leipzig as long as you are connected to internet. Check Now: Tranny Live Sex Video Chat
Most transexual who work as a prostitutes in Germany come from Southern European South American countries. Cheapest transgirls in Germany usually work at the Laufhaus Brothels and sex with them cost an average of 50€ per 20-30 minutes. Then there are trannies who work at the private flats. Average cost for sex is usually 80-150€ for half hour or 120-200€ for one hour. At Pascha in Cologne and Crazy Sexy in Frankfurts redlight district there are whole floors reserved only for trans prostitutes. In Leipzig most trannies work from the private flats.
Gay and Lesbian
Gay modeling in internet is getting more popular all the time and it's a big market alongside with gay porn. You can watch gay live sex also in Leipzig as long as you are connected to internet. Check it out: Gay Live Sex Video Chat
Gay Clubs & Bars
Bamby Leipzig, Sternwartenstraße 14-16, 04103 Leipzig
Lounge, bar and lounge Fri & Sat: 20-3 Clock
Black Horse, Auguste-Schmidt-Straße 12, 04103 Leipzig
COCKS - Cruising, Otto-Schill-Straße 10, 04109 Leipzig
Daily 13-3 clock. Cruising with Saxony's largest Darkroom labyrinth, including sling, cabins, Glory-Holes, video demonstration. Free Internet. Only for men over age of 18. Contact-friendly audience of all ages. Minimum consumption for 1 drink. Right next to the Club Sauna Stargayte in the city.
Havana Club, Goethe Straße 2, 04109 Leipzig
Daily 17-5 clock. Beer, cocktails, food.
UNITED Internetbar, Otto-Schill-Straße 10, 04109 Leipzig
Monday-Sunday 12-21 clock. Internet bar with attached Gaykino. Minimum consumption 5, -USD.
MyWay, Hainstraße 10, 04109 Leipzig
Open Tue, Wed, Thu, Sun 12-3 clock, Fri & Sat 12-5 clock. This cozy cafe with outdoor seating and a large bar at the Leipzig Linde invites you and your friends to relax. Our guest room with a stage and its own bar and oriental box on the first floor is perfect for your birthday and corporate parties up to 50 people. Cafe Bar Stage My Way - Castle Wilhelm height - a little oasis in a quiet pedestrian street - right in the center of Leipzig - only a few steps away from the new Museum of Fine Arts.
Richy Gaybar, Universitätsstraß 18 , 04109 Leipzig
The young hangout for gays and friends in the heart of the city of Leipzig, directly on the university campus across from the "Mensa am Park". Whether for a coffee, a cold beer, a glass of wine or champagne - a to a nice evening in a cozy atmosphere, we invite you. We host karaoke nights, parties, public viewing and other events. Course in fine weather the patio is open for you and with changing drink specials, everyone gets their costs. For those who like to also go online, there's free Wi-Fi access. On Thursdays, our Stammtisch place - everyone is welcome!
Gay Indoor Cruising, Adult Cinemas and Adult Arcades
Cruising-Kino, Otto-Schill-Str. 10, 04109 Leipzig
Indoor Cruising & Erotic Shop
Abc-LEIPZIG, Ritterstr. 4, 04109 Leipzig
Indoor Cruising & Erotic Shop
Gay Outdoor Cruising, Nudist Areas, Glory Holes and Toilets
On Cossi - west side.
Channel in Dölzig, Merseburger Straße, 04617 Leipzig
Nude in the summer. The Gaytreff is east of the highway bridge E49 / E51 until approximately 186- B road tunnel. As in nice and cloudy weather is always something going on, partly because of the E 186 is a very practical car park.
Klukwitzer lake west bank, Salzweg, 04207 Leipzig
On Klukwitzer Lake, west bank is in nice weather is always something going on. On Klukwitzer lake, east side of the parking lot is there are gay cruising.
Nude swimming in the summer on the right bank of the North 2nd lake.
Parking House Auensee, Leipzig
If you come from truth and moves to the small turning circle is there a way down to the parking lot. Total darkness there.
Uni - Seminar building, University Straße 1 , 04109 Leipzig
In basement on the Mänenrtoilette in the seminary building is always something going on.
SM Leipzig, Ludwigstrasse 33, 04315 Leipzig (Tel:0173 615 67 75)
Basement with cell and interrogation facilities. Ground floor with bar, TV, bathroom, stretching rack, Pulley and cell with original door from Bautzen II. Loft with desk, large bed. There are a lot of uniforms lend and a really good selection of whips, cane & Co.
BDSM
The basic form of BDSM (Bondage & Discipline/ Dominance & Submission/ Sado-Masochism) is all about the erotic and sexual acts and mind-sets of dominating and relinquishing control.
In the past few years BDSM has got a pretty bad reputation, but the basic principles can be extremely liberating and in the long run if you engage with it, turn you on in a way that you would never even have thought about. The fact that the standard media representation of BDSM is of something seedy and weird and sometimes make it feel like a taboo.
"But if girl take the reins it can actually increase their sexual confidence and sense of agency, while giving men a break from having to be 'on top', psychologically as well as literally which is the standard dynamic for most lovers. The trick is to have an open mind to sexuality, obviously anything which causes harm to your loved one or yourself is not good, but we're all humans and exploring the parts that make us a little different is what can make a hugely beneficial relationship.
Germany has some of the most exceptional fetish practices that are often only found on Japan.
SM Leipzig, Ludwigstraße 33, 04315 Leipzig ( Phone: 0173 615 67 75)
Basement with cell and interrogation facilities. Ground floor with bar, TV, bathroom, stretching rack, Pulley and cell with original door from Bautzen II. Loft with desk, large bed. There are a lot of uniforms lend and a really good selection of whips, cane & Co.
SM-Bahnhof Leipzig, www.sm-bahnhof.com
Sexual Services for Women
A comparatively small number of male prostitutes in Germany offer sexual services to females, usually in the form of escort services, meeting in hotels. Usual cost for evening with a male escort is 100-600€. Some of the male escorts also offer weekly rates such as 2000-6000€. Most male escorts in Germany come from Southern European countries, but there are some real Germans too.
In Germany, somewhere there are around 20 escort agencies cater to women. You can see the pictures of the men online: age, height, physique. Some of the men also list preferences: oral, anal, group sex. Some men set limits and some do not. Most female customers are from early 30s through mid-50s, and are normal women. Most female customers like the feeling of being loved and not just sex like most male johns.
In Lepizig there are a not many Male Escorts.
Sex Shops and Adult Stores
If you don't feel like visiting or cannot find any local sex shops in Leipzig, you can easily order adult products from Online Sex Shop.
Most Adult Shops (also called: Sex Shop, Erotic Shop, Adult Shop) in Germany have wide selection of dildos, butt plugs, fleshlights, sex films, condoms and other sex related items. Some of the adult stores also have a Adult Cinema (called: Sex Kino in Germany) or Adult Cruising Arcade attached to the sex shop. Most of these premises are used by straight, bi sexual and gay men, but occasionally there can be women on these places. Adult Arcades often have cinemas showing porn movies, private booths, gloryholes, darkrooms, sex slings and other kinky things.
Where to find Adult Shops and Sex Cinemas in Leipzig
Beate Uhse, Merseburger Straße 259, Leipzig
+49 341 2256655 You can always trust that you will find everything from Beate Uhse sex shops.
Erotic Shop Leipzig, Universitätsstraße 18, Leipzig
+49 341 9609615. Dildos, condoms and all kind of sex toys.
Orion Fachgeschäft, Bernhard-Göring-Straße 36, Leipzig
Lots of porn movies and sex toys. +49 341 2132095
123 DVD Leipzig, Cöthner Straße 2, 04155 Leipzig
DVD rental and Toys Shop for Gay and Straight 1-2 days DVD borrow 1 Euro for 3 days 1.50 EUR Mon - Sat: 10 to 22 clock. Sun: 14-21 Clock
COCKS Sex Movies, Otto-Schill-Straße 10, 04109 Leipzig
Opening times of Cocks - Gaykinos: Monday-Friday 13-21 clock. Every Friday Underwear Party. City close up, big Gaykino, but also bi- and hetero-films. 24 digital programs selectable. Single and double cabins with lockable Glory Holes, also with slabs. Large Dark Room Maze with sling cabins, St. Andrew's Cross, etc. mini shop and bar with free internet. All age groups. Discreet cinema access.
Sex Shop & Video, Georg-Schumann-Straße 165, 04155 Leipzig
Rich sex shop with attached video area. Now with 5 digital video booths with about 4,000 programs with separate entrance in the shop area. The cinema also has a separate entrance.
XCLUB Leipzig Gaykino and porn movies, Observatories street 14/16, 04103 Leipzig
Videos, Gay Movies, Sling or gynecological chairs for special games. Dates for themed nights on the homepage.
Pornokino, Lutherstraße, 04315 Leipzig
Escort Services & Agencies
Finding an escort when you're travelling can be a bit tricky. An ideal alternative to escorts is a girl who is looking for a mutually beneficial relationship. There are thousands of horny girls willing to do anything for a generous guy. Click Here to hookup with a beautiful young woman now.

Average price what most Escorts in Leipzig charge for sex is 120-200€ for one hour. Full night service costs usually 300-500€ and is maximum 8 hours. These prices mostly include a blow job and sex. You need to pay more for extras such as dominating, golden showers, anal or other kinky things. Leipzig escorts usually work from the private apartments and international escorts will usually take clients at the major hotels. Out-calls cost about 50€ more.
Sleeping
In Leipzig some hotels allow you to invite guests to your room. However, more convenient way is to rent a flat if you're planning to bring escorts over.
Stay Safe
Leipzig, like Germany in general, is a safe place. Crime rates are low, and people move about freely, day or night, in most parts of the city without taking any special safety precautions. That said, you should follow the same common sense measures you would use anywhere else, such as not leaving valuables unattended or not giving out personal information to strangers.
See Also