Bremen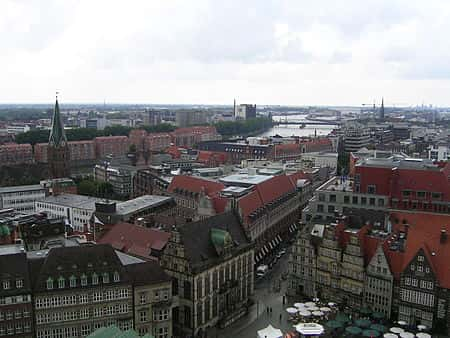 Bremen Sex Guide advises where to find sex, working girls, prostitution, street hookers, brothels, red-light districts, sex shops, prostitutes, erotic massage parlors, strip clubs, FKK Clubs and escorts in Bremen, Germany.
Bremen is a city in northern Germany, population 500,000+. Bremen is a rather long and narrow city, lined along both sides of the river Weser. Along the north-west/south-east axis it stretches about 10 km, but across only 2 km. The entire city is located on flat plains.
Sex and Prostitution in Bremen
Bremen is nice city with some hot looking hookers. If you don´t want to bang prostitutes, then the place to go are great Sauna Clubs or Swingers clubs. Swingers Clubs in Bremen are quite popular and they usually have some good looking couples and sometimes even sexy single girls. 150-170 prostitutes also work in the red-light area of Bremen in the Lessingstraße.
Red Light Districts
Between Lessingstrasse and Rickmerstrasse, there are a number of small rooms similar in style to those found in Amsterdam, with glass doors or windows that open to allow entry. See Also: Window prostitution. You can find ladies from the Thailand, Ukraine, Romania and other Eastern European countries
The going rate appears to be 50 Euro for half an hour sex, but you can get better deal in less busier time such as 30€. The price includes a blow-job, sex and a condom. Some of the girls do oral without a condom, but most women require a protection. Make sure to negotiate first before paying, so you get what you want. Example; some of the prostitutes may want extra money if you like to change from missionary to doggy style. Redlight district has been in operation since the 19th century.
Eroscenter Haus Hamburg , Hamburger Strasse 31
Prostitutes and Sex Workers
At the end of 2018, just 115 sex workers had registered in Bremen. This is only a small percentage of the sex workers who are estimated to work in Bremen: the police assume up to 950 sex workers, the Nitribitt association, which advocates the rights of sex workers in Bremen, speaks of up to 500 prostitutes.
Since the Prostitution Act was introduced in 2002, Germany's sex industry has exploded, making it a magnet for tourists. The Act was designed to improve conditions for prostitutes and to make it possible for them to get health insurance and social security while ensuring a safe workplace.
Germany has turned into a giant brothel and even a destination for European sex tourism. The best guess is that Germany has about 400,000 prostitutes catering to 1million men a day. Mocking the spirit of the 2001 law, exactly 44 of them, including four men, have registered for welfare benefits. It is thought that around two thirds of the country's 400,000 sex workers come from other countries, in 1999 only half of the prostitutes came from other countries.
The details vary regionally, because the federal states and municipalities decide where and how brothels may operate. (Berlin is the only city without zoning restrictions.) In some places, streetwalkers line up along motorways with open-air booths nearby for quickies. In others, such as Saarbrücken, near the border with a stricter country like France, entrepreneurs are investing in mega-brothels that cater to cross-border demand.
Street Hookers
Regular street prostitution (Straßenprostitution) in Germany is often very well organized and sometimes controlled by pimps. Most German cities however established "Sperrbezirke" (off-limits zones) and charge the street prostitutes an amusement tax, that in the city of Bonn for instance is paid by the streethookers at parking meters, 6€ for a period of about 8 hours at nightime. The same fee is collected from sex workers in apartments and brothels, sometimes by municipal tax collectors in person. Some street whores have a nearby caravan, others use the customer's car, still others use hotel rooms. With recent economic problems, in some bigger cities "wild" street prostitution has started to appear: areas where prostitutes work temporarily out of short-term financial need. A "Sex drive-in", or "Verrichtungsbox", is a facility of structures to enclose cars to provide a safer place for sex workers using cars.
See Also: Tippelzone & Sex drive-in
Where to find Street Prostitutes in Bremen:
At night Humboldtstrasse area turns to a big street prostitution redlight district. This is the same street that the most Bremen Swingers Clubs are on. Most are drug addicts and ugly. Price is 30-50€ for suck and fuck in the car. Some of the street whores also have apartments nearby.
Other place to find street walkers in Bremen is Cuxhavenerstrasse, a street in front of an industrial area of some sort. The whole area looks a bit unsafe but plenty of cops patrol area so most of the time you should be fine. Evening time there is usually 10-20 street hookers standing along about a 200 meter stretch of this street, and most look very sexy. They all seem to be working out of little brothel across the street. So you can fuck them in the whore house or in the car. Price for sex is 50€ for 20 minutes.
Some of the street prostitution activity can be also found on Heukelum Street.
Hookup and Pick Up Local Girls
Meeting local girls and getting laid for free is fun! Read more on how to pick up girls in Bremen: https://hookuptravels.com/wiki/Bremen
Live Sex Cams
Can I watch Live Sex Cams in Bremen? - Yes, you can! Basically you can watch our online live sex shows for free anywhere in the world if you're connected to internet. Join to get 10 free private teasers and 9.99 credits for free! You can choose any girl from our trusted Live Sex Cams!
Live Sex Cams are booming at the moment. Webcam models can be found from all over the world and you can find girls, guys, trannies, couples and groups of different ages performing to you. Watching live sex shows is usually free, but if you buy some credits, you will have much better chances to see adult action as desired! It's possible also to hire a webcam model to a private chat room where you can ask the person to fulfill your fantasies.
Where to Get Sex Now
It is easy to get sex online in Bremen. You just need to find the best available girls. See Girls Online Here!
Adult Locations
There are many interesting places for adult entertainment in Bremen.
The planned construction of a large brothel in the Neustadt is causing protests. Although prostitution is legal, the positions of the Bremen parties on this issue are far apart. The Bremen sex clubs and bordellos require an operating license, there is a condom requirement and prostitutes have to register.
Escort Services and Agencies
Unfortunately we don't list in this category!
Finding an escort when you're travelling can be a bit tricky. An ideal solution for having an alternative for escorts is Ashley Madison. There are thousands of horny girls waiting for you. Find all the beautiful young women at AshleyMadison.com!
Average cost for escorts in Bremen is 150-250€ for one hour with escort. Full night service with escort cost usually 300-500€. These prices include a blow job and sex. Most of the times you need to pay more for extras such as dominating, golden showers, anal or other kinky things. Bremen escorts usually work from the private apartments and international escorts will usually take clients at the major hotels. Out-calls cost about 50€ more.
Erotic Massage Parlors
Unfortunately we don't list in this category!
Germany is a great country to visit, if you like to relax and receive an Erotic massage. In Germany, there are Asian Massage Parlors, where you usually pay first for the massage and then in the end of the massage you will be asked if you want a Happy Ending. Most of the time one hour massage at the Asian Salons cost around 50-70€ and Happy Ending will cost around 20-100€, depending if you choose a hand-job or sexual intercourse. Then there are also Massage Brothels, where you have to decide what you want, before receiving the massage. These places usually have a menu with options listed, such as "1 hour massage and hand job" for 100€.
Where to find Massage Parlors in Bremen:
Bremen has some decent Massage parlours to choose from. Thai massage parlours usually charge 50-100€ for massage and hand job. You can get usually extras and fuck will cost you another 100€.
Namyo Tantramassage, Braunschweiger Straße 117, Bremen, Germany (+49 421 72473)
90 minute tantra massage 140€.
Tillman T Massage, Breitenweg 43, Bremen, Germany (+49 421 24278818)
Eden Thai Massage, Bremen Mitte , Breitenweg 43-45 , D-28195 Bremen (0421-24 27 88 18)
Brothels and Sex Clubs
Germany has always had brothels and red light districts. About 30 years ago in a town called Lichtenberg outside of Bonn a man started the first FKK club. The term FKK means "Frei Korper Kultur" Free Body Culture which translates best to "nudist". The difference between a normal brothel and an FKK club was the presentation and system. The owner and inventor named "Bernd" got tired of the brothel system where price was negotiated, dark lighting, pressure sales and the workers bodies were hidden by clothing. Starting out in his basement he opened the first FKK club with his own system. Women were totally nude, the club had normal lighting, prices and services were set Above all service was based on quality and customer satisfaction. Bernd's main customer base were local business men. The club is located in a small village in his basement. He charged an entry fee which included all you could drink beer, alcohol and snacks. Women were paid a flat fee for a session which averages about 30 minutes. The concept caught on and soon the club took over the entire home.
As the years went by numerous other clubs opened and used similar terms such as Sauna Club or FKK Club. The main difference is all the clubs offered a sauna but FKK clubs meant the women were totally nude.
Years ago the clubs were not tourist friendly and one had to speak some German to enter. Today some clubs still limit visitors and forbid entry to some guests. Tour providers have opened many doors to tourists and convinced clubs that foreign visitors were another form of income. Guests are picked up from major airports, transported to the clubs and then to a hotel in the evening. Tours were provided in the English language as well as Japanese. Tour packages came in 6 or 8 day tours and visited 10-12 clubs during the duration. A guide is provided to the guests who explains rules, culture and history of the clubs in their own.
In spa town of Aachen, men may go window-shopping for sex; they can have unlimited sex with as many girls they liked for 99€ at a "flat-rate" brothel in Berlin; or they can visit Pascha, an eight-story "mega-bordello" in Cologne. Prostitutes in Germany all work freelance — instead of being paid a salary, they rent rooms from brothel owners who sometimes still do not question their health or see proof of insurance. The city of Stuttgart is home to high-class brothel Paradise, where girls were required to be completely naked at all times while men walked around in bath robes.
FKK Saunaclubs are very popular in Germany (and also in Austria and Switzerland). The guests pay entry fee (50-150€) and got several services for their money. The most commons services are: solarium, sauna cabin, bar, infrared cabin, showers. The most of Saunaclubs offer erotic or sexual services as well, from porn movies to private sex with girls.
Where to find FKK-Sauna Clubs and Brothels in Bremen:
Partytreff, Bahnhofstraße 11, 28195 Bremen, Germany
+49 421 2222789
Opens usually at 11am and closes after midnight. Special is 79.99€ for 2 hours all inclusive
Eros-Center Bremen, Helenenstraße 1 - 3, 28203 Bremen
Some hot black and white girls. Prices usually are 30-50 euros for suck and fuck.
FKK-Club Bremen , Fritz-Thiele Str. 5a 28279 BREMEN
Opened every day from 10.00 AM till midnight. Entry : 50 euros. Girls : 50 euros for 30 minutes . (Tél. 0431-8398112, 0421-8398111).
Club / Studio Nobbys, Doventorsteinweg 55 28195 Bremen
Club / Studio Haus Exotika, Ölmühlenstrasse 7 28195 Bremen
Club / Studio Club Serail Philosophenweg 16 28195 Bremen
Club / Studio Appartementhaus, Rembertiring 17 28195 Bremen
Club / Studio Asian Erotic, Elbstrasse 81 28199 Bremen
Club / Studio Toleranza, Kornstrasse 283 28201 Bremen
Club / Studio City Club Sauna, Humboldtstrasse 144 28203 Bremen
Club / Studio Echtheiss, Humboldtstrasse 156 28203 Bremen
Club / Studio Siam Paradies Haferwende 29 28357 Bremen
Club / Studio Liebesinsel, Linenstrasse 88 28755 Bremen
Working Girl Mandy , Essenerstrasse 37 28199 Bremen
Working Girl Alina , Grosse Annenstrasse 70 28199 Bremen
Working Girl Denice , Borgfelder Strasse 20 28215 Bremen
Working Girl Amina , Dorumstrasse 4 28217 Bremen
Working Girl Maarit , Am Geestkamp 1a 28719 Bremen
Working Girl Sarah , Kreinsloger 149 28777 Bremen
Strip Clubs and Striptease
Bremen has some decent strip clubs. Usually entrance to a Bremen nude bar is 10-15€ and lap dance costs 20-30€. Some of the Bremen brothels also have the area for nude dancers and the entrance to this area is usually 10€. Strippers at the Bremen whore houses usually also work as a prostitutes, so most of the time you are also able to have sex with them if you have money.
Where to find Strip Clubs in Bremen:
Beverly Bar Night Club, Hillmannplatz 20 (Haltestelle Herdentor), 28195 Bremen (Tel.: 0421 - 1653887)
Rauchfang, Lessingstr. 25, 27568 Bremerhaven
Nightclub Club Monte Carlo, Am Wall 77, 28195 Bremen
X-Ladies, Grashoffstr. 23 a, tel.: 0471 41867710
SM Lounge, Breitenweg 55A, tel.: 0421 1683780
Brigitte Detke, Am Lunedeich 183
Karaoke and KTVs
KTVs (hostess karaoke bars with beautiful female staff) are popular in some parts of Asia but you cannot find any of them from Bremen.
Swinger Clubs and BDSM
ALT.com is the best place for local singles, swingers, and couples in the BDSM community to connect with those interested in submissive sex, power exchange, locating persons for new slave roles, erotic BDSM, bondage & fetish sex, as well as live sex dates. Find thousands of play partners for whatever your fetish may be; bondage, foot, cockold, spankings, role-play, electric or water play, sadism and masochism. So whether you have the desire to explore your unrealized fetish fantasies, or you are extremely experienced and would love to train someone new, ALT.com is a community designed for people with like-minded interests to find and connect with each other.
Partytreffs and Pauschalclubs are a variation on partner-swapping swing clubs with (sometimes, but not always) paid prostitutes in attendance, as well as 'amateur' girls and couples. Single men pay a flat-rate entrance charge of about 50 to 150 euros, which includes food, drink and unlimited sex sessions, with the added twist that these are performed in the open in full view of all the guests. Ladies normally pay a lower entrance fee than men or no entrance fee at all.
There are quite many good Swingers Clubs in Bremen. Some of the swingers club have an invitation only policy. Most Swingers Clubs will have the highest entrance fees for a single men, couples will usually pay less and sometimes women will get a free entrance.
Echtheiss, 156 Humboldtstrasse
City Sauna Bremen, 144 Humboldtstrasse
Sex Shops and Adult Stores
If you don't feel like visiting or cannot find any local sex shops in Bremen, you can easily order adult products from Online Sex Shop.
Sex shops in Bremen mostly have a very good selection of condoms and sex toys. Some adult shops also have sex cinemas or peep shows attached to them. Usually entrance to adult cinema is 5-10€ and peep show 2€ per minute.
Where to find adult shops in Bremen:
M & S Erotik Shop, Contrescarpe 76 Bremen (+49 421 3973821)
Fun Factory Store Bremen, Ostertorsteinweg 12 Bremen (Tel:+49 421 57890803)
Erotik Shop, Bürgermeister-Smidt-Straße 33 Bremen (Tel:+49 421 1652162)
Men's Seven, Am Dobben 7, Bremen
Sex shop. Cinema has lots of dark areas which are active with gay guys. Private booths also for wanking.
HM-LEDER, Neukirchstraße 18, Bremen
Love Hotels and Short Time Hotels
Love hotels are popular in some parts of Asia, especially in Japan. There are also many love motels and short-time hotels in South America. Unfortunately you cannot find any real Japanese style love hotels in Bremen. If there are short-time hotels near by, usually the working girls know all of these places.
Nightclubs and Bars
There are many nice nightclubs and bars in Bremen where you can try your luck to find sex for free.
Elefant, Nordstraße 365, tel.: +49 421 39740428
The Star, An der Weide 27, tel.: +49 173 5948713
NFF Club, Katharinenstraße 12-14
Nobless Nachtclub, Bremer Str. 119, tel.: +49 421 98669830
Gay and Lesbian
Gay modeling in internet is getting more popular all the time and it's a big market alongside with gay porn. You can watch gay live sex also in Bremen as long as you are connected to internet. Check it out: Gay Live Sex Video Chat
Bremen is gay friendly city like every city in Germany usually is.
The Gay Carnival that took place in Bremen at 1979 was one of Germany's first demonstrations pushing for acceptance and equality. Bremen Carnival in its present-day incarnation is the biggest samba carnival in Europe and a high-profile event in which lots of gay and lesbian groups take a part.
The entire region in and around Bremen has lot to offer for gays and lesbians.
The most famous queer club nights in the Bremen region is the Pink Party at Modernes, which forms part of the Christopher Street Day celebrations.
Even Bremen's number one volksfest has joined in the fun: since 1999, a gay and lesbian party has taken place every year on a Monday during the Freimarkt in October.
The famous German transvestite Lilo Wanders and the Weather Girls are among those who have appeared there. Many of the gay clubs and pubs also host special 'after-Freimarkt' parties.
Another event that coincides with the Freimarkt is queer it!, the region's biggest gay and lesbian extravaganza, which sees up to 1,200 people partying together in almost all rooms of the Schlachthof. An annual tradition for people in to leather and latex is the Fetish Festival in Leder-Club Nordwest.
Gay Friendly Bars, Clubs and Pubs:
Downtown Table Dance Club, Außer der Schleifmühle 49, Bremen
Opening times: Wednesday and Sunday from 22 clock, Friday and Saturday from 23 clock
Kraß in ZAKK, Sielpfad 11 , 28203 Bremen
Open Friday from 22h, Happy Hour 22-23h. Some rent-boys, colorful lighting, punk rock hits, exhilarating house, drag queens and decorative DJ's.
Treff-Bar Rendezvous (Zum Rendezvous), Elisabethstraße 34, 28217 Bremen
Cute Gay Bar in Bremen-Walle. Opening times: Tuesday - Saturday 18:00-02:00, Sundays 15:00-22:00, Mondays closed.
Zone 283, Kornstraße 283, 28201 Bremen
Opening times: Fri + Sat from 22 clock. Leather bar.
la vie, An der Weide 24 , 28195 Bremen
Queens, Außer der Schleifmühle 10 , 28203 Bremen
Bronx, Bohnenstrasse 1b, Bremen
This leather cruise bar has a special play area designed to full fill your every fantasy.
Kweer, Theodor-Körner-Straße 1, Bremen
König Lounge, Ostertorswallstraße 68, Bremen
Roemer, Fehrfeld 31, Bremen
Zone 283, Kornstraße 283, Bremen
Bronx, Bohnenstraße 1 b, Bremen
Friends, Rembertistraße 32, Bremen
Dream Girls Travestie - Revue, Postfach 150 444, 28094 Bremen
Gay CANDY, Vor dem Steintor 65, 28195 Bremen
Every 3rd Saturday of the month even celebrate gay, lesbian and your friends to pop, Charts, House and Classics Club Moments, the club situated in the popular district, enjoy a large dance floor and a cozy lounge to meet, drink and socialize. Early seem worth it! Only 2.- EUR admission to 24 clock, then 5.- EUR
Heaven's Calling Gay Clubbing Party, Bürgermeister-Smidt-Straße 15, 28195 Bremen
"Heaven's Calling" is a monthly party "with face," You can dance on the omitted celebrated gedated and laughed. The party will take place at Club Platform 9 1/4 right on the main station in Bremen, Bremen in favor of help and advice center eV instead.
Gay Saunas & Bathouses:
Steam Sauna Bremen, Steffensweg 157, Bremen
Perseus, Waller Heerstraße 126, Bremen
Gay Cruising Areas, Parks, Toilets and Glory Holes
Mahndorfer Marsch Rest Area, Bremen
Often multiple action. Most guys walk around in the woods nude, but just be careful not to be seen from the parking area. The woods are very thick, so there is usually no problem getting caught. Usually truckers stop here for a quickie.
Wall Anlage (West End), Corner of Am Wall & Doventorstr., Bremen
This is an L-shaped urinal. No door, but one can hear if someone comes in. There are bushes nearby (you can use tunnel to get to other side).
A27 Schwanewede Rest Area, Bremen
Not very busy rest area. Popular with locals and truckers.
Sellingsloh Parking Area, Street L330, Bremen
Cruisy parking area between Hoya and Bruchhausen-Vilsen. Lots of truck drivers stop for sex breaks in here. There are lots of cruisy woods and paths to follow.
Bremen Tram Underpass Toilets, Am Brill, Bremen
Under the tram junction at Am Brill, there is a mens room where it is easy to get some sexy action. The toilets cost 0.25€ to enter, and you have lots of warning if anyone is coming in.
Autobahn parking Alken, 28279 Bremen
The reserve alternative parking space for listening Krumm A quasi 1km right opposite. A1 direction OS behind departure Arsten before before AS Brinkum.
Bürgerpark Bremen, Hollerallee, 28209 Bremen
From the star to the Park Hotel at the Hollerallee along in the park. Cruising in the bushes at the edge of the paths. In the summer from 18 clock until late at night always many gays & Bi sexuals.
Parking A1 Krumhörens Kuhlen, Bremen
Parking on the A1 towards Hamburg. Krumhörens wells. Cruising the parking lot and the lake.
Sauna Oase on Weserpark, Hans-Bredow-Straße 17 , 28307 Bremen
In particular Saturday evenings.
Adelheide in Delmenhorst! B 213 towards the airfield, 1 parking space on the left side, after the airport! Every night from 22:00.
Uni-Lake, Wetterungsweg, 28359 Bremen
In the reeds. Especially in the summer. In most cases, only during the day.
Other Adult Services
BDSM
Germany has some of the most exceptional fetish practices that are often only found on Japan. Some of the most popular dominance and submission events in the whole Europe are held in Germany.
SM Lounge Bremen, Breitenweg 55a, 28195 Bremen (Tel: 0421-1683780)
Open: Mon-Fri 13-22, Saturday 12-18, Sunday Closed http://www.smlounge.de/#/start/
Dating
Dating in Bremen can be a bit tricky due to cultural differences, so your best bet is to sign up for a dating site before your trip so you can meet a few locals ahead of time. AdultFriendFinder.com lets you meet local members in Bremen and get to know them on a personal basis before you arrive. Take advantage of site features like live chat and member to member webcams so you can begin flirting before arranging a face-to-face meeting. Since your time in Bremen may be limited, get to know each other's desires beforehand, so that when you meet you can start having some real fun.
How to find Sugar Babies and Sugar Daddies
If you are looking for an alternative to escorts in Bremen with a girl who doesn't charge by the hour, sugar dating is the ideal solution. There are thousands of beautiful young women at SecretBenefits willing to do anything for a man who will help them pay their bills.
Often referred to as the "Tinder for Older Guys", SecretBenefits matches hot young women interested in pampering older gentlemen. You don't have to be a millionaire at SecretBenefits.com, you just need to be a respectful gentleman who knows how to treat a woman.
Transsexuals and Shemales
Finding someone for transsexual dating when you're on the road can be a bit tricky, so your best bet is to sign up for a dating site before you go so you can find locals ahead of time. TSdates.com is a dating site designed to help you find exactly what you are looking for in your hookup in Bremen. Take advantage of site features like live chat and member to member webcams so you can begin flirting before arranging a face-to-face meeting. With over 40 million members, and thousands of transsexual members around the world, TSdates.com is the world's largest site of sex-minded friends for discreet encounters and will help you find your next transsexual play partner.
Where can I find shemales in Bremen? You can watch transsexual live sex shows in Bremen as long as you are connected to internet. Check Now: Tranny Live Sex Video Chat
Bremen is not the top destination for guys who are looking to have sex with t-girls. But there are still luckily some transvestite and transexual prostitutes in Bremen. Most Shemale Escorts work from the private flats and advertise online. Price for sex is usually around 100-150€ for half-hour and 150-200€ for one hour. This price includes a blow-job and sex. Some of the transgirls only do topping, so incase you want to fuck them, make sure you ask first if they do top, bottom or both.
Dream Girls Travestie - Revue, Postfach 150 444, 28094 Bremen
Sexual Services for Women

A comparatively small number of male prostitutes in Germany offer sexual services to females, usually in the form of escort services, meeting in hotels. Usual cost for evening with a male escort is 100-600€. Some of the male escorts also offer weekly rates such as 2000-6000€. Most male escorts in Germany come from Southern European countries, but there are some real Germans too.
In Germany, somewhere there are around 20 escort agencies cater to women. You can see the pictures of the men online: age, height, physique. Some of the men also list preferences: oral, anal, group sex. Some men set limits and some do not. Most female customers are from early 30s through mid-50s, and are normal women. Most female customers like the feeling of being loved and not just sex like most male johns.
Sleeping and Girl Friendly Hotels
Most Bremen hotels allow you to bring extra guests to your room as long they do not stay overnight. Hostels however do not always allow guests and it is not recommended to fuck prostitutes in a room while 5 backpackers are watching!
Stay Safe
The trams in the main shopping street - the Obernstrasse - at along the market run at the walkways and you have to become aware of them. Luckily they ride with slow speed (but sometimes that means a silent killer). So, keep track of the trams!
When dealing with the prostitutes, make sure you look after your valuables. At the strip clubs, it is recommended to pay in advance instead of the tab, so you do not get enormous bills.
See Also