Bonn
Bonn Sex Guide advises where to find sex, working girls, prostitution, street hookers, brothels, red-light districts, sex shops, prostitutes, erotic massage parlors, strip clubs, FKK Clubs and escorts in Bonn, Germany.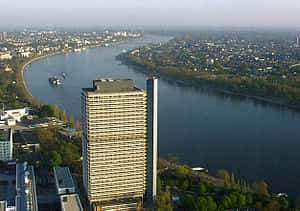 Bonn was the capital of the Federal Republic of Germany (previously, West Germany) and lies on the river Rhine some 20 km south of Cologne. The city remains a popular choice for large-scale exhibitions and conferences. Bonn is best known culturally as the birthplace of Ludwig van Beethoven. Its population is 315,000. This is a Bonn sex guide on where to find sex, prostitution, hookers, brothels and escorts in Bonn, Germany.
Sex Scene and Prostitution
It is thought that around two thirds of the Germany's 400,000 sex workers come from other countries.
Red-light districts have also become much more prominent in Germany's major cities - there is approximately 3500 established brothels in Germany and the trade is now big business.
According to the Ministry of Health, there are 30,000 sex workers in North Rhine-Westphalia. About 80 percent of prostitutes have a migration background. Most prostitutes and escorts come from South Eastern Europe - Bulgaria, Romania, Ukraine, Czech Republic, Russia and Poland.
There are believed to be about 200 prostitutes in Bonn. Cologne and Dusseldorf are also near the Bonn and if you are into the brothels and prostitutes, then it is much more recommended to visit these cities, since there are many more sex workers.
Where to Get Sex Now
It is easy to get sex online in Bonn. You just need to find the best available girls. See Girls Online Here!
Red Light Districts
Eros Center, Immenburg Strasse 17 - 21 (corner of Karlstrasse) €30 to €50 / 15 min [website]
Prostitutes and Sex Workers
The city of Bonn has installed a meter to tax prostitutes for soliciting on its streets at a rate of six euros (£5.30; $8.70) per night (20:15-06:00). Those prostitutes who fail to pay face fines or even a ban, and 264 euros were found in the meter when it was first emptied, according to AFP news agency. Tax has been levied on street walkers elsewhere but Bonn is the first city to use a meter, a spokeswoman said. But a prostitutes' rights activist said the scheme amounted to double taxation. Prostitutes are expected to pay the flat rate, regardless of earnings. The machine, which looks like an ordinary parking meter, has been installed in an industrial area near the city centre which favoured by street walkers and their clients. The ticket machine for street sex workers brought in the first year 35,000€. This is just a small part of the total charges from the Red-light district. City of Bonn expect to get over 200,000 euros per year from the meter in future. "Girls who work in brothels also pay the tax but until now it had been difficult to get girls on the street to pay. Not all street whores adhere to these rules. In the first year, seven fines and 20 warnings funds were established, it was said at City Hall.
In 2018 the total tax made from the Bonn street prostitutes was only 23,800 euros.
Street Hookers
Regular street prostitution (Straßenprostitution) in Germany is often very well organized and sometimes controlled by pimps.
See Also: Tippelzone & Sex drive-in
Where to find Street Prostitutes in Bonn
Immenburg Strasse has area for street hookers with tax meters, a security guard, a bathroom for freshening up and six parking bays divided by wooden walls where the women and their customers can get some privacy. Ennemoserstraße has also some illegal street prostitution.
Bonn's previous street hooker strip was somewhat residential and the neighbors' complaints were becoming a problem, which prompted the city to move the strip to an industrial area near the train tracks, next to an existing brothel.
Car Brothels
The city has set up 'Verrichungsboxen' on the Immenburg Strasse" (Pick up zone from Am Dickobskreuz to Karlstrasse) for use by street prostitutes. Cars are parked up in a secured environment. Sexual intercourse prices on this area are lower than in Bonn Brothels. Working girls in the area are often not very attractive and not as good on sex skills as the Laufhaus or Sex club girls.
Strip Clubs & Lap Dance
Strip clubs and Cabarets in Germany are a little bit more hardcore than in USA. Some of the nude bars offer only lap-dance, alcohol and nude strippers, but at the other strip joints you are also able to have sex with the strippers if you have enough money. Girls at the Bonn Cabarets are known to be very naughty and willing to do the kinkiest things you can imagine. Most strip-clubs in Bonn are located near the centrum.
Top Secret, Erzbergerufer 7, 53111 Bonn, Centrum (Telefon: 0228 902789)
Club 111, Bonner Talweg 111, 53113 Bonn, Centrum (Telefon 0228 / 224943)
Club Kleopatra, Belderberg 4, 53111 Bonn, Centrum (Telefon 0228 / 657033)
Brothels
Germany has always had brothels and red light districts. About 30 years ago in a town called Lichtenberg outside of Bonn a man started the first FKK club. The term FKK means "Frei Korper Kultur" Free Body Culture which translates best to "nudist". The difference between a normal brothel and an FKK club was the presentation and system. The owner and inventor named "Bernd" got tired of the brothel system where price was negotiated, dark lighting, pressure sales and the workers bodies were hidden by clothing. Starting out in his basement he opened the first FKK club with his own system. Women were totally nude, the club had normal lighting, prices and services were set Above all service was based on quality and customer satisfaction. Bernd's main customer base were local business men. The club is located in a small village in his basement. He charged an entry fee which included all you could drink beer, alcohol and snacks. Women were paid a flat fee for a session which averages about 30 minutes. The concept caught on and soon the club took over the entire home.
As the years went by numerous other clubs opened and used similar terms such as Sauna Club or FKK Club. The main difference is all the clubs offered a sauna but FKK clubs meant the women were totally nude.
Years ago the clubs were not tourist friendly and one had to speak some German to enter. Today some clubs still limit visitors and forbid entry to some guests. Tour providers have opened many doors to tourists and convinced clubs that foreign visitors were another form of income. Guests are picked up from major airports, transported to the clubs and then to a hotel in the evening. Tours were provided in the English language as well as Japanese. Tour packages came in 6 or 8 day tours and visited 10-12 clubs during the duration. A guide is provided to the guests who explains rules, culture and history of the clubs in their own.
In spa town of Aachen, men may go window-shopping for sex; they can have unlimited sex with as many girls they liked for 99€ at a "flat-rate" brothel in Berlin; or they can visit Pascha, an eight-story "mega-bordello" in Cologne. Prostitutes in Germany all work freelance — instead of being paid a salary, they rent rooms from brothel owners who sometimes still do not question their health or see proof of insurance. The city of Stuttgart is home to high-class brothel Paradise, where girls were required to be completely naked at all times while men walked around in bath robes.
FKK Saunaclubs are very popular in Germany (and also in Austria and Switzerland). The guests pay entry fee (50-150€) and got several services for their money. The most commons services are: solarium, sauna cabin, bar, infrared cabin, showers. The most of Saunaclubs offer erotic or sexual services as well, from porn movies to private sex with girls.
Brothels, FKK & Sauna Clubs
Finca Erotica, Poststr. 20, 56269 Dierdorf
Open: Mon-Sun 11:00 am to 4:00 am, Phone: (+49)26899729450. Expect sparkling eroticism and a highly imaginative ambiance with a whirlpool, sex cinema and huge bar area across 3000 m² that includes a well-kept 2000 m² outer area plus a refreshing pool. Usually you can find 20-40 girls in the club Entrance Fee: 30-50€
Club / Studio Klaudias Team, Sterntorbrücke 1 53111 Bonn
Club / Studio Club 111, Bonner Talweg 111 53113 Bonn
Laufhaus Eros Center, Immenburg Strasse 17-21 53115 Bonn
Working Girl Mirka, Jagdweg 19c 53115 Bonn
Club / Studio Martina, Europaring 40 53123 Bonn
Working Girl Hot Girls, Mechenstrasse 42 53129 Bonn
Club / Studio Club Diamant, Mainzerstrasse 350 53179 Bonn
Club / Studio Asien Girls, Kreuzstrasse 21 53225 Bonn
Partytreffs, Pauschalclubs & Swingers Clubs
Partytreffs and Pauschalclubs are a variation on partner-swapping swing clubs with (sometimes, but not always) paid prostitutes in attendance, as well as 'amateur' girls and couples. Single men pay a flat-rate entrance charge of about 50 to 150 euros, which includes food, drink and unlimited sex sessions, with the added twist that these are performed in the open in full view of all the guests. Ladies normally pay a lower entrance fee than men or no entrance fee at all.
The best FKK and saunaclubs in the area of Bonn are Tutti-Frutti Suanaclub, Fkk Finest Sauna Club, Blow up and Club 107
BDSM
The basic form of BDSM (Bondage & Discipline/ Dominance & Submission/ Sado-Masochism) is all about the erotic and sexual acts and mind-sets of dominating and relinquishing control.
In the past few years BDSM has got a pretty bad reputation, but the basic principles can be extremely liberating and in the long run if you engage with it, turn you on in a way that you would never even have thought about. The fact that the standard media representation of BDSM is of something seedy and weird and sometimes make it feel like a taboo.
"But if girl take the reins it can actually increase their sexual confidence and sense of agency, while giving men a break from having to be 'on top', psychologically as well as literally which is the standard dynamic for most lovers. The trick is to have an open mind to sexuality, obviously anything which causes harm to your loved one or yourself is not good, but we're all humans and exploring the parts that make us a little different is what can make a hugely beneficial relationship.
Germany has some of the most exceptional fetish practices that are often only found on Japan.
Erotic Massage Parlors
City of Bonn has a good variety of erotic massages available. Average cost is 70-150€ for one hour massage including hand job. Some of the body rub salons also provide blow-job, sex, whipping, golden showers or role-play massages. Just relax while being pampered, enjoy the moment which will guide you to a dream world where you always wanted to be! Most workers at the massage salons come from Asia and Eastern Europe.
Where to find Massage Parlors in Bonn
Massage&Relax, Kaiser-Wilhelm-Ring 6-8 50672 Köln (+49 221 9229922)
Live Sex Cams
Can I watch Live Sex Cams in Bonn? - Yes, you can! Basically you can watch our online live sex shows for free anywhere in the world if you're connected to internet. You can choose any girl from our trusted WikiSexLive.com! Join to get 10 free private teasers and 9.99 credits for free!
Live Sex Cams are booming at the moment. Webcam models can be found from all over the world and you can find girls, guys, trannies, couples and groups of different ages performing to you. Watching live sex shows is free, but if you buy some credits, you will have much better chances to see adult action as desired! It's possible also to hire a webcam model to a private chat room where you can ask the person to fulfill your fantasies. Try now! WikiSexLive.com
Dating
Dating in Bonn can be a bit tricky due to cultural differences, so your best bet is to sign up for a dating site before your trip so you can meet a few locals ahead of time. AdultFriendFinder.com lets you meet local members in Bonn and get to know them on a personal basis before you arrive. Take advantage of site features like live chat and member to member webcams so you can begin flirting before arranging a face-to-face meeting. Since your time in Bonn may be limited, get to know each other's desires beforehand, so that when you meet you can start having some real fun.
How to find Sugar Babies & Sugar Daddies
If you are looking for an alternative to escorts in Bonn with a girl who doesn't charge by the hour, sugar dating is the ideal solution. There are thousands of beautiful young women at SecretBenefits willing to do anything for a man who will help them pay their bills.
Often referred to as the "Tinder for Older Guys", SecretBenefits matches hot young women interested in pampering older gentlemen. You don't have to be a millionaire at SecretBenefits.com, you just need to be a respectful gentleman who knows how to treat a woman.
Swinger Clubs and BDSM
ALT.com is the best place for local singles, swingers, and couples in the BDSM community to connect with those interested in submissive sex, power exchange, locating persons for new slave roles, erotic BDSM, bondage & fetish sex, as well as live sex dates. Find thousands of play partners for whatever your fetish may be; bondage, foot, cockold, spankings, role-play, electric or water play, sadism and masochism. So whether you have the desire to explore your unrealized fetish fantasies, or you are extremely experienced and would love to train someone new, ALT.com is a community designed for people with like-minded interests to find and connect with each other.
Transsexuals / Shemales
Finding someone for transsexual dating when you're on the road can be a bit tricky, so your best bet is to sign up for a dating site before you go so you can find locals ahead of time. TSdates.com is a dating site designed to help you find exactly what you are looking for in your hookup in Bonn. Take advantage of site features like live chat and member to member webcams so you can begin flirting before arranging a face-to-face meeting. With over 40 million members, and thousands of transsexual members around the world, TSdates.com is the world's largest site of sex-minded friends for discreet encounters and will help you find your next transsexual play partner.
Where can I find shemales in Bonn? You can watch transsexual live sex shows in Bonn as long as you are connected to internet. Check Now: Tranny Live Sex Video Chat
Most Ladyboys and Shemale Escorts advertise online in Bonn and work from the private flats. There are also transexual prostitutes who work in Brothels. Price is usually 80-150€ for 30minutes and 120-200€ for one hour.
Tamara TS Shemale Escort, Paulusstr. 39, 53227 Bonn
Gay and Lesbian
Gay modeling in internet is getting more popular all the time and it's a big market alongside with gay porn. You can watch gay live sex also in Bonn as long as you are connected to internet. Check it out: Gay Live Sex Video Chat

You can find gay bars in Bonn which entertains the enthusiastic gay community. The most popular gay bar of Bonn is Boba's Bar which is open from Tuesday – Sunday during 8pm-3am, and Friday and Saturday from 8pm-5am. Another gay bar is Le Copain which is open from 4pm – 1 or 2 pm.
GAY SAUNAS & BATHHOUSES
Sauna-Centrum Wonneberger, Adolfstraße 42-44 Bonn
GAY FRIENDLY CLUBS & BARS
Limao Brasil Bar & Restaurant, Moltkestraße 64, 53173 Bonn
Sunday-Thursday 17-2 clock, Friday-Saturday 17-3 clock.
Le Copain, Thomas-Mann-Straße 3 a, Bonn
Kuay Lounge, Theaterstraße 2, Bonn
Boba's Bar, Josefstr. 17, 53111 Bonn, Germany, Bonn
Opening times: Monday-Sunday 20: 00-03: 00 seven days a week
GAY CRUISING AREAS, PARKS & GLORY HOLES
Stadtgarten Park, by university and besides Rhine, Bonn
Just park by university and near the Rhine. Best at night and main areas are either behind restaurant (in winter or when closed) or up top of lookout area. Lots of young guys from the university.
Dornheckensee, 53227 Bonn
A59 in the direction of King Winter. Departure Ramersdorfer cross towards Holtorf. About 50 meters turn right into the parking lot. In the summer while bathing or in the forest, in the winter or at night in the parking lot.
GAY CINEMAS AND INDOOR CRUISING
Look the Sex Shops section below.
Sexual Services for Women
A comparatively small number of male prostitutes in Germany offer sexual services to females, usually in the form of escort services, meeting in hotels. Usual cost for evening with a male escort is 100-600€. Some of the male escorts also offer weekly rates such as 2000-6000€. Most male escorts in Germany come from Southern European countries, but there are some real Germans too.
In Germany, somewhere there are around 20 escort agencies cater to women. You can see the pictures of the men online: age, height, physique. Some of the men also list preferences: oral, anal, group sex. Some men set limits and some do not. Most female customers are from early 30s through mid-50s, and are normal women. Most female customers like the feeling of being loved and not just sex like most male johns.
Sex Shops and Adult Stores
If you don't feel like visiting or cannot find any local sex shops in Bonn, you can easily order adult products from Online Sex Shop.
Herrchen Erotik, Berliner Freiheit 18 Bonn, 53111 Bonn
Erotic Shop with indoor cruising area (mostly for gays) Opening times: Mon-Fri 10:00 am to 20.oo clock Sa 10.oo to 14.oo clock entry price of shops and cinemas: Day ticket: € 8. Location: Outside the Kennedy Bridge in Bonn (city side).
Erotic Cinema, Bertha Von Sutner Platz
Very central place. Has back street entrance for discretion.Walk from the Platz towards the bridge shop is on left just before bridge and next to thai restaurant. There are 2 straight and one gay cinema.
Magma Erotic Shop, Wenzelgasse 29, 53111 Bonn
Adult shop / Sex Kino with Bi films on Wednesdays, and Thursdays gay movies. Always alternating with a hetero film. All other days Hetero films. Also open on Sundays, 12.00 bis 23.00 clock, failing that, by 9.30 bis 23.00 clock. Mostly the cinema is visited daily by Bi or Gay types - sometimes couples. Clean and well maintained cinema, even if it is a bit dated. Nice, friendly and helpful staff! In the cabins you also have the opportunity to meet. The most convenient and cleanest shop in Bonn. Admission € 8.
Beate Uhse, Bischofspl. 4, tel.: +49 228 633744
Orion Fachgeschäft Bonn, Stiftspl. 7, tel.: +49 228 88684030
Escort Services & Agencies
Finding an escort when you're travelling can be a bit tricky. An ideal solution for having an alternative for escorts is Ashley Madison. There are thousands of horny girls waiting for you. Find all the beautiful young women at AshleyMadison.com!
There are many beautiful escorts to choose from in Bonn. If you are not attracted to the street whores, brothels or Red-light districts, you can always place a call to individual escort or escort agency which will assign a girl to you for 100-250€ an hour. You can fuck escorts at your place or in their place as most escorts work from the private flats or hotels. Escort agencies usually provide a room also if you need a one. Most Bonn escorts and escort agencies have their advertisements placed on internet and some advertise on newspapers also.
Sleeping
Sleep
Max Hostel, Maxstraße 7, ☎ +49 (0)228-82345780. Bonn's independent youth hostel in the multicultural Nordstadt, close to the city centre. Different rooms from single and double to dorms with 8 beds. from 19 €.
Youth Hostel Bonn Venusberg the official youth hostel is located on the Venusberg which is about 20 minutes by bus from the city centre. There are night buses going there, but only one per hour.
Mid-range
Sternhotel Bonn, Markt 8, 53111 Bonn, ☎ +49-228-72670. The interior decoration is a bit old-fashioned, but the house has a lot of flair and history and it is at the Marktplatz in the middle of the city. from 69 €.
Hotel Eden, Am Hofgarten 6, ☎ +49 (0)228/ 289710 ([email protected], fax: +49 (0)228/ 225070), [59]. Free wi-fi in all rooms. Single room: € 70 - 85. Double room: € 85 - 115
Splurge
Kameha Grand, Am Bonner Bogen 1, 53227 Bonn Oberkassel, ☎ +49-228-43345000 is a design and ecological lifestyle hotel. The interior is distinctly modern with unique "neo-baroque" touches. There is ample space for conferences and meetings. The hotel is located directly on the Rhine river in quiet surroundings with views to the Siebengebirge and to downtown Bonn, approxiately 20 minutes from the city centre.
Stay Safe
"Dat Bonner Loch" -- The Bonn Hole -- this is the nickname for the underpass of the Central Railway Station (Hauptbahnhof). Bonn is generally speaking a safe city, and "The Hole" is the only spot where you should be cautious. Railway stations always attract a lot of weird people, and sadly they all seem to gather around this underpass, especially where it opens up towards the pedestrian zone.
See Also