Russia
Russia Sex Guide advises where to find sex, working girls, prostitution, street hookers, brothels, red-light districts, sex shops, prostitutes, erotic massage parlors, strip clubs and escorts in Russia, Europe and Asia.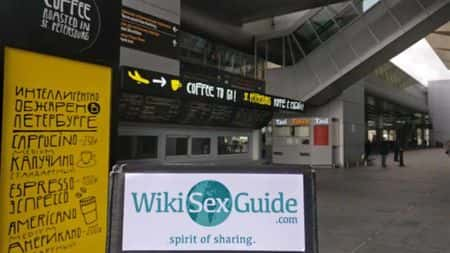 Russia (Russian: Россия) [1] is by far the largest country in the world, covering more than one-eighth of the Earth's inhabited land area, spanning Eastern Europe and northern Asia, sharing land borders with Norway, Finland, Estonia, Latvia, Lithuania, Poland, by administering the Kaliningrad Oblast exclave on the Baltic coast, Belarus, and Ukraine to the west, Georgia (including the disputed regions of Abkhazia and South Ossetia) and Azerbaijan to the southwest, and Kazakhstan, China, Mongolia, North Korea to the east and much of the south. While geographically mostly in Asia, the bulk of Russia's population is concentrated in the European part, and culturally, Russia is unmistakably European. This is a Russia sex guide on where to find sex, prostitution, hookers, brothels and escorts in Russia.
Sex Scene and Prostitution
Prostitution is illegal in Russia, but the fine for prostituting is symbolic and amount to from 1500 to 2000 Russian rubles (about 30-40 euros). This sum is less than many Russian prostitutes earn for the standard for Russia one-hour work. This is perhaps one of the reasons why the sexual practice is widespread and so blatant in Moscow, Saint Petersburg and every other major Russian city. Basically finding sex in Moscow or St. Petersburg is very easy.
The reality is that Russian women are found all over the world working as prostitutes and escorts. Of course, there is also no shortage of local girls working in Russia's domestic sex industry.
According to various estimates, the number of prostitutes working in Russia range from 100,000 to 3 million. Compared to two decades ago, the sex business also has a new look. Most Russian sex workers have moved indoors and seek clients on the internet and on the apps, instead of on street corners of the busy streets. Prostitutes are generally older and in their 30s and a 90% are mothers. Prostitution in Russia remains illegal.
Prostitutes in Russia also have to decide what services they're willing to offer, the risk becomes bigger when offering sex services such as unprotected sex or BDSM. Better locations also justify higher fees, but it comes with higher costs. Some sex workers also have very lowe fees which can attract very cheap clients.
Regions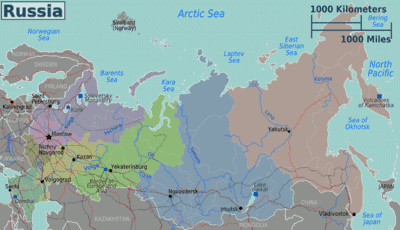 Central Russia (Federal City of Moscow, Ivanovo Oblast, Kaluga Oblast, Kostroma Oblast, Moscow Oblast, Ryazan Oblast, Smolensk Oblast, Tver Oblast, Tula Oblast, Vladimir Oblast, Yaroslavl Oblast)
The richest side in the entire country, dominated by spectacular architecture and historical buildings. It is the country's gate to Europe, and houses the capital city Moscow.
Chernozemye (Belgorod Oblast, Bryansk Oblast, Kursk Oblast, Lipetsk Oblast, Oryol Oblast, Tambov Oblast, Voronezh Oblast)
South to Central Russia, the region is famous for its rich, deep, black soil (Chernozem in Russian means "Black soil"). This region played as the important battleground during World War II
Northwestern Russia (Federal City of Saint Petersburg, Arkhangelsk Oblast, Karelia, Komi Republic, Leningrad Oblast, Murmansk Oblast, Nenetsia, Novgorod Oblast, Pskov Oblast, Vologda Oblast)
Home to the former imperial capital Saint Petersburg also known as Northern capital. It combines some beautiful landscapes of large lakes Ladoga and Onega, medieval forts of Pskov Oblast with the lacustrine region of Karelia and provides a gate for the country to enter Scandinavian territories.
Kaliningrad Oblast (often considered as a part of Northwestern Russia)
The only exclave of Russia, the Kaliningrad oblast allows a gate for Russia to share borders with Poland and Lithuania, and is a key site for where the 2018 FIFA World Cup will be held.
Southern Russia (Adygea, Chechnya, Dagestan, Ingushetia, Kabardino-Balkaria, Kalmykia, Karachay-Cherkessia, Krasnodar Krai, North Ossetia, Rostov Oblast, Stavropol Krai)
The warmest region in the entire country, with beautiful resort cities such as subtropical Sochi, and also brings a path to the mountainous North Caucasus.
Volga Region (Astrakhan Oblast, Chuvashia, Kirov Oblast, Mari El, Mordovia, Nizhny Novgorod Oblast, Penza Oblast, Samara Oblast, Saratov Oblast, Tatarstan, Udmurtia, Ulyanovsk Oblast, Volgograd Oblast)
The most industrialized region in the entire country, known for producing wide-scale military equipment in cities such as Izhevsk. Region is widely known for its rich culture and history.
Urals (Bashkortostan, Chelyabinsk Oblast, Khantia-Mansia, Kurgan Oblast, Orenburg Oblast, Perm Krai, Sverdlovsk Oblast, Tyumen Oblast, Yamalia)
One of the wealthiest regions, known for producing much of the resources Russia needs today and is named after vast Ural mountains.
Siberia (Altai Krai, Altai Republic, Buryatia, Irkutsk Oblast, Kemerovo Oblast, Khakassia, Krasnoyarsk Krai, Novosibirsk Oblast, Omsk Oblast, Tomsk, Tuva, Zabaykalsky Krai)
The largest area in the country diverse in landscape and yearly temperatures with stunning lakes, world longest rivers, but swampy in most part in the center and north. Provides a gate to enter into much of Asia.
Russian Far East (Amur Oblast, Chukotka, Jewish Autonomous Oblast, Kamchatka Krai, Khabarovsk Krai, Magadan Oblast, Primorsky Krai, Sakhalin Oblast, Yakutia)
One of the coldest places in all of Russia, even home to the coldest city in the world, Yakutsk. Worldwide renown for boasting national parks, beautiful scenery and mountains and even allows the traveler to see the volcanoes of Kamchatka. The region is also a gate to enter into North Korea, China and Mongolia.
Cities
Here is a representative sample Russian cities with their Anglicized and Russian Cyrillic names:
More Cities in Russia
Live Sex Cams
Can I watch Live Sex Cams in Russia? - Yes, you can! Basically you can watch our online live sex shows for free anywhere in the world if you're connected to internet. You can choose any girl from our trusted WikiSexLive.com! Join to get 10 free private teasers and 9.99 credits for free!
Live Sex Cams are booming at the moment. Webcam models can be found from all over the world and you can find girls, guys, trannies, couples and groups of different ages performing to you. Watching live sex shows is free, but if you buy some credits, you will have much better chances to see adult action as desired! It's possible also to hire a webcam model to a private chat room where you can ask the person to fulfill your fantasies. Try now! WikiSexLive.com
Dating
Dating in Russia can be a bit tricky due to cultural differences, so your best bet is to sign up for a dating site before your trip so you can meet a few locals ahead of time. AdultFriendFinder.com lets you meet local members in Russia and get to know them on a personal basis before you arrive. Take advantage of site features like live chat and member to member webcams so you can begin flirting before arranging a face-to-face meeting. Since your time in Russia may be limited, get to know each other's desires beforehand, so that when you meet you can start having some real fun.
How to find Sugar Babies & Sugar Daddies
If you are looking for an alternative to escorts in Russia with a girl who doesn't charge by the hour, sugar dating is the ideal solution. There are thousands of beautiful young women who are willing to do anything for a man who will help them pay their bills.
Often referred to as the "Tinder for Older Guys", Sugar Dating matches hot young women who are interested in pampering older gentlemen. You don't have to be a millionaire to meet a sugar baby. Click Here if you are a respectful gentleman who knows how to treat a woman.
Gay & Lesbian
Same-sex sexual activity is legal but extremely taboo in Russia; public opinion is strongly against any form of gay rights. As of June 2013, "homosexual propaganda", understood to mean public discussion of gay rights or homosexuality, is banned, as is any discussion of homosexuality with minors. Police can and do turn a blind eye to gay-bashing. Openly gay tourists may also be subject to arrest.
Escort Services
Finding an escort when you're travelling can be a bit tricky. An ideal alternative to escorts is a girl who is looking for a mutually beneficial relationship. There are thousands of horny girls willing to do anything for a generous guy. Click Here to hookup with a beautiful young woman now.
Check out WikiSexGuide Adult Classifieds!
Finding prostitutes online
Though the most basic way to find a prostitute in Russia is just ask a taxi driver, searching online give you opportunity to use many search options to find definately what you want. Most of prostitutes are ready to visit your hotel or invite you to their own apartments. If you know Russian and looking for a prostitute in Moscow the best solution would be to visit internet escort sites. If you don't know Russian or travelling in other Russian regions try to visit the following Internet sites:
Some of the escort agencies make difference between brothel girls and self-employed prostitutes (individuals, indis, independants). Independent escorts are usually more expensive than brothel girls but their service is of much more quality so that they offer better value for money. Usually individuals have rented apartments to receive clients. And most of them are ready to go to a client's hotel.
Most brothels (Russian: bordels, salons) advertising online pretend to be individuals, therefore be careful. The most obvious difference is that a salon will offer you to choose between several girls none of whom is the girl you saw online. That's very common, especially among cheap salons. Other differences are:
- when you contact a salon you usually talk to "dispatcher", that is person who explain you how to get to the apartment with the girl and answer other questions; an individual usually answers calls herself;
- individuals usually are more friendly to clients because its their own business;
- individuals usually enjoy sex or at least very proficiently pretend to enjoy;
- salon's prostitutes very often try to cheat on time because they oriented on the bigger number of clients; an individual never cheat on time maintaining her own reputation.
It's not amusing that salons have bad reputation among local clients who prefer individuals. There is even special search option on specialized internet sites: "real individuals" or "real indis" or "real independants" as opposed to salon's girls or prostitutes whose real status unchecked.
Prostitution History
According to a research carried out in the late 1920s, almost 60 percent of urban Soviet men were using the services of sex workers. There was also a separate category of sex workers, the 'intergirls' who worked in hotels for foreign visitors and accepted payment only in foreign money. Ladies who worked in ordinary hotels and at stations often had protection from the local police, but those in the luxury hotels were under the wing of the KGB.
Stay Safe
Largely because of the transition from state socialism to market capitalism, Russia did experience a rise in criminal activity during the 1990s. As those who controlled capital through the state had to reconfigure their business operations towards a free enterprise rationality, profiteering and scams have increased. The truth is that crime was greatly exaggerated in the media, and for the average tourist Moscow, Saint Petersburg and the rest of Russia are actually just as safe as most major European cities.
As a tourist, you are strongly discouraged to travel to the North Caucasus, as that region is the most dangerous in the entire country. The area has garnered a bad reputation for terrorism, crime and extremes of both corruption and lawlessness.
Russia is among one of the world's most corrupt countries, and the police force and traffic police are the most corrupt institutions in the entire country. Russians, being accustomed to a police state throughout most of their history, are unlikely to offer a lot of help if you have a run in with corrupt officials or criminals on the street. As a result, busy main streets are often less safe than quiet back streets—-there are simply more opportunities for the corrupt.
Be careful not to buy fake vodka, which can be dangerous (seriously here, 'dangerous' doesn't mean 'strong'; it can contain methanol).
The country's HIV prevalence is steadily rising, mainly for prostitutes, young adults and drug users. Be safe.
There are also several human rights foundations in Russia working to fight the spread of HIV among sex workers. There's the "Sex Workers' Rights Advocacy Network" (SWAN) in St. Petersburg, "Steps" in Moscow, and the "New Life" group in Yekaterinburg and Orenburg. The organizations primarily offer free condoms and anonymous fast HIV screening tests, sending vans to different metro stations in different cities, where sex workers assemble for free supplies and counseling. Group encourages sex workers to use them during oral sex, reasoning that the extra money earned from riskier sex is offset by the costs of STD treatments. Between 2017 and 2018, they 2,000 prostitutes in Moscow, 2.9% of whom tested positive for HIV. In Yekaterinburg, about 2,500 tests yielded 51 positive test results. In Orenburg, where 104 prostitutes were tested for HIV, almost 10% turned out to be infected.
See Also