Netherlands
Netherlands Sex Guide (Holland sex guide) advises where to find sex, prostitution, street hookers, brothels, red-light districts, sex shops, prostitutes, erotic massage parlors, strip clubs and escorts in Netherlands, Europe.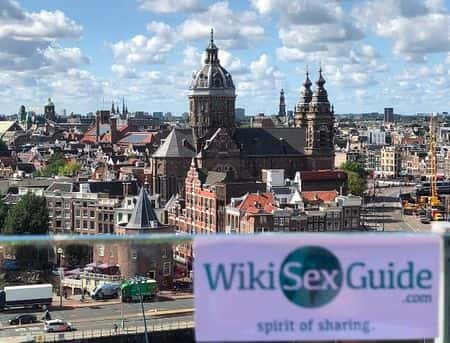 The Netherlands (Dutch: Nederland, also commonly called Holland in English) is a European country, bordering Germany to the east and Belgium to the south. The people, language, and culture of the Netherlands is referred to as "Dutch". With over 16 million people on an area roughly twice the size of New Jersey, it's a densely populated country with its gorgeous capital Amsterdam being just one of many interesting cities. Once a great naval power, this small nation boasts a wealth of cultural heritage and is famous for its painters, windmills, clogs and notoriously flat lands. A modern European country today, it preserved its highly international character and is known for its liberal mentality. As a founding member of EU and NATO, and host to the International Court of Justice in The Hague, the Netherlands is at the heart of international cooperation. Its small size, welcoming attitude to travelers and many sights make it a unique and fairly easy to discover destination and a great addition to any European trip.
Sex Scene and Prostitution
Quite a few travellers visit the Netherlands to enjoy its famously tolerant attitude: prostitution is decriminalized but only for those prostitutes registered at a permitted brothel. Safe sex and use of condoms is common practice, and the prostitute will usually have these available. It is illegal for sex workers to solicit for customers on the street and prostitutes are most common in the capital Amsterdam, where red-light districts are popular, even if tourists only visit as a momento of the visit. In more rural areas, prostitution is almost non-existent. Sex shops, sex shows, sex museums and drugs museums are also popular amongst tourists. The sale, possession, and consumption of small quantities of cannabis while technically still illegal, is officially tolerated, but coffeeshops are subject to increasing restrictions. Harder drugs (eg. ecstasy or cocaine) remain illegal both in theory and practice. In the same open minded atmosphere is the Dutch ease towards homosexuality, gay marriage is legalized. The minimum age for prostitutes was raised from 18 to 21 years sometime ago.
Red.light Districts in Netherlands
Sex work is concentrated in and around the big cities and in the border areas in the regions of Limburg, Groningen, Twente, West Brabant and Zeeland. Window prostitution in the red-light districts occurs in 12 cities in the Netherlands and it is estimated that hundreds of women and transgirls work in the red light districts every day.
Prostitution in Netherlands 2020
Due to the covid 19 pandemic, all legally operating sex clubs in the Netherlands were closed on the 15th of March 2020, based on emergency orders per police district. Since the Dutch government failed to provide financial compensation for prostitutes (especially those who have always paid taxes through the 'opting-in'-system), many of them were forced to continue to work, turning to illegal home-based sex work. Christian politicians in Dutch parliament claimed they wanted to help prostitutes to escape from exploitation, but sex workers' unions angrily responded that they don't want to be 'saved' by people who would like to forbid sex business again. The temporary ban on sex business in the Netherlands was be lifted on the 1st of July 2020, but could be reinstated anytime, at any time a serious coronavirus outbreak would occur.
Regions
The Netherlands is a constitutional monarchy, administratively divided into 12 provinces (provincies). Even though the Netherlands is a small country, these provinces are quite diverse and have plenty of cultural and linguistic differences. They can be divided in four regions: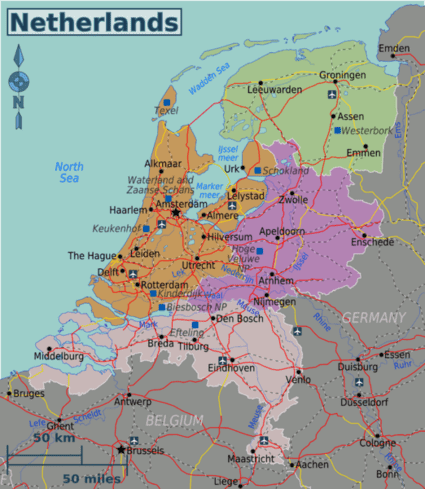 Western Netherlands
Commonly called the Randstad, this is the heart of the Netherlands with its four biggest cities as well as typical Dutch countryside.
Northern Netherlands
The least densely populated area, mostly unexplored by foreigners, but popular among the locals. The West Frisian Islands are excellent destinations for a few days out, as are the Frisian Lakes.
Eastern Netherlands
Home to the largest national park of the Netherlands, Hoge Veluwe National Park, as well as the beautiful Hanzesteden, seven mediaeval cities along the IJssel River with a traditional historic centre, such as Zutphen, Zwolle, Doesburg, among others.
Southern Netherlands
Divided from the rest by its Catholic history, carnival celebrations, beer culture and its "Burgundian way of life".
This article describes the European part of the Kingdom of the Netherlands. The Caribbean islands Bonaire, Sint Eustatius and Saba are "special municipalities" fully integrated in the Netherlands proper. Beside the Netherlands proper, Aruba, Curaçao and Sint Maarten are constituent countries within the Kingdom of the Netherlands.
Cities
Major Cities
Amsterdam — impressive architecture, lovely canals (grachten), museums and liberal attitudes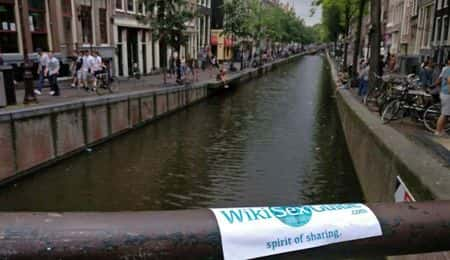 Rotterdam — modern architecture, good nightlife, vibrant art scene and the largest port of Europe
The Hague — the judicial capital of the world, the seat of government and the royal family. Red-light districts at the Gelenstraat, Hunsestraat and Doublestraat with over 300 windows.
More Cities
Escort Services
Finding an escort when you're travelling can be a bit tricky. An ideal alternative to escorts is a girl who is looking for a mutually beneficial relationship. There are thousands of horny girls willing to do anything for a generous guy. Click Here to hookup with a beautiful young woman now.
Check out WikiSexGuide Adult Classifieds!
Festivals
Every four years, the country goes football crazy as either the European Championship or the World Cup is held. Complete streets will be decorated with orange flags, the country's national colour. It's not uncommon for literally fifty percent of the population to be watching a game if it's a particularly important one. Often bigger cities will put up large tv screens for the general public, like on the Rembrandtplein in Amsterdam. Likewise, cafes and bars are another popular place to watch games.
In the Southern Netherlands (North Brabant, Limburg and to a smaller extent also in Twente, Overijssel and the south of Gelderland), the Catholic celebration of Carnival is held since mediaeval times. It occurs immediately before Lent; which is usually during February or March. Parades can be seen almost in any town on Sunday, sometimes also occurring on Monday. Parades can also be held in the evening, usually on Saturdays all the wagons are then lit up by numerous small lights. The other days of the week, many activities can be found ranging from street painting (stoepkrijten) to beer drinking contests. The cities of 's-Hertogenbosch, Breda and Maastricht are advisable for attending Carnival.
Queen's Day (Koninginnedag) is held every year at April 30th all over the country (except if this day is a Sunday, then it will be held at the Saturday before). In every village and town, you will find frollicking Dutch, free markets and authentic Dutch games. Nowadays Queen's day much more becomes a day of festivals and partys. It is advised to wear orange clothing, as most Dutch people walk around in their national colour. An advisable city to attend at this day is Amsterdam, because it's one of the largest events of the year there. In several larger cities (most notably The Hague and Utrecht), the festivities start in the evening of the 29th of April. As of 2014, this day will be renamed Koningsdag (King's day) and moved to April 27th, the birthday of the new King (in 2014 itself, it will take place on April 26th as 27th is a Sunday).
Pinkpop [1] is a three-day pop festival every year with Pentecost ("Pinksteren") in Landgraaf, Limburg.
Lowlands [2] popfestival - every last weekend of August at Biddinghuizen, Flevoland.
Summercarnaval [3] - A big parade through the center of Rotterdam. One of the largest events in the Netherlands.
Heineken Dance Parade [4] - A big dance parade through Rotterdam. Much in the spirit of the popular Love Parade in Germany.
Northsea Jazz Festival [5] - Big summer jazz festival, held in the Ahoy stadion, Rotterdam since 2006 as it moved there from The Hague. Around 1,800 jazz, blues, funk, soul, hip Hop, latin and r&b acts play during this 3 day event.
Vierdaagsefeesten [6] - Summer festival in Nijmegen lasting seven days, during the Nijmeegse Vierdaagse, which always starts on the 3rd Tuesday in July. The celebrations though start already the weekend before and over 1 million people attend. During the festival, there is a section for all the top Dutch bands such as Moke and Racoon, De Affaire which is focussed on alternative and rock, The Matrixx which has all your electronic dance music needs, and of course the numerous terraces and bars.
Sensation [7] - (Formely known as 'Sensation White') One of the best-known parties in the world organized by ID&T.[8] 40,000 people all dressed in white gather to hear some big and upcoming house music DJs. Tickets usually sell out very fast. Several international editions are being organized several times a year around the world with the main concert being held in Amsterdam ArenA every summer. Sensation Black (with hardstyle music) was previously hosted annually in the same location but is now being held in Belgium instead.
Dance Valley [9] - The largest dance festival, with over 40,000 visitors. Annually mid July in park Spaarnwoude, near Schiphol Airport. The focus is on celebrating summer, and has circus tents in which every tent is a different genre in dance music.
Mystery Land [10] - Dance festival with a flower-power theme. In the last week of August near Schiphol Airport. Most dance genres are present, including even electro. Also has activities such as workshops and theatre, which are usually uncommon with dance festivals.
Defqon.1 [11] - Dance festival focussing on the harder dance styles, such as hardstyle and hardcore. Residing in Flevoland, usually in mid June, but in 2009 is held in mid September.
Drugs
Gapers (Black Moors Head)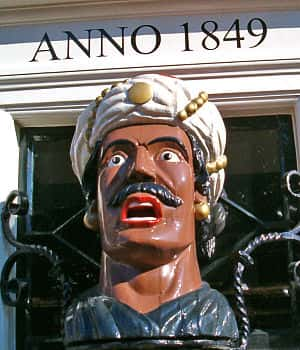 These are an ancient symbol of pharmacy in the Netherlands. They look like people yawning (gapers means yawners in Dutch), but really they have their mouths open to take medicine. Sometimes a pill can be seen on their tongue. These symbols were once common in the Netherlands, especially in Amsterdam. Today they are very rare on buildings.

Usually the head is of a black or Moor man. This is because in the 15-17th centuries, pharmacists would travel through the country with an assistant trying to sell their medicines. Before an audience the pharmacist would give a pill to his assistant. These were often Moors. The assistant would act better. So pharmacies became known by the assistant's head. Today some bars and restaurants are named after Gapers. There is also a large collections of them in the Netherlands Drugstore Museum in Maarssen.
The Netherlands is renowned for its liberal drug policy. While technically still illegal because international treaties, personal use of (soft) drugs are regulated by the Ministry of Justice under an official policy of gedogen; literally this means to accept or tolerate, legally it is a doctrine of non-prosecution on the basis that action taken would be so highly irregular as to constitute selective prosecution.
Note that this does not mean the Dutch are all permanently high. In fact drug usage is much lower in the Netherlands than it is in countries with more restrictive policies. Much of the clientèle of the coffeeshops (see below) is in fact tourists. Be sure you are among like-minded people before lighting up a spliff.
You are allowed to buy and smoke small doses (5 g or less) of cannabis or hash. You must be 18 or older to buy. For this you have to visit a coffeeshop, which are abundant in most larger towns. Coffeeshops are not allowed to sell alcohol. Minors (those under 18) are not allowed inside. Coffeeshops are prohibited from explicit advertising, so many use the Rastafari red-yellow-green colors to hint at the products available inside, while others are more discreet and sometimes almost hidden away from plain view. In the border provinces of Limburg, North Brabant and Zeeland it is now only possible to buy cannabis products in a coffeeshop if you've got a wietpas ("weed pass") from may 2012. Only residents of the Netherlands can get a pass! This measure will be introduced in an effort to combat drug related crime and nuisance.
Beware that cannabis sold in the Netherlands is often stronger than varieties outside, so be careful when you take your first spliff. Be particularly wary of cannabis-laced pastries ("space cakes") as it's easy to eat too much by accident — although there are also unscrupulous shops that sell space cakes with no weed at all. Wait at least one hour after eating!
Hallucinogenic ("magic") mushrooms, once legal, are banned as of December 1st, 2008. However, "magic truffles", which contain the same active ingredients as magic mushrooms are still technically legal and are sold in some Amsterdam head shops.
It is forbidden to drive any motorized vehicle while impaired, which includes driving under the influence of both illegal and legal recreational or prescribed drugs (such as cocaine, ecstasy, cannabis and mushrooms) as well as alcohol, and medication that might affect your ability to drive.
Buying soft drugs from dealers in the streets is always illegal and is commonly discouraged. The purchase of other (hard) drugs such as ecstasy, cocaine, or processed/dried mushrooms is still dealt with by the law. However, often people who are caught in possession of small amounts of illegal drugs for personal use are not prosecuted.
The act of consuming any form of drugs is legal, even if possession is not. If you are seen taking drugs, you may theoretically be arrested for possession, but not for use. This has one important effect; do not hesitate to seek medical help if you are suffering from bad effects of drug use, and inform emergency services as soon as possible of the specific (illegal) drugs you have taken. Medical services are unconcerned with where you got the drugs, they will not contact the police, their sole intention is to take care of you in the best way possible.
At some parties, a "drug testing desk" is offered, where you can have your (synthetic) drugs tested. This is mainly because many pills contain harmful chemicals in addition to the claimed ingredients; for example, many pills of "ecstasy" (MDMA) will also contain speed (amphetamines). Some pills don't even contain any MDMA at all. The testing desks are not meant to encourage drug use, since venue owners face stiff fines for allowing drugs in their venues, but they are tolerated or 'gedoogd' since they mitigate the public health risks. Note: the desk won't return the drugs tested.
Please note that there are significant risks associated with drug use, even in the Dutch liberal climate
while marijuana bought at coffeeshops is unlikely to be hazardous, hard drugs like cocaine and heroin and synthetic drugs like ecstasy are still illegal and unregulated. These hard drugs are likely to be in some way contaminated, especially when bought from street dealers.
some countries have legislation in place that make it illegal to plan a trip for the purpose of commiting illegal acts in another jurisdiction, so you might be apprehended in your home country after having legally smoked pot in the Netherlands.
Alcohol and weed
Be very careful with alcohol and weed, don't use any alcohol the first couple of times you smoke weed, drinking one beer after you've smoked can feel like drinking ten beers. However, alcohol and weed can be a very nice and trippy experience, especially for people who don't feel enough from just smoking weed (to some people weed might be a little bit disappointing, others can space the whole night on 0.5 g). Alcohol and weed amplify each other, a little bit of alcohol can cause you to intensely feel the effect of the weed, but a tiny bit too much can make you feel dizzy and/or nauseous. In the end, be careful, pace yourself and know your limits. There's loads of fun to be had, if you act responsibly.
Sleep
A wide range of accommodation is available, concentrated on the major tourist destinations. They include regions popular for internal tourism, such as the Veluwe. In non-touristed areas, accommodation may be very limited.
Prices are generally high. Budget accommodation starts at around €20 per person and prices go upwards from there. Seasonal demand affects availability and can cause prices to rise dramatically, especially in Amsterdam.
Official Dutch Youth Hostels are called "Stay Okay" [12], but they are not as widespread as in Great Britain. Also there is no kitchen available for guests, so either you eat what's on menu or you eat out. Besides the Official Dutch Youth Hostels there are plenty of other hostels spread around the country. Popular are The Flying Pig Hostels [13] in Noordwijk and Amsterdam, which do provide a kitchen for one's own use and they have a liberal smoking policy.
Another option is staying at a bed & breakfast. There is a wide choice in the big cities, but there are also plenty to be found in the smaller towns and villages. Prices are generally €40-100, depending on the number of occupants and the season. Bed & breakfasts may not offer all the facilities that bigger hotels do, but the service is generally friendly and personal. Also, many bed & breakfasts are to be found along popular hiking trails and cycling paths.
Short-term apartment rental is available in cities, but may not be legal. While most have a 3 night minimum stay, the process of making reservations and checking in is generally identical to that of staying in a hotel, the notable exception being that most require a credit card deposit, and the balance payment in € on arrival.
Vacation rental homes are popular in the Netherlands, especially in rural areas. These small homes come in broad varieties: they can be simple or luxurious, individual places or part of large parks with lots of identical homes and they are operated by private owners as well as large chains. Traversia has the largest collection of vacation rentals in the Netherlands, by Dutch owners [14]. Large chains of vacation rental home parks are Center Parks and Landal Greenparks. Where privately owned options can sometimes provide a more authentic, local experience (e.g. located in old, timber-framed houses in South Limburg), the parks will offer additional services, restaurants and swimming pools. In most cases, you have to book at least a weekend. Although generally not very cheap, they have kitchens and therefore allow for self-catering.
If you are traveling by bicycle or by foot, there is a list of 3600 addresses where you can stay at private homes with bed and breakfast for no more than € 18,50 per person per night, although you must also pay € 9 for membership of this scheme. It is called Vrienden op de fiets [15].
Stay safe
The Netherlands is generally considered a safe country. However, be alert in Amsterdam, Rotterdam, The Hague and other large cities that are plagued by pickpockets and bicycle theft, violent crimes are very rare. In the larger cities, certain areas are considered unsafe at night. A few are also unsafe in daylight:
Amsterdam: Kolenkitbuurt, Overtoomse Veld, Amsterdam-Zuidoost, Osdorp
The Hague: Morgenstond, Schilderswijk
Deventer: Heechterp/Schieringen, Rivierenwijk
Eindhoven: Woensel West
Leeuwarden: Heechterp/Schieringen
Maastricht: Noord-Oost
Nijmegen: Hatert
Rotterdam: Bloemhof, Hillesluis, Oude Noorden, Oude Westen, Pendrecht, Spangen, Tarwewijk, Tussendijken
Utrecht: Kanaleneiland, Ondiep
Zaanstad: Poelenburg
Police, ambulance and fire brigade have one general emergency number 112. There is one police force, organized in 25 police regions. Visitors will deal with mostly the regional police. Some specialized forces, such as the railway police and the highway police on main roads, are run by a separate national force (highway police being the KLPD - Korps Landelijke Politie Diensten, and railway police being the spoorwegpolitie). When calling 112, if you can, advise on what emergency services what you need.
Border controls and port and airport security are handled by a separate police force, the Marechaussee (or abbreviation 'KMar' - Koninklijke Marechaussee), a gendarmerie. They are an independent service of the Dutch armed forces (making them a military service, not a civil one) and have security tasks among their duties in most cities such as issuing parking and litter fines.
They often have police-style uniforms to confer some authority, but their powers are limited. For instance, only the police carry a gun.
Prostitution in the Netherlands is legal since 1988 if the prostitute consents. Pimping or otherwise exploiting women against their will is a crime, even in the Netherlands. Have sex only in safe locations that have a license to host prostitutes to engage in sexual activities with their clientele.
Illegal prostitution in hotels can be raided by the police and the client as well as the prostitute can be fined or be put in jail. Hotel personnel are obliged by law to notify the police if they suspect these kinds of illegal activities. Having sex with a minor (18 for prostitutes, 16 for other people) is also illegal. Always ask for an ID from the prostitute to confirm her age.
European Network against Racism, an international organisation supported by European Commission reported that, in the Netherlands, half of the Turks reported having experienced racial discrimination. The same report points out a "dramatic growth of Islamophobia" paralleled with antisemitism. Another international organisation, the European Monitoring Centre on Racism and Xenophobia, highlighted a negative trend in the Netherlands regarding attitudes towards minorities, compared to average EU results. The analysis also noted that compared to most other Europeans, in the Netherlands, the majority group is "more in favour of cultural assimilation of minorities" rather than "cultural enrichment by minority groups".
Gay and lesbian travelers
As mentioned above, the Netherlands is quite liberal when it comes to homosexuality and by far is considered to be one of the gay-friendliest countries in the world. The Netherlands has a reputation of being the first country to recognise same-sex marriage, and openly displaying your orientation wouldn't cause much upset in the Netherlands. However, even a gay friendly country like the Netherlands has room for some criticisms of homosexuality, but this varies depending on where one travels. Regardless, with violence and discrimination against gays being rare as well as the legal status of same-sex marriage in the Netherlands, this country may be considered a gay utopia and should be safe for gays and lesbians (except sometimes in religious neighbourhoods in the major Dutch cities, after big football matches or in demonstrations if there is a violent attitude in general).
See Also