Ivanovo
Ivanovo Sex Guide advises where to find sex, working girls, prostitution, street hookers, brothels, red-light districts, sex shops, prostitutes, erotic massage parlors, strip clubs and escorts in Ivanovo, Russia.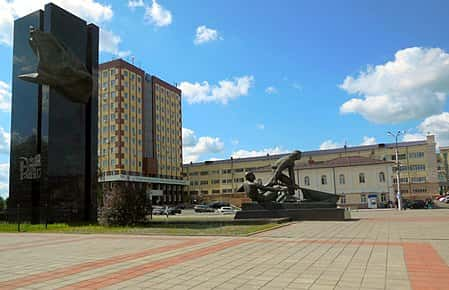 Ivanovo (Russian: Иваново; IPA: [ɪˈvanəvə]) is a city and the administrative center of Ivanovo Oblast, Russia, located 254 kilometers (158 mi) from Moscow and approximately 100 kilometers (62 mi) from Yaroslavl, Vladimir, and Kostroma.
Sex Scene and Prostitution
Prostitution is illegal in Russia, but the fine for prostituting is symbolic and amount to from 1500 to 2000 Russian rubles (about 30-40 euros). This sum is less than many Russian prostitutes earn for the standard for Russia one-hour work. This is perhaps one of the reasons why the sexual practice is widespread and so blatant in Moscow, Saint Petersburg and every other major Russian city.
Where to Get Sex Now
It is easy to get sex online in Ivanovo. You just need to find the best available girls. See Girls Online Here!
Red Light Districts
There is no Red Light district in Ivanovo. The street prostitution scene in not very lively in general. You can search for prostitutes near hotels and railway station, on highways leading out of the city.
Prostitutes and Sex Workers
Some young prostitutes start their business with posting their profiles on social networks or finding a place on a popular street prostitution spot. Sex-related websites in Ivanovo have a choice of prostitutes: young and mature, experienced and newbies, skinny and overweight, blonds and brunettes.
Street Hookers
You will not find many prostitutes on streets of Ivanovo. They rather prefer to find clients through websites. Though some of them prefer a more traditional way - stopping passing cars on streets and highways. Some of street hookers are so desperate, they will have sex for a bottle of vodka and food.
Strip Clubs & Lap Dance
Here you can relax and have pleasure. 3 strip clubs (or gentlemen clubs as they like to call themselves) offer unforgettable experience with local striptease dancers. These playful girls often take initiative in their own hands and bring visitors surprises they had no idea of! Sometimes they can take a guest on stage and dance with him or undress him, sometimes they can climb on a guest's table and dance just for him or lure him into a private room.
Зажигалка, Krasnogvardeyskaya street 3 (Красногвардейская улица, 3), tel.: +7 (800) 333-88-68, website: russtriptease.ru/, working hours: 22.00-6.00
LOUNGE, Lezhnevskaya street 1 (Лежневская ул., 1), tel.: +7 (493) 248-50-57, working hours: 21.00-7.00
Айсберг, Gromoboya street 10 (Громобоя, 10), tel.: +7 (493) 232-70-03 working hours: Su-Wd 11.00-3.00, Th-Sa 11.00-5.00
Brothels
Most of the brothels are located in private apartments. Often young girls live and receive clients in the same apartment. Some places are managed by a pimp, others are not. Usually brothels keep young girls who take care of themselves. It is still recommended to wear a condom and wash yourself.
Erotic Massage Parlors
There are 2 major erotic massage parlors in Ivanovo and a lot of individual masseuses who work from home, in hotels and do out calls. These girls have certificates that prove their qualification and usually they are either prostitutes or strippers. Here you have higher chances of getting laid. When you go to a massage parlor, you can choose a program from the long list of massages: classic relaxation, Thai, lingam, jacuzzi, ice and fire, sakura, fetish, etc.
Кружева, Arsenia street 53 (ул. Арсения 53), tel.: 8 (4932) 950 - 555 www.krygeva-spa.ru
Prices start from 3200 rubles/53$ for an hour.
ЛАУНЖ, Ignatovo village 1 (д. Игнатово, строение 1) tel.: (4932) 48-50-57
Prices start from 2500 rubles/41$ for an hour.
Escort Services & Agencies
Finding an escort when you're travelling can be a bit tricky. If you are looking for escorts in Ivanovo, Escort Directory is the ideal solution. There are thousands of beautiful young women at EscortDirectory.com waiting for your call!

Sexual services are provided by prostitutes-freelancers. Sometimes these girls group together and form agencies, managed by the most experienced or oldest prostitute. You can easily find their contacts on the Internet. Here you can find prostitutes from young newbies who will agree only on a sex and blowjob to experienced women who don't mind group sex and slight BDSM games.
Transsexuals / Shemales
Some transsexuals post their profiles on sex-related websites along with heterosexual prostitutes. They write about their preferences and prices.
Gay and Lesbian
There ares some gays and lesbians willing to have sex for money in Ivanovo. You can find them on advertisement boards and social networks such as VK. Their prices are about the same or a bit higher than of heterosexual hookers - 1500-2000 rubles/25-34$ for an hour.
Sexual Services for Women
Call boys post their profiles on the Internet along with women sex workers. The choice is smaller, but a foreign women can still find someone worth her attention.
Sex Shops and Adult Stores
A choice of adult stores in Ivanovo is poor, but the existent ones have a lot to offer to a sex traveller. Besides usual products as condoms, lubricants and vibrators, they offer a lot of sexy underwear both for him and for her and sexy and extravagant costumes for role games: kings and queens, different professions and animals.
Victoria37, Demidova street 15 (ул. Демидова, 15), tel.: 8 (493) 237-19-20
Интим de Luxe, Lenina avenue 62, tel.: 8 (493) 248-24-37
Соблазн, 10th of August street 41 (ул. 10 Августа, 41), tel.: 8 (493) 227-27-25
Sleeping
A traveller will find a choice of 60 hotels to stay in Ivanovo. Prices range from 1000 rubles/17$ to 3600 rubles/60$ for one night. Some of the more expensive hotels have spa and sauna and it is known that guests bring prostitutes to saunas. Apparently, the staff doesn't mind and, moreover, calls for prostitutes for a small fee.
Stay Safe
Ivanovo is sometimes called a Russian Manchester. Also, there is a song saying that Ivanovo is a city of brides. It is a nice and friendly city with a low crime rate. A foreign traveller should not worry about his safety and at the same time should not provoke crimes - hide his valuables and don't carry big sums of cash.
See Also