Stavropol
Stavropol Sex Guide advises where to find sex, working girls, prostitution, street hookers, brothels, red-light districts, sex shops, prostitutes, erotic massage parlors, strip clubs and escorts in Stavropol, Russia.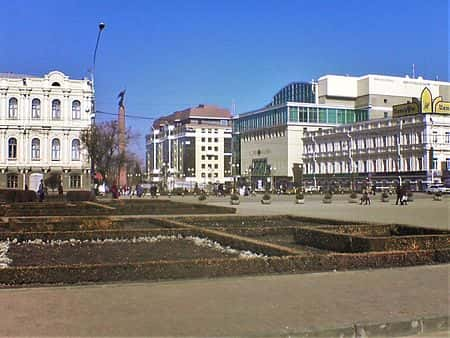 Stavropol (Russian: Ставрополь; IPA: [ˈstavrəpəlʲ]) is a city and the administrative center of Stavropol Krai, Russia.
Sex Scene and Prostitution
Prostitution is illegal in Russia, but the fine for prostituting is symbolic and amount to from 1500 to 2000 Russian rubles (about 30-40 euros). This sum is less than many Russian prostitutes earn for the standard for Russia one-hour work. This is perhaps one of the reasons why the sexual practice is widespread and so blatant in Moscow, Saint Petersburg and every other major Russian city.
Where to Get Sex Now
It is easy to get sex online in Stavropol. You just need to find the best available girls. See Girls Online Here!
Red Light Districts
Street hookers can be found on highways, gas stations, streets in the city center and a railway station. Their favorite locations are Kulakova and Dovatortsev (Кулакова и Доваторцев) streets and the highway towards Nevinomyssk (трасса на Невинномысск).
Prostitutes and Sex Workers
There are several ranks of prostitutes in Stavropol.
VIP prostitutes are the highest in the hierarchy. They cost about 500$ per night and are not easy to find. Usually they are singers, actresses or models. There about 20 of them in Stavropol.
Freelancers. These prostitutes work for themselves and usually have their own regular clients. Often they group together for safety.
Prostitutes from agencies. They work for the agency and receive only half of the income. These prostitutes do in calls and out calls and can have up to 10 clients per day.
Street prostitutes is the lowest rank. Only the least attractive and the most desperate for money women become street hookers.
Street Hookers
Street hookers come out on streets in all types of weather. Usually they start working at 14.00 and stay there till about 2 o'clock at night. Their prices start from 500 rubles/8$ and depend on their age and appearance and your negotiation skills. The cheapest prostitutes can be found on a railway station. These are women of 40-50 years old who can have sex for a bottle of vodka.
Strip Clubs & Lap Dance
If you are looking for a way to escape from a routine, then a strip club is where you should go. Let yourself live in a dream for just one night! Visiting the strip club is also a good way to get acquainted with friendly Russian girls, who will eagerly dance just for you. Often these playful strippers decide to perform a special show that is not included in the original program. Surprises are always pleasant and lure guests for more.
Зажигалка, Kulakova avenue 29d (Кулакова проспект, 29д), tel.: +7 (800) 333-88-68, website: russtriptease.ru, working hours: 22:00 - 06:00
Театр Эротики "CATS", Dzerzhinskogo street 114 (ул. Дзержинского, 114), tel.: +7 865 266-25-52, working hours: 20:00 - 06:00
Brothels
In Stavropol brothels are located in private houses or apartments. In many cases prostitutes work and live here at the same time. They take turns in serving customers. Often the place is not new and all the furniture is shabby. Prostitutes who work here are not attractive at all and many of them are infected.
Erotic Massage Parlors
Erotic massage is not just a way to relax, it is an art. Dare to dip into a stream of passion along with beautiful and professional local masseuses. These girls are just charming! Their soft touches and kisses will make you want to come back again. They offer to take you away from stresses of a modern life and "reload" you. Erotic massage parlors understand that mental balance is as important as a physical one. That's why after a relaxing procedure a client and a masseuse have a tea ceremony and talk.
Escort Services & Agencies
Finding an escort when you're travelling can be a bit tricky. If you are looking for escorts in Stavropol, Escort Directory is the ideal solution. There are thousands of beautiful young women at EscortDirectory.com waiting for your call!

There are about a dozen of escort agencies in Stavropol, you can find their ads in local newspapers. Their owners look for clients and working girls. Wages are lower than prostitutes-freelancers have, therefore, tips are very welcomed. Many of these women are married and have children and many of them work here part time to save money and leave. Often they never leave. One hour of sex costs about 1500 rubles/25$.
Transsexuals / Shemales
Transsexual orientation is considered to be against a mentality and traditions of the North Caucasian region. These people do not have same rights and legal protection from the government and are openly despised by locals.
Gay and Lesbian
Locals despise gays and lesbians and they were even forbidden to hold a Parade in 2017. There are about 300 open LGBT people living in Stavropol. They post their profiles and look for partners on free advertisement boards.
Sexual Services for Women
Stavropol offers a big choice of men escorts for a lonely night. Some of them work only on sex out calls and some don't mind going on a real date with a woman. An average price of such call boy is 2000 rubles/34$ for one hour.
Sex Shops and Adult Stores
Several adult stores in Stavropol have enough goods to satisfy a curious traveller. Often nice consultants will offer help in choosing the most suitable product and will even show how it works. Local sex shops offer products for him, for her, for couples, pharmacy and souvenirs. Some of them have a delivery option.
Интим, 45th Parallel street 2 (ул. 45-я Параллель, 2), tel.: 8 (865) 241-08-41
Один+, 50 years of VLKSM street 18 (ул. 50 лет ВЛКСМ, 18), tel.: 8 (865) 241-08-41
Магазин сексуальной культуры, Roza Luxemburg street 1 (ул. Розы Люксембург, 1), tel.: 8 (865) 241-08-41
Sleeping
You will find many prostitute-friedly hotels in Stavropol. Pimps make an agreement with hotel's staff that they will let prostitutes in for a share in an hourly price. These prostitutes specialize in serving guests of the city and cost about 200 rubles/34$ for an hour.
Stay Safe
Stavropol is a part of a North Caucasian Federal Region that is considered the most dangerous region in Russia. In truth, not every place is dangerous and many parts of the region are being restored in order to attract tourists. The flow of tourists is rising every year, but very slowly. When coming to Stavropol, tourists should be especially cautious, avoid dark and abandoned places and do not trust suspicious people.
See Also