Chelyabinsk
Chelyabinsk Sex Guide advises where to find sex, working girls, prostitution, street hookers, brothels, red-light districts, sex shops, prostitutes, erotic massage parlors, strip clubs and escorts in Chelyabinsk, Russia.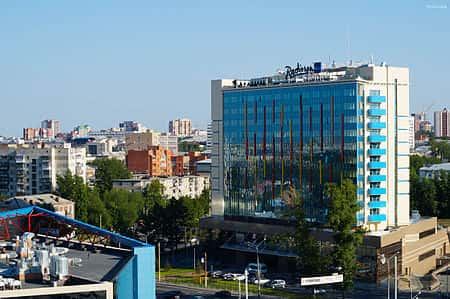 Chelyabinsk (Russian: Челя́бинск cheel-YAH-beensk) is a city in Chelyabinsk Oblast, Russia.
Sex Scene and Prostitution
Prostitution is illegal in Russia, but the fine for prostituting is symbolic and amount to from 1500 to 2000 Russian rubles (about 30-40 euros). This sum is less than many Russian prostitutes earn for the standard for Russia one-hour work. This is perhaps one of the reasons why the sexual practice is widespread and so blatant in Moscow, Saint Petersburg and every other major Russian city.
Where to Get Sex Now
It is easy to get sex online in Chelyabinsk. You just need to find the best available girls. See Girls Online Here!
Red Light Districts
The Gorkogo street in the city center is referred to as a Red Light District of Chelyabinsk. It is easy to set them by their appealing appearance and lack of clothing. These girls usually stick together - this way it is safer for them and clients have more choice. Normally you drive up to them, point on the one you like and the next second she is sitting by your side. What happens next is totally up to you: you can have in the car, take her to the sauna or your hotel room.
Prostitutes and Sex Workers
There are a lot of prostitutes in Chelyabinsk and a lot of ways to find them. You can search online, visit massage parlors that often cover for brothels, use services of street girls, ask hotel security to bring you one, or ask a taxi driver to take you to one. Here sex workers are average quality, some of them are old and overweight. But you can still find some hotties if you are persistent in your search.
Street Hookers
Street hookers usually hang out on the Gorkogo street in Chelyabinsk, some of them can be found near gas stations. But with development of the internet, most of them have moved online. Some of them offer fast sex services either in your car or just a few steps away in shady bushes. A classic sex act costs 1000-1500 rubles (17-25$), classic sex + blowjob - 2000 rubles (34$).
Strip Clubs & Lap Dance
There are 13 strip clubs in Chelyabinsk, that are scattered across the city. All of them offer beautiful plastic ladies and exciting shows. These venues usually have special offers for both regular clients and newbies.
Мистер Икс, Pobedy avenue 312 (проспект Победы 312) tel.: +7 (351) 798-98-99 website: kabare-x.ru, working hours: Mn-Th: 11:30—01:00; Fr, St: 11:30—06:00. In addition to striptease and lap dancing, this place offers show ballet dances. There are also additional unusual services: play chess, listen to live music or watch acrobatic performances. This is a venue for people with average and high levels of income. There is VIP hall for celebrations such as birthdays or stag parties. Entrance fee varies from 500 to 1000 rubles (8-17$).
Show girls, Truda street 105/80 (улица Труда 105/80), tel.: +7 (351) 233-43-13, website: www.showgirlscabaret.ru, working hours: Mn-Th, Su: 21:00—06:00; Fr, St: 21:00—07:00. This is a place for those who loves striptease. The girls take off everything except for panties. If you want to see more, you are very welcome to order a private dance in a room where no one will bother you. This service costs 2000 rubles (34$). There is an entrance fee (about 1000 rubles - 17$) that is higher for women. According to feedbacks, if you want to have at this strip club, you should bring 10 000 rubles with you (170$).
Зажигалка, Lenina ave 52 (проспект Ленина, 52), tel.: +7 (800) 333-88-68, website: russtriptease.ru, working hours: every day 22:00 - 06:00. This venue is part of the chain of strip clubs, located in major Russian cities and some large cities of the former USSR countries. Each venue has a unique atmosphere, so if you've been to one already, you can still find something new here. It combines affordable prices, sexy girls dancing on the stage and laps, hookas and alcohol.
Brothels
Brothels in Russian operate illegally, therefore they are well disguised. In Chelyabinsk you can find brothers in a from of spa salons or mini-hotels. There is one located in the hotel Гарнет on Kirova street 82 (улица Кирова 82). They offer both accommodations for tourists and operate as a brothel.
Erotic Massage Parlors
There are quite a few erotic massage salons in Chelyabinsk. They do not advertise sexual services openly, but you should look for the word "final/ending" in their description to know they are just the type you need. They offer a whole range of services, starting from a classic massage done just by one masseur. The girl is usually absolutely naked and she can do massage with just her hands or her whole body or there can be more than one girl. Most of the places offer aroma baths with foam and/or jacuzzi. Sometimes they add fruits, whipped cream or erotic toys to the session. You can also order a lesbian show or stay longer if you don't feel like leaving yet. Prices start from 1550 rubles for an hour (25$). Here is a list of the most popular places:
Бархат-Спа, Tarasova street 48, (улица Тарасова 48), tel.: 235-28-28, website: barhatspa.ru
Caramel, Chicherina street 21B (улица Чичерина, 21Б) tel.: +79127778747, website: caramel-spa.com
Garnet spa, Kirova street 82 (улица Кирова 82) tel.: +7 (922) 751-01-41, website: garnetspa.ru
Escort Services & Agencies
Finding an escort when you're travelling can be a bit tricky. If you are looking for escorts in Chelyabinsk, Escort Directory is the ideal solution. There are thousands of beautiful young women at EscortDirectory.com waiting for your call!

There are both escort agencies and prostitutes-freelancers. Most of the girls prefer to work as freelancers. An agency that offers high quality escort service is Chelyabinsk is called Escort74. You can find them through their website https://escort74chelyabinsk.com or call directly at 8 341 200-97-68. The procedure is the following:
1. You tell the manager what type of girl you want (her age, appearance, services she does);
2. Tell her the date and time when you need the girl;
3. She send you portfolios with pictures of girls that suit you the best;
4. You tell the manager whom you like the most;
5. The girl comes to your place.

These girls look like models and are very intelligent. They accompany clients to social events and what happens after is absolutely up to the client and the lady. 2 hours of such escort cost 20 000 rubles (333$) and 45 000 for the whole night (750$).
Transsexuals / Shemales
Transsexuals are generally not accepted by Russian society, therefore it is hard to find them in any place. Your best place for search is forums and ads for transgenders.
Gay and Lesbian
Same-sex sexual activity is legal but extremely taboo in Russia. Public expression of feelings between gays and lesbians will be a subjects to whispers or even open harassments. Therefore, gay tourists should not be open about their sexual orientation, especially with strangers.
Sexual Services for Women
There are sexual services for women in Chelyabinsk. They can be found online or at erotic massage parlors. Actually, an attractive western woman can easily find a man for a one night stand in local night clubs.
Sex Shops and Adult Stores
Sex shops are scattered all over Chelyabinsk. They sell goods both in the store and online. A range of products includes: vibrators, electric stimulators, anal stimulators, lubricants, fake vaginas, sex dolls, condoms, gels, lingeries, BDSM and fetish accessories and even gift certificates.
Sleeping
There are a lot of hotels in Chelyabinsk because of the many people who go there for work. Most of the hotels are girl-friendly and you can even ask security guys to find you a prostitute. In 10-15 minutes they will bring you a few girls to choose from. The cost of the prostitute will be higher, because you should count a tip for the security.
Stay Safe
Chelyabinsk is safe place, but it is highly recommended not to pose with jewelries, expensive accessories and cash.
See Also