Yekaterinburg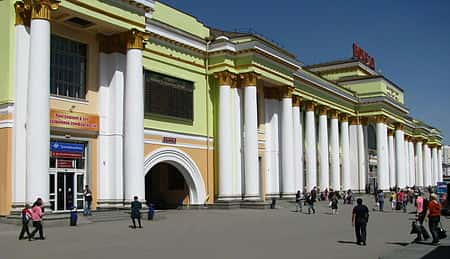 Yekaterinburg Sex Guide advises where to find sex, working girls, prostitution, street hookers, brothels, red-light districts, sex shops, prostitutes, erotic massage parlors, strip clubs and escorts in Yekaterinburg, Russia.
Yekaterinburg is the 4th largest city in Russia after Moscow, Saint Petersburg, Novosibirsk and is the capital of the Urals region. It was founded in 1723 by the order of Peter the Great as the metallurgical factory and by the 20th century it had become one of Russia's largest and most important financial, industrial and cultural centers.
Sex and Prostitution in Yekaterinburg
Prostitution is illegal in Russia, but the fine for prostituting is symbolic and amount to from 1500 to 2000 Russian rubles (about 30-40 euros). This sum is less than many Russian prostitutes earn for the standard for Russia one-hour work.
Red Light Districts
There are many hookers in Yekaterinburg, more than enough for both locals and foreign visitors. These girls are scattered around that city, that's why it is hard to name one distinct Red Light District. Girls can be found on Shchorsa, Malysheva, Shefskaya and Bakinskix Komisarov streets (улице Щорса, Малышева, Шефская, Бакинских комиссаров). These girls have to pay a "protection fee" to a pimp, but their services are still cheaper that of freelancers or escort girls.
Prostitutes and Sex Workers
There are plenty of different aged girls. Maybe not as much glamour as in Moscow, but you will still have a good variety of hookers. Prostitutes are reasonable priced from 2000-5000 RUB per hour.
As in most parts of Russia, you can find a prostitutes in couple different ways such as searching online, asking taxi driver to take you to a brothel or asking from hotel receptionist to order hookers to your room. If you order girls to your room from reception, you will usually just get 1-3 girls to choose from.
Street Hookers
Street hookers can be found on most of the streets and highways of Yekaterinburg. Most of the street hookers are very young, but they look very weary because of the profession, so 20-years-old whores may in fact look like 30-years-old ones. Cheap prices allow to have more sex with more girls, but it is a dangerous sort of pleasure. Chances that a street hooker is sick are very high.
Live Sex Cams
Can I watch Live Sex Cams in Yekaterinburg? - Yes, you can! Basically you can watch our online live sex shows for free anywhere in the world if you're connected to internet. Join to get 10 free private teasers and 9.99 credits for free! You can choose any girl from our trusted Live Sex Cams!
Live Sex Cams are booming at the moment. Webcam models can be found from all over the world and you can find girls, guys, trannies, couples and groups of different ages performing to you. Watching live sex shows is usually free, but if you buy some credits, you will have much better chances to see adult action as desired! It's possible also to hire a webcam model to a private chat room where you can ask the person to fulfill your fantasies.
Where to Get Sex Now
It is easy to get sex online in Yekaterinburg. You just need to find the best available girls. See Girls Online Here!
Adult Locations
Cheap prostitutes can be found on highways and streets of the city, especially in the center. These girls often work on in-calls to saunas. Pimps bring only experienced girls to saunas because once she is there, she has to do everything the clients want for the money, regardless of their quantity and desires.

Escort Services and Agencies
Unfortunately we don't list in this category!
Finding an escort when you're travelling can be a bit tricky. If you are looking for escorts in Yekaterinburg, Escort Directory is the ideal solution. There are thousands of beautiful young women at EscortDirectory.com waiting for your call!
Keep in mind that sometimes the hookers in real life are not as good as they are at the photos - photoshop rules the world. Sometimes that are not even their own pics - just some models from the internet who look like the subject you are going to meet. In the worst case they could even not have anything common with the girl in photo.
Erotic Massage Parlors
Unfortunately we don't list in this category!
If you want to have an erotic massage in Yekaterinburg, you have two options: individual girls who work in studio apartments or official erotic massage parlors. The first option may not be a high-quality massage, but it is definitely budget-friendly. The second one offers a wide range of erotic programs performed by sexy professional masseurs, but the cost will be higher. High-quality erotic massage can be found at:
Натали-СПА, Belinskogo street 112 (ул. Белинского 112), tel.: +7 (343) 382 1996 website: spa-natali.ru. Working hours: 24/7. This venue offers erotic massage for her/for him/for a couple/for a small company. This salon has more than 20 massage programs on their list, some of the most interesting are:

Specialty SPA (14100 rubles/235$ for 2 hours)
Sensual massage for couples (7600 rubles/126$ for 90 minutes)
Thai VIP (2600 rubles/43$ for one hour)
Lesbian show (8600 rubles/144$ for 90 minutes)
"Happiness exists", where a client gets served by 3 girls (8600 rubles/144$ for 90 minutes)
All inclusive (8500 rubles/144$ for 2 hours)
Харизма, Mamina Sibiryaka street 52 (улица Мамина Сибиряка 52) tel.: 379-39-05, website: harizma,org. Working hours: 24/7. This venue offers erotic massage for her/for him/for a family. They provide services only for those who can afford them. So budget tourists may want to try something else. In "Харизма" a client can take a quick soupy bath with a girl for 300-400 rubles (5-6$) prior to starting a massage session. Programs include classic massage, Thai massage, relax in a bath, massage with cocktails and desserts, a master and mistress role game, massage sessions with more than one girl and, of course, an all inclusive program where the client chooses what body parts he wants to have massaged and what extras to use.
Boss Yumasheva 13 (улица Юмашева 13), tel.: +7 922 208-81-89, website: boss-spa.ru. Working hours: 24/7. There are 2 sets of massage programs in "Boss": standard and exclusive. The standard ones include:

express session (2000 rubles/34$ for 30 minutes)
erotic massage
Thai relax (3100 rubles/52$ for 60 minutes)
double relax (4100 robles/68$ for 90 minutes).
Some of the exclusive programs include:
erotic massage session for her
lesbian show with strapon (applied to a girl), a client can take part in the show
deep prostate massage
big tits massage
your choice. A client chooses the program himself.
Prices for exclusive programs start from 6000 rubles/100$ for one hour and the highest price depends on the length of massage and extra services.
Brothels and Sex Clubs
A common brothel in Russia is located in a studio apartment. Often the girls live there permanently and accept clients in their free time. Once there, a client is asked to take shower. Next, girls come out and introduce themselves. A client chooses the one he likes and they go to a private room.
Girls in such brothels do all sorts of services, besides classic sex: blowjob, anal sex, group sex and all sort of fetishes for an extra fee.
Strip Clubs and Striptease
There are 13 strip clubs in Yekaterinburg. Such a variety allows to choose a comfortable location and suitable prices. The most popular venues are:
Bazhova street 75a (улица Бажова 75а)
tel.: +7 (343) 350-46-78
website: chernyi-led.ru.
The strippers are being changed every months. The club does it in order for clients not to get bored of the same girls. Themes of the night are changed every 2 hours. Here you can watch beautiful girls on stage, order a private dance or a massage session.
Malysheva street 74 (улица Малышева, д. 74)
tel.: (343) 373 00 73
website: http://www.russian-cabaret.ru
This is not just a regular strip-club, this is a place of bright and eccentric bright cabaret shows! The "Show girls" offer exquisite European cuisine and a wide choice of alcohol drinks from the bar. Even day they have some specialty: it can be a discount or a gift or whatever comes on their mind! Try their crazy menu.
Voyevodina street 6 (улица Воеводина 6)
tel.: +7 (343) 371-69-17
website: www.barelpaso.ru
working hours: Tu-Su 20.00-6.00
This is a Mexican-style strip-club and bar. Half-naked waitresses serve popular Mexican and Latin American dishes, but of course there are European dishes as well. A main alcohol drink is of course tequila. Their specialties are beer tubes on every table and erotic striptease shows that change every day.
Karaoke and KTVs
Unfortunately there are no Karaoke and KTVs in Yekaterinburg.
Swinger Clubs and BDSM
ALT.com is the best place for local singles, swingers, and couples in the BDSM community to connect with those interested in submissive sex, power exchange, locating persons for new slave roles, erotic BDSM, bondage & fetish sex, as well as live sex dates. Find thousands of play partners for whatever your fetish may be; bondage, foot, cockold, spankings, role-play, electric or water play, sadism and masochism. So whether you have the desire to explore your unrealized fetish fantasies, or you are extremely experienced and would love to train someone new, ALT.com is a community designed for people with like-minded interests to find and connect with each other.
Swingers do not meet in official clubs in Russia, therefore they do not exist. The only way to find swingers in Yekaterinburg is through private groups in social networks or on local forums.
Sex Shops and Adult Stores
If you don't feel like visiting or cannot find any local sex shops in Yekaterinburg, you can easily order adult products from Online Sex Shop.
Vzrosliy Mir

Ulica Malysheva 42, Tel. +7 (343) 237-27-29
Ulica Vokzalnaya 23, Tel. +8 800 333 26 15
NeStidno, Chebysheva street 4V (ул. Чебышева, 4В), tel.: 8 (800) 700-27-69
Imperiya Soblazna, Admirala Ushakova street 35 (ул. Адмирала Ушакова, 35), tel.: 8 (343) 319-95-91
Love Hotels and Short Time Hotels
A love hotel is usually an apartment rented by a pimp or girls themselves. A client can come there and pick a girl he wants and stay with her for a few hours or a night. If there is no one the client likes, he is free to leave the venue.
Nightclubs and Bars
There are 53 night clubs in Yekaterinburg, so a foreign traveller will not be bored! the top-10 bars and clubs in Yekaterinburg according to the TripAdvisor are:
Гадкий Койот, Malysheva 51 street (улица Малышева 51)
Karaoke club Запой, Shevchenko street 9 (улица Шевченко 9)
Ever Jazz, Turgeneva street 22 (улица Тургенева 22)
Craft Bar Борода, Dekabristov street 16/18 (улица Декабристов 16/18)
Jawsspot, Turgeneva street 3 (улица Тургенева 3)
Мизантроп, 8th of March street 14 (улица 8 марта 14)
Мёд, Shevchenko street 9 (улица Шевченко 9)
Брусника Party Bar, Belorechenskaya street 28a (улица Белореченская 28а)
Лифт12, 8th of March street 12 (улица 8 марта 12)
Попса, Rosa Lyuksemburg street 23 (улица Розы Люксембург 23)
Gay and Lesbian
Gay modeling in internet is getting more popular all the time and it's a big market alongside with gay porn. You can watch gay live sex also in Yekaterinburg as long as you are connected to internet. Check it out: Gay Live Sex Video Chat
Same-sex sexual activity is legal but extremely taboo in Russia; public opinion is strongly against any form of gay rights. As of June 2013, "homosexual propaganda", understood to mean public discussion of gay rights or homosexuality, is banned, as is any discussion of homosexuality with minors. Police can and do turn a blind eye to gay-bashing. Openly gay tourists may also be subject to arrest. Russian gangs systematically target gay men, documenting acts of torture and uploading video evidence to the internet. Police have been reported as not intervening in these attacks, and have been reported as arresting the victims.
Other Adult Services
If a foreigner is attractive and shows that he has money, a lot of local girls will eagerly spend a night with him. Such girls mainly hang out in night clubs and bars.
Dating
Dating in Yekaterinburg can be a bit tricky due to cultural differences, so your best bet is to sign up for a dating site before your trip so you can meet a few locals ahead of time. AdultFriendFinder.com lets you meet local members in Yekaterinburg and get to know them on a personal basis before you arrive. Take advantage of site features like live chat and member to member webcams so you can begin flirting before arranging a face-to-face meeting. Since your time in Yekaterinburg may be limited, get to know each other's desires beforehand, so that when you meet you can start having some real fun.
How to find Sugar Babies and Sugar Daddies
If you are looking for an alternative to escorts in Yekaterinburg with a girl who doesn't charge by the hour, sugar dating is the ideal solution. There are thousands of beautiful young women at SecretBenefits willing to do anything for a man who will help them pay their bills.
Often referred to as the "Tinder for Older Guys", SecretBenefits matches hot young women interested in pampering older gentlemen. You don't have to be a millionaire at SecretBenefits.com, you just need to be a respectful gentleman who knows how to treat a woman.
Transsexuals and Shemales
Finding someone for transsexual dating when you're on the road can be a bit tricky, so your best bet is to sign up for a dating site before you go so you can find locals ahead of time. TSdates.com is a dating site designed to help you find exactly what you are looking for in your hookup in Yekaterinburg. Take advantage of site features like live chat and member to member webcams so you can begin flirting before arranging a face-to-face meeting. With over 40 million members, and thousands of transsexual members around the world, TSdates.com is the world's largest site of sex-minded friends for discreet encounters and will help you find your next transsexual play partner.
Where can I find shemales in Yekaterinburg? You can watch transsexual live sex shows in Yekaterinburg as long as you are connected to internet. Check Now: Tranny Live Sex Video Chat
Sexual Services for Women
Men escort is accessible through the same web resources as women escort. Some of the erotic massage parlors offer programs for women as well. But if a woman is attractive, she can easily find a one night stand in Yekaterinburg.
Sleeping and Girl Friendly Hotels
There is a wide choice of hotels in Yekaterinburg. 4-5 stars respectable hotels normally don't like and don't let prostitutes around. On the other side, cheaper and lower quality hotels don't mind when clients bring prostitutes over if they leave a tip for personnel. Hookers often come knocking at your door, offering their services in such hotels. It's good if you are just looking for one, but if you want to rest, they can be very irritating.
Stay Safe
Largely because of the transition from state socialism to market capitalism, Russia did experience a rise in criminal activity during the 1990s. As those who controlled capital through the state had to reconfigure their business operations towards a free enterprise rationality, profiteering and scams have increased. The truth is that crime was greatly exaggerated in the media, and for the average tourist Moscow, Saint Petersburg and the rest of Russia are actually just as safe as most major European cities.
You should be noted that Russia is a pioneer country in fighting against narcotics. Russia has a well-developed anti-narcotics enforcement system as well as a set of regulations against uses and carrying of narcotics as tough as Hong Kong and Singapore, drug-trafficking into Russia can be brought a sentence of at least several decades.
See Also