Finland
Finland Sex Guide advises where to find sex, prostitution, hookers, brothels, erotic massage parlors and escorts in Finland, Europe.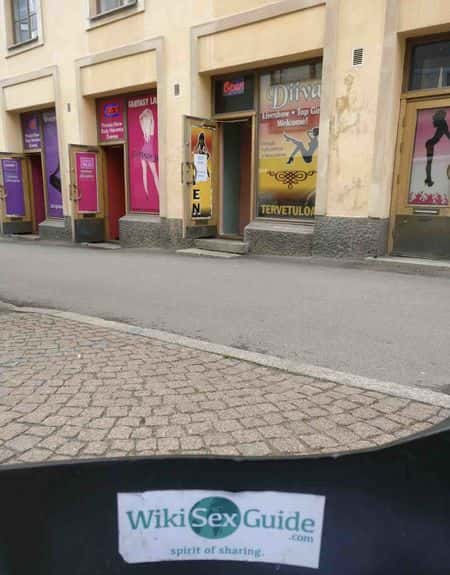 Finland (Finnish: Suomi, Swedish: Finland) [1] is in Northern Europe and has borders with Russia to the east, Norway to the north, and Sweden to the west.
Sex Scene and Prostitution
Prostitution in Finland is legal but soliciting in a public place, organized prostitution (operating a brothel or a prostitution ring and other forms of pimping) is illegal.
Finland is not the best place to find prostitutes. It's possible but a bit hidden compared to other European cities. Helsinki has few places where to find Streetwalkers. Mostly prostitutes advertise online (see below escort services). For local people the most common way to have paid sex is to use erotic massage parlors. Most of erotic massage providers in Finland are from Thailand. Vip Escorts can be found from strip clubs.
Regions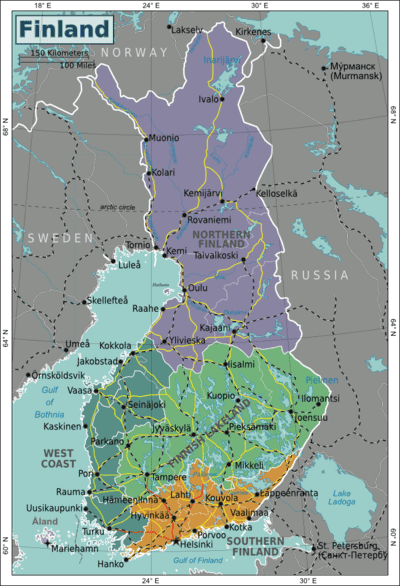 Southern Finland
The southern stretch of coastline up to the Russian border, including the capital Helsinki and the historical province of Uusimaa (Nyland)
Western Finland
The Southwest coastal areas, the old capital Turku, the historical province of Central Finland with its capital Jyväskylä, inland hub city Tampere, the southern parts of the historical province of Ostrobothnia (Pohjanmaa, Österbotten) and Seinäjoki, the fastest growing city of Finland
Eastern Finland
Forests and lakes by the Russian border, including Savonia (Savo) and the Finnish side of Karelia (Karjala)
Oulu (Northern Finland)
Kajanaland (Kainuu) and northern Ostrobothnia, named after the technology city of Oulu.
Finnish Lapland
Tundra and reindeer above the Arctic Circle.
Åland
an autonomous and monolingually Swedish group of islands off the southwestern coast of Finland
Cities
Live Sex Cams
Can I watch Live Sex Cams in Finland? - Yes, you can! Basically you can watch our online live sex shows for free anywhere in the world if you're connected to internet. You can choose any girl from our trusted WikiSexLive.com! Join to get 10 free private teasers and 9.99 credits for free!
Live Sex Cams are booming at the moment. Webcam models can be found from all over the world and you can find girls, guys, trannies, couples and groups of different ages performing to you. Watching live sex shows is free, but if you buy some credits, you will have much better chances to see adult action as desired! It's possible also to hire a webcam model to a private chat room where you can ask the person to fulfill your fantasies. Try now! WikiSexLive.com
Dating
Dating in Finland can be a bit tricky due to cultural differences, so your best bet is to sign up for a dating site before your trip so you can meet a few locals ahead of time. AdultFriendFinder.com lets you meet local members in Finland and get to know them on a personal basis before you arrive. Take advantage of site features like live chat and member to member webcams so you can begin flirting before arranging a face-to-face meeting. Since your time in Finland may be limited, get to know each other's desires beforehand, so that when you meet you can start having some real fun.
How to find Sugar Babies & Sugar Daddies
If you are looking for an alternative to escorts in Finland with a girl who doesn't charge by the hour, sugar dating is the ideal solution. There are thousands of beautiful young women who are willing to do anything for a man who will help them pay their bills.
Often referred to as the "Tinder for Older Guys", Sugar Dating matches hot young women who are interested in pampering older gentlemen. You don't have to be a millionaire to meet a sugar baby. Click Here if you are a respectful gentleman who knows how to treat a woman.
Gay & Lesbian
Finland's capital and largest city, Helsinki (population 596,000) ranks among Europe's most progressive and gay-friendly cities. On 28 November 2014, the Finnish Parliament voted 105-92 to allow an amendment to permit same sex marriage. This makes Finland the 12th nation in Europe to legalise same sex marriage. The bill is now pending signature by the President. Finnish Prime Minister Alexander Stubb has shown support for the bill and says it is likely to be signed by the President. The law came out of a citizen's initiative and the Prime Minister boosts this as "a prime example of citizen power. Scandinavian countries of Sweden, Norway, and Iceland. In late June, and extending into early July, the city celebrates Helsinki Gay Pride, comprising a week's worth of events. This year's dates are June 24 through June 30, 2013. Typically about 10,000 participants attend Pride in Helsinki, making it one of the city's largest events.
Escort Services
Finding an escort when you're travelling can be a bit tricky. An ideal alternative to escorts is a girl who is looking for a mutually beneficial relationship. There are thousands of horny girls willing to do anything for a generous guy. Click Here to hookup with a beautiful young woman now.
Check out WikiSexGuide Adult Classifieds!
Most escorts in Finland advertise online and usually quickie costs 60-100€, half-hour 80-150€ and full hour 150-300€.
Stay Safe
Risks in Finland

Crime/violence: Low
Most violence is alcohol-related and/or domestic – walking in the street is usually safe even in the night
Authorities/corruption: Low
The police are generally courteous and speak some English, offering bribes will get you into serious trouble.
Transportation: Low to Moderate
Icy roads and sidewalks in the winter, mooses and other animals occasionally crossing the roads
Health: Low
Tick and mosquito bites
Nature: Low to Moderate
Blizzards in the winter, getting lost when hiking in the forests
Crime
Finland enjoys a comparatively low crime rate and is, generally, a very safe place to travel. Use common sense at night, particularly on Friday and Saturday when the youth of Finland hit the streets to get drunk and in some unfortunate cases look for trouble. The easiest way to get beaten is to pay a visit at a grill kiosk after bars and pubs have closed and start arguing with drunken people. It is, anyway statistically more likely that your home country is less safe than Finland, so heed whatever warnings you would do in your own country and you will have no worries. If you yourself run in with the law, remember that Finland is one of the world's least corrupt countries and you will not be able to buy yourself out of trouble. Finnish police never requires a cash payment of fines which it gives. Do not ever give money to person who presents him/herself as a police officer. An obvious way to stay out of most kinds of trouble is to stay sober and act businesslike, when dealing with police, security or the like.
Racism is a generally of minor concern, especially in the cosmopolitan major cities, but there have been a few rare but highly publicized incidents of black, romani & Arab people getting beaten up, attacks against immigrants and group fights with native Finns & immigrants. Sometimes there might be group fights where immigrants do their part as well. The average visitor, though, is highly unlikely to encounter any problems.
Pickpockets are rare, but not unheard of, especially in the busy tourist months in the summer and almost always done by foreigners. Most Finns carry their wallets in their pockets or purses and feel quite safe while doing it. Parents often leave their sleeping babies in a baby carriage on the street while visiting a shop, and in the countryside cars and house doors are often left unlocked. On the other hand, you have to be careful if you buy or rent a bicycle. Bicycle thieves are everywhere, never leave your bike unlocked even for a minute.
In case of emergency
112 is the national phone number for all emergency services, including police, and it does not require an area code, regardless of what kind of phone you're using. The number works on any mobile phone, whether it is keylocked or not, and with or without a SIM card. If a cellphone challenges you with a PIN code, you can simply type in 112 as a PIN code - most phones will give a choice to call the number. This is not possible with all phones!
For inquiries about poisons or toxins (from mushrooms, plants, medicine or other chemicals) call the national Toxin Information Office at (09) 471 977.
See Also