Yaroslavl
Yaroslavl Sex Guide advises where to find sex, working girls, prostitution, street hookers, brothels, red-light districts, sex shops, prostitutes, erotic massage parlors, strip clubs and escorts in Yaroslavl, Russia.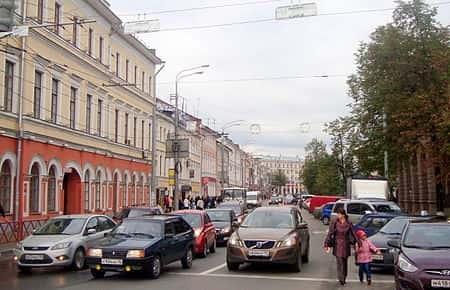 Yaroslavl (Ярославль) is the capital city of Yaroslavl Oblast in Russia and a point on Golden Ring itinerary.
Sex Scene and Prostitution
Prostitution is illegal in Russia, but the fine for prostituting is symbolic and amount to from 1500 to 2000 Russian rubles (about 30-40 euros). This sum is less than many Russian prostitutes earn for the standard for Russia one-hour work. This is perhaps one of the reasons why the sexual practice is widespread and so blatant in Moscow, Saint Petersburg and every other major Russian city.
Where to Get Sex Now
It is easy to get sex online in Yaroslavl. You just need to find the best available girls. See Girls Online Here!
Red Light Districts
There is no distinct Red Light District in Yaroslavl, they are located in several places. You can find 'night butterflies' in Yaroslavl on the following streets: Ushinskogo, Pervomayskaya, Oktyabrya (Ушинского, Первомайская, Октября). The dirtiest and the most desperate hookers hang out around gas stations.
Prostitutes and Sex Workers
There are 3 types of prostitutes in Yaroslavl:
Street prostitution: the cheapest girls. They are desperate for money, that's why they will do everything to make a client happy. Literary, everything.
Prostitution in brothels: average prostitutes. They take care of their look, but may still carry STDs. Always bring condoms with you.
Prostitution in strip clubs and massage parlors: the most expensive girls. Some of them are very picky and they will do only traditional sex and a blowjob (no ass, no toys, no fetish). Some of these girls are quite intelligent, so you can even talk with them after having had sex.
Street Hookers
Street hookers can be found in many regions of the city. Some of them gradually move to the Internet, but some stay dedicated to working on streets. It is hard to stay on feet all day, that's why most of the working girls get chronic diseases very early in addition to catching HIV or STDs. It is rather recommended not to pick street hookers up, because the risks are high. Sex in Yaroslavl is quite cheap for a foreign traveller and he can afford to hire a quality escort.
Strip Clubs & Lap Dance
Strip clubs offer a good rest and relaxation. These venues have everything for that if you can afford it. Besides delicious cuisines, alcohol from all over the world served on a bar and smoking hookahs, strip clubs offer a lot of erotic and entertainment services: a dance on a client's table, a dance with a striper on stage, an undressing of a client on stage, a slow dance with a bartender/a waitress/an administrator, a private dance in a VIP room or a hotel room (a length of the dance is counted by songs), bar-fining a striper, erotic table games or strip games and many more. These venues can also be rented for special occasions or a client can rent the whole place just for himself. These and other services can be found at:
Рай, Svobody street 34v (ул. Свободы 34В), tel.: +7 485 233-44-44, working hours: 22.00-5.00
Мёд, Podzelene street 7 (ул. Подзеленье, 7), tel.: +7 485 272-88-99, working hours: 21.00-7.00
Основной инстинкт, Kirova street 5a (ул. Кирова 5А), tel.: 8-902-331-88-99, working hours: 21.00-6.00
Brothels
A lot of sex workers have moved from streets to organized brothels. Usually brothels take a form of saunas or private apartments. This way they can not be blamed for provision of sexual services and police can not come to search this places without an official order. It is not easy to find a brothel without knowing where to look for. A foreign tourist can ask his local friends, hotel staff or taxi drivers about their locations.
Erotic Massage Parlors
Yaroslavl's sexy massage parlours are the places where you can relax under the expert hands and body of a pretty naked girl and look forward to what they like to call a very happy ending. Erotic massages can range from a classic sensual rub up, to underwater, soapy, oil, honey and even a show massage which may involve two to four girls. Each parlor has its own specialty. Big and luxurious massage salons offer extra programs that usually include domination and submission, foot fetish, doing massage to a masseur, application of sex toys and more. One can also find erotic programs for women and couples in these venues. These are the best places to go to:
LOUNGE STUDIO, Sovetskaya street 65 (ул. Советская 65), tel.: +79159909049, website: lounge-massage.ru
Prices start from 2500 rubles/41$ for an hour.
КРУЖЕВА, Chehova street 17/2 (ул. Чехова 17/2), tel.: 8(4852)714-214, website: krygeva-spa.ru
Prices start from 3200 rubles/53$ for an hour.
EROTIC MASSAGE-ELYSIUM, Uglichskaya street 9 (ул. Угличская, 9), tel.: 7-903-827-81-90
Prices start from 2500 rubles/41$ for an hour.
Escort Services & Agencies
Finding an escort when you're travelling can be a bit tricky. If you are looking for escorts in Yaroslavl, Escort Directory is the ideal solution. There are thousands of beautiful young women at EscortDirectory.com waiting for your call!

Escort services can be found on specified websites in Yaroslavl. Prostitutes usually work individually and rarely group into one agency. The hookers willing to find clients through the web, create profiles with sexy half-naked or naked pictures and write some info about themselves and leave contacts. A client surfs thought such websites and finds a hooker he likes. Then he writes her a private message or calls to agree on details and time and place of a meeting. It is recommended not to pay her in front. Rather leave a required amount of money in a place where she can see it (on a table) and she will pick up her earnings after the meeting is over.
Transsexuals / Shemales
Transsexual activity is a strict taboo in Russia. Crossdressers either hide their nature or try to move out to friendlier countries as soon as they can. That's why you will not be able to find any transgender escort in Yaroslavl.
Gay and Lesbian
You can find a lot of dating websites and independent gay escorts, offering entertainment and sex in Yaroslavl. They often post pictures of dicks and describe what services they provide and what they are looking for here. When you find a man you like, write him a private message to discuss details and set a date a place of meeting. Prices vary, but it's 1500 rubles/25$ in average.
Sexual Services for Women
Call boys can easily be found on specified websites. There is a big choice of men who differ in looks, sizes and experience. You can also save your money and find a match on dating websites. Once these men find out you are a foreign traveller, they will eagerly go with you for a one night stand. Expect to leave a guy some money.
Sex Shops and Adult Stores
There are only a few sex shops in Yaroslavl, but they are quite nice and have everything a tempted traveller may need: condoms, lubricants, vibrators, gels, pills for potency like viraga, cialis, kamagra (sold without prescriptions from a doctor), vaginas, anal stimulators, latex accessories, whips, cuffs, costumes for role games and even dolls that look like real women. All staff is very friendly and aware of the products they sell. They will tell everything about application of these and those things and may even show them.
Доктор Любви (Love Doctor), Aviatorov avenue 151 (пр. Авиаторов, 151), tel.: 8 (800) 775-70-64
МАГАЗИН ФАНТАЗИЙ (Fantasy Shop), Tolbukhina avenue 9 (пр. Толбухина, 9), tel.: 8 (485) 220-03-10

You can also use a home delivery option from other stores.
Sleeping
There are about 150 options to stay in Yaroslavl. Hotels are scattered all over the city, especially in the center and by the river Volga. Prices start from 900 rubles/15$ per night and go up to 4000 rubles/66$ per night. You may not be able to bring street hookers to respectable hotels (especially if she looks like a classic street hooker with dirty hair, bright make-up and a short skirt), but if you call an upscale escort in, there will be no problem.
Stay Safe
Many citizens of Yaroslavl are concerned about their own safety. Crimes in this city are not rare. The most wide spread crimes are murders, robberies and rapes. The most dangerous area is Dzerzhinskyi (Дзержинский) region and Kirovsk (Кировский) region (the city center) is on the second place. The head of the police department explained that a lot of crimes happen in the city center because of the entertainment venues. People get drunk and fight and scammers know that people who go there, have money.
See Also