Antalya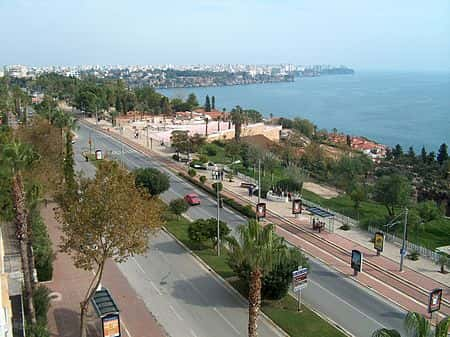 Antalya Sex Guide advises where to find sex, working girls, prostitution, street hookers, brothels, red-light districts, sex shops, prostitutes, erotic massage parlors, strip clubs and escorts in Antalya, Turkey.
Antalya is a city on the Mediterranean coast of southwestern Turkey. It is Turkey's biggest international sea resort, located on the Turkish Riviera. In 2012, Antalya became the third most visited city in the world by number of international arrivals, ranking behind Paris and London, respectively.
Sex and Prostitution in Antalya
Antalya is a very popular holiday destination for Europeans and the tourist season runs from late April un-till mid October. During these months there are many more foreign prostitutes especially for Russia and other Eastern European countries also working in Antalya. Getting laid during the tourism season is also very easy at the night clubs because of the high tourist popualtion.
For foreign people everything, all prices, behaviors can be different in Turkey specially in Antalya. Usually foreign people need to pay double for hookers. In Strip clubs and clubs where prostitutes hang out, foreign people will get scammed very often. You can avoid strip club scams in Turkey if you always ask the price of the drinks you order, never let any girls sit on your table and be cautious all the time.
Female Escorts
There is quite good selection of escorts in Antalya.
Check out WikiSexGuide Adult Classifieds!
Red Light Districts
UPDATE: There are rumors that red-light district in Antalya is closed. The following information may be outdated.
In Antalya there is one Red-light district before the Varsak bridge about 1 km. Red-light area (genelevi) is located in Sutculer. Price to have sex with the prostitutes in the red light area is around 40-100TL. Working girls will always ask more money from you after you make a first payment which is something like 40 or 50TL.
You can see the locations of brothels and Red Light Districts of Turkey from here: Red-light Districts in Turkey
Prostitutes and Sex Workers
During the holiday season, more sex workers will arrive to Antalya from other Turkish cities and foreign countries. You can find the working girls from the clubs, cafes and hotel areas. Many of the escorts also work at the private flats, brothels and red-light districts. Red-light area (genelev) girls are often the ugliest and been in the sex business for the longest time and this means they know the tricks how to get extra money from the customers and use them. Prettiest escorts are definitely the Russian holiday season girls and they also serve their clients very well.
Street Hookers
You can find streetwalkers from city center of Güllük Altgeçidi and the cost is usually 100TL-200TL for one hour if sex including the blow-job. Most street hookers come from Turkey, Azerbaijan, Georgia and Turkmenistan. There are also sex workers from Balkans in this area. You should always try to pay as little as possible, because some of the whores do ask more money when you fuck them for extra things like fucking in a doggy style or what ever they can make up.
Hookup and Pick Up Local Girls
Meeting local girls and getting laid for free is fun! Read more on how to pick up girls in Antalya: https://hookuptravels.com/wiki/Antalya
Live Sex Cams
Can I watch Live Sex Cams in Antalya? - Yes, you can! Basically you can watch our online live sex shows for free anywhere in the world if you're connected to internet. Join to get 10 free private teasers and 9.99 credits for free! You can choose any girl from our trusted Live Sex Cams!
Live Sex Cams are booming at the moment. Webcam models can be found from all over the world and you can find girls, guys, trannies, couples and groups of different ages performing to you. Watching live sex shows is usually free, but if you buy some credits, you will have much better chances to see adult action as desired! It's possible also to hire a webcam model to a private chat room where you can ask the person to fulfill your fantasies.
Where to Get Sex Now
It is easy to get sex online in Antalya. You just need to find the best available girls. See Girls Online Here!
Adult Locations
Most of the nightlife and hooker bars can be found from Old Town area, Kaleici, Kemer and Lara Beach
While most Turkish girls are very conservative when it comes to sex there are always some foreign girls who want to get sex. But again, these girls often come to Antalya to meet Turkish men, so your best chances to get laid in Antalya are at the hooker bars.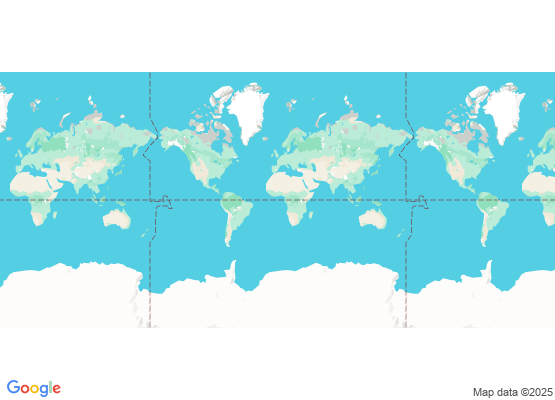 Escort Services and Agencies
Unfortunately we don't list in this category!
Finding an escort when you're travelling can be a bit tricky. An ideal solution for having an alternative for escorts is Ashley Madison. There are thousands of horny girls waiting for you. Find all the beautiful young women at AshleyMadison.com!
Escorts in Antalya usually charge 200TL for one hour of full service. Some escorts ask more money for sex and especially during the touristy seasons, the escort prices will go high in Antalya. Be aware of the many scams in Antalya
Erotic Massage Parlors
Unfortunately we don't list in this category!
Nearly 50% of all massage places are covered of sex girls.
One good Massage Parlour is in Konyaalti and very discreet above a big shoe store on a corner; disguised as a wellness center / massage salon kind of place.
You take an elevator to the 2 or 3rd fl and ring the door bell and get greeted by a woman who will sit you on a couch and offer you a drink. There's usually 4 to 6 girls working. Most are good looking, but some are not. There are usually 1 or 2 cute sex slim girls available. No prices are discussed until in the massage room which Is by that way a room with only a 'massage table', not a bed.
The prices are 150 TL for every 30 min.
Brothels and Sex Clubs
Brothel are very easy to find in Turkey and almost every city has a legal brothel. Just ask taxi driver to take you to "genelev" or "kerhane". In the red light area there are legal brothel business, but there are also illegal underground brothels in Antalya, and these are often located in apartments or clubs.
Strip Clubs and Striptease
It is recommended to avoid most strip clubs in Antalya, unless you want to lose all off your money. Basic scam that Antalya gentlemen´s clubs do is following. First the waitress will tell you at the door that beer will cost example 6 to 10 TL. Then once you go inside, have your beer and order another one or maybe two and get your bill, you will be shocked. Bill can be something like 200-1000 TL. When you ask why the bill is so high, they waitress will tell you that the 6 TL price for beer is only for the first drink and drinks after that costs 100 TL example. If the waitress brought peanuts or other snacks to your table, these are also very expensive, so do not touch them. If you had girls hanging out at your table, this will also increase your bill a lot. See Also: Common scams
Girlie Club in Antalya:
Konya in city centre. - Price to have sex can be anything from 100 to 250 TL.
Karaoke and KTVs
KTVs (hostess karaoke bars with beautiful female staff) are popular in some parts of Asia but you cannot find any of them from Antalya.
Swinger Clubs and BDSM
ALT.com is the best place for local singles, swingers, and couples in the BDSM community to connect with those interested in submissive sex, power exchange, locating persons for new slave roles, erotic BDSM, bondage & fetish sex, as well as live sex dates. Find thousands of play partners for whatever your fetish may be; bondage, foot, cockold, spankings, role-play, electric or water play, sadism and masochism. So whether you have the desire to explore your unrealized fetish fantasies, or you are extremely experienced and would love to train someone new, ALT.com is a community designed for people with like-minded interests to find and connect with each other.
Swinger clubs (lifestyle clubs), are formal or informal groups that organize sex-related activities or establishments where patrons can engage in sex acts with other patrons. In Antalya, there are no couple swapping or group orgy clubs, but since the Antalya is popular among elderly European couples, it is quite easy to find open-minded couples from Antalya just by talking to the people on the beach and by using the online dating apps.
Sex Shops and Adult Stores
If you don't feel like visiting or cannot find any local sex shops in Antalya, you can easily order adult products from Online Sex Shop.
You can buy Viagra, Cialis and Kamagra from every pharmacy (Eczane in Turkish) in Antalya without the prescription. Condoms are also widely sold in every supermarket and pharmacy. Sex toys can be hard to find.
There are also couple sex cinemas located in Antalya. You can watch porn films at these places, but many gay people also visit these cinemas.
Antalya Sex Shop, Elmalı Mahallesi, Elmalı mah Kazin özalp cad. Nalbant işhanı 63/12, Muratpaşa/Antalya, tel.: +90 537 030 46 63
Cinsel Sağlık Sepeti Antalya Sex Shop & Erotik Shop, Kızılsaray Mahallesi, Anafartalar Cd. No:48, Muratpaşa/Antalya, tel.: +90 544 404 67 07
Klas Erotik Shop, Elmalı Mah., Cumhuriyet Cad. (Ordu Evi yanı) Yıldız Apt. No:52 D:2, Muratpaşa/Antalya, tel.: +90 242 248 24 88
Love Hotels and Short Time Hotels
Love hotels are popular in some parts of Asia, especially in Japan. There are also many love motels and short-time hotels in South America. Unfortunately you cannot find any real love hotels in Antalya.
Nightclubs and Bars
There are many nice nightclubs and bars in Antalya where you can try your luck to find sex for free. Also brothels in Turkey are sometimes called as nightclubs, so be aware of the expensive "girly drinks" and scams.
You can find open air bars around the Old Town tourist district and this area is also full of local playboys, so the competition will be tough.
More singles bars and hot nightlife can be found in Kaleici, and over on Lara Beach you can find some holiday resorts with hotel bars. Kemer is also popula area for the nightlife.
Aura Club Kemer, Merkez Mahallesi, Deniz Cd. 3
Club Inferno, Merkez Mahallesi, Deniz Cd.1
Club Ceila , Caglayan Mahallesi, Fener Caddesi, 12
Gaga Club Lara , Lara Cd. 307/2 Fener Mahallesi
Havana Club Alanya, Hukumet Cad. Belediye Pasaji 13
Karma Restaurant & Night Club , Side Mahallesi, Turgut Reis Cd
Klub Kristall Kemer, Merkez District, Deniz Avenue, Kemer
Lara Olivia Disco, Güzeloba Mahallesi, Lara Cd. No:414, tel.: +90 532 462 03 72
Monte Cristo Disco, Kiriş Cd. 86
İstanbul Cafe Bar Pizza, Rafet ünal parkı karşısı
Olympos Disco, Falez Hotel Konyaalti Falez Mevkii
Soho Club Bar, Şirinyalı Mahallesi, İsmet Gökşen Cd
Simurg Cafe & Bar, Selçuk Mh., D: 7, Tabakhane Sk
Up Shot Bar, Selçuk Mh., İzmirli Ali Efendi Sokak 29
Gay and Lesbian
Gay modeling in internet is getting more popular all the time and it's a big market alongside with gay porn. You can watch gay live sex also in Antalya as long as you are connected to internet. Check it out: Gay Live Sex Video Chat
The gay bars in Antalya change their name or location very often. Following venues has already been closed down: Work Club in 2011, My Angel in 2009 changed its name as 7 BUCUK in 2010 and closed down at the end of same year. Before them there was Alexander Club and Romeo 07 which also did not last very long and closed down roughly in 2007/2008. Finally Antalya Q-Club has been closed down only few months after it was opened in 2012, dues to license problem according to rumors.
Gay Friendly Bars, Pubs and Clubs
Ceyn Athena, Kisla Mah. 59. Sokak. Cumhuriyet Meydani, Orduevi Karsisı, Barlar Sokagi - Antalya.
Open: 21:00 - 06:00. Although this is a straight-owned venue the owners are indenting to be the long-lasting gay exclusive club in Antalya, and they need to be supported for their courage for starting a gay business in a comparatively conservative country as Turkey. Owners are promising a relaxed atmosphere, and there will be shows and special activities as well in the future. Another good thing about the venue is that it also functions as a cafe & bar in the afternoons and it has nice view to the sea. It is located on the Barlar Sokagi (bars-street) of Antalya, somewhere across the Orduevi (Military Officer's Club) building on Cumhuriyet Meydani; the main square of down-town Antalya. Web: www.facebook.com/CeynAthenaClapDisco
North Shield Pub, şirinyalı mahallesi eski lara caddesi no 221 - Gay friendly pub.
Maji Club Antalya, Haşim İşcan Mah. 1307 Sok. No.4 - Night club with open minded and gay friendly crowd.
Ceyn Athena, Kışla Mah. 59. Sokak. Cumhuriyet Meydani, Orduevi Karsisı, Barlar Sokagi - Very gay friendly music bar.
Gay Friendly Bathhouses
Çarşı Hamamı, Balbey Mah. Cengiz Toytunc Cad. 408 Sok. No:53 - Very nice place.
Onay hamamı, Altındağ Mahallesi 147, Sokak No: 5 - Be extra carefull at this place, because there are straight men and women and not everyone is open minded towards gays.
Gay Cinemas
Aspendos Sinemasi, Doğu Garajı, Ayakkabıcalar Çarşısı karşısı
Somewhere across the Ayakkabicilar Carsisi (shoe shops/market) in Dogu Garaji neighborhood (the area around the old eastern bus terminal about 1 km from the old city center called Kaleici. Cost: 7 TL and you can come and go all day. Open: 11:00-21:00. This is a Porn Cinema showing straight porn with big screen run from projector. One very large room with about 80 seats, all on one flat level. Sex between gay and bisexual men happens in the back row. Rows in front tend to be occupied by men who do not want to be bothered. Mixture of ages and body types , mostly Turkish locals, sometimes few tourists. Mostly "top" men , very few bottoms.
When you walk from Muratpasa Mosque towards Kaleici (the castle) take the fist turn on the left. The mosque is located at the square in Muratapasa neighborhood of city center. Open: 10:00-19:00. Sex is frequent and very open between men in the back row of this cinema. Turkish men are almost always Top/Active though. They do not have condoms, so take your own and use them.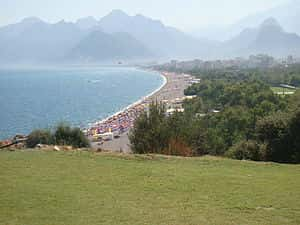 Gay Cruising & Gay Beaches
In general, the cruising areas - especially parks and secluded beaches are where gay guys should be more selective with the people they meet. It is always possible to come across to some bad guys who want to trap the gay guy in such places. Especially, be careful at night time and do not carry very valuable things on you, just in case.
The most visible cruising places in Antalya are these:
Cumhuriyet Meydani (the square at the Antalya city center) especially after 9pm around the sculpture/monument.
Yacht marina (especially along the breakwater), amphitheatre and its neighborhood in Kaleici, old city district, downtown, Antalya. ıt is not very dangerous, but still be careful. There may be hustlers in the vicinity.
Karaalioglu park, (also named as Karaoglan park, mistakenly) especially the part closer to the sea. Watch out hustlers and thieves especially at nightime. The park is close to the football stadium, not far from Kaleici (the old city).
The park opposite of Selekler Carsisi. Selekler Carsisi is a kind of small shopping mall at the junction of Gulluk and Konyaalti streets, where they sell jewelry, accessories, musical instruments and similar goods in the markets. There are some coffee shops in front of the building.
The walkway and parks between the flag at Fener (the quarter named after the lighthouse) up to Moonlight Hotel along Eski Lara Yolu (old Lara street connecting down-town Antalya to Lara district).
Konyaalti Beach is the nearest public beach with respect to the city center and old city called Kaleici on the west side of Antalya. It is a long strand of pebbles and rough stand backed by park, some hotels, and residential areas.
Lara beach is the most popular beach district near Antalya city center, about 16 km but easily accessible by frequent public buses and shuttle-like public taxies called "dolmush" in Turkey.
Adalar Beach is also a popular spot for gays. When you walk into the Karaalioglu park and reach the place called "balkon" (Balcony) it is right down under. This place is often visited by local gay men as well as gay tourists and even some transgenders. It is a secluded place inside the rocks.
Other Adult Services
BDSM services can be easily found from Antalya if you just search for an escorts who provide such a services.
Dating
Dating in Antalya can be a bit tricky due to cultural differences, so your best bet is to sign up for a dating site before your trip so you can meet a few locals ahead of time. AdultFriendFinder.com lets you meet local members in Antalya and get to know them on a personal basis before you arrive. Take advantage of site features like live chat and member to member webcams so you can begin flirting before arranging a face-to-face meeting. Since your time in Antalya may be limited, get to know each other's desires beforehand, so that when you meet you can start having some real fun.
How to find Sugar Babies and Sugar Daddies
If you are looking for an alternative to escorts in Antalya with a girl who doesn't charge by the hour, sugar dating is the ideal solution. There are thousands of beautiful young women at SecretBenefits willing to do anything for a man who will help them pay their bills.
Often referred to as the "Tinder for Older Guys", SecretBenefits matches hot young women interested in pampering older gentlemen. You don't have to be a millionaire at SecretBenefits.com, you just need to be a respectful gentleman who knows how to treat a woman.
Transsexuals and Shemales
Finding someone for transsexual dating when you're on the road can be a bit tricky, so your best bet is to sign up for a dating site before you go so you can find locals ahead of time. TSdates.com is a dating site designed to help you find exactly what you are looking for in your hookup in Antalya. Take advantage of site features like live chat and member to member webcams so you can begin flirting before arranging a face-to-face meeting. With over 40 million members, and thousands of transsexual members around the world, TSdates.com is the world's largest site of sex-minded friends for discreet encounters and will help you find your next transsexual play partner.
Where can I find shemales in Antalya? You can watch transsexual live sex shows in Antalya as long as you are connected to internet. Check Now: Tranny Live Sex Video Chat

There are street level trans-girls in Antalya and also t-girl escorts who work at the brothels and private apartments. Street level trannies are often not very attractive in Antalya. Shemale escorts who advertise online and work in Antalya are often your best option, because they are the most feminine looking and service is very good.
Altındağ Street - This is in the neighborhood of 161 First Karakoç Tuğçe Göksoylar and Gemini a. You can find some transvestites and Ladyboy streetwalkers from city center of Güllük Altgeçidi & Altındağ Street in the neighborhood of 161 First Karakoç Tuğçe Göksoylar and the price to have sex with them is around 100-150TL. These trans-girls will usually ask you money twice. First you pay them at the street and then once you start having sex, they will ask more. So try to make first payment as small as you can and then tip them a little bit when they want more cash. Drag queens have usually occupied the streets at 11pm at night.
Adalar Beach - When you walk into the Karaalioglu park and reach the place called "balkon" (Balcony) it is right down under. This place is often visited by local gay men as well as gay tourists and even some transgender crowd. It is a secluded place inside the rocks.
Sexual Services for Women
In Turkey almost every guy is willing to offer sex for women. It does not matter really what women looks or how old she is. Young Turkish guys are very horny and willing to have sex with all the western women they can. Turkey is one of the top sex tourism destination for Scandinavian women. Many older Northern European women go to Turkey to have sex with local gigolos. Also British women´s top sex destination is Turkey.
Sleeping and Girl Friendly Hotels
You can divide Antalya into two main areas (as far as tourists are concerned). The Old Town (Kaleiçi), as its name implies, is full of character and has beautifully restored buildings with small guest houses and more evidently luxury boutique hotels. Lara to the east of the city has many 4/5 star beach hotels that cater for the all inclusive holiday market. Both are good options, depending on what you are looking for. Of course, there are very good hotels outside of these areas, but not in the density that Old Town/Lara have.
So if you are in to having sex with the prostitutes and hooking up with single tourist girls, then stay in Old Town of Antalya. Lara Beach is also a good area to stay at if you like to meet girls by the beach at the daytime and then hang out at the hooker bars at night.
Some hotels will give you a trouble if you bring extra guests to your room at the nigh time. The big touristy hotels usually do not care about this type of thing, because they are so use to it, but the smaller hotels may want extra money example. It is more recommended to rent apartment, if you are planning to fuck lots of girls, so nobody can tell you who you bring to your room.
See also: Global list of girl friendly hotels
Stay Safe
Antalya Police Department has a "tourism police" section where travellers can report passport loss and theft or any other criminal activity, they may have become victims of. They have staff multilingual in English, German, French, and Arabic.
Tourism Police (Turizm Polisi), Kaleiçi Yat Limanı (at the marina below the old town), ☎ +90 242 243-10-61 (fax: +90 242 345-41-13).
Be careful at the strip clubs and night clubs when ordering things. Always ask the price first.
See Also