Baku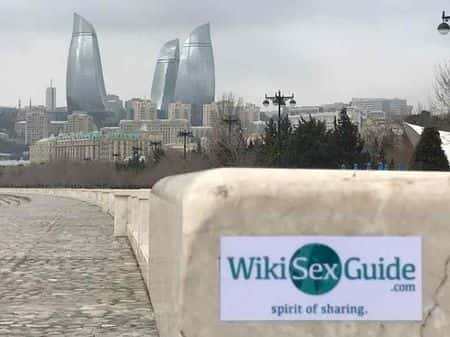 Baku Sex Guide advises where to find sex, working girls, prostitution, street hookers, brothels, red-light districts, sex shops, prostitutes, erotic massage parlors, strip clubs and escorts in Baku, Azerbaijan.
Baku is the capital of Azerbaijan.
Sex and Prostitution in Baku
Prostitution in Azerbaijan is illegal. Operating a brothel and engaging in other forms of pimping are crimes punishable imprisonment, while prostitution is punishable with a fine.
Prostitution scene in Baku is more active on high season and on special events, like Formula 1 weekend, but you can find mongering action all year around.
In the Badamdar district, you will find many cafes where sex workers solicit clients. More hookers and golddiggers can also be found in cafes in Nizami Street (also known as "Torgovaya" – Trade Street) in downtown Baku.
Female Escorts
You can find lots of female escorts working in Baku. For example the application Tinder is full of working girls in Baku. When you will get a match, they will start to chat with you. Usually the conversation starts with "What would you like to do?" or "Do you like massage?".
Red Light Districts
There are plenty of nightlife at the Merchant's Street (called Torgovaya), this is a tiny pedestrian area east of the Old Baku. The most well known landmark there is the Fountain's Square. A 5-minute walk away from the old town, there is a mini red-light district with massage salons and some hostess clubs. The most of these naught places crossroad between Bulbul Avenue and Dilara Aliyeva Street. Some of the famous venues are Coral, Status, Grotta, Leo and Blackbird. All of these clubs have hot dance girls and hookers. Entrance is usually free, drinks are overpriced and there are some scams reported.
Although there are no official red-light districts in Baku, you can find an unofficial red-light area in Baku at the Badamdar district where you can find many cafes where sex workers solicit clients. These so called hooker bars areas change the location quite often due to the police. The consept is very simple: when police comes and closes the area so it just moves to an other location.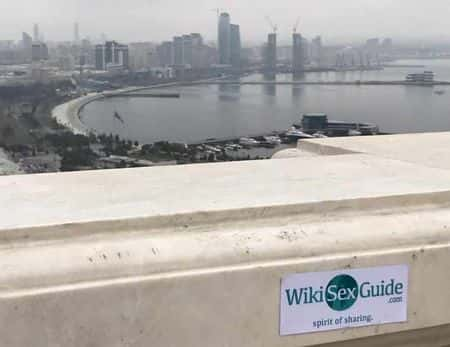 Prostitutes and Sex Workers
Irish pubs in the former USSR are usually magnets to pro's and part-time working girls due to the high number of expats and foreign businessmen in these bars.
This also goes for Baku which has a large offer of British and Irish style pubs like Shakespeare (Mardanov Gardashlari street 6), Rig Bar (Samed Vurgun street 22), The Clansman Pub (A. Aliyarbeyov street 9), Tiger Bar (Mamedaliyev street 19), The Phoenix (A. Aliyev street 11), Finnigan's (Injesenet street 2), The Corner Bar (Nizami street 77) and O'Malley's (Nizami street 73), Otto (3 Abdulkarim Ali-Zadeh)
Often they are packed with English oil engineers and Scottish oil workers and live concerts of rock, retro or folk band are often on the menu during weekends. The sex workers in Baku are often referred to as Night Fighters. Best chances to meet pro and semi-pro girls you have in Finnigan's, Tiger Bar and Shakespeare. At evenings Irish pub Finnegan's is always frequented by a group of working girls. Usually they hang around the bar close to the entrance where they try to make eye contact with foreign customers. Similar girls can be noticed in Tiger Bar and in Shakespeare where you can also have decent food and play pool billiard. Shakespeare pub is now days Indian owned and they serve Indian food and drinks. You can play pool with the working girls and take them out if you like. In Shakespeare pub there are usually 5 to 10 freelancers. Other pubs that make good hunting ground are The Corner Bar and O'Malley's, both on Nizami street. In O'Malley's, next to ISR Plaza, you can sit at the outdoor terrace to watch the local beauties pass by.
The Universal Club on Mamedaliyev street 13, just off Fountain Square, is a bar and restaurant that features excellent European cuisine as well as live music. The Universal Club has also the reputation of major pick up place. The bars and discos under street level are often playground of pro's and semi-pro's in Baku. The cafes, restaurants and clubs on Bul-Bul Avenue, 28 May street and around Fountain Square are notorious for being visited by local prostitutes. Especially on Bul-Bul Aevenue you can find many places full of local working girls like the discos N-Brothers (Bul-Bul Avenue 18) and Coral (Bul-Bul Avenue 22). Together with Blackjack (Khagani street 14/16) N-Brothers and Coral make the notorious triangle of Baku bars, always full of pro and semi-pro girls. This also goes for Infinity Club (Former Key Club) on Vidadi street 148 (intersection with Brothers Mardanovyh street) where you can usually find plenty of local hotties hitting on expats and business travellers. Le Mirage is a tiny mirror rich disco on Nizami street 34 near the deserted Armenian church. It is popular with pro and semi-pro girls and usually open until the early morning hours. Other popular nightclubs visited by willing local ladies are Capitol on Nizami street 117 and Sherwood on Aliyev street 242.
Be aware that the scene in Baku can change rapidly due to intensive police crackdowns from time to time.
Street Hookers
During late evenings Fountain Square and the surrounding area provide good opportunities to be approached by working girls. In front of the big business hotels like Grand Hotel Europe on Tbilisi Avenue 30 near the Heydar Aliyev Complex and its exhibition halls you can also see sometimes ladies waiting for customers.
Hookup and Pick Up Local Girls
Meeting local girls and getting laid for free is fun! Read more on how to pick up girls in Baku: https://hookuptravels.com/wiki/Baku
Live Sex Cams
Can I watch Live Sex Cams in Baku? - Yes, you can! Basically you can watch our online live sex shows for free anywhere in the world if you're connected to internet. Join to get 10 free private teasers and 9.99 credits for free! You can choose any girl from our trusted Live Sex Cams!
Live Sex Cams are booming at the moment. Webcam models can be found from all over the world and you can find girls, guys, trannies, couples and groups of different ages performing to you. Watching live sex shows is usually free, but if you buy some credits, you will have much better chances to see adult action as desired! It's possible also to hire a webcam model to a private chat room where you can ask the person to fulfill your fantasies.
Where to Get Sex Now
It is easy to get sex online in Baku. You just need to find the best available girls. See Girls Online Here!
Adult Locations
There are many great adult venues to be found in Baku and the main area for partying can be found near the Fountain Square and Maiden Tower on Nizami Street which is also called as Torovaya Street. Escorts and massage services can be also found from here.
More nightlife about nightlife can be found down the coast over by National Flag Square and many escorts also operate in this area.
Mostly men from Kuwait, Iran and the United Arab Emirates visit Baku for sex.

Escort Services and Agencies
Unfortunately we don't list in this category!
Finding an escort when you're travelling can be a bit tricky. An ideal alternative to escorts is a girl who is looking for a mutually beneficial relationship. There are thousands of horny girls willing to do anything for a generous guy. Click Here to hookup with a beautiful young woman now.
In the local newspaper Business you can find ads of girls and clubs providing sexual services in Baku.
Azeri call girls, semi-pro girls or girls looking for short term encounters in Baku can be contacted through erotic dating sites like Fling.com, BlackBook.com and passion.com
Erotic Massage Parlors
Unfortunately we don't list in this category!
Here are some Massage salons in Baku Azerbaijan. You can not get sex from every one of them, but most places will offer a BJ or HJ.
Massage salon "777" - Baku Zivarbay Ahmadbayov AZ1065
Chinese massage salon "Boos" - Baku Ali Mustafayev AZ1111
Massage saloon "China massage" - Baku Academician Shamil Azizbayov AZ1009
Massage salon "Chin Nogta" - Baku Drogal lane AZ1010
Massage salon "Gold" - Baku Mirzaagha Aliyev AZ1014
Massage salon "Rusalka" - Baku Neftchilar AZ1005
Massage saloon "San xao" - Baku Fatali khan Khoyski AZ1052
Beauty shop "Viva" (massage) - Baku Suleyman Rustam AZ1007
Chinese massage salon - Baku Bulbul AZ1000
Chinese massage salon - Baku Sheykh Shamil AZ1001
Chinese massage salon - Baku Afzaladdin Khagani AZ1010
Chinese massage salon - Baku Dilara Aliyeva AZ1014
Chinese massage salon - Baku Ashig Molla Juma AZ1033
Chinese massage salon - Baku Alovsat Guliyev AZ1000
Chinese massage salon - Baku Javadkhan AZ1111
Massage - Baku Bahruz Nuriyev AZ1142
Brothels and Sex Clubs
Brothels in Baku:
Officially Piranha is a disco bar, situated below street level on 28 May street 10. In fact it is a club where you can pick one of the ladies to go at the backend of the club where are rooms, sauna and Jacuzzi to spend intimate time with the lady of your choice.
Rusalochka Massage Parlour, not far from the Ayna Sultanova monument, is a massage salon that functions as a brothel.
Black Jack Disco it is not a brothel, but girl seeking clients.
Coral night club is also a night club, but if you are western the girls will run to you and ask for a drink.
Strip Clubs and Striptease
Strip Clubs in Baku Azerbaijan
Tıpçının Sarayı - Ceyhun salimov küç. Bakü, 100181 Baku
Karaoke and KTVs
KTVs (hostess karaoke bars) are popular in some parts of Asia but you cannot find any of them from Baku.
Swinger Clubs and BDSM
ALT.com is the best place for local singles, swingers, and couples in the BDSM community to connect with those interested in submissive sex, power exchange, locating persons for new slave roles, erotic BDSM, bondage & fetish sex, as well as live sex dates. Find thousands of play partners for whatever your fetish may be; bondage, foot, cockold, spankings, role-play, electric or water play, sadism and masochism. So whether you have the desire to explore your unrealized fetish fantasies, or you are extremely experienced and would love to train someone new, ALT.com is a community designed for people with like-minded interests to find and connect with each other.
Swinger clubs (lifestyle clubs), are formal or informal groups that organize sex-related activities or establishments where patrons can engage in sex acts with other patrons. In Baku, there are no swingers clubs, but you can always search open minded couples and other wild and naughty people from the datings apps or at the local nightclubs.
Sex Shops and Adult Stores
If you don't feel like visiting or cannot find any local sex shops in Baku, you can easily order adult products from Online Sex Shop.
You can buy Viagra, Cialis and Kamagra from pharmacies without a prescription. Condoms are also available.
Love Hotels and Short Time Hotels
Love hotels are popular in some parts of Asia, especially in Japan. There are also many love motels and short-time hotels in South America. Unfortunately you cannot find any real love hotels in Baku.
Nightclubs and Bars
Baku has the best nightlife among all other cities of Azerbaijan. There are many good nightclubs, bars and also great spots and restaurants where you can spend time with sugar-girls. Home to so many nightclubs and pick up bars, travellers enjoy the nightlife of Baku and it looks like a mini Dubai. Baku is a true hidden gem on the shore of the Caspian Sea.
The best clubbing and nightlife area of Baku can be found near the Maiden Tower and Fountain Square on Nizami Street which is also called as Torovaya Street.
More Baku bars and singles nightlife can be found 10 minute drive down the coast over by National Flag Square where you will find Enerji which is very popular club among the locals and expats.
There are many nice nightclubs and bars in Baku where you can try your luck to find sex for free.
BarDuck, 103 Khagani St
Buddha Bar, 99 Neftchilar Ave
Enerji Club, National Flag Square
Las Vegas, 3 Aşıq Molla Cüme
iN, 18a Jeyhun Salimov
Otto, 3 Abdulkarim Ali-Zadeh St - This is a cocktail bar with a small dance area. Significant number of what looked like semi-pros trying to net big fish and looked like there are more gold miners than normal girls. Many are very forthcoming and direct and their appearance range from off-putting to not-unattractive.
Oxen, 9 Abdulkarim Alizada St
Pasifico Lounge , Seaside Boulevard, 34 Neftchilar Ave
Mojo, 13 Tarlan Aliyarbekov St, Fountain Square - Local club open all day hours. Good DJ and many imported drinks.
Le Chateau Music Bar, 21 Islam Safarli St
William Shakespeare, 6 Abdulkarim Ali-Zadeh St
Madrid Bar, National Flag Square Complex
Phoenix Bar, 10 Yusif Memmedeliyev St
Gay and Lesbian
Gay modeling in internet is getting more popular all the time and it's a big market alongside with gay porn. You can watch gay live sex also in Baku as long as you are connected to internet. Check it out: Gay Live Sex Video Chat
Lesbian, gay, bisexuals, and transgender (LGBT) persons in Azerbaijan may face legal challenges not experienced by non-LGBT residents. Same-sex sexual activity for both men and women is legal in Azerbaijan, but households headed by same-sex couples are not eligible for the same legal protections available to heterosexual couples. For gay and bi-sexual guys looking to hook-up and have sex in Baku, it can be best to use the dating apps such as grindr or tinder instead of trying to cruise and meet locals gays at the parks or toilets.
Other Adult Services
You can ask special services from local escorts in Baku. BDSM services are quite popular in Baku and many international escorts who do such a services do visit Baku often.
Dating
Dating in Baku can be a bit tricky due to cultural differences, so your best bet is to sign up for a dating site before your trip so you can meet a few locals ahead of time. AdultFriendFinder.com lets you meet local members in Baku and get to know them on a personal basis before you arrive. Take advantage of site features like live chat and member to member webcams so you can begin flirting before arranging a face-to-face meeting. Since your time in Baku may be limited, get to know each other's desires beforehand, so that when you meet you can start having some real fun.
How to find Sugar Babies and Sugar Daddies
If you are looking for an alternative to escorts in Baku with a girl who doesn't charge by the hour, sugar dating is the ideal solution. There are thousands of beautiful young women at SecretBenfits willing to do anything for a man who will help them pay their bills.
Often referred to as the "Tinder for Older Guys", SecretBenfits matches hot young women interested in pampering older gentlemen. You don't have to be a millionaire at SecretBenfits.com, you just need to be a respectful gentleman who knows how to treat a woman.
Transsexuals and Shemales
Finding someone for transsexual dating when you're on the road can be a bit tricky, so your best bet is to sign up for a dating site before you go so you can find locals ahead of time. TSdates.com is a dating site designed to help you find exactly what you are looking for in your hookup in Baku. Take advantage of site features like live chat and member to member webcams so you can begin flirting before arranging a face-to-face meeting. With over 40 million members, and thousands of transsexual members around the world, TSdates.com is the world's largest site of sex-minded friends for discreet encounters and will help you find your next transsexual play partner.
Where can I find shemales in Baku? You can watch transsexual live sex shows in Baku as long as you are connected to internet. Check Now: Tranny Live Sex Video Chat
Police has started to track shemales capture them and making to work for them. They invade the shemale brothels, while client is inside and start to racket people for money. So TS rights are completely abused. It is very dangerous 90% of shemales work for police. During late evenings Fountain Square and the surrounding area can provide opportunities to be approached by transgender shemale girls. There are lots of ads on the various online sites where ts-escorts sell sex in Baku.
Sexual Services for Women
Local men are quite happy if they can hook up with tourist women. It should be very easy to find sex from the Baku.
Sleeping and Girl Friendly Hotels
Since upscale hotels in Baku are extremely expensive renting an apartment in Baku can be good value for money and provides more privacy for sure.
You should pick a hotel or airbnb near the Maiden Tower and Fountain Square on Nizami Street (also called "Torovaya Street"). This way you will be near the nightlife, escorts and massage salons and you will maximize your chances on getting sex in Baku.
If you can not get a room from here, there second option is on the coast over by National Flag Square where you will find more golddiggers and prostitution, since most Azerbaijani girls don't go out to drink or find sex at clubs.
Most hotels in Baku are aimed at business travellers and have a girl friendly attitude. This goes especially for upscale hotels like Park Hyatt Baku on Izmir street 1033 and Radisson SAS Plaza Hotel on Nizami street 340. Working girls can be found mostly from the expensive hotel lobbies and bars. Cost to have sex with them is expensive as there are many wealthy locals and tourists in Azerbaijan.
See also: Global list of girl friendly hotels
Stay Safe
Baku is considered a safe city, nevertheless common sense is useful as in all other big cities. Homeless people do not harass or attack people and are very safe to be around.
See Also