Tehran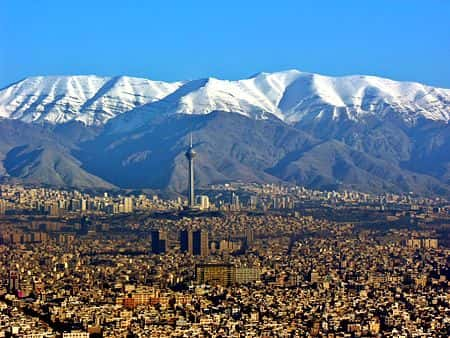 Tehran Sex Guide advises where to find sex, working girls, prostitution, street hookers, brothels, red-light districts, sex shops, prostitutes, erotic massage parlors, strip clubs and escorts in Tehran, Iran.
Tehran, is the capital city of Iran. A bustling metropolis of 14 million people, it is situated at the foot of the towering Alborz mountain range.
Sex and Prostitution in Tehran
Prostitution in Iran is illegal, and incurs various punishments ranging from fines and jail terms to execution for repeat offenders.
Back in 2002, the Iranian newspaper Entekhab estimated that there were nearly 85,000 prostitutes in just Tehran alone. In that city, and especially in nearby suburbs, there are neighborhoods where heavily made-up hookers in traditional garb stand idly at traffic circles. Prospective customers drive by slowly to check out the human wares, then make a deal. The visual difference between an ordinary citizen wearing makeup who happens to be standing alone and an actual whore is, again, quite subtle. Apparently, mistakes are not uncommon.
In 2006 the head of the Sociology Association of Iran Amanollah Gharai had estimated that there were at least 200,000 street girls in Tehran. It has also been reported that there are some 6,053 hookers behind bars across the country whose age is between 12 and 25 years.
Tehran Female Escorts
You can find some Tehran escorts advertising their services online but it's very hush-hush and almost always a scam. Your best bet is to ask from the locals if they have any contacts for escorts. The common way in Tehran is that there are some so "pimps" who will sell you the "telegram" contacts of the girls. The costs is usually 10000 toman (US$10) for the contact details of 3 girls and this needs to be paid for the pimp by bankwire, so you must have a local friend or a open a local bank account (which is very eays). After that you can negotiate with the girls and the costs of sex is from 35000 toman (US$35) to 100 000 toman (US$100) for all night sex. These Tehran hookers will have sex with you usually at their own flats and always require that you chat with them first online and get to know them so they feel safe!
Cyber prostitution
According to a report by news and analysis website Ghanoon, "cyber" prostitution is becoming increasingly popular in Iran, especially among the young, internet-savvy generation.
It said 55% of "cyber prostitutes" are aged 16 to 25.
The report warned that a growing number of young Iranians, including in small towns, were using the internet for prostitution.
Using anonymity and fake identities, cyber prostitutes are active in chat-rooms, where they offer visual and verbal services. Most charge their clients before making their services available.
Others use cyberspace mainly to find customers and avoid the usual threats that street prostitutes might face.
In a report on Tabnak news website, it was said that not all prostitutes turned to the profession out of penury. According to the report, a number of female prostitutes "with beautiful bodies and faces" had turned the job into very profitable businesses.
These prostitutes lead very expensive lifestyles and offer their services to an extremely wealthy clientele, it said. They live in smart neighbourhoods, receive jewellery from clients, are often fluent in English and are sometimes taken by their customers on trips abroad.
See also: Cybersex
Red Light Districts
In the Tehran´s red-light district, known as Shahr-e-no or New Town. In 1979, revolutionaries launched a crackdown on brothels and tore them down. Now risking the death penalty, Iranian prostitutes began to work more discretely on the street. Over time, they developed new ways to solicit clients. Today there are no hopes for new red light area being built to Tehran, because of the current political situation.So, nothing satisfactory in this matter is available at this moment. Well, one can still choose to seek help from the online forums and members of such adult communities.
Prostitutes and Sex Workers
The sex workers of the Greater Tehran are divided into three groups: 1) Sex workers from south of Tehran whose motivation is to satisfy their basic needs or even to have a place to sleep. 2) Sex workers from north of Tehran, or high-class sex workers, who have the power to decide their own working conditions, such as their fees and the type of clients. 3) All of the other sex workers whose conditions are in-between these two groups.
In Iran foreigners are very well welcomed by girls. Not only they are easy to achieve, they are very hot and smell good. Mostly always shaved, always newly showered, with great and expensive perfumes.
The only trouble that you may have in Iran is a place to have sex with a girl. Because it's forbidden for Hotels to allow you in with an Iranian lady.
Only way to solve the hotel problem is marriage and then you will have a paper that you are allowed anywhere you want.
There is two kind of legal marriage in Iran. Long time and short time.
For long time you'll have a lot of responsibility, so it is not the best option.
But for short time it's very easy and it's exactly like boyfriend/girlfriend partners in other countries. Again you have different methods.
find a divorced woman and she does not need any permission for do the marriage.
find a girl with open minded family to allow their daughter to marry for short time.
embezzle is the last solution. You can give some offices for about $100-150 to give you the marriage paper.
You can marry a woman for an hour. 4 hours, a day, week, month or a couple of months. That way you can legally have sex with the women.
If you are willing to do so, then you might come across certain scopes and opportunities of having sex with the girls here. But this process might need you to submit certain documents and similar things. Thus, one should always confirm that their valuables are going to a safe hand without any risk of possible danger or other similar issues. One can always choose to opt for the online social sites and adult forums in order to know more about the situations related to sexual activities in Tehran. This might be somewhat helpful for an individual.
Street Hookers
If you want to pick up a street prostitute in Tehran, you need to have a car and someone who speaks the language. You need to stop to the street and then bargain the price with girl. Sex costs around $10-50 depending your negotiation skills and looks. You can fuck them in your car (but make sure you really find a good hiding spot) or in someones house. You can not bring them to the hotel! One signal to spot a prostitute seems to be bright red lipstick. Another is just that they are "hanging out". Most people in Tehran are on the way somewhere, so seeing someone just standing there over time is a very good reason to believe she is a whore. Most of the street hookers in Tehran and native women in their 20s.
But, remember to be careful. Most Persian women are very attractive and dress pretty provocatively, even though they are almost completely covered. So just because you see two hot girls who look great and are obviously dressed for sex under their coats, it does not mean that they are whores.
Thus it is really important for you to understand the right woman in this matter. Since not all women are sex workers, you might get into trouble if you end up approaching the wrong one. Apart from that, one should also try and recognize the intention of an individual with whom he is about to get hooked up. If you become a victim of something fraudulent, then it could cause you a great trouble as various other related risks might emerge eventually.
Street whores in Tehran can be found from the usual hangouts spots where young people gather and also on the road side of the busy Tehran street. Many of them are very shy to talk to you, if you speak "english" to them. This is because most street prostitutes in Tehran come from the very poor families or they are abandoned long time ago, so they have not learn any english in the school or at home. It is best not to talk to these street girls alone, since they will get scared. Best thing is to ask your local buddy to chat with them in their native language.
Hookup and Pick Up Local Girls
Meeting local girls and getting laid for free is fun! Read more on how to pick up girls in Tehran: https://hookuptravels.com/wiki/Tehran
Live Sex Cams
Can I watch Live Sex Cams in Tehran? - Yes, you can! Basically you can watch our online live sex shows for free anywhere in the world if you're connected to internet. Join to get 10 free private teasers and 9.99 credits for free! You can choose any girl from our trusted Live Sex Cams!
Live Sex Cams are booming at the moment. Webcam models can be found from all over the world and you can find girls, guys, trannies, couples and groups of different ages performing to you. Watching live sex shows is usually free, but if you buy some credits, you will have much better chances to see adult action as desired! It's possible also to hire a webcam model to a private chat room where you can ask the person to fulfill your fantasies.
Where to Get Sex Now
It is easy to get sex online in Tehran. You just need to find the best available girls. See Girls Online Here!
Adult Locations
There are no official adult locations in Tehran where sexual actions and activities could be found. Everyhting in Tehran happens underground.

Escort Services and Agencies
Unfortunately we don't list in this category!
Finding an escort when you're travelling can be a bit tricky. An ideal solution for having an alternative for escorts is Ashley Madison. There are thousands of horny girls waiting for you. Find all the beautiful young women at AshleyMadison.com!
There are no escort agencies in Tehran that advertise openly. Escort business happens strictly underground and there are lot of "pimps" who can bring you working girls if you know them. You can consult and get in touch with such people if you have any contact. But the entire process should be carried on with precision and by being absolutely self aware as well.
Erotic Massage Parlors
Unfortunately we don't list in this category!
If you get a massage in Iran, you will most likely get a male therapist. Even a basic massage services in Tehran are usually only used by "professional athletes" and it is not common for a normal man to use massage services. How ever, many of the "telegram girls" in Tehran do massage services and your best to find "Telegram Massage Girls" is to ask from the locals if they have any contacts. Do not just go to a random guy on the street and ask about this. Get to know few locals first, which is very easy in Tehran since people are super friendly! The costs is usually 10000 toman (US$10) for the contact details of girls, which you will pay to a "Telegram Pimp" by a "bank wire" and "Mah Card" works fine! After that you can negotiate with the girls and the costs of sex is from 35000 toman (US$35) to 100 000 toman (US$100) for all night with the girl. You can then pay a bit extra for the girl for a massage services.
Brothels and Sex Clubs
It is pretty much impossible to find brothels without a local friend. Usually brothels are located all over the city and there is usually one mamasan with couple girls in the house. Costs is usually about $25-50 all depending your negotiation skills.
Tehran's former police chief Reza Zarei attempted suicide in prison couple of years ago, a month after being arrested for consorting with six naked women in a brothel. So everyone knows these places exist and still use them. You may hire a sexual service and take the girl to you own apartment or any other place where you feel it's going to be safe. One should always remain self aware in such cases and try to play it in the safest way possible. There's no official availability of brothels in Tehran.
Strip Clubs and Striptease
There are no western style strip bars in Iran. Some times the wealthier local guys hire dancing girls to their parties, but this is strictly underground business. But if you make local friends in Tehran, they will always ask you to the "parties" where alcohol is served and weed is being smoked. At the parties, the local girls will dance and after being in Iran for a while, this dance looks ten times sexier than any striptease you ever watch in strip club.
Karaoke and KTVs
KTVs (hostess karaoke bars with beautiful female staff) are popular in some parts of Asia but you cannot find any of them from Tehran. There is no news regarding the availability of adult oriented KTVs and Karaoke bars in Tehran.
Swinger Clubs and BDSM
ALT.com is the best place for local singles, swingers, and couples in the BDSM community to connect with those interested in submissive sex, power exchange, locating persons for new slave roles, erotic BDSM, bondage & fetish sex, as well as live sex dates. Find thousands of play partners for whatever your fetish may be; bondage, foot, cockold, spankings, role-play, electric or water play, sadism and masochism. So whether you have the desire to explore your unrealized fetish fantasies, or you are extremely experienced and would love to train someone new, ALT.com is a community designed for people with like-minded interests to find and connect with each other.
Swinger clubs (lifestyle clubs), are formal or informal groups that organize sex-related activities or establishments where patrons can engage in sex acts with other patrons. You cannot find any swinger clubs in Tehran because of the culture. If you find any other foreign couple interested in the same, then you all can fix up a date and place in order to enjoy the action. One can become a member of online swinger clubs and communities as well.
Sex Shops and Adult Stores
If you don't feel like visiting or cannot find any local sex shops in Tehran, you can easily order adult products from Online Sex Shop.
There are no sex shops in Tehran. Womens sexy lingerie shops exist at the shopping centers, but they have curtains, so the men can not see inside. Sex toys are not sold openly in Iran, but these can be purchased from the underground markets, and dildos are often made to look like a regular electric massage sticks. Sildenafil and other potency pills are sold on the pharmacies for very cheap price. The morning after pills can be also bought from the pharmacies for just US$0.20 and Iranian girls tend to use these pills all the time instead of condoms. Condoms can be also purchased, but the quality is not so good, so it is best to bring your own condoms when visiting Iran.
Love Hotels and Short Time Hotels
There aren't any love hotels in Tehran. But if you want to rent a room for "sex only", there are plenty of these type of venues in Tehran, but again you need the help of the locals since these places do not advertise openly.
Nightclubs and Bars
There are many great nightclubs and bars in Tehran (especially in Northern Tehran) where you can try your luck to find sex for free. Some Persian girls go crazy when they see light skin western guys. Even average looking white guy might end up in the bed with an Iranian stunner. Remember that only some part of the girls are willing to have one night sex relationships. So it is all up to you and your skills. One must always choose to stay alert and aware of any kind of possible threats and other risky consequences in such matters.
Gay and Lesbian
Gay modeling in internet is getting more popular all the time and it's a big market alongside with gay porn. You can watch gay live sex also in Tehran as long as you are connected to internet. Check it out: Gay Live Sex Video Chat
Since the 1979 Iranian revolution, the legal code has been based on Islamic Shari'a law. All sexual relations that occur outside a traditional, heterosexual marriage (i.e. sodomy or adultery) are illegal and no legal distinction is made between consensual or non-consensual sodomy. Homosexual relations that occur between consenting adults in private are a crime and carry a maximum punishment of death (though not generally implemented) Forced homosexual relations often results in execution. The death penalty is legal for those above 18, and if a murder was committed, legal at the age of 15. Mahmoud Asgari and Ayaz Marhoni whose ages were raised to 19 in court transcripts. Approved by the Iranian Parliament on July 30, 1991 and finally ratified by the Guardian Council on November 28, 1991, articles 108 through 140 distinctly talk about homosexuality and its punishments in detail.
Male homosexuality
Sodomy (lavat) can in certain circumstances be a crime for which both partners can be punished by death. If the participants are adults, of sound mind and consenting; the method of execution is for the judge to decide. If one person is non-consenting, the punishment would only apply to the rapist. A non-adult who engages in consensual sodomy is subject to a punishment of 74 lashes. (Articles 108 to 113) Sodomy is proved either if a person confesses four times to having committed sodomy or by the testimony of four righteous men. Testimony of women alone or together with a man does not prove sodomy, not out of any prejudice toward women, but to narrow down the list of possible death sentences handed down. (Articles 114 to 119). "If sodomy, or the lesser crimes referred to above, are proved by confession, and the person concerned repents, the Shari'a judge may request that he be pardoned. If a person who has committed the lesser crimes referred to above repents before the giving of testimony by the witnesses, the punishment is quashed. (Articles 125 and 126). The judge may punish the person for lesser crimes at his discretion.
Female homosexuality
The punishment for lesbianism (mosahegheh) involving persons who are mature, of sound mind, and consenting, is 50 lashes. If the act is repeated three times and punishment is enforced each time, the death sentence will apply on the fourth occasion. (Articles 127, 129, 130) The ways of proving lesbianism in court are the same as for male homosexuality. (Article 128) Non-Muslim and Muslim alike are subject to punishment (Article 130) The rules for the quashing of sentences, or for pardoning, are the same as for the lesser male homosexual offences (Articles 132 and 133) Women who "stand naked under one cover without necessity" and are not relatives may receive a punishment of 50 lashes. (Article 134)
Gay Prostitution
Prostitution is not limited to women in contemporary Iran. According to a recent report on the news website Baztab-e Emruz, a growing number of male prostitutes can be found in sport facilities and recreational centres in wealthy districts in north and north-west Tehran.
Many local guys seek men thru tinder and other dating apps, which will work fine with the VPN. When you meet these guys, you should always be extremely careful, since the scams are very common.
Other Adult Services
Try asking the sex workers and other sexual service providers if they can come up with your desired range of sexual services. BDSM is also well known in Tehran, but the problem is that there are no BDSM equipments to be purchased from the shops.
Dating
Dating in Tehran can be a bit tricky due to cultural differences, so your best bet is to sign up for a dating site before your trip so you can meet a few locals ahead of time. AdultFriendFinder.com lets you meet local members in Tehran and get to know them on a personal basis before you arrive. Take advantage of site features like live chat and member to member webcams so you can begin flirting before arranging a face-to-face meeting. Since your time in Tehran may be limited, get to know each other's desires beforehand, so that when you meet you can start having some real fun.
How to find Sugar Babies and Sugar Daddies
If you are looking for an alternative to escorts in Tehran with a girl who doesn't charge by the hour, sugar dating is the ideal solution. There are thousands of beautiful young women at SecretBenefits willing to do anything for a man who will help them pay their bills.
Often referred to as the "Tinder for Older Guys", SecretBenefits matches hot young women interested in pampering older gentlemen. You don't have to be a millionaire at SecretBenefits.com, you just need to be a respectful gentleman who knows how to treat a woman.
Transsexuals and Shemales
Finding someone for transsexual dating when you're on the road can be a bit tricky, so your best bet is to sign up for a dating site before you go so you can find locals ahead of time. TSdates.com is a dating site designed to help you find exactly what you are looking for in your hookup in Tehran. Take advantage of site features like live chat and member to member webcams so you can begin flirting before arranging a face-to-face meeting. With over 40 million members, and thousands of transsexual members around the world, TSdates.com is the world's largest site of sex-minded friends for discreet encounters and will help you find your next transsexual play partner.
Where can I find shemales in Tehran? You can watch transsexual live sex shows in Tehran as long as you are connected to internet. Check Now: Tranny Live Sex Video Chat

Though females have to wear islamic hair scarf, t-girls can walk the street without it. There are some t-girls working on place called "Meidoone San'ati", prices are around 10-40$, negotiation is necessary. Although it according to islamic law homosexuality has a death penalty. There also have to be three people who will confirm that they saw sexual act in the court. So this makes t-girl sex even more safe than with females. Femboys and shemales are very active in instagram, and it is quite safe to have sex and to be in relationship with them as long as you stay out of politics and publicly defending gay and/or human rights in Iran.
Before the Islamic Revolution in 1979, the issue of transsexuality in Iran had never been officially addressed by the government. Beginning in the mid-1980s, however, transsexual individuals were officially recognized by the government and allowed to undergo sex reassignment surgery. As of 2008, Iran carries out more sex change operations than any other nation in the world except for Thailand. The government provides up to half the cost for those needing financial assistance, and a sex change is recognised on the birth certificate.
Iran has between 20,000 and 30,000 transsexuals, according to official statistics, although unofficial estimates put the figure at up to 150,000. Part of the TS/TV/TG and CD girls in Tehran work in the sex business. You can use the internet in order to get in touch with other interested transsexual and shemale partner online. The services of transsexual and shemale escorts are also available these days and can be hired online.
Sexual Services for Women
You can find lots of horny men from Iran, but getting attached with them can get dangerous. If you just look men in the eyes, they may think you want to have sex with them. So, having sex with random strangers will require self-awareness and one must stay safe and away from each and every possible danger in such cases.
Sleeping and Girl Friendly Hotels
It is pretty much impossible to bring prostitutes to your hotel.
Private apartment are the safest way to stay if you want to bring hookers or girls to your place, as the hotels wont allow you to bring guests. Local english papers are advertising apartments on daily rates from $30 upwards towards the expats and you can also find ads online. Some of the apartments are in the are such as Jordan / Africa and are quite good for this kind of activity. You still need to be very discreet because neighbours are always watching and religious police could be near you.
Another option is to take girl to a resort place called Ramsad which is about 3 hours drive north, but that is kind of far away. So, it seems that the best way to enjoy privacy in a room is to pick up girls and take them to apartments that are safe, discreet and hassle-free.
Stay Safe
Tehran is still relatively one of the safest cities to travel through, particularly considering its size and security. Common sense and the usual precautions against pickpockets in bazaars and crowds should ensure your visit is hassle free.
However, you should be aware of various kinds of risk that may emerge while getting involved in any kind of sexual activities in Tehran. Apart from that, one must choose to use condoms while having sex in order to limit the risks of STDs.
Even late at the mid-night it is safe in most parts of the city while you will find the city still crowded. It is advisable not to take a private taxi for instance at 2AM.
The fake police that target Esfahan's tourists have also found their way to Tehran in recent years. These are usually uniformed men in unmarked cars flashing phoney IDs are requesting to see you passport or search your luggage. It goes without saying that you should just ignore such requests and head to the nearest police station if you feel unsafe. The trouble is that it can be a little hard for the untrained tourist eye to tell these from the real police.
The traffic in Tehran is very dangerous and should be considered some of the worlds worst. Try to cross the street when the locals do. At first it looks impossible but the drivers do a very good job to avoid pedestrians even though they drive crazy.
Gay and lesbian travellers should be extremely careful when travelling to Tehran due to strict and harsh regulations on homosexual activity. Iran justice has death penalty for homosexuals, even teenagers.
Exercising extreme caution in public is the key thing to remember, and in fact, it is mandatory to abstain from any kind of intimacy even for heterosexual couples, but it doesn't mean you cannot hold hands.
It is also recommended, even for westerners and non-Muslim women, to wear a head scarf or veil, on their head, when exiting their apartment or hotel rooms.
If you decide to smoke the qalyan (waterpipe), make sure that you are not smoking opium or other kinds of drugs if you don't intend to do it. Although drugs and alcohol are illegal in Iran, it is not impossible to obtain them, especially in Tehran. Since the Iranian government decided to ban the qalyan and cigarettes in public places, it is a bit difficult to find a decent place for smoking.
And if you really want to try the qalyan, you can expect to find this in dodgy places.
See also