Florianopolis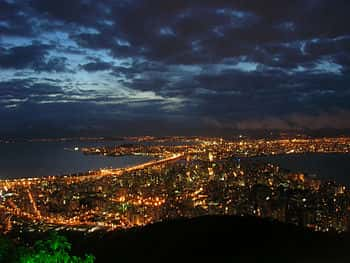 Florianopolis Sex Guide advises where to find sex, working girls, prostitution, street hookers, brothels, red-light districts, sex shops, prostitutes, erotic massage parlors, strip clubs and escorts in Florianopolis, Brazil (South America).
Florianopolis (Portuguese: Florianópolis) is the capital of the Brazilian state of Santa Catarina. Half of the city is on the mainland of Brazil while the other half is on the Santa Catarina Island. It has some of Brazil's most beautiful beaches.
Sex Scene and Prostitution
Prostitution itself (exchanging sex for money) in Brazil is legal, as there are no laws forbidding adult prostitution, but it is illegal to operate a brothel or to employ prostitutes in any other way.
Florianopolis is not the best place to monger while travelling in Brazil. Many travellers and locals say that the Florianopolis is more of a place to enjoy and meet single girls, have vacation romances and one-night hook-ups! You will have many hot chicas from all over Brazil vacationing in Floranpolis, but you also have lots of sexy ladies from Argentina, Chile, Europe and Uruguay in Floripa as well. The girls hanging out at the beaches in Florianopolis are much more beautiful than any other beach in Brazil!.

MY FAVORITE PLACES TO GO AT NIGHT (FO
Female Escorts
There are some add websites for independent girls for incall or outcall by calling the girl's number, to make sure there are no fake profiles at their websites.
Nina Said is one of the girls that can communicate in English, her phone number is at the website available for whatsapp +55 11 957780060 she also uses twitter to pics and video www.Twitter.com/ninasaidoficial and her website Ninadias.com.br awesome girl for parties with her girlfriends.
Where to Get Sex Now
It is easy to get sex online in Florianopolis. You just need to find the best available girls. See Girls Online Here!
Red Light Districts
A red-light district is a part of an urban area where there is a concentration of prostitution and sex-oriented businesses, such as sex shops, strip clubs, adult theaters, etc. The term originates from the red lights that were used as signs of brothels. There are areas in many big cities around the world which have acquired an international reputation as red-light districts. Some red-light districts have acquired a touristic interest beyond sex tourism, and can be perceived as places of artistic, historic or cultural interest, whether or not they still serve the sex trade.
The most famous red-light districts in Brazil are Vila Mimosa in Rio de Janeiro and Rua Augusta in São Paulo.
See also: List of red-light districts
Prostitutes and Sex Workers
Quality of Girls for that Southern Brasil Italian/German look is 7 - 8's. Room is 50 Rs. and Girl is 150 Rs. Charge to leave the establishment with the girl 100 Rs and then the girls fee also.
Street Hookers
Street walker in Brazil costs from 20 reais to 80 reais depending her looks, your looks and your negotiation skills. Many times streetwalkers are drug addicts or alcoholics. It's more difficult to find good-looking prostitutes from the streets than from brothels or termas.
Strip Clubs & Lap Dance
Strip clubs in Floripa:
Bokkara, Rua Menino Deus, 173, Tel: 48 3223-5726 - The girls are on the high-end of the quality spectrum. 100 BRZ entrance and then expensive drinks. Many drink prices are hovering around 100 BRZ and if you approached a girl she would say "drink?" or "drink for me?" The broken English drink requests were typically the only English spoken. Price to go with a girl upstairs for an hour: 500 BRZ!
Sex Níght Club, Av. Mauro Ramos, 512 - Centro, Florianópolis. Tel. +55 48 3322-4858 - Good variety of drinks in the bar. Striptease and other adult entertainment. 200 Reis for Sex and 100 Reis for the room rent.
Brothels
You can find many "sex clubs" from Floripa, but these establishments may try to hustle you, so make sure to look after your wallet and valuables!
Dolce Veneno Club, Rua José Augusto de Faria, 63, (48) 3371 9979 - Hot sexy girls. The venue is more like a clinica and not so much like a club. Sex Price – 250 Reis for 1 Hour (no bare-back blow jobs!)
La Maison, Rua Vítor Silva, 11 - This place is not in Centro, it's located just over the bridge. 200 Reis for Sex, extra costs for room and drinks
Brothels in Brazil
In average brothel in Brazil you can have sex with Brazilian girl from 100 to 1000 reais for one hour. Brazil's most famous termas are located in Rio de Janeiro, but you can also find nice whore houses from Floripa. Termas are brothels which are similar than spas or bathhouses but working girls are waiting for customers inside.
Erotic Massage Parlors
Many escorts and prostitutes in Brazil offer erotic massage services as well.
See also: Erotic massage
Live Sex Cams
Can I watch Live Sex Cams in Florianopolis? - Yes, you can! Basically you can watch our online live sex shows for free anywhere in the world if you're connected to internet. You can choose any girl from our trusted WikiSexLive.com! Join to get 10 free private teasers and 9.99 credits for free!
Live Sex Cams are booming at the moment. Webcam models can be found from all over the world and you can find girls, guys, trannies, couples and groups of different ages performing to you. Watching live sex shows is free, but if you buy some credits, you will have much better chances to see adult action as desired! It's possible also to hire a webcam model to a private chat room where you can ask the person to fulfill your fantasies. Try now! WikiSexLive.com
Dating
Dating in Florianopolis can be a bit tricky due to cultural differences, so your best bet is to sign up for a dating site before your trip so you can meet a few locals ahead of time. AdultFriendFinder.com lets you meet local members in Florianopolis and get to know them on a personal basis before you arrive. Take advantage of site features like live chat and member to member webcams so you can begin flirting before arranging a face-to-face meeting. Since your time in Florianopolis may be limited, get to know each other's desires beforehand, so that when you meet you can start having some real fun.
How to find Sugar Babies & Sugar Daddies
If you are looking for an alternative to escorts in Florianopolis with a girl who doesn't charge by the hour, sugar dating is the ideal solution. There are thousands of beautiful young women who are willing to do anything for a man who will help them pay their bills.
Often referred to as the "Tinder for Older Guys", Sugar Dating matches hot young women who are interested in pampering older gentlemen. You don't have to be a millionaire to meet a sugar baby. Click Here if you are a respectful gentleman who knows how to treat a woman.
Swinger Clubs and BDSM
ALT.com is the best place for local singles, swingers, and couples in the BDSM community to connect with those interested in submissive sex, power exchange, locating persons for new slave roles, erotic BDSM, bondage & fetish sex, as well as live sex dates. Find thousands of play partners for whatever your fetish may be; bondage, foot, cockold, spankings, role-play, electric or water play, sadism and masochism. So whether you have the desire to explore your unrealized fetish fantasies, or you are extremely experienced and would love to train someone new, ALT.com is a community designed for people with like-minded interests to find and connect with each other.
Transsexuals / Shemales
Finding someone for transsexual dating when you're on the road can be a bit tricky, so your best bet is to sign up for a dating site before you go so you can find locals ahead of time. TSdates.com is a dating site designed to help you find exactly what you are looking for in your hookup in Florianopolis. Take advantage of site features like live chat and member to member webcams so you can begin flirting before arranging a face-to-face meeting. With over 40 million members, and thousands of transsexual members around the world, TSdates.com is the world's largest site of sex-minded friends for discreet encounters and will help you find your next transsexual play partner.
Where can I find shemales in Florianopolis? You can watch transsexual live sex shows in Florianopolis as long as you are connected to internet. Check Now: Tranny Live Sex Video Chat

There are thousands of beautiful (T-girls) living in different parts of Brazil. High percent of them are also working as prostitutes.
Gay and Lesbian
Gay modeling in internet is getting more popular all the time and it's a big market alongside with gay porn. You can watch gay live sex also in Florianopolis as long as you are connected to internet. Check it out: Gay Live Sex Video Chat
Due to its high degree of acceptance and tolerance, gay travel is increasingly popular in Brazil. Brazil is open to LGBT tourists. However, be aware that homophobia is widespread in Brazilian society, and Brazil is not the sexual haven that many foreigners perceive it to be. Couples that in any way don't conform to traditional heterosexual expectations should expect to be open to some verbal harassment and stares if displaying affection in the streets, though several neighborhoods of many of the major cities are very welcoming of the LGBT population, and LGBT-oriented bars and clubs are common. It is best to gather information from locals as to what areas are more conservative and what areas are more progressive.
Sexual Services for Women
Brazil has always been a very popular tourist destination due to its exotic wildlife, beautiful people, pristine beaches and raucous festivals like Carnival. But it appears that Brazil might be vying for the number one spot for sex tourism as well. Additionally, Brazil is a popular destination for female sex tourism, which generally does not see rates as high as male sex tourism. For female tourists, it should not be hard to find male companionship from a bar or a nightclub. Male escorts can be also found from internet in Brazil and price for sex is very low.
Sex Shops and Adult Stores
If you don't feel like visiting or cannot find any local sex shops in Florianopolis, you can easily order adult products from Online Sex Shop. There are many online sex shops where you can order sex toys etc.
Escort Services & Agencies
Finding an escort when you're travelling can be a bit tricky. An ideal alternative to escorts is a girl who is looking for a mutually beneficial relationship. There are thousands of horny girls willing to do anything for a generous guy. Click Here to hookup with a beautiful young woman now.
Average escort in Brazil charges between 250 and 600 reais for two hours. But if you want a girl that is "a 10" charges between 400 reais for one hour soft porn experience.
Sleeping
Florianopolis is not as well known as Rio de Janeiro to the Europeans and North Americans. Florianopolis is one of those places where it is super easy to pick-up girls and also very easy to find sex workers. There are two parts in the Floripa that you should stay at. If you want to live like a "sex addict" and you enjoy going to posh clubs and having easy pickings at naughty hot Brazilian bar girls, then you should choose to stay in the northern part of the Island, called Jurerê. For more open-minded guys who like surfing, samba and bohemian lifestyle – it is best to rent your "airbnb" or a "hotel" close proximity to Lagoa da Conceição, which is close by to the Barra da Lagoa, Praia da Joaquina, and Praia Mole (three best beaches in all of Florianopolis).
If you are in your 20s, then it is best to choose to stay at the Barra Beach Club Ocean Front (in Barra da Lagoa) or Sunset Backpackers (near Praia Mole and Joaquina). This way you can fuck hot hostel travellers, local chicks and also hookers! How ever at the dorm room, it is risky to have sex, so better to choose the private room from the hostel and be the "king of the hill"!.
Motels
Motels where to have sex in Florianopolis:
Nantai Motel, 19, Rod. SC 405, 4218 - Campeche - Florianópolis. (048) 3337-6320
See also: Global list of girl friendly hotels & love hotels
Hotels in Brazil
The Brazilian motel is not the same as a US motel. Brazilian motels are designed for sex, not really for sleeping. If you're staying at a hotel that does not allow guests, if you prefer to be discrete, if you feel uncomfortable inviting strangers into your apartment, or if you just want a special night with a favorite garota, you might consider a trip to a motel.
The "love motel" is an institution in Brazil. Its existence reflects certain realities in the lives of most Brasilians: most live in crowded households, many share bedrooms with youngsters or other roommates, and few have anything resembling privacy. Hence, motels: places where couples — married or not — can have a few hours of privacy for sex.
Because motels are intended for sex, they are designed for sex. Most have nice big beds with strategically placed mirrors. Many have whirlpools; most have TV with one or more porn channels. Upscale rooms have dry saunas, steam baths, swimming pools, waterfalls, and all sorts of electronic goodies (including internet connections in some cases, so you can upload those pictures as soon as you take them!). Some have special "equipment," like chairs especially designed for sex play (the infamous "cadeira erotica"). Several have on - site sex shops where you can purchase toys and such.
Stay Safe
In 2003, it was estimated that about 6% of Brazilian prostitutes were infected with HIV. Gabriela Silva Leite, the executive director of Prostitution Civil Rights, says that because of information campaigns, condom use among prostitutes is high.
Travelers should be aware of Florianopolis social problems and crime before traveling or deciding to retire there. While Florianopolis is generally regarded as a safe city in comparison to other regions in Brazil, the city is not without its problems. Paying heed to these problems could mean the difference between an unforgettable vacation and a nightmare waiting to happen.
Prostitution, while not overbearingly so, is definitely among the Florianopolis social problems and crime you need to be aware of. If youngsters will be accompanying you on vacation this is all the more important to consider. Most families understandably find the practice of prostitution to be reprehensible and do not want their youngsters exposed to that in the streets. Locals and travel professionals agree that prostitution is most prevalent during the evening and close to the beaches. The best advice is to avoid the beaches during this time or exercise caution if you do visit them. Avoiding the Florianopolis slums is another sure-fire way to steer clear of prostitution.
See Also