Venezuela
Venezuela Sex Guide advises where to find sex, working girls, prostitution, street hookers, brothels, red-light districts, sex shops, prostitutes, erotic massage parlors, strip clubs and escorts in Venezuela, South America.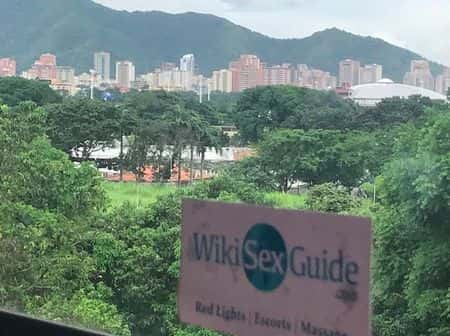 Venezuela is a country in South America. Having a shoreline along the Caribbean Sea and the North Atlantic Ocean, Venezuela borders Colombia to the west, Guyana to the east and Brazil to the south, and is situated on the major sea and air routes linking North and South America. Off the Venezuelan coast are the Caribbean islands of Aruba, Bonaire, Curaçao and Trinidad and Tobago.
Sex Scene and Prostitution
Prostitution in Venezuela is legal and regulated.
The code also prohibits promoting, directing, or profiting from the sexual activity of minors or adolescents.12 These offenses are punishable by imprisonment for 3 to 6 years, which increases to 4 to 8 years if the offense is committed by a perpetrator who is in a position of authority over the victim.13 It is also a crime to induce, facilitate, or promote prostitution or corruption of another person to satisfy the passions of others, which is punishable by 1 to 6 years' imprisonment. However, if the victim is a minor, the minimum penalty is increased to 3 years' imprisonment. The code prohibits a husband or other relative from forcing a wife or female descendent to prostitute herself. The punishment for that act is imprisonment for 4 to 6 years.
Prostitution is common, particularly in Caracas and in other domestic tourist destinations.
Poor economic conditions and the ease with which fraudulent passports, identity cards, and birth certificates can be obtained create favorable conditions for human trafficking. Women and youngsters from Brazil, Colombia, Peru, Ecuador, the Dominican Republic, and the People's Republic of China are trafficked to and through the country and subjected to commercial sexual exploitation. Citizens are trafficked internally and to Western Europe, particularly Spain and the Netherlands, and to countries in the region such as Mexico, Aruba, and the Dominican Republic for commercial sexual exploitation. In many cases traffickers place ads for models in regional newspapers and then lure respondents to Caracas under false pretenses of employment.
Check out: The Countries With the Most Prostitutes
It has been said that the most beautiful girls in the world come from Venezuela. There have been a few that won the Miss Universe contests in the past.
Regions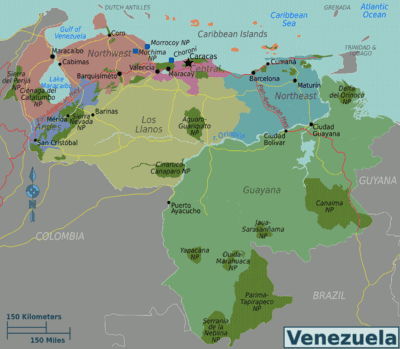 Andes
Mountainous and picturesque, this region is made up of the states of Mérida, Táchira and Trujillo
Caribbean Islands
With more than 600 islands or smaller formations, many of the best beaches can be found here
Central
The most populous part of Venezuela enjoys great beaches and big cities, from Caracas and the nearby commuter towns in Miranda and Vargas out to the states of Aragua and Carabobo
Guayana
The immense and largely uninhabited area south of the Orinoco River, which makes up around half of Venezuela's national territory, includes rainforest in Amazonas, table-top mountains in the Gran Sabana and Bolívar state, and the flat marshlands extending out in the Orinoco Delta
Los Llanos
Vast open plains, home to cattle-ranching and amazing wildlife, make up of the states of Apure, Barinas, Cojedes, Guárico and Portuguesa
Northeast
Stunning deserted beaches in Anzoátegui and Sucre, as well as hills and caves in Monagas state
Northwest
Rich with oil from Zulia state, the northwest also boasts more beaches in Falcón and a lush agricultural countryside in Yaracuy and Lara.
Cities
Money
Venezuela's currency is the Bolivar Fuerte (BsF), which replaced the old bolivar on January 1, 2008 at the rate of 1 BsF to 1000 old Bs.
Due to strict currency controls in place since 2003 bolivars are not easily convertible either in or outside the country. Currently, the official rate (offered by banks and the few bureaux de change) give 4.3 BsF per US dollar, but there is a thriving Parallel Market that trades for higher rates. These unofficial rates fluctuate depending on general demand for foreign exchange, inflation and political instability. Within the "Parallel Market" there are various exchange rates: the tourist, the black market (a bit higher but dangerous and uncomfortable), and the bonds brokerage one (high amounts in government bonds, when on sale). That highest one, which appears as reference on certain internet pages, is the government dollar bonds rate, inaccessible unless you buy thousands of dollars in government bonds through a Venezuelan brokerage firm. This last one determines the rate of the black market one and the tourist one. The black market should be avoided unless you are sure of the honesty of the people changing currency for you. They may be scammers, thieves or even police disguised as traders. The safest parallel exchange is the Tourist Rate which is normally provided by higher-level people in the tourism industry (Hotel managers, posada owners, etc.). The rates vary around Venezuela and from week to week. The tourist rate rarely varies in time. Once you change you cannot change back to euros or dollars unless the tourist operator that exchanged for you is nice enough to take it back. The tourist rate as Jan 2013 is around 16 to the dollar and 20 for euro.
For an idea of the black market price, check www.lechugaverde.com
Green lettuce (Dollar) = Lechuga verde European lettuce (Euro) = Lechuga Europea
Is a funny words, because the government said: Is forbidden speak about black market o parallel market. Then..... green lettuce, european lettuce......
Visa and MasterCard are widely accepted, American Express and Diners Club are usually accepted at upscale restaurants, hotels and shopping centers. Merchants always ask for ID before making a credit card transaction (a passport will suffice). ATMs exist all over the country. They hand out only Bolivars and at the official exchange rate of 4.3. Maestro Debit Cards are the most accepted but Visa Debit Cards are often not accepted because they are a "fee-scam" for the sellers (appears as "Debit" for the buyer and as "Credit" for the seller), and some ATMs also ask for the last two digits of Venezuelans' ID numbers as an added security precaution, causing problems for foreigners with no ID number tied to their bank account.
It is best to carry small change rather than large bills as many traders, in particular taxi drivers, rarely have change. Tipping taxi drivers is not customary and can appear strange. Be a little wary of cab drivers as almost all of them are exploiting tourists, particularly from the airport to Caracas. Use only the official airport taxis (black Ford Explorers), which have a vending spot inside the airport. Buy your ticket there, first checking the fee according to the destination displayed ON THE COUNTER, not asking the teller or the cab drivers directly. You can also get airport pick-up but it would be more expensive (mostly luxury hotels). For a safe taxi service in Caracas, you can use "Teletaxi", which you can set by phone (0212-9534040). Please ask the fee by phone before ordering the service.
At restaurants, tipping is usually minimal. If a 10% service charge is included then some extra small change can be left on top of the total, or if not included then a tip of only 10% is customary.
Live Sex Cams
Can I watch Live Sex Cams in Venezuela? - Yes, you can! Basically you can watch our online live sex shows for free anywhere in the world if you're connected to internet. You can choose any girl from our trusted WikiSexLive.com! Join to get 10 free private teasers and 9.99 credits for free!
Live Sex Cams are booming at the moment. Webcam models can be found from all over the world and you can find girls, guys, trannies, couples and groups of different ages performing to you. Watching live sex shows is free, but if you buy some credits, you will have much better chances to see adult action as desired! It's possible also to hire a webcam model to a private chat room where you can ask the person to fulfill your fantasies. Try now! WikiSexLive.com
Dating
Dating in Venezuela can be a bit tricky due to cultural differences, so your best bet is to sign up for a dating site before your trip so you can meet a few locals ahead of time. AdultFriendFinder.com lets you meet local members in Venezuela and get to know them on a personal basis before you arrive. Take advantage of site features like live chat and member to member webcams so you can begin flirting before arranging a face-to-face meeting. Since your time in Venezuela may be limited, get to know each other's desires beforehand, so that when you meet you can start having some real fun.
How to find Sugar Babies & Sugar Daddies
If you are looking for an alternative to escorts in Venezuela with a girl who doesn't charge by the hour, sugar dating is the ideal solution. There are thousands of beautiful young women at SecretBenfits willing to do anything for a man who will help them pay their bills.
Often referred to as the "Tinder for Older Guys", SecretBenfits matches hot young women interested in pampering older gentlemen. You don't have to be a millionaire at SecretBenfits.com, you just need to be a respectful gentleman who knows how to treat a woman.
Gay & Lesbian
Lesbian, gay, bisexual, and transgender (LGBT) persons in Venezuela may face legal challenges not experienced by non-LGBT residents. Both male and female same-sex sexual activity is legal in Venezuela, but same-sex couples and households headed by same-sex couples are not eligible for the same legal protections available to opposite-sex married couples.
Escort Services
Finding an escort when you're travelling can be a bit tricky. An ideal alternative to escorts is a girl who is looking for a mutually beneficial relationship. There are thousands of horny girls willing to do anything for a generous guy. Click Here to hookup with a beautiful young woman now.
Escorts in Venezuela:
Stay Safe
Venezuela has its fair share of poverty and crime. Venezuela has one of the highest homicide rates worldwide. It is necessary to be vigilant when in crowded cities, as pickpockets and muggers may be around. Most sections of large cities are not safe to walk at night. Stay in populated areas. Always travel by vehicle at night. The outskirts of many cities are very poor and crime-ridden, and are not appropriate for tourists. When in doubt, ask local inhabitants or taxi drivers whether an area is safe or not. In general, if one looks like a (presumably wealthy) tourist, these sections of town should be avoided. It is advisable not to wear expensive jewelry or watches. Take care with taking pictures and unfolding maps in crowds. Pretend you know where you are going even if you aren't sure.
Always ride on a legal taxi (Yellow plates). The white plates taxis are not legal and may be dangerous.
Additionally, one must be wary of corrupt officials (police and National Guard). Some officials may demand bribes or otherwise extort travelers. Keep watch of your belongings at all times. Despite all these recommendations, one is usually quite safe in Venezuela if they apply a little common sense, and avoid looking overly wealthy when traveling. Women with big purses are recommended not to walk around alone. Tourists should avoid walking long distances in the towns and cities unless you know where you are going. Where possible arrange vehicle transport. It is not advisable for female tourists to walk through poor areas or shanty towns without a local guide. It is greater risk of rape or sexual assault if they walk through these areas.
Above all, when you are in Venezuela it is very important to use common sense. If you follow the right precautions, you'll probably have no problem. Don't look at anybody the wrong way, and don't look too wealthy.
In the sad event you do get mugged, by all means don't even try to put up resistance and avoid eye contact, most muggers in Venezuela carry firearms and don't hesitate to shoot at the slightest provocation, keep calm and give the mugger whatever he wants, failure to do so is quite often deadly, also, reporting a mugging to the police is seldom worth the trouble, it's best to forget it as muggers are only rarely caught.
Despite all the issues with insecurity, you may avoid most problems by either staying in the touristic areas or visiting the less touristic areas with someone that lives in the country.
Also, Venezuela has an interesting policy towards cannabis. You may possess up to 20gr, but be forewarned that anything more can get you thrown in prison for a long time. Even though this policy is quite liberal by American or British standards, you should keep all cannabis use private, if just to not have unwanted attention drawn towards you.
Avoid long distance car traveling at night, since many highways are insecure then. Venezuelans are usually ready to help you if you have a problem. However, they probably won't dare to stop for you in the dark, as they would risk to be assaulted with good cause.
See Also