Caracas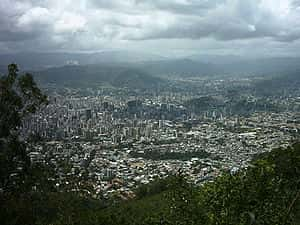 Caracas Sex Guide advises where to find sex, working girls, prostitution, street hookers, brothels, red-light districts, sex shops, prostitutes, erotic massage parlors, strip clubs and escorts in Caracas, Venezuela (South America).
Caracas is the capital and largest city of Venezuela. It is located in northern Venezuela, near the Caribbean.
Sex Scene and Prostitution
Prostitution in Venezuela is legal and regulated. Prostitution is common, particularly in Caracas and in other domestic tourist destinations.
Poor economic conditions and the ease with which fraudulent passports, identity cards, and birth certificates can be obtained create favorable conditions for human trafficking. Women and youngsters from Brazil, Colombia, Peru, Ecuador, the Dominican Republic, and the People's Republic of China are trafficked to and through the country and subjected to commercial sexual exploitation. Citizens are trafficked internally and to Western Europe, particularly Spain and the Netherlands, and to countries in the region such as Mexico, Aruba, and the Dominican Republic for commercial sexual exploitation. In many cases traffickers place ads for models in regional newspapers and then lure respondents to Caracas under false pretenses of employment.
If you are confused of the rumors of black market and Venezuelan money, check out Money in Venezuela.
Caracas Female Escorts
Check out WikiSexGuide Adult Classifieds!
You can find lots of escorts in Caracas from internet.
For example escortsinvenezuela.com does offer girls in Caracas. Click here for sexy escort girls in Caracas.
Where to Get Sex Now
It is easy to get sex online in Caracas. You just need to find the best available girls. See Girls Online Here!
Red Light Districts
Carcel Y Monzon, red-light district and real sleazy area South of Avenida Lecuna bordered by Baralt a few blocks West and Avenida Fuerzas Armadas a few blocks east. Be careful. Very dangerous area!
Prostitutes and Sex Workers
Venezuela has the biggest per cent of sex workers in the World. Check out the list: The Countries With the Most Prostitutes
Street Hookers
From these following areas you can find street walkers in Caracas:
Avenida Casanova and Avenida Libertador.
Avenida Las Acacias and Avenida Libertador.
Strip Clubs / Night Clubs
Here is a list of strip clubs and night clubs with chicas (girls) in Caracas:
C. C. Bello Campo:
Angelus, in the basement C. C. Bello Campo, Nvel. Sótano, it is between the Metro stations Altamira and Chacao, Avenida Gral Bello Campo and near Avenida Francisco de Miranda. 100 Dancers. Prices: Your Drink $B1k, Chica's drink $B15k, Bar fine, In or Out $B120k. Chica's Fee US$100-$150, TLN (Todo La Noche = Whole Night) US$200. Tel: 267.4006/3030.
Bar Canagua, in the basement C. C. Bello Campo, Nvel. Sótano,.
Club Fantasy, in the basement C. C. Bello Campo, Nvel. Sótano,. Prices: US$100.
Chacaito:
Club de Baco, Final Avenida Casanova, entre calles Chacaíto y Guaicaipuro, Centro Comercial 777.
Cats Noir, South of Chacaito Mall.
Las Gardenias, South of Chacaito Mall.
Districts Chacao/ La Castellana Border:
El Morrison, East of San Ignacio Mall. Prices: 250k.
La Castellana:
Divas, In the basement of an office building on the corner of Tranversal 1 (which runs west of Plaza Altamira) and Avenida Prinicpal de La Castellana, immediately north of Restaurant El Budare and one long block south of Plaza la Castellana. Prices: $B150k-200k Bar Fine. Tel: 0212-263-6791. http://www.divas.com.ve
Sambil Mall:
Flash Dance, Avenida Libertador. Prices: $B20k Bar fine, Plus $B20k-40k for Chica.
Clubs with Chicas
Sabana Grande:
Saxo, Avenida Humboldt, between Avenida Sabana Grande and Avenida Casanova.
Club Magnifique, Avenida Casanova at Calle Baldo.
Capri Casanova, Avenida Casanova.
Bucanero, Avenida Casanova and Calle El Colegio.
El Maison Del Cairo, Avenida Casanova across from Las Gardenias.
Top High Class Show, Avenida Francisco de Miranda, near Plaza Venezuela Metro.
Club de Paris, on Autopista Francisco Fajardo, just north of the Lincoln Suites hotel.
Afterhours Clubs with Chicas
Here is a list of afterhours clubs in Caracas:
The New Box, Avenida Casanova.
Felinos, Avenida Casanova at Calle 2 and 2da Bello Monte.
Fenicia, Calle El Colegio at Avenida Casanova. Not for newbies. Bad Reviews.
The Diplomat, Avenida Casanova. Also, Not for newbies.
El Centro:
Lobitos, Avenida Baralt, next to the Hotel Eden. Prices: $B50k.
The Upscale Magnate Club, Avenida Baralt and Avenida Lecuna, one block from Capitolio Metro Station.
Miniteca, Avenida Baralt and Avenida Lecuna.
Others:
AM, is one block west of CC Sambil.
12:34, is in Las Mercedes.
Brothels
Here is a list of brothels in Caracas. (Some information might be outdated): Brothels in Caracas are called "estudios" see the erotic massage parlor section below.
Chacao:
Avenida Francisco de Miranda, near Calle Muneco, close to MacDonald's, Building Named Andrea, Buzzer # 28, 7th Floor. Prices: $B70k for massage and BJ. There might be only a couple of Chicas.
Chacaito:
Club Noche de Ronda, basement of Centro Comercial Chacaito, Level Sotano. Prices: Beer $B7k, Chica 120k 30 min., 170k one hour. Tel: 952 0695. Hours: 2pm-10pm, Closed Sunday.
Sabana Grande / Chacaito:
The Edificio Volta, 2nd and 3rd Floors, Boulevard de Sabana Grande (Avenida Abraham Lincoln) and near Avenida Humboldt, half a block from Chacaito Metro Station. Small letters Volta on the building. Across from Food Court. 10 Chicas. Prices: $B25k for 15 min., 50k 30 minutes. Open 24 hrs. Not the best Ambience.
Los Cazadores, Avenida Humboldt, name on the Building says ED. _ER_UDEZ, Silver Gate entrance, next to Restaurant Gavira, around the corner from Edificio Volta, second floor, a half block away going north is Avenida Francisco Solano. Prices: $B25k for 15 min., 50k 30 minutes. Open 24 Hrs. Not the best Ambience.
Edificio Yetauso, spelling not so sure, PH B on Ave Libertador, about 50 mts west of Hotel Crillon on the north side of the avenue.
Masaspa, Villa Flor in the Eastern Professional office building. This brothel is located about a block from the Gran Melia Hotel, Av. Casanova, URB. Bellomonte. Prices: 170k.
Hotels with Chicas
Avenida Las Acacias (Calle de Los Hoteles).
Hotel Tiburon, Avenida Las Acacias.
Hotel Sava, Avenida La Salle. Prices: US$70.
Hotel Cuatricentenario, Avenida Casanova.
Fantasy, near Plaza Venezuela.
Hotel Bar Doral, Avenida 2da, Las Delicias De Sabana Grande, enter from Avenida Libertador and Avenida Francisco Solano. Across the street is Hoteles Cumberland. Call them for Chicas. Tel: 762-4507, 762-4508 and 762-4509.
American Bars with Chicas
San Antonio:
Hotel La Naranja, Avenida Las Acacias South, Closest one to Avenida Casanova.
El Encuentro, Avenida Las Acacias South, Hotel Liana above.
Mi Fantasia, Avenida Las Acacias South, next to Hotel Vox.
Embassy Hotel***, Avenida Las Acacias South. Tel: (582) 782 7821, 793 0750. Not recommended by someone.
Hotel Ariston, Avenida Las Acacias South.
Erotic Massage Parlors
Massage parlors in Caracas are called "estudios" the spanish for studios.
Here is a list of erotic massage parlours in Caracas (some information might be outdated):
Spa Mystic Moment. Prices: Complete $B100k. Tel: 212-271-0186.
Cuerpo, Mente y Alma (Mind, Soul and Body). Prices: $B149k for Two. Tel: 265.00.21, 266.01.54.
Estudio Masalud. Prices: $B150k.
Spa y Algo Mas, Building next to Eurobuilding Hotel, Chuaco, 7th Floor G. Prices: $B100k-$200k.
Las Delicias, Edificio Royal Castle, Avenida Principal, 1st Floor, # 11 in Sabana Grande right off Avenida Abraham Lincoln. Call first 762-4726 or 761-5113.
Geisha Gentleman's Spa, Av. Principal de La Castellana, Torre Lara, Nivel Comercial, next to Divas Night Club. 6 Chicas. Tel: (0212) 514 1871, 514 1799, 264 5678, 265 4457, (0414) 332 9639, (0416) 214 7103, (0412) 639 5136. Hours: Monday to Friday Noon to 7pm.
Mind Soul & Body, Centro Empreserial del Este Torre Libertador, Nucleo A, Piso 2, Local 21. Tel: 2650021, 2660154, or cell 0414-323 1234.
Spa Mystic Moment, close to Metro station La California, exit Av Santiago de Leon, turn right, walk 200 m, then the black building on the right, Edificio Torre Professional La Callifornia, floor PH (Penthouse No 1). 7 Chicas. Price: 190k BsF for sex, no DFK, no DATY, no BJ, this costs more money.
Buddha Spa, Av. Las Acacias, Torre Lincoln, Piso 6 G. 7 Chicas. Price: 190k BsF for sex, no DFK, no DATY, no BJ, this costs more money. Tel: 424-5433, cell 0414-390 0728.
GFE / Non-Pros
In these following places you can try to find normal girls without paying, or you can find girls who sometimes might be offering sex for money.
Bello Monte:
La Belle Epoque, Disco, not far away from Chacaito.
CC Bello Campo:
District La Castellana: CC San Ignacio:
Vintage, Bar Disco, Terrazza level, Centro Comercial San Ignacio, Chacao. Tel: (0212) 262 1766.
Suka Bar & Cafe, Level Blandin
Whiskey Bar, Level Blandin
Li Bar, Level Chaguaramous
District Los Palos Grandes:
Café Atlantique, Planta Baja de la Torre Atlantic, al Frente de Viajes Molina.
Club 360 Roofbar, Hotel Altamira Suites, cnr 1a Av & 1a Transversal.
Altamira Area:
CC Las Mercedes Area Avenida Las Mercedes:
Sawu Bar & Lounge, Calle California entre Monterrey y Mucuchies.
Malabar Lounge, Calle Orinoco.
Trasnocho Lounge, Centro Comercial Paseo de las Mercedes. Tel: (0212) 993 1325.
CC El Tolon Mall, Avenida Las Mercedes and Calle Nicolas Copernico.
CC Sambil Mall, Avenida Libertador and Calle Los Angeles.
CC El Recreo Mall, Avenida Casanova and Calle El Recreo.
CC Santa Fe
Swinger Clubs and BDSM
ALT.com is the best place for local singles, swingers, and couples in the BDSM community to connect with those interested in submissive sex, power exchange, locating persons for new slave roles, erotic BDSM, bondage & fetish sex, as well as live sex dates. Find thousands of play partners for whatever your fetish may be; bondage, foot, cockold, spankings, role-play, electric or water play, sadism and masochism. So whether you have the desire to explore your unrealized fetish fantasies, or you are extremely experienced and would love to train someone new, ALT.com is a community designed for people with like-minded interests to find and connect with each other.
Transsexuals / Shemales
Finding someone for transsexual dating when you're on the road can be a bit tricky, so your best bet is to sign up for a dating site before you go so you can find locals ahead of time. TSdates.com is a dating site designed to help you find exactly what you are looking for in your hookup in Caracas. Take advantage of site features like live chat and member to member webcams so you can begin flirting before arranging a face-to-face meeting. With over 40 million members, and thousands of transsexual members around the world, TSdates.com is the world's largest site of sex-minded friends for discreet encounters and will help you find your next transsexual play partner.
Where can I find shemales in Caracas? You can watch transsexual live sex shows in Caracas as long as you are connected to internet. Check Now: Tranny Live Sex Video Chat
If you are looking for Shemales you can find them at night working in Avenida Libertador. Av Libertador is a long avenue so you can find transsexuals mainly between Plaza Venezuela an Chacaito on this avenue. Some transexuals are also working in the Final District of Caracas in the "El Rosal" neighborhood in front of the "Hotel Rema". You can also check out Azul Tequila, Prolongacion Sur, Avenida Las Acacias, Caracas. This is a gay friendly bar with drag queens.
Gay and Lesbian
Gay modeling in internet is getting more popular all the time and it's a big market alongside with gay porn. You can watch gay live sex also in Caracas as long as you are connected to internet. Check it out: Gay Live Sex Video Chat
Gay Saunas and Bathhouses in Caracas
Puma GYM, Avenida Urdaneta con Esquina Candelito a Cruz
Sauna Daniel, Calle El Colegio
Zeus Steam's House, Calle Villaflor, Cellar 2
Thermal Stars, Calle Borges Quinta Ana July 168, Plaza de Pintores
Sauna Baños Turcos Suecos, Av. Los Mangos, Plaza Venezuela
Arco Iris Sauna, Av. Andres Bello, Calle La Colina
Gay Friendly Bars, Clubs and Discos in Caracas
Tasca Pullman, Av. Francisco Solano, In the Ovidio Building, Lower level, Local G, Caracas
tyipical bar, 100% gay friendly.
In & out, San Ignacio Mall at La Castellana, Caracas
On fridays & saturdays it can be difficult to get in. You have to pay a cover which generally includes all the drinks. Drink quality is bad.
Triskel, Centro Comercial La Placette, Av. San Juan Bosco con 3a. Transversal, Caracas
This is a disco bar with two dancing areas, the place is actually small, Techno music on one side and mixed (Pop, Salsa, Merengue, Dance) music on the other one.
Dos Barras, Pasaje Asuncion (between Av. Abraham Lincoln and Casanova, near the Plaza Venezuela and Sabana Grand, Caracas
Bar with gay and straight crowd.
La Fragata, Calle Villaflor, Sabana Grande Boulevard, Caracas
Local music, bar, 100% gay friendly, if you want to meet real hot latin young men this is the place for you.
Azul Tequila, Prolongacion Sur, Avenida Las Acacias, Caracas
This is a bar, disco and hotel in on place, shows at night, drag queens, movies, 100% gay friendly for gay people only.
Copa's, Calle Guaicaipuro, Torre Taeca, Caracas
This is a disco-bar place, 100% gay, excellent music combining the new and the best of all times music, great drinks, shows, beautifull bartenders.
Revolution, Av. Principal de Los Cortijos de Lourdes, Edifcio Los Hermanos, Sotano, Caracas
3 main areas with different music. Techno, Reto and Latin Music. Shows with national or international artists.
La Cotorra, Centro Comercial Paseo Las Mercedes, Caracas
Relaxing place with young gay guys
Gay Cruising, Toilets, Glory Holes and Parks
Sabas Nieves hiking trail, Caracas
This a national park, nice to hike, lots of bushes and hidden trails, that's where you can get BJ or have sex. Some people go there even at night. Some hung latino men.
Spot to pick someone and go somewhere else.
Centro Comercial Lido, Caracas
Perfect spot to pick up someone and take him elsewhere, since there are several "love hotels" in the neighbourhood. Watch out for the security guards, who like to have their dicks sometimes.
Centro Comercial City Market, On the Sabana Grande, Caracas
There are two urinals and at least two cubicles in each cruisy restroom. This mall (centro commercial) is full of little stores.
Centro Plaza Mall, Caracas
Just a mall, not many places in the premises, but you can meet someone there and go somewhere to have sex.
Sexual Services for Women
Venezuelan guys are horny and willing to have sex with tourist girls.
Sex Shops and Adult Stores
If you don't feel like visiting or cannot find any local sex shops in Caracas, you can easily order adult products from Online Sex Shop.
Teatro Urdaneta, Downtown next to El Nacional (El Silencio)
Adult Cinema / Porn Movie theatre.
Sleeping
Here is a list of girl (chica) friendly hotels in Caracas:
Altamira Continental**, Ave San Juan Bosco, Altamira, 82 Rooms. Rates: $50. Tel: 58-212-261 0644. www.hotel-continental.org.ve
Altamira Suites*****, 1ra Avenida Con 1ra Transversal, Las Palos Grandes. Rates: US260. Tel: 209 3111.
Embassy Suites Caracas, Av. Francisco de Miranda en Av. El, Campo Alegre. Tel: 58-212-700-4200, Fax: 58-212-267-3761. Rates: $175.
Centro Lido Hotel****, Avenida Tamanaco, Centro Lido, El Rosal, 102 Rooms.
Radisson Plaza Eurobuilding Caracas, Final Calle la Guairita, Urb. Chuao Caracas, Venezuela, 1060-A, + (58) 212-902-1111 http://www.eurobuilding.com.ve
Stay Safe
Violent crime in Caracas is a major problem, and it has been getting steadily worse during the recent years: Caracas is now by some counts the world's most dangerous city, with 7,676 murders in 2009. In case you are robbed, simply hand over what is asked of you. For this reason it is advisable to carry a "decoy" wallet with small bills (around $50). Most thieves carry guns and they will use them regardless of the consequences (there is a sense of immunity due to poor policing).
Stick to the tourist areas and dress like the average Venezuelans (jeans and short-sleeved shirt)and do not wear any expensive looking jewelry. The barrios (poor neighborhoods/shantytowns) are to be avoided. They are mostly built into the hills around the west side of Caracas, similar to the favelas in Brazil. These neighborhoods are extremely dangerous, but they are far from the main tourist areas.
Kidnapping is a major problem for upper-class Venezuelans, but is unlikely to be a concern for travelers. As with many other developing nations, petty theft is a problem. Ask hotel management to store your valuables when you leave your room and use a money belt for your passport/extra cash when traveling.
The police tend to be corrupt, including at the international airport. According to the Lonely Planet guide: "Avoid the blue uniformed police. The only 'safe' police are the Chacao police with tan yellow uniforms" However, Venezuelans in general are friendly and helpful.
See Also