Mendoza
Mendoza sex guide advises where to find prostitution, hookers, brothels, erotic massage parlors and escorts in Mendoza, Argentina (South America).
Mendoza is a city in western Argentina, in the desert Cuyo region. Mendoza is the center of the Argentinian wine industry, for which it is world renowned. It is also near the Aconcagua, the highest mountain outside of the Himalayas. Mendoza is the capital of the province of Mendoza.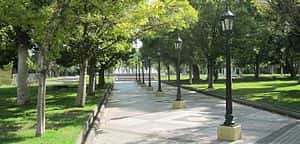 Sex Scene and Prostitution
In Argentina, prostitution itself (exchanging sex for money) is legal, but organized prostitution (brothels, prostitution rings, pimping) is illegal.
Mendoza is a college town, with tons of pretty looking girls. If you're looking for the stereotypical light-skinned, European looking, Argentine telenovela star, Mendoza is not your place. Rather, the girls here are distinctly Latina: their skin is olive, their hair is dark, their eyes are brown and the sex is wild. They're also, by most people's accounts, very sexy.
Where to Get Sex Now
It is easy to get sex online in Mendoza. You just need to find the best available girls. See Girls Online Here!
Red Light Districts
Mendoza´s Red-light district is lying between the MAF (Museo del Área Fundacional or Historical Regional Foundation Museum) and the Aquarium – five residential blocks away and next to the Parque O'Higgins – it's become an area where one should use caution day and night.
Prostitutes and Sex Workers
There will probably be some freelance prostitutes at Mendoza nightclubs and bars, so it is almost impossible to not see the prostitution business while visiting Mendoza. The high-end escorts operate from the private flats. There is also a red-light district.
Street Hookers
Pretty hard to find action in downtown. You can try San Martin and Espejo, and Plaza Independencia.
Strip Clubs & Lap Dance
Strip clubs in Argentina are like brothels, but with a bit of teasing and sexy display before any transactions take place. Most will have a entry fee at the door and sell expensive drinks to ensure that the club is making money. Inside the club men can relax, enjoy the sights and make eye contact with any of the enticing girls of the night. Deals are negotiated before leaving the club, and may or may not include the rate of the nearby telo (hourly hotel).
Red Club, Gral Paz 654, at 25th de Mayo. 6+ Chicas. Prices: 40p Cover gets you a drink. Drinks 30p. 60p Just talking for 20-45 min. 80p Private dance. 300p hour, Take out only. Tel: 0261 420 5008, 423 8546. Hours: Sun-Wed. 10pm-5am, Thurs-Sat 10pm-7am.
Eros Club, Av. Champagnat # 2234. Tel: 261 444 8115/0261, 15-561-6375. Hours: Sunday to Wednesday from 10 pm to 5 am, Thursday to Saturday from 10 pm to 7 am. Take a taxi at night!
Privados / Casas de Chicas
Here is a list of privados (private apartments) in Mendoza:
Montevideo 551, at Chile,"Chicas Sexy', The Little School".6-10 Chicas in the day. Prices: 20p 10 min. 30p 20 min. 40p 30 min. 80p hour. Tel: 0261-425-0128. Hours: 24.
Pedro B. Palacios 1286, at Lavalle. 8-12 Chicas Night time. Prices: 60p 30 min. Tel: 425 0314.
Patricias Mendocines 687, at Avenida Colon. 3-4 Chicas in the daytime. Prices: 60p hour. Tel: 423 3947. Hours: Closes at 11pm.
Av. Bartolomé Mitre, between Gutierrez and Necochea (Azafatas de Placer). Prices: 30p 15 min.
San Lorenzo 587, at Chile. 3 doors down from Hotel Aconcagua. 2 Chicas, Prices: 150p hour.
Calle Garibaldi. 3 Chicas. Prices: 20p 15 min. 40p 30 min. 60p hour.
Brothels
To find a brothel in Argentina, try these three approaches: ask taxi drivers that seem approachable or "in the know" or check out flyers in telephone booths that advertise specials.
Brothels in Mendoza are typically located in large apartments. Once inside, patrons are greeted by a receptionist who provides a list of sexual intercourse prices. The prostitutez line-up is presented and a selection is made for the female (or male) and amount of desired time. The receptionist will then show you to a room and ask for a payment.
More upscale whore houses require appointments, but are not likely to turn down a walk-in customer. Many customers choose to select the female escort ahead of time using the convenient web pages the brothels provide.
Erotic Massage Parlors
Here is a list of erotic massage parlours in Mendoza:
Sauna, Eusebio Blanco 108, at 9 de Julio. Incorporacion inmediata. Señoritas 18/30 years old. Presented with Clothes and Shoes on. Security in the place.
Sauna, Eusebio Blanco 506, at Chile.
Sauna, La Rioja 270 at Zárate. Prices: 30p hour. Hours: 24.
Sauna Irupe, San Martin 202, Office D. Tel: (54-261) 424-6285.
Sauna, Salta 510, at Republica Siria.
Spa Alternative, Jose Federico Moreno 1348, at Entre Rios. Spa, sauna, whirlpool, jacuzzi, lockers, private video relax. Tel: (0261) 420 0118.
Piscinas Irupe Sauna, Santos Dumont 474, at Maza J. A, Godoy Cruz. Hour. Tel: (0261) 424-6285.
GFEs (Girl friend experiences)
There are good places in Mendoza where you can find normal girls as well. Here are some good spots:
Avenida Aristides Villanueva between Rodruquez and Boulogue Sur Mer. Great nights in Mendoza begin downtown on Aristides Villanueva Street, a five block strip lined with bars, restaurants and pubs. The street fills up around 10:00 pm with music, multicolored lights, locals and tourists.
Bars:
Hard Lomo Rock, Sargento Cabral 1591, at Delatorre. Tel: 0261 430 4425.
Believe Irish Pub, Avenida Colon 241.This busy bar, like many Irish Pubs, is often full of expats, tourists and locals looking to celebrate the way the Irish are famous for; with copious amounts of booze. Tel: +54 2614295567. Closes at 4am.

Night Clubs / Dancing:
Like most cities, a nightclub's popularity shifts from day-to-day and week-to-week. Be sure to ask the reception staff at your accommodation or local university students for recommendations for the best nightclub on any given night. The conveniently located clubs near the bus station are to be avoided as these are dangerous to tourists late at night.
With the exception of two centrally located clubs, most of Mendoza's nightclubs are located a little more than 10km from the center in the suburb of Chacras De Coria. The two transportation options are either a AR$25 taxi ride to your selected nightclub or a AR$10 minibus that run from the corner of Peatonal and P. Mendocinas to the nights most popular clubs. Big crowds, live performances and huge dance floors make this nightclub one of Mendoza's most popular. It also benefits by being the closest to the center.
Wish, Restaurant and Dancing, San Martin and Barraquero.
Apeteco, J Barraquero and San Juan – Ciudad. Tel: 0261-5072457. Hours: Wednesday thru Saturday and Holidays.
Iskra, San Martin Sur 905, Godoy Cruz. This modern club, that plays mostly international hits and electronic music, is most popular on Thursday nights. It is located a short five minute taxi ride from the center. Entry: Men: 23 and older, Women (Free) : 20 and older. Open: Thursday thru Saturday and Holidays.
Alquimia Pub, Ruta Panamericana, Chacras de Coria. This is definitely more than a normal pub, as after the dinner hour this turns into one of Mendoza's busiest clubs. There are several floors, each booming a different genre of music, making this a popular place for groups. Entry: 21 and older. Tel: (0261) 155 151197. Open: Friday, Saturday and Holidays. www.alquimiapub.com.ar
Al Diablo, Ruta Panamericana, Chacras de Coria. This nightclub features an open second floor, allowing you to look out over the dancing crowd below. A separate room full of sofas gives you a chance to relax. Entry: 21 and older. Open: Friday and Saturday and Holidays.
La Guanaca, Ruta Panamericana, Chacras de Coria. This smaller nightclub is one of the few that allows people aged 18 and older. Good music variety and large crowds make for memorable nights at La Guanaca. Another bonus, members of the fairer sex receive free entry. Entry: 18 and older, women get in free. Open: Friday and Saturday and Holidays.
ÓPTIMO. 7010 Panamericana Highway, Chacras de Coria. Tel: (0261) 524 0201.
Estacion Miro, Ejercito de los Andes 656, Dorrego Guaymallen. This club is popular for its live strip shows, both men and women, on Friday nights and its tranny dance show on Saturdays and Sundays. It is a popular choice for everyone but is frequented mostly by members of the alternative lifestyle. Entry: 18 and older. Open: Friday thru Sunday and Holidays.
Black Jagger , Av. Emilio Civit 791, Arena Maipu
La Guanaca , R. Panamericana, Chacras de Coria
Geo Disco , San Martín Sur 576
William Morris Bar, Av. Rep de Peru 1197
Believe Irish Pub , Av. Colón 241
Gingger, Av. Arístides Villanueva 241
Johnny B.Good , Av. Arístides Villanueva 373
William Brown , Av. Arístides Villanueva 301
Liverpool Bar, Av. San Martín 1002
Hangar 52, Av. Arístides Villanueva 168
Live Sex Cams
Can I watch Live Sex Cams in Mendoza? - Yes, you can! Basically you can watch our online live sex shows for free anywhere in the world if you're connected to internet. You can choose any girl from our trusted WikiSexLive.com! Join to get 10 free private teasers and 9.99 credits for free!
Live Sex Cams are booming at the moment. Webcam models can be found from all over the world and you can find girls, guys, trannies, couples and groups of different ages performing to you. Watching live sex shows is free, but if you buy some credits, you will have much better chances to see adult action as desired! It's possible also to hire a webcam model to a private chat room where you can ask the person to fulfill your fantasies. Try now! WikiSexLive.com
Dating
Dating in Mendoza can be a bit tricky due to cultural differences, so your best bet is to sign up for a dating site before your trip so you can meet a few locals ahead of time. AdultFriendFinder.com lets you meet local members in Mendoza and get to know them on a personal basis before you arrive. Take advantage of site features like live chat and member to member webcams so you can begin flirting before arranging a face-to-face meeting. Since your time in Mendoza may be limited, get to know each other's desires beforehand, so that when you meet you can start having some real fun.
How to find Sugar Babies & Sugar Daddies
If you are looking for an alternative to escorts in Mendoza with a girl who doesn't charge by the hour, sugar dating is the ideal solution. There are thousands of beautiful young women at SecretBenefits willing to do anything for a man who will help them pay their bills.
Often referred to as the "Tinder for Older Guys", SecretBenefits matches hot young women interested in pampering older gentlemen. You don't have to be a millionaire at SecretBenefits.com, you just need to be a respectful gentleman who knows how to treat a woman.
Swinger Clubs and BDSM
ALT.com is the best place for local singles, swingers, and couples in the BDSM community to connect with those interested in submissive sex, power exchange, locating persons for new slave roles, erotic BDSM, bondage & fetish sex, as well as live sex dates. Find thousands of play partners for whatever your fetish may be; bondage, foot, cockold, spankings, role-play, electric or water play, sadism and masochism. So whether you have the desire to explore your unrealized fetish fantasies, or you are extremely experienced and would love to train someone new, ALT.com is a community designed for people with like-minded interests to find and connect with each other.
Transsexuals / Shemales
Finding someone for transsexual dating when you're on the road can be a bit tricky, so your best bet is to sign up for a dating site before you go so you can find locals ahead of time. TSdates.com is a dating site designed to help you find exactly what you are looking for in your hookup in Mendoza. Take advantage of site features like live chat and member to member webcams so you can begin flirting before arranging a face-to-face meeting. With over 40 million members, and thousands of transsexual members around the world, TSdates.com is the world's largest site of sex-minded friends for discreet encounters and will help you find your next transsexual play partner.
Where can I find shemales in Mendoza? You can watch transsexual live sex shows in Mendoza as long as you are connected to internet. Check Now: Tranny Live Sex Video Chat
You can find transexual prostitutes in Mendoza from the Red-light district area. Be a careful with them, or you can get robbed. You can also check out La Reserva Pub (Rivadavia 32, Mendoza). They have Drag Queen shows sometimes. Also Estación (Miro Ejercito de los Andes 656) is a great club to go if you are into t-girls. Here you'll find quite an eclectic mix of gay men, women and many hot transsexuals dancing the night away. Open Thursday to Sunday.
Gay and Lesbian
Gay modeling in internet is getting more popular all the time and it's a big market alongside with gay porn. You can watch gay live sex also in Mendoza as long as you are connected to internet. Check it out: Gay Live Sex Video Chat
Same sex marriage has been legal since 2010, but in small towns, or the more conservative north of the country, some people (especially older generations) might be shocked by public displays of affection among homosexual couples.
Gay nightlife in Mendoza is not anything near as wild as in Buenos Aires. Parque San Martin is a popular gay cruising area in Cordoba.
Gay Clubs, Discos and Bars
Espacio 348 — A gay-friendly bar with a cool oriental décor, decent food, and great music, including their popular 'Club Zen' parties.
San Lorenzo 348 Downtown Mendoza Tel: (0261) – 429-5082
Casa 3 — A fun gay-friendly restaurant and pub that brings in some pretty good DJ's. The food is much better than the typical pub fare and the atmosphere is comfortable.
San Lorenzo 490 • Closed Sundays
La Reserva Pub – A small boisterous pub that hosts theatre and music during the week and drag shows on weekend nights.
Rividavia 32 Tel: (0261) 420-3531 • Closed Mondays
Estación Miro — Here you'll find quite an eclectic mix of sexy gay men and women and many transsexuals dancing the night away. Anything can happen here — and it probably will.
Ejercito de los Andes 656 • Open nights, Thur-Sun
Queen Disco —Mendoza's oldest gay bar, a little outside of the city center is the place to be on Friday and Saturday nights to boogie to pop hits, techno and Latin music.
25 de Mayo 318 Tel: (0261)-4315846 • Open weekend nights • Cost: AR$20+
Gay Saunas and Bathhouses
Alternative Spa, Av. José F. Moreno 1348, Mendoza (Tel: +542614200118)
Open: Mon-Fri 14-23, Sat 14-Sun 10h (non-stop); Sauna for 6 men, hydromassage for 6 men. Sat, Tue & Thu 50% off after 17.30h.
Sexual Services for Women
Women can find sex very easily in Mendoza from the dating apps.
Sex Shops and Adult Stores
If you don't feel like visiting or cannot find any local sex shops in Mendoza, you can easily order adult products from Online Sex Shop.
Sex Shop Mendoza, Paseo Sarmiento 45 Mendoza, Argentina (Tel: +54 261 420-5231)
Sex Shop Mendoza, Jesús Nazareno, Guaymallén Mendoza, Argentina (Tel: +54 261 416-4165)
Escort Services & Agencies
Finding an escort when you're travelling can be a bit tricky. An ideal solution for having an alternative for escorts is Ashley Madison. There are thousands of horny girls waiting for you. Find all the beautiful young women at AshleyMadison.com!
Sleeping
The best option to stay in Mendoza is along Av. Arístides Villanueva in Centro. This popular nightlife and bar street will have plenty of open minded girls looking to have sex. Many escorts also operate in this area.
Another area where you could get a bit cheaper room or an apartment is a bit outside of the city center in Chacras de Coria. Here are also many great nightclubs where you can have fun.
The red-light district is located at next to the Parque O'Higgins, but it is not a nice area to stay at. It is better just to visit this are for the cheap hookers.
If you are staying at a hostel or sharing a room, then you should check out the Mendoza Telos. In Mendoza there are expensive, cheap and very cheap telos. It is your decision where you want to have sex. Telos (The Sex Hotels for couples) are made for adult couples who are saving for their own apartments and cars by living with their parents until the ripe age of 30 in many cases. Telos are easy and pretty cheap for a place having sex. Many men also bring prostitutes in Telos.
See also: Global list of girl friendly hotels
Stay Safe
Beware of muggers, especially in the bus terminal and the city blocks surrounding it.
Be wary of scams, especially around the bus terminal. Occasionally foreigners will pretend to have been robbed and use your sympathy to "borrow" money for a bus ride.
Specifically, a guy claiming to be a Dutch/Belgian traveller (blond/brown hair, Overweight, Blue Eyes, about 40 years old, "TheBelgianGuyWhoHasBeenRobbed" or TBGWHBR) who got 'mugged' at the station (or in a taxi, or a similar story), having everything including his passport and backpack taken and with nowhere to now stay that night. He will engage you in conversation at length and is a con artist who is VERY persuasive and convincing. He will use every trick in the book to win you over. Do not help him out, he has been doing this for 8 years or more and systematically targets travellers. It has been confirmed that this man is continuing to operate the same con as of November 25, 2013. If he approaches you and there is a police officer nearby report him. This man was seen several times in Buenos Aires since early 2014.
As in many countries, be careful of the vehicles. Many drivers still not honor the right-of-way-for-pedestrian or stop-sign laws (only "transit police" are allowed to enforce these laws, not the mostly-visible standard police officers). Intersections are potential death traps, this cannot be emphasized too much, the vehicles are often driven erratically, fast, & without attention, wandering and without signalling. Look everywhere, and make no assumptions. Especially be careful when there is a bus or taxi approaching from any direction. Many pedestrians choose to jaywalk (a crime not enforced enough here yet) in the middle of the block to avoid endangering their lives and limbs at intersections!
The transit police, who are actually a separate police force in Mendoza City, Godoy Cruz, Las Heras, Maipu, and Lujan de Cuyo, have consistently enforced and increased fines since 2009, for lack of seat belt usage, headlights not on at all times, and talking on the cell phone while driving. These crimes have diminished greatly. Speeding is still rarely enforced on public roads due primarily to lack of local acceptance of radar gun results but renewed efforts are underway in 2013.
See Also