Brazil
Brazil Sex Guide advises where to find sex, working girls, prostitution, street hookers, brothels, red-light districts, sex shops, prostitutes, erotic massage parlors, strip clubs, garotas de programa and escorts in Brazil, South America.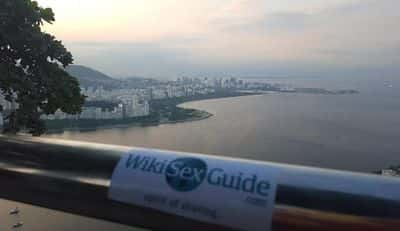 Brazil (Portuguese: Brasil), [1], is the largest country in South America and fifth largest in the world. Famous for its football (soccer) tradition and its annual Carnaval in Rio de Janeiro, Salvador, Recife and Olinda. It is a country of great diversity, from the bustling urban mosaic of São Paulo to the infinite cultural energy of Pernambuco and Bahia, the wilderness of the Amazon rainforest and world-class landmarks such as the Iguaçu Falls, there is plenty to see and to do in Brazil.
Sex Scene and Prostitution
Prostitution itself (exchanging sex for money) in Brazil is legal, as there are no laws forbidding adult prostitution, but it is illegal to operate a brothel or to employ prostitutes in any other way.
Sex tourism exists throughout the country, but it is most apparent in coastal resort towns in the Northeast, South, and Southeast, and in major tourist destinations such as Rio de Janeiro and Fortaleza, Ceara, as well as in the wildlife tourist areas of the Pantanal and Amazon.
Recent reliable estimates on the total number of prostitutes are not available. In the late 1990s, the International Encyclopedia of Sexuality quoted police estimates putting the total number of prostitutes in Brazil at about 1,000,000. In 2002, pressure by the sex worker organization Davida contributed to the Brazilian Ministry of Labor adding "sex worker" to an official list of occupations. Prostitution is not regulated in any way (no mandatory health checks, no licenses are issued etc.), but street prostitutes and call girls can contribute to the official government pension fund and receive benefits when they retire.
According to a poll taken in 1998 (15 years ago), 64% of the population thought prostitution was immoral and should be made illegal, whereas 29% saw it as a job like any other. Fifty nine percent (64% of women) believed that prostitutes do what they do because they like it.
The government's website on prostitution Brazil's Labor and Employment Ministry Primer on Sex Professional, offering advice for those who wish to become prostitutes, has been the source of controversy, with some accusing the government of encouraging prostitution. The site, among others, teaches prostitutes how to "get an encounter", advising them to "become visually appealing; wait in place (to wait for someone who didn't promise to come); seduce with the look; approach the customer; charm with the voice; seduce with affectionate nicknames; conquer with the touch; involve with perfume; offer the customer specialties; recognize the customer's potential; dance for the customer; dance with the customer; satisfy the customer's ego; praise the customer"[citation needed]
The press reported at the end of 2008 that a government official has announced that the site would be "toned down", following criticism by the media. The law professor Luiz Flavio Gomes has told the O Globo newspaper in its online edition that "What is on the site gives the impression of an apology for sexual exploitation."
The job of a prostitute is called "Professional of sex" and is described as follows: "They [the prostitutes] work on their own initiative, in the street, in bars, night-clubs, hotels, harbor, highways and in garimpos (gold prospecting places). They act in different environments: open air, closed places and inside vehicles, in irregular schedules. In the exercise of some of their activities they can be exposed to vehicles gases, to bad weather, to sound pollution and to social discrimination. There are still risks of getting STD infections, bad-treatment, street violence and death."
It is also stated that: "For the exercise of the profession is required that the workers take part in workshops on safe sex, offered by the category associations. Other complementary courses of professional formation, such as, beauty courses, personal care, budget planning, as well as vocational courses for alternative sources of income also are offered by the associations, in several states. Access to the career is open to those who are 18 or older; the average education is between fourth and seventh grade. Full performance of activities occurs after two years of experience."

See Also: Sex and the FIFA World Cup
Brazil Escorts and Escort Services
Check out WikiSexGuide Adult Classifieds!
Regions
Brazil is the fifth largest country on earth. It is divided into five regions, mainly drawn around state lines, but they also more or less follow natural, economic and cultural borderlines.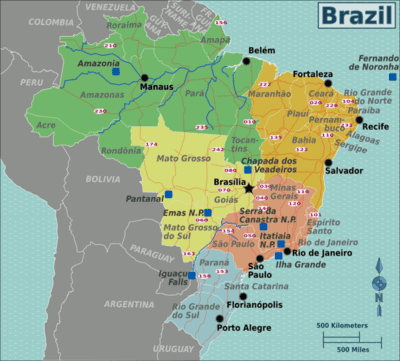 Northeast
Strong black culture (especially in Bahia) mingles with early Iberic folklore and Indigenous traditions. This is often considered the country's most beautiful coastline, and has the sunniest and hottest climate; but it is also the country's driest and poorest region.
Central West
The Pantanal wetlands, great farms, young cities, the cerrado and the Federal District, with its otherworldly modernist architecture. Birth place of the "sertanejo" music style.
Southeast
The cosmopolitan heart of the country. São Paulo and Rio are the largest cities of the country and its economic and industrial hub; there are also some century-old colonial towns, especially in Minas Gerais.
South
Is a land of valleys and pampas where a strong gaucho culture (shared with Uruguay and Argentina) meets European influences. It has the best standard of living in Brazil with only two large cities (Curitiba and Porto Alegre) and several mid-size cities and rural settlements. Great German, Italian, Polish and Ukrainian took place in the region during the 19th century.
Cities
Brazil has many exciting cities, ranging from pretty colonial towns and coastal hideouts to hectic, lively metropolises; these are a few of the more prominent travel destinations:
Other cities also attract a good deal of travelers
Live Sex Cams
Can I watch Live Sex Cams in Brazil? - Yes, you can! Basically you can watch our online live sex shows for free anywhere in the world if you're connected to internet. You can choose any girl from our trusted WikiSexLive.com! Join to get 10 free private teasers and 9.99 credits for free!
Live Sex Cams are booming at the moment. Webcam models can be found from all over the world and you can find girls, guys, trannies, couples and groups of different ages performing to you. Watching live sex shows is free, but if you buy some credits, you will have much better chances to see adult action as desired! It's possible also to hire a webcam model to a private chat room where you can ask the person to fulfill your fantasies. Try now! WikiSexLive.com
Dating
Dating in Brazil can be a bit tricky due to cultural differences, so your best bet is to sign up for a dating site before your trip so you can meet a few locals ahead of time. AdultFriendFinder.com lets you meet local members in Brazil and get to know them on a personal basis before you arrive. Take advantage of site features like live chat and member to member webcams so you can begin flirting before arranging a face-to-face meeting. Since your time in Brazil may be limited, get to know each other's desires beforehand, so that when you meet you can start having some real fun.
How to find Sugar Babies & Sugar Daddies
If you are looking for an alternative to escorts in Brazil with a girl who doesn't charge by the hour, sugar dating is the ideal solution. There are thousands of beautiful young women who are willing to do anything for a man who will help them pay their bills.
Often referred to as the "Tinder for Older Guys", Sugar Dating matches hot young women who are interested in pampering older gentlemen. You don't have to be a millionaire to meet a sugar baby. Click Here if you are a respectful gentleman who knows how to treat a woman.
Gay & Lesbian
Due to its high degree of acceptance and tolerance, gay travel is increasingly popular. Brazil hosted the first gay ball in America in 1754! Nowadays the main lesbian and gay destinations are Rio, which was elected the world's sexiest destination twice, São Paulo, which has the world's largest Pride Parade, Florianópolis, which is the hippest gay hangout and Recife which is attracting more and more lesbian and gay tourists looking for fun and sun.
Brazil is open to LGBT tourists. São Paulo boasts the biggest LGBT Pride parade in the world, and most major cities will have gay scenes. However, be aware that homophobia is widespread in Brazilian society, and Brazil is not the sexual haven that many foreigners perceive it to be. Couples that in any way don't conform to traditional heterosexual expectations should expect to be open to some verbal harassment and stares if displaying affection in the streets, though several neighborhoods of many of the major cities are very welcoming of the LGBT population, and LGBT-oriented bars and clubs are common. It is best to gather information from locals as to what areas are more conservative and what areas are more progressive.
Stay safe
By law, everyone must carry a photo ID at all times. For a foreigner, this means your passport. However, the police will mostly be pragmatic and accept a plastified color photocopy.
Even the most patriotic Brazilian would say that the greatest problem the country faces is crime. Brazil is one of the most criminalised countries of the world, therefore the crime rate is high, even for a developing nation. Armed bandits have more recently been attacking schools, hotels and even innocent people in the streets. While in recent years, the overall crime levels are steadily decreasing, Brazil continues to have moderately high crime rates in various aspects, even with a moderate homicide rate (about 28 per 100,000 people). Of significant concern is that policemen may not always provide the best quality of assistance and even be more dangerous than the criminals itself. Lack of man power, low wages and inappropriate training contribute to a lack of professionalism.
The best thing to do is to not act like a tourist, and do not display items of extreme wealth such as laptops, jewelry, etc. Also avoid carrying large amounts of money with you.
Although Brazil is widely known as a country where sex is freely available, it is sometimes misunderstood regarding HIV. Brazil has one of the best HIV prevention programs and consequently, a very low infection rate compared with most countries. Condoms are highly encouraged by governmental campaigns during carnival, and distributed for free by local public medical departments.
In 2003, it was estimated that about 6% of Brazilian prostitutes were infected with HIV. Gabriela Silva Leite, the executive director of Prostitution Civil Rights, says that because of information campaigns, condom use among prostitutes is high.
The Brazilian government turned down $40 million in U.S. anti-HIV/AIDS funding in 2005, because the U.S. government required all recipients to sign an anti-prostitution pledge. The Brazilian anti-AIDS program employs prostitutes to hand out information and free condoms; Brazil's AIDS commissioner Pedro Chequer was quoted as saying "Sex workers are part of implementing our AIDS policy and deciding how to promote it. They are our partners. How could we ask prostitutes to take a position against themselves?" A Washington Post article stated that the Brazilian anti-AIDS program is considered by the United Nations to be the most successful in the developing world.
See Also
More Cities in Brazil