Thessaloniki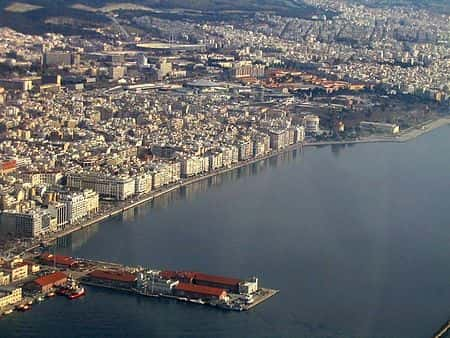 Thessaloniki Sex Guide advises where to find sex, working girls, prostitution, street hookers, brothels, red-light districts, sex shops, prostitutes, erotic massage parlors, strip clubs and escorts in Thessaloniki, Greece.
Thessaloniki (Greek: Θεσσαλονίκη, Selanik in Turkish and Солун, Solun (Солун) in South Slavic languages), also known as Thessalonica and Salonica, is the second-largest city in Greece and the capital of the region of Central Macedonia.
Sex and Prostitution in Thessaloniki
Prostitution is legal and regulated in Greece. Greek authorities decided to implement a 1999 law which stipulates that all brothels must have permits.
Thessaloniki Female Escorts
Most will advertise online or you can ask from hotel reception.
Red Light Districts
As of July 2019, area of old harbour (Paleos Stathmos) hosts many so called Studios. Most of them are situated around street called "Nikiforou Ouranou", you easily find from 5 to 10 houses with red blinking "Open" signs on houses just by walking around the area. The concept of Studios is kind of one-girl-brothel. There is a brothel mom inside, which welcomes you as you enter and introduces you one girl. You can take a look, ask couple of questions and then either accept of politely refuse (and try another studio). Prices are almost the same in all the studios. They offer classics (15 mins) for around 40 Euros, 60 Euros for the same with no-condom blowjob, or 100-150 Euros per one hour classics (negotiable; massage, jacuzzi, etc. included). Studios are open most of the day, from around 10am to 6am. You can find list of girls and their schedules on http://www.findgirls.gr

Vardaris/Bardari is the the well known Red-light district in Thessaloniki. In area you will find many brothels just across the court hall of the town. All the street are full of brothels and the price is 20-40 euros. The girls quality ranges from ugly to gorgeous. Usually prostitutes are from Bulgaria, Romania, Albania, Russia, Moldova and some from Africa.

Directions to RDL: If you walk directly out the main doors of the railway station, cross the main road outside, turn to your left side, maybe take the first or second turn right after that. From the main road looking down you will see even in the day time some slightly faded red lanterns turned on outside some whore houses. If you walk down the street you can almost follow the circuit of them clockwise back up to the railway station street where you started. That will get you to about 80-90% of the brothels.
Prostitutes and Sex Workers
Persons engaged in prostitution must register at the local prefecture and carry a medical card which is updated every two weeks. You can find offers of studios or independent girls on https://www.bourdela.com, or http://www.findgirls.gr
Street Hookers
Street prostitution is illegal, but happens anyways, especially in the Bardari area Red-light district. You can see street prostitutes offering their services to a men in their vehicles if you look around in the area. There is also lots of Shemale and transexual escorts. Usually rate is around 20-30 euros for quickie.
If you have car you can go to Giannitson Str (in the train station area) you can find some gipsy women and ex-Soviet girls, but they are not very beautiful and can stink sometimes. Prices are around 20 euros for quickie.
Live Sex Cams
Can I watch Live Sex Cams in Thessaloniki? - Yes, you can! Basically you can watch our online live sex shows for free anywhere in the world if you're connected to internet. Join to get 10 free private teasers and 9.99 credits for free! You can choose any girl from our trusted Live Sex Cams!
Live Sex Cams are booming at the moment. Webcam models can be found from all over the world and you can find girls, guys, trannies, couples and groups of different ages performing to you. Watching live sex shows is usually free, but if you buy some credits, you will have much better chances to see adult action as desired! It's possible also to hire a webcam model to a private chat room where you can ask the person to fulfill your fantasies.
Where to Get Sex Now
It is easy to get sex online in Thessaloniki. You just need to find the best available girls. See Girls Online Here!
Adult Locations
Escort Services and Agencies
Unfortunately we don't list in this category!
Finding an escort when you're travelling can be a bit tricky. An ideal solution for having an alternative for escorts is Ashley Madison. There are thousands of horny girls waiting for you. Find all the beautiful young women at AshleyMadison.com!
There are few escort agencies in Thessaloniki.
Erotic Massage Parlors
Unfortunately we don't list in this category!
Some hookers in the Red-light district will give you a massage if you pay enough. But there is no same type of AMP scene in Thessaloniki as there is in North America example.
Brothels and Sex Clubs
Brothels are legal in Thessaloniki. At one point authorities tried to criminalize it, however it's been such a big part of the culture that it's been allowed to continue still today. Parents send their sons in their mid teens to make sure they're not gay. Business men stop in on breaks from work. It's so ingrained in the culture that it's mostly accepted, and it's believed that 80% of the males in Thessaloniki visit brothels, and 50% of those men are married. Some hotels are known to staff hookers. There is about three dozen brothels within a 4 square mile area. They're easy to pick out with their blue, red and pink lights, and naked posters/signs/neons. You will see men, old and young, heading inside brothels.
Strip Clubs and Striptease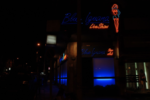 Thessaloniki Live Strip ClubBlue Iguana Club is one of the most popular Live Show Clubs in Greece, in Thessaloniki. The unique show and the unforgettable experiences that leaves have made Blue Iguana Club the number one place of night entertainment. All female dancers of Blue Iguana are very experi ...
2 Karaoli & Dimitriou str. 54630 Thessaloniki Greece
There are about 5 strip clubs in Thessaloniki area.
Moulin Rouge, Odysseos 9, Vardari
Psipsines - Giannitson 110
Karaoke and KTVs
KTVs (hostess karaoke bars with beautiful female staff) are popular in some parts of Asia but you cannot find any of them from Thessaloniki.
Swinger Clubs and BDSM
ALT.com is the best place for local singles, swingers, and couples in the BDSM community to connect with those interested in submissive sex, power exchange, locating persons for new slave roles, erotic BDSM, bondage & fetish sex, as well as live sex dates. Find thousands of play partners for whatever your fetish may be; bondage, foot, cockold, spankings, role-play, electric or water play, sadism and masochism. So whether you have the desire to explore your unrealized fetish fantasies, or you are extremely experienced and would love to train someone new, ALT.com is a community designed for people with like-minded interests to find and connect with each other.
Swinger clubs (lifestyle clubs), are formal or informal groups that organize sex-related activities or establishments where patrons can engage in sex acts with other patrons.
Sex Shops and Adult Stores
If you don't feel like visiting or cannot find any local sex shops in Thessaloniki, you can easily order adult products from Online Sex Shop.
Emporio Video Shop - 5 Polyzoidi st. Thessaloniki (It's in the Bardaris area. Follow Lagkada st. off the main rd (Monastiriou) and it is on your right.)
Crowd is mixed crowd of straight and gays and place is open 10-22. Best times to cruise are on afternoons if you are looking for gay encounter in the cinema area.
Love Hotels and Short Time Hotels
Love hotels are popular in some parts of Asia, especially in Japan. There are also many love motels and short-time hotels in South America. Unfortunately you cannot find any real love hotels in Thessaloniki.
Nightclubs and Bars
There are many nice nightclubs and bars in Thessaloniki where you can try your luck to find sex for free.
Bedroom, Navarchou Kountouriotou, tel.: +30 231 055 5421
Tokyo City Bar, 546 25, Valaoritou 20, tel.: +30 697 030 1060
Muse in chorus, Aggelaki 25, tel.: +30 694 432 7397
Voice Live, Frixou 6, tel.: +30 231 053 3332
J'adore Supreme Club, Φωκαίας 1 & Αβέρωφ, tel.: +30 695 582 0720
Gay and Lesbian
Gay modeling in internet is getting more popular all the time and it's a big market alongside with gay porn. You can watch gay live sex also in Thessaloniki as long as you are connected to internet. Check it out: Gay Live Sex Video Chat
Lesbian, gay, bisexual, and transgender (LGBT) persons in Greece may face legal challenges not experienced by non-LGBT residents. Both male and female same-sex sexual activity are legal in Greece, but households headed by same-sex couples are not eligible for the same legal protections available to opposite-sex couples.
Gay Bars and Clubs
El Sodade - Polytexneioy 13, Thessaloniki
Mostly young guys and guys between 20-35.
De facto - The town of Skiathos, Thessaloniki
Gay bar with a pleasant and friendly environment. It is a spot of meeting in the town of Skiathos during the summer.
Other Adult Services
Dating
Dating in Thessaloniki can be a bit tricky due to cultural differences, so your best bet is to sign up for a dating site before your trip so you can meet a few locals ahead of time. AdultFriendFinder.com lets you meet local members in Thessaloniki and get to know them on a personal basis before you arrive. Take advantage of site features like live chat and member to member webcams so you can begin flirting before arranging a face-to-face meeting. Since your time in Thessaloniki may be limited, get to know each other's desires beforehand, so that when you meet you can start having some real fun.
How to find Sugar Babies and Sugar Daddies
If you are looking for an alternative to escorts in Thessaloniki with a girl who doesn't charge by the hour, sugar dating is the ideal solution. There are thousands of beautiful young women at SecretBenefits willing to do anything for a man who will help them pay their bills.
Often referred to as the "Tinder for Older Guys", SecretBenefits matches hot young women interested in pampering older gentlemen. You don't have to be a millionaire at SecretBenefits.com, you just need to be a respectful gentleman who knows how to treat a woman.
Transsexuals and Shemales
Finding someone for transsexual dating when you're on the road can be a bit tricky, so your best bet is to sign up for a dating site before you go so you can find locals ahead of time. TSdates.com is a dating site designed to help you find exactly what you are looking for in your hookup in Thessaloniki. Take advantage of site features like live chat and member to member webcams so you can begin flirting before arranging a face-to-face meeting. With over 40 million members, and thousands of transsexual members around the world, TSdates.com is the world's largest site of sex-minded friends for discreet encounters and will help you find your next transsexual play partner.
Where can I find shemales in Thessaloniki? You can watch transsexual live sex shows in Thessaloniki as long as you are connected to internet. Check Now: Tranny Live Sex Video Chat
There is some transvestite and transexual street prostitutes in Bardari/Vardaris Red-light district area. Just be careful with them. You can fuck with them in the car or just get a blow job in the alley. Costs is 20-30 euros.
Transsexual Escorts
Check out WikiSexGuide Adult Classifieds!
Sexual Services for Women
Many women from Sweden, Finland, Norway and Denmark travel to Greece for sex vacations. Greek men are rumoured to be good in the bed and they know how to make a woman feel special. So Thessaloniki should be a good city to go for women who are looking for sexual pleasure.
Sleeping and Girl Friendly Hotels
There have been reports of prostitution around Andromeda Hotel Thessaloniki, 5 Komninon Street, Thessaloniki 54624, Greece.
Stay Safe
Thessaloniki is regarded a safe city but one should watch his/her pockets and travel documents, as pickpockets are not rare, especially on buses during rush hour. Also try and avoid the west area from the city center, and south of the Railway station, and especially at night on foot, as it has become a notorious area of the city. The police number of Thessaloniki is: 100
The most commonly reported major scam against travelers is the Greek version of the old clip joint routine. This is reported primarily from central Athens, but also occasionally from other cities and even the larger island towns. A single male traveler will be approached, usually at night in a neighborhood where there are a lot of bars, by a friendly Greek who will strike up a conversation leading to an invitation to go to "this really cool bar I know" for a drink. Once at the bar, they are joined by a couple of winsome ladies who immediately begin ordering drinks, often champagne, until, at the end of the evening, the mark is presented with an astronomical bill, payment of which is enforced by the sudden appearance of a pair of glowering thugs. The reason this scam works is because most Greeks have a tradition of being friendly to visitors, and almost all Greeks who strike up a conversation with you will have no ulterior motives. But if you're a single male traveler approached by a Greek in the circumstances described above, it's safest to politely but firmly decline any invitations.
Sexually transmitted infections (STIs) exist in Greece as elsewhere, and travelers who may engage in sexual activity while visiting Greece should remember that even if one is on vacation and one's sexual partner is also a traveler, perhaps from one's own country, neither of these facts suspend the laws of biology. According to recent reports in the Greek and British media, unprotected sex among visitors to Greece, with a consequent rise in STIs and unplanned pregnancies, is especially common at the party resorts favored by younger people, such as Ios, Laganas, Malia, Kavos, and Faliraki. Condoms are available at any pharmacy and at many kiosks.
See Also