Erfurt
From WikiSexGuide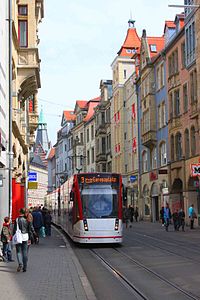 Erfurt is the capital of the German state of Thuringia (Thüringen)in Germany. It was an important trading town during the Middle Ages, and has many beautiful old buildings and parks.
Sex Scene and Prostitution
In three districts of Erfurt prostitution allowed. These tolerated three Erfurt areas for prostitution are the Weimarische Straße, August-Röbling-Straße und Salinenstraße/Stotternheimer Straße.
Red Light District
Laufhaus Erfurt, Am Stollberg 50
Open: Mo-Sa.: 10.00 - 05.00, Sunday.: 13.00 - 03.00
In every major city there is a whorehouse, Erfurt, there is of course no exception. Cost for fucking is 30-80€. If none of lady's personal taste, the guest can leave the house running again, and visit the Kiss table-dance bar. Likewise, located next to the nudist paradise with a still solid clean atmosphere.
Prostitutes and Sex Workers
Erfurt has couple good brothels, FKK houses and good variety of escort services advertising online. Prices range from 30€-300€ for fuck. Cheapest sex can be found for brothels and most expensive ones are high class escorts.
Street Hookers
There is no street prostitution in Erfurt. It´s better to stick with the Brothels and Escort Agencies.
Strip Clubs & Lap Dance
Kiss Table Dance Erfurt Am Stollberg 50 99085 Erfurt
Phone & Fax: Phone: 0365-712 772 05 Fax: 03212-6559939
€ 1 corresponds to 1 Kiss dollars. In addition, you have the option of an exclusive single idea (the "Private Dance") to book a dancer of your choice. 1 Private Dance = Kiss 30 dollars = € 30 The dance performances will take place naturally without any physical contact. Attractive and professional dancers, matching rhythms, excellent drinks - Kiss in Erfurt everyone can enjoy sample the ambiance of the American Table Dance. The design of the entire interior makes it even reticent guests a high fun factor. Opening times: Daily from 21 clock
Brothels
Am Stollberg 50 99085 Erfurt, latino +49 361 2192303 Club Mon-Thu: 11:00 AM - 02.00 clock Fri-Sat: 11:00 AM - 04.00 clock Sun: closed Hot girls in all the colours off rainbow.
Erotic Massage Parlors
Weimarische Straße 9 99099 Erfurt - Daberstedt phone :(0) 361 2123634
Transsexuals / Shemales
Checkout www.ts-dating.com if you want to fuck shemale for about 100-200€.
Gay & Lesbian
Weimar Street 34 99099 Erfurt Sex Movies, 4 large rooms and extra cabins.
Winthorststraße Every first Tuesday of the month cruising and pop cafe with play areas in the basement!
Sexual Services for Women
Sex Shops & Adult Stores
Stauffenbergallee 1 (at Talk notes) 99086 Erfurt Tel: 0361-6634420 Cinema for straight and gay people, lots of sex toys and condoms.
Magdeburg Allee 60 Erfurt +49 361 7362974 Condoms, Sex toys and porn movies.
Magdeburger Allee 107 Erfurt +49 361 7311147 Porn movies and sex toys.
Escort Services & Agencies
Erfurt has couple of good Escort Agencies that provide escorts for one hour for 200-300€.
Sleeping
For budget travelers Erfurt offers a few hostels and low budget hotels or pensions to have a good night sleep for a reasonable price.
Re4 Hostel, Puschkinstr. 21 (near the main station). 13-20 Euros.
Opera Hostel, Walkmühlstraße 13 ((near main station and old opera house)). 13-45 Euros.
Stay Safe
Emergency: 112 (Ambulance / Fire station)
Helpline for youngsters and young people , fellow eV, Tel 0800 - 008 008 0
See Also