Dortmund
From WikiSexGuide
Dortmund Sex Guide advises where to find sex, prostitution, hookers, brothels, erotic massage parlors, FKK Clubs and escorts in Dortmund, Germany.
Dortmund is a city in the North Rhine-Westphalia region in Germany.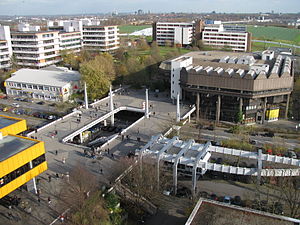 Sex Scene and Prostitution
Prostitution in Germany is legal, and so are brothels. In 2002, the government changed the law in an effort to improve the legal situation of prostitutes. Dortmund is no different than any other city in Germany and it has quite nice small red light district.
Dortmund Female Escorts
Check out WikiSexGuide Adult Classifieds!
Red Light District
Linienstraße, a partly blocked off street close to the railway station. The red light district road is about 200 meters long and the access road to the line is separated by a modesty panel of other public space. A sign with a reference to a no longer relevant Act of 1957 allows access only for adults. In the line road is found mostly apartment prostitution , the services and prices are generally on the windows to be negotiated. Usually hookers will charge normally 30 Euro for 20 minutes of fucking, sucking und change position. Sometimes up to 50 Euro.
How to Get There : exit from the railway station by the Nordausgang, turn right, and then just before you come to crossroads you can see the Linienstrasse partly blocked off on your left. Cars can also be driven in from the other end.
Prostitutes and Sex Workers
Dortmund has a good variety of prostitutes in their Red-light district, city has almost cut down the entire street prostitution, but you can still find some street hookers occasionally. There is also many escort services to choose from in Dortmund, so you will get pussy for sure.
Street Hookers
Hornbachschleife ( Mindener Straße, Ravensberger Straße, Juliusstraße ) is closed since 2011. Street prostitution is not allowed in Dortmund. Sometimes you find some Bulgarian re Romanian girls at Mallinckrodtstraße.
Hornbachschleife was famous of street walkers few years ago and was called HBS. It was quite interesting area. Although the complaint was increasingly of the number of south east european girls. This was cited by the authorities as linking the area to crime and people trafficking.
Hornbachschleife (HBS) had some sexy street hookers in the past. The display of exposed bodies was really amazing, even in colder weather. Prices were 20 to 40€ for a full service and the drug addicts may have quoted even less. Area also had also fickboxes and it was possible to rent a room at an hotel just at the beginning of Juliusstr. called "Club Escort" for some 20€.
See Also: Street Prostitution in Dortmund
Strip Clubs & Lap Dance
Dortmund has some nice strip clubs and some can be also founded in Red-light_district.
Hoher Wall 10-12. 44137 Dortmund, GERMANY 0231 / 14 21 11
Martener Str.361 Dortmund, GERMANY 0231 - 6180566
Brothels
Club neby has some hot women working. 40 minutes cost usually 60-100€. Partytreff Flughafen is near the airport so it is quite convenient for short time visitors. In FKK clubs Partytreff Flughafen and Pauschalclub you can have any girl or as many girls as many times as you like. If you pay for all day, it means you can fuck all day! They also have small snacks and video screens playing porn movies and a pool. It can be very interesting for a first timer!
Martener Straße 539 44379 Dortmund, Germany +49 231 2226755 Hours: Mon - Thu 10 - 24 clock Fri 10 - open end Sat 12 - open end So 12 - 24 clock Prices: Day ticket € 30 Happy Hour until 13:00 clock: 25 €
Wickeder Chaussee 142 59439 Holzwickede Phone: +49 (0) 2301/918 97 96 www.partytreff-flughafen-dortmund.de €150 per day, or €100 for 3 hours.
Zur Alten Kolonie 14a 59439 Holzwickede 02301 / 94 85 882 www.Pauschalclub.de/dortmund/girls €150 per day, or €100 for 3 hours.
Erotic Massage Parlors
Erotische Massagen Oberste-Wilms-Straße 7 44309 Dortmund 55 euros for massage Open 10-19:00
Bodyfantastic Massage-Lounge
Harffstr. 34 40591 Düsseldorf Tel: 0172 - 56 42 182 Price 45min/90€ Full price list from: www.bodyfantastic.de/preise.html
Transsexuals / Shemales
Shemales can be found from the Red-light district, online and sometimes in the gay clubs. Average charge is 30-50€ in the Red-light district and 100-250€ from tranny hookers who advertise online.
Gay & Lesbian
Dammstr. 44 Sauna & Bathhouse with horny guys.
Sexual Services for Women
Sex Shops & Adult Stores
Linienstraße has some sex kinos and sex shops in the area. Usually charge is 8-10€ entry, and there is sometimes women working inside and they charge 30-40€ for sex, 20-30€ for blowjob and you could get handjob as low as 15€
Escort Services & Agencies
Escort services can be found from the newspapers and online. Average charge is 200-300€ for one hour like usually in Germany.
Sleeping
Dortmund City Hotel, Silberstrasse 37-43 44137 Dortmund, ☎ 02 31 477966,. checkout: 11:00. Very pleasant hotel and staff. Extremely nice rooms, and central.
Mercure Grand Hotel Dortmund An Den Westfalenhallen (Lindemannstrasse 88, 44137 Dortmund, (+49)231/91130 ) This 4 star hotel is South of the centre (about 15 to 20 minutes walk, or around 7 Euro in a taxi) but very handy (less than 5 minutes walk) for the Westfalenhallen (Exhibition Centre) and the football stadium.
Ibis Dortmund (Märkische Strasse 73, 44141 Dortmund) This Ibis is South of the centre, around 10 to 15 minutes walk away. It is only 1km from the Westfalenhallen and the football stadium.
A&O Hostel (Königswall 2,44137 Dortmund) 300 meters from the Central Station and Linienstraße, at the end of Brückstraße with many shops.
Stay Safe
Dortmund is quite safe city so you should not have any problems. Just be careful and use condom when fucking prostitutes so you will avoid STD´s.
See Also