Düsseldorf
From WikiSexGuide
Dusseldorf Sex Guide advises where to find sex, prostitution, hookers, brothels, erotic massage parlors, FKK Clubs and escorts in Düsseldorf, Germany.
Düsseldorf is one of the economic centers of Western Germany and is located along the River Rhine in the densely populated Rhine-Ruhr metropolitan area, with a population of 586,217 (31 December 2009).
The city is famous for its nightlife, carnival, events, shopping and for fashion and trade fairs like the Boot Messe (one of the world's best trade fairs for boats and watersports) and Igedo (world leader in fashion). Every year, more than 4 million people visit the Kirmes fun fair which runs for 9 days in the summer.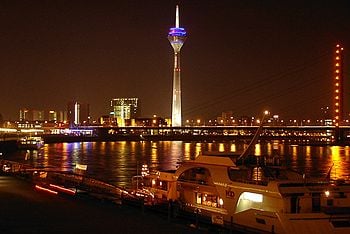 Sex Scene and Prostitution
Prostitution in Germany is legal, and so are brothels. In 2002, the government changed the law in an effort to improve the legal situation of prostitutes. However, the social stigmatization of prostitutes persists and many prostitutes continue to lead a double life. Authorities consider the common exploitation of women from Eastern Europe to be the main problem associated with the occupation.
See also: Düsseldorf Escorts
Düsseldorf Female Escorts
Check out WikiSexGuide Adult Classifieds!
Escort services, where the customer calls to have a woman meet him at home or at a hotel for sexual services, exist in Germany as well, but are not nearly as prevalent as in the US. If you want an escort, then average cost is 150-300€ an hour in Düsseldorf.
Red Light District
Red Light District in Dusseldorf is located on a street called Hinter dem Bahndamm. The place consists of a five-storey building with each window numbered. This obviously creates problems for windows that are higher up. Seems not be a well-thought of place for general quality.
There are about 70-80 windows in all, and all types of women, black, German, Thai etc. The average cost is 30-50€ for a quick sex session and anal sex for an extra cost usually 20-40€ more. There is a covered area with benches for men to wait on opposite the windows and music from a local radio station is pumped out of speakers. There are even slot machines in case you wanna relax between the sessions.
How to get there
It is directly next to the railway line, south of the main station (Hauptbahnhof) . Best way on foot is to go south from the main railway station. If you exit from the main entrance, then you will need to go along the Hartkortstrasse and pass under the railway line via Ellerstrasse. From the eastern end of this bridge, you follow the railway line further along Vulkanstrasse. Go along as far as it will go and then you need to turn right.
Prostitutes and Sex Workers
Dusseldorf is not the main sex destination in Germany, but it still has a decent variety of brothels, fkk clubs, massage parlours, escort services and also a small red light district area. Prices range from 20€ to 50€ for quickie in red light district. FKK clubs in area usually charge an average of 100€ for a 3 hours of unlimited fucking.
Street Hookers
Regular street prostitution (Straßenprostitution) in Germany is often very well organized and sometimes controlled by pimps. Most German cities however established "Sperrbezirke" (off-limits zones) and charge the street prostitutes an amusement tax, that in the city of Bonn for instance is paid by the streethookers at parking meters, 6€ for a period of about 8 hours at nightime. The same fee is collected from sex workers in apartments and brothels, sometimes by municipal tax collectors in person. Some street whores have a nearby caravan, others use the customer's car, still others use hotel rooms. With recent economic problems, in some bigger cities "wild" street prostitution has started to appear: areas where prostitutes work temporarily out of short-term financial need. A "Sex drive-in", or "Verrichtungsbox", is a facility of structures to enclose cars to provide a safer place for sex workers using cars.
See Also: Tippelzone & Sex drive-in
Where to find Street Prostitutes in Düsseldorf
Cost is usually 30-50€ for suck and fuck with street prostitute in Düsseldorf. Just remember to be cautious because street level prostitutes may try to steal your cash or pull other type of scams.
You can find streetwalkers hanging around in Charlottenstraße (between: Bismarckstraße and Friedrich-Ebert-straße) at nighttime.
Strip Clubs & Lap Dance
Dusseldorf is a great place when it comes to strip joints. Girls are usually quite slutty and very good looking.
Where to find Strip Clubs in Düsseldorf
Mintropstrasse 7, Dusseldorf, Germany +49211)381130
Club Type: Nude Dancer Ethnicity: Mixed Hours: Daytime Cover: 0 Nighttime Cover: 10€ Dance Prices: 20€ Drink Prices: 10€
Features: Beer and/or Wine Only, Full Bar, Bikini Dancers Only, Topless Dancers, Nude Dancers, Bikini Lap Dances Only, Private Lap Dance Rooms
Mintropstrasse 25, Dusseldorf, Germany +49211)372311
Club Type: Nude Dancer Ethnicity: Unknown Hours: Daytime Cover: 0 Nighttime Cover: 10€ Dance Prices: 20€ Drink Prices: 10€
Features: Beer and/or Wine Only, Full Bar, Bikini Dancers Only, Topless Dancers, Nude Dancers, Bikini Lap Dances Only, Topless Lap Dances, Nude Lap Dances, Private Lap Dance Rooms
Brothels, FKK clubs or Sauna clubs
Germany has always had brothels and red light districts. About 30 years ago in a town called Lichtenberg outside of Bonn a man started the first FKK club. The term FKK means "Frei Korper Kultur" Free Body Culture which translates best to "nudist". The difference between a normal brothel and an FKK club was the presentation and system. The owner and inventor named "Bernd" got tired of the brothel system where price was negotiated, dark lighting, pressure sales and the workers bodies were hidden by clothing. Starting out in his basement he opened the first FKK club with his own system. Women were totally nude, the club had normal lighting, prices and services were set Above all service was based on quality and customer satisfaction. Bernd's main customer base were local business men. The club is located in a small village in his basement. He charged an entry fee which included all you could drink beer, alcohol and snacks. Women were paid a flat fee for a session which averages about 30 minutes. The concept caught on and soon the club took over the entire home.
As the years went by numerous other clubs opened and used similar terms such as Sauna Club or FKK Club. The main difference is all the clubs offered a sauna but FKK clubs meant the women were totally nude.
Years ago the clubs were not tourist friendly and one had to speak some German to enter. Today some clubs still limit visitors and forbid entry to some guests. Tour providers have opened many doors to tourists and convinced clubs that foreign visitors were another form of income. Guests are picked up from major airports, transported to the clubs and then to a hotel in the evening. Tours were provided in the English language as well as Japanese. Tour packages came in 6 or 8 day tours and visited 10-12 clubs during the duration. A guide is provided to the guests who explains rules, culture and history of the clubs in their own.
In spa town of Aachen, men may go window-shopping for sex; they can have unlimited sex with as many girls they liked for 99€ at a "flat-rate" brothel in Berlin; or they can visit Pascha, an eight-story "mega-bordello" in Cologne. Prostitutes in Germany all work freelance — instead of being paid a salary, they rent rooms from brothel owners who sometimes still do not question their health or see proof of insurance. The city of Stuttgart is home to high-class brothel Paradise, where girls were required to be completely naked at all times while men walked around in bath robes.
FKK Saunaclubs are very popular in Germany (and also in Austria and Switzerland). The guests pay entry fee (50-150€) and got several services for their money. The most commons services are: solarium, sauna cabin, bar, infrared cabin, showers. The most of Saunaclubs offer erotic or sexual services as well, from porn movies to private sex with girls.
Brothels in Düsseldorf
For anyone visiting Dusseldorf, recently there has been a big increase in partytreff clubs near the city. Clubs are located within 15km radius from the city. These are great places to go if you want to fuck many different women and save money.
Harem Platinum, Heinrich-Hertz-Strasse 24, 40699 Erkrath
Harem Paus, Rostocker Strabe 13 41540 Dormagen
Party Club Blauelagune, Buttgener Strasse 2 41564 Kaarst
Dreieck Girls Private, Collenbachstrasse 1 (ap nr 3) , 40476 Düsseldorf
Partytreffs, Pauschalclubs & Swingers Clubs
Partytreffs and Pauschalclubs are a variation on partner-swapping swing clubs with (sometimes, but not always) paid prostitutes in attendance, as well as 'amateur' girls and couples. Single men pay a flat-rate entrance charge of about 50 to 150 euros, which includes food, drink and unlimited sex sessions, with the added twist that these are performed in the open in full view of all the guests. Ladies normally pay a lower entrance fee than men or no entrance fee at all.
Erotic Massage Parlors
City of Dusseldorf has a good variety of erotic massages Average cost is 70-150€ for one hour including hand job. Just relax while being pampered, enjoy the moment which will guide you to a dream world where you always wanted to be!
Where to find Massage parlors in Düsseldorf
Bodyfantastic Massage-Lounge
Harffstraße 34 Dusseldorf +49 172 5642182 http://www.bodyfantastic.de/
Ahnfeldstraße 62 Dusseldorf +49 211 9083219 http://www.nina-diskret.de/
Escort Service & Agencies
Check out WikiSexGuide Adult Classifieds!
Transsexuals / Shemales
Check out WikiSexGuide Adult Classifieds!
In Düsseldorf most Shemale and transexual escorts advertise online and they charge average of 50-200€ for full service.
40239 Düsseldorf-City Ahnfeldstr. 62 01577 8454055
40477 Düsseldorf Duisburger Str. 8 01521 7718581
Gay & Lesbian
The Düsseldorf´s gay scene may be more compact, but it's very friendly and offers surprising diversity if one simply knows where to look. What's more, popular gay cities Amsterdam and Brussels are only a little farther afield, each less than 150 miles away.
Gay bars, cafes and pubs
Charlottenstr. 60 Small neighborhood style gay bar. mon-sun
Mertensgasse 11 Gay bar and cafe in the Dusseldorf Altstad. For breakfast, lunch and beer! mon-fri 18:00–05:00, sat-sun 09:00–05:00
Hafenstr. 11 Small gay cafe and bar in the old city center of Dusseldorf. mon-fri 18:00– , sat 12:00– , sun 15:00–
Bilker Allee 110 Small gay bar with different nights. mon-thu 19:00–01:00, fri-sat 19:00–03:00
Gay Music
Club Musk Charlottenstr. 47 mon-sun 22:00–04:00
Bismarckstr.93 Gay club in Dusseldorf with different theme parties each night. mon-sun 22:00–00:00
Gay parties, circuit parties & after parties
Berliner Allee 46 Monthly Club & Lounge for Gays & Friends, every third Saturday of the month at Berolina Bay.
Königsallee 28 Monthly gay party, even popular with the guys from Cologne.
Ronsdorfer Str. 134 Mandanzz is a monthly gay party at Stahlwerk.
Gay saunas and bath houses
Platanenstr. 11a Gay sauna in Dusseldorf, with 120 lockers / people capacity. mon-fri 12:00–06:00, sat-sun 24h
Sexual Services for Women
A comparatively small number of male prostitutes in Germany offer sexual services to females, usually in the form of escort services, meeting in hotels. Usual cost for evening with a male escort is 100-600€. Some of the male escorts also offer weekly rates such as 2000-6000€. Most male escorts in Germany come from Southern European countries, but there are some real Germans too.
In Germany, somewhere there are around 20 escort agencies cater to women. You can see the pictures of the men online: age, height, physique. Some of the men also list preferences: oral, anal, group sex. Some men set limits and some do not. Most female customers are from early 30s through mid-50s, and are normal women. Most female customers like the feeling of being loved and not just sex like most male johns.
Sex Shops & Adult Stores
Sex shops in Dusseldorf have all the toys, condoms and movies to buy. Some have video cabins, sex cinemas or adult theatres for jerking off. Many gay people go to the adult arcades to look quick sex, so just remember to be polite and say "no thank you" if you are not interested of them.
http://www.beate-uhse-filialen.com/ Industriestraße 10 Dusseldorf +49 211 8280275
http://www.sexythek.eu/ Scheurenstraße 1 Dusseldorf +49 211 374533
Erdbeermund Erotic Store (Düsseldorf Videowelt)
http://www.erdbeermund.de/ Graf-Adolf-Straße 100 Dusseldorf +49 211 354314
Sleeping
Dusseldorf has more than 200 hotels and over 20 B&B and Inns to choose from. Hotels are quire affordable and there is cheap ones located near the Red Light District.
See also: Global list of girl friendly hotels
Stay Safe
Düsseldorf is generally as safe as other European cities of similar size. However the surroundings of the central railway station can be a bit intimidating especially at night due to the presence of junkies.
See Also