Vienna
From WikiSexGuide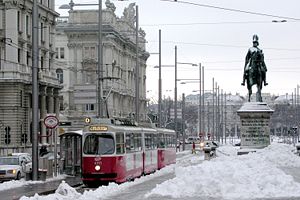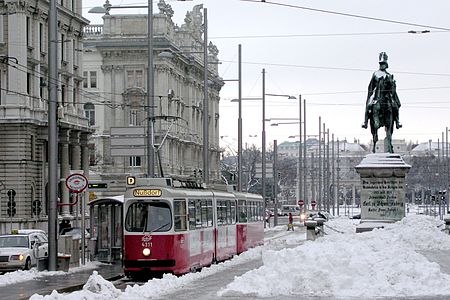 Vienna Sex Guide advises where to find sex, working girls, prostitution, street hookers, brothels, red-light districts, prostitutes, erotic massage parlors, strip clubs and escorts in Vienna, Austria.
Vienna (/viːˈɛnə/; German: About this sound Wien (help·info) [viːn], Austro-Bavarian: Wean) is the capital and largest city of Austria, and one of the nine states of Austria.
Sex Scene and Prostitution
This is an example of regulated prostitution. Prostitution is legal but restricted by several regulations. Most prostitutes are migrants, mainly from the former Eastern Bloc countries.
Unlike in German and Dutch cities, most Austrian towns don't have Red-light districts. Of course the number of the sex workers is highest in the capital, Vienna, but there is significant existence of prostitutes in other cities too. Thanks to the legality of the sexual services, more and more girls come to the country to work in the nightlife.
See also: Vienna Escorts
Vienna Female Escorts
Check out WikiSexGuide Adult Classifieds!
Red Light District
You can find several bars and shops in the Red-light district "Gürtel" in Vienna. Many neon signs say: "erotic", "live show", "open".
The hookers in Mariahilferstrasse to Technisches Museum want to have 50€ for blowjob and fucking and night time there is lots of whores. The negro and the uglier white ones want 30€ for blowjob and fucking in a near by park. The other ones will take you to a small Red-light district hotel, room price of 10€ is included in your 50€ they want from you. The whores in Felberstrasse, same street-level, just on the other side of the railroad tracks, also want 50€ for sex and sucking your dick. Linzerstrasse, it is the Felberstrasse continued to the outskirts, girls want to have 40-50€ for intercourse and sucking your cock. The white whores do not usually negotiate, but you can bargain with Latino and African ones. In Linzerstrasse hookers will fuck as cheap as 30€.
Prostitutes and Sex Workers
As of 2008, there were 1800 girls registered as prostitutes with the city of Vienna, which means that they attend regular health checks and legal monitoring. However, police estimates give a number of 5,000 girls who are thought to work as hookers in total – the 3,000-odd non-legal hookers working mostly on the street without a permission. Street prostitution in generally illegal in Austria, so by going to a brothel, clients could avoid ending up with an unchecked, illegal sex worker. Often, this does not happen for financial reason – street hookers are cheaper.
Street Hookers
In 2009, the city of Vienna announced plans to approach the problem of illegal sex workers. Issues arose mainly around hookers that work on streets, whereas those who make contact with potential clients in bars might still be illegal, but at least less of a problem for people who live in the area. The city of Vienna named five "hot spots" of streets in Vienna where hookers can be found particularly easily: Linzer Straße in the 14th district, Hütteldorfer Straße and the outer Mariahilferstraße with side-lanes in the 15th district (all three can be found not far from Westbahnhof station); but also the Struwerviertel area (known for drug addicted hookers) and the Prater area (known for African women, usually asylum seekers). The latter two areas are in the second district and the "low cost option" when it comes to hookers in Vienna.
Strip Clubs & Lap Dance
Check out WikiSexGuide Adult Classifieds!
Here is a list of strip clubs in Vienna:
Beverly Hills. ( The Big Apple. Closed 2007 now called Beverly Hills). Seilerstätte 5, 1010 Vienna, Tel.: +43 (0) 664 300 64 16 - Impressum
www.beverly-hills.at
Only table dance and such things.
EXZESS! Gentlemen-Club Vienna • Heilgenstädterstr. 6 • +43 1 276 21 86
Velvet Palace Vienna • Lerchenfelder Gürtel 55 • +43 676 643 8007
Brothels
Check out WikiSexGuide Adult Classifieds!
Brothel Maxim Wien
A-1010 Wien, Kärntnerstrasse 61
Open: every day 21:00-06:00

Brothel Maxim Wien is one of the most prestigious brothels, it is located in the city centre. A real businessmenclub with more than 20 Maxim Girls. No entry fee! More info about Maxim Wien at its homepage: www.maxim-wien.com

Maxim Girls can be booked via Maxim's official escort agency, Escort Girls Vienna: www.escortgirlsvienna.com
Other Brothels
A-1230 Wien, Erlaaerstrasse 37
Open: 9-23

To get here, you take the U6 to the Alt Erlaa stop, and then the 66 bus towards Liesing 3 stops. There's a side enterance to the place that should be easily found by walking past the main enterance and turning right on the first street just past it.
The Kontakthof is your typical "laufhaus" where you walk through and find hookers sitting in their rooms, or standing in the doorway. Surprisingly enough, for 50 € you get a 15 minute ride that is wild and worth every penny.
This is a large Stripclub/Brothel you cannot miss.
Usually some hot bitches to fuck.
Sauna Club FKK Golden Time
Entry is 80€ which includE (non alcoholic) drinks and food.
Open until 4am.
The ambience is OK, but not great. The rooms are OK and the ladies are fine.
Prices for sex is 60 € per 30 minutes.

Address: Karl-Gunsam-Gasse 1, 1110 Wien (Vienna), Austria
Phone:+43 1 9699090
Juchgasse 11
(25 rooms)
Lerchenfelder Gürtel 5
Seilerstaette 1
Monday - Saturday 20.00 - 04.00
Club Babylon is more expensive but well-known establishment.
Erotic Massage Parlors
Check out WikiSexGuide Adult Classifieds!
Wien, Tel.: +43664 653 40 30, Web: http://erotischemassagewien.at/
Ballgasse 6/1/7 1010 Wien Tel.: 0664 1373311 Our opening times Monday - Friday, 10.00 AM to 9.00 PM Saturday 12.00 PM to 8.00 PM Sunday 1.00 PM to 8.00 PM
Laudongasse 34 Vienna +43 676 9740212
Addresse: Ennsgasse 25 1020 Wien
Hot girls like Lisa from Cuba Amelia natural beauty from Moldova & Kira - the passionate girl from Hungary
Escort Service & Agencies
Check out WikiSexGuide Adult Classifieds!
Swinger Clubs
Into swinger clubs you go usually together with a girl and you can find there somebody who is willing to change partners. On certain days also accessible for single guys, but with higher entrance fee (60 -100€) and with no guarantee to find there somebody. And if, these are usually not the cutest women. The walls to the rooms in swinger clubs have holes so that the guests can watch the couples inside.
Here are some swinger clubs in Vienna:
Traumland Verein, Schlösselgasse 11 | A-1080 Wien. Telefon: +43-1 405 66 94.
ELEMENT6 - erotic cocktail bar, Kaiserstrasse 95 #, Neustiftgasse. Phone:+43/1/9904342.
Lifestyle Swingerclub Frivoli, Halbgasse 11. +43(1) 524 66 25.
Refugi-O, Morizgasse 6/Ecke Dominikanergasse. +43664 462 74 85.
Swingerclub Outback, Quellenstraße 131. +43676 478 1302.
Transsexuals / Shemales
Mariahilferstrasse 100 Wien
Entrance 5€
Usually they have some Shemale hookers that you can fuck for about 50 €.
Gay & Lesbian
Gay Saunas
Daily 14:00 – 24:00; Sat till 02:00 Weihburggasse 18-20 [U: Stephansdom] +43 (0)1 5133293; www.kaiserbruendl.at One of the most beautiful gay bathhouses in Austria. In oriental bathhouse style decoration. Located in the historic center of Vienna. Admission: 20 € (cubicle 24-27 €)
Temporarily closed. Lange Gasse 10 [U: Rathaus, Volkstheater] +43 (0)1 4067156; Website Small gay sauna in the Josefstadt district of Vienna, in the basement of the Hotel-Pension Wild. Mostly young guys Admission: 10–14 €
Daily 14:00 – 02:00 Wimbergergasse 34 [U: Stadthalle/Burggasse] +43 699 81165200 (mobile) Small bear gay-friendly sauna. Mainly older clientele. Admission: 16 € (8 € up to 25 years, 10 € students up to 28 years)
Gay Cruising
Fri, Sat 22:00 – 04:00 Fünfhausgasse 1 [U: Gumpendorferstraße] +43 (0)1 8959979; www.club-losch.at Gay cruising club for fetish, harder stuff and special interests. Check the agenda and dresscodes at the club website. Admission: 12 €, incl. 1-2 drinks
Daily 21:00 – 04:00 Blümelgasse 1 [U: Neubaugasse] +43 (0)1 5872661; www.eagle-vienna.com Cellar bar, with small cruising labyrinth. No dresscodes. Mixed ages.
Fri, Sat from 23:00; Sun 19:00 – 24:00 Hamburgerstraße 4 [U: Kettenbrückengasse] www.lmcvienna.at Playground of the LMC Vienna (›Leather & Motorbike Community Vienna‹). Check the agenda and dresscodes at the club website.
Daily 15:00 – 04:00 Kettenbrückengasse 4 [U4: Kettenbrückengasse] +43 (0)1 5862362; www.sling.at Gay cruising club. Mainly younger and middle-age men. Best after 20:00.
Daily 12:00 – 24:00; Thu, Sat till 03:00 Lerchenfelder Gürtel 45 [U: Josefstädter Straße] Gay cinema, a bit far off the city center.
Sexual Services for Women
Sex Shops & Adult Stores
Rautenweg 5 Vienna +43 1 7437990 Orion is one of the most popular Sex shops in Austria and Germany. You can always get best condoms and sex toys from there.
Hütteldorfer Straße 48 Vienna +43 1 7862502 All your basic sex toys and porn movies cans be found here.
Sleeping
Vienna offers a complete range of hotels. Prices are relatively higher than in neighboring countries, or in the neighboring countryside, but quality is also often better.
In choosing an accommodation it is important to know which part of the city you want to spend time in. Most accommodations claim to be centrally located, which for the Viennese would mean they should be in or next to the 1st District, few actually are. Many are even outside the core districts 2-9. Still, all of them are located within about a 5-minute walk to an underground or at least a rail or tram station, you can get to the center within 20 minutes or less on public transportation form anywhere in the city.
A quick reminder about addresses and districts: the number preceding the street name is the district. So 9., Badgasse 26 is Badgasse #26 in the 9th district. These can also be made into a postal code by substituting it the XX: A-1XX0 Vienna (0X for districts below 10), for instance A-1090 Vienna for the 9th district.
Smoking rooms are relatively common. Non-smoking rooms are in limited supply, and hotels with non-smoking floors are less common. Senstive non-smokers may be bothered that public areas of the hotel (often the hallway outside your room) are often heavy with tobacco smoke.
See also: Global list of girl friendly hotels
BDSM
Check out WikiSexGuide Adult Classifieds!
Stay Safe
Vienna is potentially one of the safest cities in the world for its size. There are no slums or districts you should avoid. In general, you can visit any part of the city at any time of the day without taking many risks — just use your common sense. At night, though, it is wise to avoid parks. The drug scene at Karlsplatz (underneath the Opera) hangs out there during the day, but they do not care at all about tourists. Just ignore them and they will ignore you. The Prater (fair grounds/amusement park area) is said by some locals to be less safe at night, though more in reference to pickpockets than anything else. As in any major city, watch out for pickpockets who grab and run when boarding the U-Bahn (['u?ba?n] subway). Petty crimes (like jackets 'going missing') are more common and normally go unreported and won't get much sympathy. There have been a very few racist assaults in Vienna (even some by the police themselves). Many streets and public-transport facilities are littered with racist and nazi graffiti. One runs the risk of being pickpocketed. Schwedenplatz, along the Ring, is sleazy in the evenings, but basically harmless; the Stadtpark, along the Ring, to the East, is a bit deserted at night and therefore best avoided.
Prostitution
Prostitution is legal, even on the street, and is common around the area of the Prater. Ironically, some of the areas are stones thrown from the UNODC Headquarters (the UN agency responsible for combating human trafficking) and are human trafficking hubs for all of Europe. Many of these prostitutes are not registered and a high number are known to be trafficked, so take care if seeking their services. It is safer for everyone involved to visit a brothel. Women dressed in a certain manner walking around these areas alone at night might feel uncomfortable being checked-out in a certain way but there is no real danger. (There is no male street-prostitution to speak of in Vienna.)
Missing people
Austria has one of the highest rates of missing people (per-capital) in the Western world. It is similar to that of the USA despite Austria's small size and the fact that everyone is required to register their address with the state.
Fraud and scam
Recently, there have been some reports of fraud around Karlsplatz and the Ring. The usual scenario is that someone will stop you and ask for directions. A couple of other guys show up claiming to be police, showing a badge (must be fake). They ask if you were getting drugs from the other guy and then will ask for your passport and wallet for verification. When you are busy trying to convince them that your passport is valid, one of them sneaks out some money from your wallet. Best to tell them that you want to go to the police station — there is one at Karlsplatz U-Bahnstation. It's a minor annoyance, but it's better to be careful. In a different case of fraud they try to convince you that your money is counterfeit money and that they have to inspect it. As always use common sense: police are taught to approach you in a very distinctive way (you will notice if they do so), the badge must have Polizei ([?p?l?'?a??] police) and the Austrian coat of arms and/or the Austrian flag located somewhere on it, and they will be willing to bring you to the police station or a properly uniformed officer.
Related articles:
Bike lines
Do not walk on the bike lanes and cross them like you would cross any other road. Some bike lanes are hard to recognize (e.g. on the "Ring" in Vienna) and some cyclists bike rather fast. Walking on bike lines is not only considered impolite but it is illegal and you run the danger of getting hit.
Street gambling
If you see people gambling on the streets (usually in popular tourists' destinations like Stephenplatz or Mariahilferstrasse), stay away! The modus operandi usually involves a guy playing the classic game of "hiding the ball". This involves covering the ball (or small trinket) with either a bottle cap or a match box and swirling it around with two other bottle caps asking people to guess the position of the ball. The game is set in a way that you can easily see the ball's position. This is done to lure the unsuspecting person into placing a wager. There are usually two main players and, between them, they will lose and win money back and forth to give the appearance that it is a fair game - do not be tricked! They are from the same gang. Once you get greedy and get lured in, you will surely lose your money! The person in control of the bottle caps will remove the ball from their position through sleight of hand and you will never see your money back. Besides the two or three other players involved, there are usually at least two lookouts - one on each side of 'stage'. Vienna has plenty of legal casinos if you care to try your luck.
In addition, it is common for suspicious persons to approach you in the city centers if you are standing still for a while (particularly if eating at outdoor tables). They will be holding magazines for sale, and will ask you if you are interested in looking at one for free. They are typically very aggressive in their demeanor. Do not be fooled by them! It is not free. If you look at the magazine for free, they will refuse to take the magazine back and demand payment for it at a high cost (typically 2 euros, which is the price of local homeless' magazines in Austria like "Augustin", but they are in German anyways and it indeed has become a trend amongst non-related people to abuse the idea). The best response in this situation is, when they first approach, to simply wave your hands demonstratively to say no while shaking your head and repeat the phrase "Nein danke" ([na??n 'da?k?] no thank you) to them repeatedly until they leave. If police are nearby, these people may accuse you of stealing the magazine, but many police know of their trickery so stand your ground. However, the best response in all cases is simply to dismiss these beggars by saying "Nein danke" and refusing to take the magazine. They will often look for tourists or people who look as though they are visiting hoping to make a sale; therefore, be prepared to tell them "Nein danke" as necessary so that they will leave you alone. They are not violent and just trying to get money from you, so do not be afraid that they will hurt you if you tell them no.
See Also