Bielefeld
From WikiSexGuide
Bielefeld Sex Guide advises where to find sex, working girls, prostitution, street hookers, brothels, red-light districts, prostitutes, erotic massage parlors, strip clubs, FKK Clubs and escorts in Bielefeld, Germany.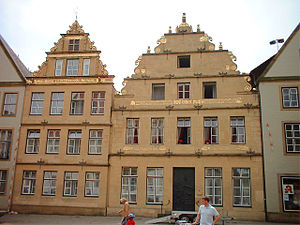 Bielefeld (/ˈbiːləfɛlt/; German pronunciation: [ˈbiːləfɛlt]) is a city in the Ostwestfalen-Lippe Region in the north-east of North-Rhine Westphalia, Germany. With a population of 327,000, it is also the most populous city in the Regierungsbezirk Detmold. Its current mayor is Pit Clausen.
Sex Scene and Prostitution
Bielefeld has a variety of prostitutes working in the streets, FKK Clubs and in Escort Agencies. There is something for everyone: Black, White & Asian hookers to choose from.
Red Light District
Eckendorfer Straße 29, east of center and about 200m before Hallenstrasse. Average charge for sex is 30-50€ and 20-40€ for quick blowjob. There is a [Window prostitution]] area with total of 45 windows. Most girls are good looking, but there are some below the average too.
Prostitutes and Sex Workers
Since the Prostitution Act was introduced in 2002, Germany's sex industry has exploded, making it a magnet for tourists. The Act was designed to improve conditions for prostitutes and to make it possible for them to get health insurance and social security while ensuring a safe workplace.
Germany has turned into a giant brothel and even a destination for European sex tourism. The best guess is that Germany has about 400,000 prostitutes catering to 1million men a day. Mocking the spirit of the 2001 law, exactly 44 of them, including four men, have registered for welfare benefits.
The details vary regionally, because the federal states and municipalities decide where and how brothels may operate. (Berlin is the only city without zoning restrictions.) In some places, streetwalkers line up along motorways with open-air booths nearby for quickies. In others, such as Saarbrücken, near the border with a stricter country like France, entrepreneurs are investing in mega-brothels that cater to cross-border demand.
Street Hookers
You can find some Polish blondies, transvestites and some gypsies from here. Average charge is 30-50€ for fucking.
Strip Clubs & Lap Dance
For table dancing and lap dance, Hannover and Dortmund are better cities to visit. They are just 1 hour away and both cities have some great Strip clubs.
Brothels
More than 400,000 women work in German brothels, some so big they spill over several levels. Described as sex supermarkets, johns are lured sometimes with the promise of luxurious surroundings, unlimited alcohol and sex.
FKK Clubs
Sauna Clunb 177, Altenhagener Str 177, 33729 Bielefeld
+491627563547 Open everyday until 4am. As a guest, you can choose between normal street clothes or club own bathrobe. The sauna users are paying up to 20 clock an expense fee of 10 euro.
FKK Club Zeus, Otto-Lilienthal-Straße 3, Wallenhorst
+49 5407 2746
Nudist - Sauna Club Harem, For Strothebach 1
+49 5252 989770
Erotic Massage Parlors
Germany is a great country to visit, if you like to relax and receive an Erotic massage. In Germany, there are Asian Massage Parlors, where you usually pay first for the massage and then in the end of the massage you will be asked if you want a Happy Ending. Most of the time one hour massage at the Asian Salons cost around 50-70€ and Happy Ending will cost around 20-100€, depending if you choose a hand-job or sexual intercourse. Then there are also Massage Brothels, where you have to decide what you want, before receiving the massage. These places usually have a menu with options listed, such as "1 hour massage and hand job" for 100€.
Where to find Massage Parlors in Bielefeld
+4915118140020 Erotic Massage with different options.
Lust-Bewusst, Kavalleriestraße 20 Bielefeld, Germany
+49 521 285802 www.lust-bewusst.de
LoveToxic Erotic Lounge, Meller Straße 199 Enger, Germany
+49 5224 9374576 www.lovetoxic.de
Relax Club, Berliner Straße 213 Gütersloh, Germany
+49 5241 339424 www.relax-gt.de
Su´s Thai-Massage, Lange Straße 50, Lage, Germany
+49 5232 9733049 www.auszeit-owl.de
Transsexuals / Shemales
Most Ladyboys and Shemales advertise online in (www.transgirls.de). Price is usually 100-150€ for 30minutes and 150-250€ for one hour.
Gay & Lesbian
Sauna65, Niedermühlenkamp 65
Sauna with hot guys
Novum Bielefeld, Eckendorfer Str. 60-62
Indoor Cruising & Erotic Shop
Sexual Services for Women
Sex Shops & Adult Stores
You can find whatever you need from Bielefeld´s sex shops. These shops have magazines, condoms and porn movies. Some have also sex cinemas for masturbating.
Novum Märkte GmbH, Eckendorfer Str. 60-62 33609 Bielefeld, Tel. (0521) 32390-0
Novum Märkte GmbH, Herforder Str. 122, 33609 Bielefeld, Tel. (0521) 1365146
ORION Erotik Fachgeschäft, Oldentruper Str. 236, 33719 Bielefeld, Tel. (0521) 2085654
Shop Intim, Bahnhofstr. 47, 33602 Bielefeld, Tel. (0521) 179550
Escort Services & Agencies
Check out online and city newspapers for escorts. Average cost for one hour is 200-300€.
Sleeping
There is about 40 hotels to choose from in Bielefeld. From cheap budget options to luxury.
Stay Safe
Bieleld is a very safe city for its residents and travelers. Violent crime is extremely rare. Take the usual precautions (such as don't leave your camera unattended) and you will not encounter any crime at all.
See Also