Bielefeld
From WikiSexGuide
Bielefeld Sex Guide advises where to find sex, working girls, prostitution, street hookers, brothels, red-light districts, prostitutes, erotic massage parlors, strip clubs, FKK Clubs and escorts in Bielefeld, Germany.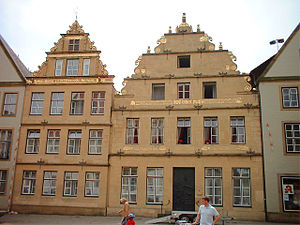 Bielefeld (/ˈbiːləfɛlt/; German pronunciation: [ˈbiːləfɛlt]) is a city in the Ostwestfalen-Lippe Region in the north-east of North-Rhine Westphalia, Germany. With a population of 327,000, it is also the most populous city in the Regierungsbezirk Detmold. Its current mayor is Pit Clausen.
Sex Scene and Prostitution
Bielefeld has a variety of prostitutes working in the streets, FKK Clubs and in Escort Agencies. There is something for everyone: Black, White & Asian hookers to choose from.
Red Light District
Eckendorfer Straße 29, east of center and about 200m before Hallenstrasse. Average charge for sex is 30-50€ and 20-40€ for quick blowjob. There is total of 45 windows.
Prostitutes
Prostitution is legal and regulated in Germany. In 2002, the government changed the law in an effort to improve the legal situation of prostitutes. Germany is listed by the UNODC as one of the most common destinations for victims of human trafficking.
Street Hookers
You can find some Polish blondies, transvestites and some gypsies from here. Average charge is 30-50€ for fucking.
Strip Clubs & Lap Dance
For Strip Clubs Hannover and Dortmund are better, because they are only 1 hour drive away.
Brothels
FKK Clubs
Altenhagener Str 177, 33729 Bielefeld +491627563547 Open everyday until 4am.
As a guest, you can choose between normal street clothes or club own bathrobe. The sauna users are paying up to 20 clock an expense fee of 10, - €.
Otto-Lilienthal-Straße 3 Wallenhorst +49 5407 2746
Nudist - Sauna Club Harem
For Strothebach 1 bathroom Lippspringe +49 5252 989770
Erotic Massage Parlors
0151 - 181 400 20 Erotic Massage with different options.
Transsexuals / Shemales
Most Ladyboys and Shemales advertise online in (www.transgirls.de). Price is usually 100-150€ for 30minutes and 150-250€ for one hour.
Gay & Lesbian
Niedermühlenkamp 65 Sauna with hot guys
Eckendorfer Str. 60-62 Indoor Cruising & Erotic Shop
Sexual Services for Women
Sex Shops & Adult Stores
You can find whatever you need from Bielefeld´s sex shops. These shops have magazines, condoms and porn movies. Some have also sex cinemas for masturbating.
Eckendorfer Str. 60-62 33609 Bielefeld Tel. (0521) 32390-0
Herforder Str. 122 33609 Bielefeld Tel. (0521) 1365146
ORION Erotik Fachgeschäft
Oldentruper Str. 236 33719 Bielefeld Tel. (0521) 2085654
Bahnhofstr. 47 33602 Bielefeld Tel. (0521) 179550
Escort Services & Agencies
Check out online and city newspapers for escorts. Average cost for one hour is 200-300€.
Sleeping
There is about 40 hotels to choose from in Bielefeld. From cheap budget options to luxury.
Stay Safe
Bieleld is a very safe city for its residents and travelers. Violent crime is extremely rare. Take the usual precautions (such as don't leave your camera unattended) and you will not encounter any crime at all.
See Also