Ukraine
From Wikisexguide
Ukraine Sex Guide advises where to find sex, working girls, prostitution, street hookers, brothels, red-light districts, prostitutes, erotic massage parlors, strip clubs and escorts in Ukraine, Europe.
Ukraine (Ukrainian: Україна) is a country in Eastern Europe. It lies at the northwest end of the Black Sea, with Russia to the east, Belarus to the north, Poland to the northwest, Slovakia and Hungary to the west, and Romania to the south west and south, with Moldova in between. This is a Ukraine sex guide on where to find sex, prostitution, hookers, brothels and escorts in Ukraine.
Sex Scene and Prostitution
Prostitution in Ukraine is illegal but widespread and largely ignored by the government. Sex tourism rose as the country attracted greater numbers of foreign tourists
Many European guys loved to take a short trip to Kiev or Odessa during summer to hook up with hot Ukraine escorts for a day or weekend sex vacation. Girls from East Europe have a fine reputation of being beautiful and devoted mistresses. Several Kiev escort agencies offered sex trips of their models visiting cities in Western Europe. Many of those girls were stunning beauties with fashion model looks. The party is over, at least it slowed down a lot. The government recently outlawed pornography in the country and banned escort websites with .ua extensions from offering sex related services such as escort agencies. Many websites were forced out of business and show nothing but blank pages. Others changed to .com and .net domains to keep on doing their business. The spiffy Kiev escort girls are still available, but it's more difficult to find them.
According to the Ukrainian Interior Ministry, there are some 12,000 prostitutes in the country.
Regions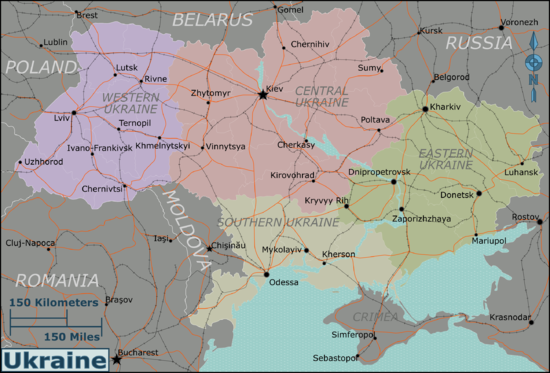 Central Ukraine
The political, economic, and cultural centre of Ukraine, centred around the capital Kiev
Crimea
A peninsula that serves mainly as Russia's favourite beach resort, with some beautiful Black Sea coastline and mountainous interior
Western Ukraine
Historically under the control of non-Russian European countries for centuries (e.g Poland, Lithuania, Hungary, Romania, Czechoslovakia and Turkey); accordingly you'll find Central European architecture, cuisine, language and religion here
Eastern Ukraine
The heavily industrialised and Russified coal-mining region of the Donbass, home to big Soviet cities and much of the country's ethnic Russian population
Southern Ukraine
The popular Ukrainian Black Sea coast (albeit not quite so popular as the Crimea), best known for the magnificent city of Odessa
Cities
Gay & Lesbian
Both male and female same-sex sexual activity are legal in Ukraine, but households headed by same-sex couples are not eligible for the same legal protections available to opposite-sex couples.
Escort Services
Stay Safe
Ukraine has the highest adult HIV prevalence rate in Europe at nearly 1.5% or 1 in 66 adults. Be Safe.
Robberies and scams on tourists are fairly common, especially the wallet scam in Kiev.
Don't drink alcohol in the company of unknown people (which may be suggested more freely than in the West). You don't know how much they are going to drink (and convince you to drink with them) and what conflicts may arise after that. Also, many Ukrainians, known for a penchant for a good drink, can sometimes consume such an amount of vodka that would be considered lethal for the average beer-accustomed Westerner.
See Also