Middle East
Middle East Sex Guide advises where to find sex, working girls, prostitution, street hookers, brothels, red-light districts, sex shops, prostitutes, erotic massage parlors, strip clubs and escorts in Middle East.
The Middle East is a world region in Western Asia and North-eastern Africa. The term was created by British military strategists in the 19th century, and definitions of the Middle East vary; it is not simply a geographical term, but also a political one, connoting that it separates Europe ("the West") from the Far East, and the traditional trade route of choice between these two extremes.
Countries and territories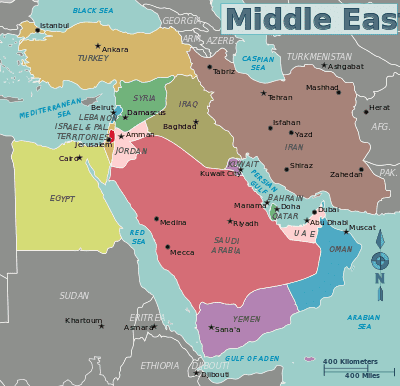 Egypt is often considered a part of the Middle East, as the Sinai is geologically a part of Asia. Sometimes Azerbaijan is considered a part of the Middle East, as a sort of border region between Europe and Asia. Even the inclusion of Iran is to a degree controversial—it can also be considered to be a Central Asian or South Asian nation.
Cities
Other destinations
Sex Scene and Prostitution
As one of the wellsprings of human civilisation in the ancient and medieval worlds, the birthplace of several world religions (Judaism, Christianity, Islam and Bahai) and an area of much modern economic and political importance, the Middle East remains a popular destination for travellers.
Ethnically, the region is extremely mixed. Arabs, Jewish people, Persians and Turks are the largest groups, but there are several substantial minorities — Kurds, Armenians and others — with their own languages, customs and sometimes their own countries. Every invading army — from Alexander and the Romans through Genghis Khan to the 19th century colonial powers — has left descendants behind. There are also substantial numbers of workers from other countries coming to the region for higher pay — mainly Afghan, Pakistani for jobs like construction labourer, with Egyptians, Filipinos, more Pakistanis, and some westerners in the more skilled jobs.
Almost every country in the Middle East has a Muslim majority (with the notable exception of Israel which has a Jewish majority), with Iran, Iraq and Bahrain mainly Shia, other areas mainly Sunni, and both with minorities of the other — and the legal systems in most of these countries are influenced by Islamic Law; a few are entirely based on it.
Cultural geography
North Africa is similar to the Middle East in many ways — language, religion, culture and some ethnic groups. Some writers include Egypt, or even Sudan and Libya, in their use of the term "Middle East".
On the other side, Central Asia also has much in common with the Middle East. Ethnic groups and languages are different, but the religion, much of the food, clothing, and architecture are similar. Iran could be counted as part of either region; at one point most of Central Asia was part of the Persian Empire.
The border between southeastern Europe and the Middle East is also unclear. Many writers include Turkey in their usage of "Middle East" and we include it above, but parts of Turkey are very much European. Large parts of Turkey and all of Lebanon and Israel are also clearly Mediterranean regions. On the other hand, several countries usually considered European — Greece, Cyprus and to some extent the Balkans — also have Middle Eastern aspects to their culture.
Stay safe
See also