Puerto Galera
Puerto Galera Sex Guide advises where to find sex, working girls, prostitution, street hookers, brothels, red-light districts, sex shops, prostitutes, erotic massage parlors, strip clubs and escorts in Puerto Galera, Philippines.
Puerto Galera is a town on the northeastern coast of Mindoro Island, Philippines. Among travelers it is commonly known as encompassing the region surrounding it. While a small town itself, other adjacent smaller towns, such as Sabang and White Beach, are the primary destinations; however, all are lumped together as Puerto Galera as it hosts the ferry terminal (to Batangas) through which most people arrive.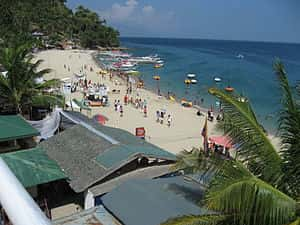 Sex Scene and Prostitution
Puerto Galera in Sabang is a nice enough side trip from Manila. Nothing on the scale of Manila or Angeles City, but worth a mention just the same. Sabang has lovely surrounding scenery, cute little alleyways and a small compact western orientated chick scene that should satisfy you for two or three days or more.
Where to Get Sex Now
It is easy to get sex online in Puerto Galera. You just need to find the best available girls. See Girls Online Here!
Red Light Districts
Best Red-light district areas in Philippines can be found from Angeles City, Subic, Manila and Cebu. Non-of these red light areas have Window prostitution, but most have a certain area where most of the street and bar prostitution happens.
Prostitutes and Sex Workers
There are many different ways to get sex in the Philippines. Most pedicab or tricycle drivers know where to find prostitution and will even drive you there for a low price. Short drive will only cost you a $US 1-2.
Most well known spots to find girls are go-go bars and KTV´s. If you have your own place, you can always ask a pedicab driver to deliver a whore to your room and this will cost $US 20-50 depending on how long she stays, what she looks and where you are staying. If you want a girl in Philippines for the entire trip, you simply look after her and give her some cash per day and you have a true GFE. Other common way to get sex in Philippines is to go to a nightclub. There are always many sexy girls. Just go talk to them and invite them to your place. This way you do not even need to pay everytime.
Tipping Guide
Waitress in a bar: 5-10% or 10 peso each drink if paying individually. Do not tip is she orders a double ladies drink without specifying single or double. Do not tip is she pads your check. Always double check your receipts to make sure she is not overcharging.
Mamasan: Its not customary to tip the mamasan. But if she was helpful in picking out a girl for you, slide her a 50 peso note. However it is entirely up to you.
Bargirl (short time): 300-400 peso. 400-500 for great service.
Bargirl (long time): 400-500 peso. 700-1000 on a rare occasion for spectacular service.
Bargirl (back room blowjob): 200 peso
Waitress in restaurant: 5-10%
Massage (no happy ending): 100 peso
Massage (happy ending): 300 peso
Massage (full service): 400-500 peso
Hotel doormen: Nothing if you are only staying at the hotel for a day or two. 20 peso a week if he is courteous and opens the door for you.
Hotel bellboy: 20 peso if he carries your heavy luggage and shows you the room.
Hotel maid: 50 peso a day
Trike driver: Nothing.
Street Hookers
You can find street prostitutes in Philippines from couple different areas. Usually the street prostitution hot spots are the streets near the downtown clubs. You can really notice the streetwalkers once you leave the night club at night and street girls start selling you their services. Price for a short time is usually around 1000 peso (US$22) or $1500-2000 pesos (US$ 34-45).
There are usually always some street whores in the suburbs of the city and usually from these girls you can get much better deals, such as 500 peso (US$ 11) for a short-time. Quality is never nothing like in the city centre and many of these girls do not even carry condoms. So, be careful.
Freelancers
Freelancers girls in Philippines can be a good deal, because you do not have to pay bar fines or other extras. Best places to pick up freelancer girls are shopping centers, cafes and nightclubs. Price for all night with freelancer is around $2000 pesos (US$45). Make sure you hide your valuables if you take girls to your place.
In Puerto Galera, one should check out Disco Philippine Village. This is where Freelancers hangout, mixed with some good girls (not for hire). As usual the ladies of the night do not start fronting up until around midnight. Price for freelancer prostitute 500-1000php for an all nighter.
Strip Clubs & Lap Dance
Some of the strip bars in Philippines have a classier atmosphere, and these premises are known as gentlemen's clubs. Gentlemens Clubs are usually more expensive than basic nude bars. Once you enter either a strip bar or a gentlemen´s club, one of the girls will come to your table and ask if you buy her a drink. Ladies drinks are always more expensive, so make sure you ask for the drink price before buying. Once the stripper has seen that you can afford her for the night, she will most likely ask you up front if you want to spend a night with her. A girl from the strip clubs or gentlemen´s clubs will cost around US $40-80 per night.
Go Go Bars
Prices are approx : Ladies Drink P100; Bar Fine (aka Departure Tax : ) P4/500 ; ST 500 LT 800/1000 . A far cry from Makati prices but the girls are not so pretty and lavishly packaged as in P. Burgos St. "Sunset" is the most popular and has the friendliest and prettiest girls. 2. "Sabang" is not so friendly, more of an Asian clientele and can be pushy re LD's , but nice gals. 3." Umbrella" is another one with pushy management. Management changes, places change, let's know how it was when you visited Sabang.
Erotic Massage Parlors
You can find massage parlors in almost every area in Philippines. Massage business in Philippines is not as wild as it is in Thailand, so you need to know that not every massage salon offers Erotic massage. Some of the massage places are just for the regular massage or body cleaning. But usually even at these "Good" massage salons it is quite easy to pick up a girl. Just talk her during the massage and ask her for a date after her shift ends,
At Erotic massage parlours you will usually get an option to pick your girl. First you pay and then you will be directed to your room. If you are taking a shower before the massage, do not leave your valuables in the room, just keep them with you all the time. Lingam Massage is one of the best massages you can get in Philippines and it is very Erotic massage. At most Erotic massage parlors, the Happy Ending is included to the price. Usually Erotic massage (1 hour body to body massage and a handjob) will cost around 1200-2000 pesos ($US 27-45). It is polite to leave a small tip to the girl if you were happy with the service. Most of the times the masseus will also ask if you want extra services, such as blow-job or sex. Extra services cost around 1000-2000 pesos ($US 25-45).
Transsexuals / Ladyboys
There are plenty of beautiful t-girls in Philippines. At night time you can see ladyboy prostitutes on the streets and during the the daytime you can find ladyboy freelancers from the malls. Price for a short time with a t-girl is around 1000-1500 pesos and all night is around 1500-2500 pesos. However if you are good looking or you can negotiate, the price will quickly drop. Easiest way to make price drop is to act like you are not interested. Remember to be careful with ladyboys in Philippines, because some of them have a bad habit to steal items or money from customers. However, most likely if everything goes well, you can have an amazing time with trans-girls in Philippines. Most of them are very passable and they look like a gorgeous supermodels and they act very feminine.
Transgirls you meet online have other price rules , most of these ladies see you as their future boyfriend and will fuck with you for free. As long as you take care of them and in some cases their family. It`s up to you what will be the game plan with these t-girls , but make sure you do have one because as playful and as kind as these trannies re when you meet them and are fucking them. As dangerous they can become if they see that your just playing with them and they have more to lose then to win with you , then they can become lethal weapons and can inflict severe injury`s to you. So make sure that she know that you are not planning to go in to no relationship with her no matter what! Depending on what tactics you use and will not ask you at the first instant for no money
Where to find Ladyboys in Puerto Galera
There are a lot of ladyboys present at White Beach. You can find very beautiful t-girls from the beach and also from the nearby restaurants. They can be very pushy, doing things like touching and making sexual jokes.
Gay and Lesbian
Gay modeling in internet is getting more popular all the time and it's a big market alongside with gay porn. You can watch gay live sex also in Puerto Galera as long as you are connected to internet. Check it out: Gay Live Sex Video Chat

LGBT citizens may face different social attitudes and legal challenges than heterosexual citizens. Tolerance for LGBT people has increased over the years due to greater education about sexual orientation and gender identity issues and the growing visibility and political activism of the LGBT community. Same-sex marriages are not legally recognized and the LGBT community is not protected by any civil rights laws.
The vast majority of Filipinos – 73% – declared that "society should accept homosexuality", according to findings from "The global divide on homosexuality" survey by the nonpartisan Pew Research Center. The survey, published in 2013, covered 7 countries from the Asia-Pacific region: Philippines, South Korea, China, Malaysia, Indonesia and Pakistan (listed in order from most to least gay-friendly).
Some 80% of Filipinos are Catholic and they seem to be exceptionally tolerant towards gay people - despite Pew's conclusion from the same survey that acceptance of homosexuality diminishes in places where religion has a central place in people's lives.
Compared to the other Asian countries in the survey, Philippines indeed stood out as an oasis of tolerance: in China only 21 percent of people agreed that society should accept homosexuality, while just 9 percent of Malaysians and 3 percent of Indonesians shared this view.
A few years ago CNN even listed the Philippines - a country "full of gorgeous gay-friendly beaches and welcoming gay bars" - as one of few Asia's top travel spots for gay tourists.
When asked whether homosexuality was morally acceptable, nearly two-thirds (65 percent) of Filipinos surveyed said homosexuality was immoral, while only a quarter found it morally acceptable and the remaining 10 percent said it had nothing to do with morals.
Interestingly, moral acceptance of homosexuality in the Philippines, though fairly low at 25 percent, was still higher when compared to China (13 percent), Malaysia (4 percent) and Indonesia (3 percent).
Although same-sex activity is not criminalised in the Philippines, there are no laws in place to protect gay people from discrimination.
Sexual Services for Women
There are lots of male prostitutes in Philippines, but most of the male hookers only serve men. However there is lots of tourism in Philippines and it should be very easy for women to get sex from other tourists.
Sex Shops and Adult Stores
If you don't feel like visiting or cannot find any local sex shops in Puerto Galera, you can easily order adult products from Online Sex Shop. There are street hustlers that provide viagra, cialis and related products. Mostly all of them are fake.
Escort Services & Agencies
Finding an escort when you're travelling can be a bit tricky. An ideal alternative to escorts is a girl who is looking for a mutually beneficial relationship. There are thousands of horny girls willing to do anything for a generous guy. Click Here to hookup with a beautiful young woman now.
A foreign sex tourist can pick up a freelance hooker at the bar himself. Ordering a sex worker is also an option, but it is not as popular. Normal women also hang out in popular touristic places and may be looking for a date or one night stand too.
Sleeping
In Philippines, it is very easy to bring guests to your room at the bigger cities. You might have trouble bringing girls to your room at smaller cities, but most of the time you can always pay a small amount of money to the security and you should have no trouble bringing guests.
Stay Safe
Remember, if dealing with Freelancers, watch your valuables, especially overnight.
Dont forget , as advised elsewhere , take care of your valuables , some girls are not averse to stealing from your room (incl. drugging you before hand , exceptional , but can happen) , others are under 18yrs and can cost you as much as Pesos 100,000 if Police get involved. If you dont pay requested police bribe you might end up in prison for many years. Exceptions admittedly , but can happen. Just be aware of these possibilities.
Also take care with your health , ie wear condoms. These gals are not checked regularly (or ever) for STD's etc. Scams , rackets , theft is more likely in Manila , but can happen in other towns/cities too.
See Also