Nha Trang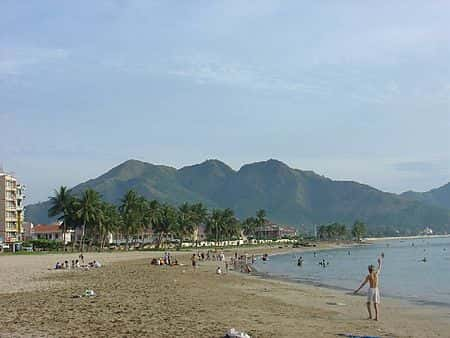 Nha Trang Sex Guide advises where to find sex, working girls, prostitution, street hookers, brothels, red-light districts, sex shops, prostitutes, erotic massage parlors, strip clubs and escorts in Nha Trang, Vietnam.
Nha Trang is Vietnam's most famous seaside resort-town. It's more lively and urban in character than other beach destinations like Mui Ne and Phu Quoc. It's also the scuba diving centre of Vietnam.
Sex and Prostitution in Nha Trang
Prostitution is illegal in Vietnam and the age of consent is 18. Vietnam has laws on the books with penalties up to 20-40 years in prison for sexually exploiting women.
It's not difficult to find working girls in Nha Trang. The easiest way is to get any of the many moto drivers around to bring you a girl. These are usually girls that work during the day as maids, waitresses, etc. and are out to make a few extra bucks during the night. The girls are usually 18-25 in age and the looks are usually sixes and sevens. They usually show up dressed in their best clothes smelling good from a recent shower. The bad part is that you can't pick the girl out yourself so often you don't get what you are looking for. Other good options are massage parlors and discos. You can find info about them below on this site. You can meet the local working girls and foreign prostitutes in and around Nha Trang. They can be found within 100 meters from each other. So, one can always approach the girls and look for the one he thinks is going to please his soul. You can get these girls at the Tran Phu Street. There are various nightlife venues and areas where you can expect to witness and enjoy some adult activities. However, one must choose to remain absolutely safe and secured form any kind of fraudster trying to rob your valuables in the name of providing adult oriented services.
You can try your luck at Red Apple Club for free tourist girls. At night time, there are drunk white girls.
Red Light Districts
There is no official red-light district in Nha Trang. However, you can certain areas and venues that deal with the availability of working girls and their adult oriented services. So, one can definitely visit these places for some relevant results. However, one must also try and stay alert in order to ensure safety in such matters. If you are about to get hooked up with a complete stranger, then take some time to analyze the person and understand things quite clearly. This will help you to make sure that you are interacting with someone genuine who has not ill intention behind the act.
Prostitutes and Sex Workers
You will get to see prostitutes and hookers approaching their clients during the nighttime in Nha Trang. They would try and approach the visitors in order to see if they are interested in any kind of sexual activity. One can negotiate and agree to pay a price that goes well with both of them. However, it is to be noted that the person willing to hire a sex worker in Nha Trang should remain absolutely alert. At times, you may become a victim of several fraudsters trying to rob people by stealing their wallets and other valuables.
You can find prostitutes from these places:
Nha Trang Sailing Club, 72-74 Tran Phu St. Prostitutes all over the place. Be careful - the place is sometimes to get drug and rub. Management show their inability to protect the customers. The police doing nothing to stop a gang of Wolfpack stealing customers at the exit of the bar. Management, Security and Police close their eyes on this. No ways to report to the police, all paper work must been done in Vietnamese that why no foreign tourists can complain. It's better go there with a friend than alone.
Disco near the Nha Trang Lodge Hotel but this is mostly a local disco and if you don't have someone who knows the lay of the land you won't have much success. Prices for these pros run $30-40 for all night.
Street Hookers
You can ask moto drivers to bring you "taxi girls" (at your own risk).
Customer review on 27th of January 2015:
"Last week in Nha Trang, Vietnam, one of my friends asked one moto driver to get a taxi girl. He suggested 500,000 VND (USD25) including girl, hotel, moto. My friend agreed and went to the hotel. When he arrived, hotel asked 100,000 VND for the room. In the room the girl asked 500,000 VND. After getting out of the hotel, moto driver asked 500,000 VND for transportation. And soon one guy insisting for the girl's fiance asked 500,000 VND again with showing his cut finger for threatening. My friend wasn't able to pay all the money. Never follow a moto driver."
Customer review on 20 May 2015:
"In Nha Trang, Vietnam, my friend Vladimir had a rickshaw bicyclist approach and agreed to ride to *boom boom.* Mistakenly, no prices were negotiated upfront, but during the ride AU$40 was agreed upon for the girl, down from AU$50. Vlad went to meet the girl, who was dropped off by scooter; she was a 6 with clothes, 5 without. The trio rode to the hotel, where the rickshaw driver demanded AU$10, which was paid onsite. Afterwards, Vlad paid the girl directly where the driver could see, and got back in the rickshaw to return to the place he was picked up. Upon drop off the driver named AU$40 for transportation. Vlad laughed, said it was too much, and gave him AU$5, then the driver grabbed him and insisted on AU$20. The driver also claimed the prices were in US$, and pointed out that he had waited a full hour. My friend gave him another five and walked away, thankfully unscathed."
You can even try and meet girls at various nightclubs and bars located in and around Nha Trang. One can meet prostitutes and foreigners at these places easily. However, finding Vietnamese girls willing to offer sexual services might be a difficulty. This is mainly because most of them a family oriented and quite conservative.
Hookup and Pick Up Local Girls
Meeting local girls and getting laid for free is fun! Read more on how to pick up girls in Nha Trang: https://hookuptravels.com/wiki/Nha_Trang
Live Sex Cams
Can I watch Live Sex Cams in Nha Trang? - Yes, you can! Basically you can watch our online live sex shows for free anywhere in the world if you're connected to internet. Join to get 10 free private teasers and 9.99 credits for free! You can choose any girl from our trusted Live Sex Cams!
Live Sex Cams are booming at the moment. Webcam models can be found from all over the world and you can find girls, guys, trannies, couples and groups of different ages performing to you. Watching live sex shows is usually free, but if you buy some credits, you will have much better chances to see adult action as desired! It's possible also to hire a webcam model to a private chat room where you can ask the person to fulfill your fantasies.
Where to Get Sex Now
It is easy to get sex online in Nha Trang. You just need to find the best available girls. See Girls Online Here!
Adult Locations
You can find certain bars, pubs, nightclubs massage parlors where one can expect to find adult activities taking place. There are many girls working in shops that may offer you sexual services to avail and enjoy. So, trying out such venues might prove to be helpful for you.
Escort Services and Agencies
Unfortunately we don't list in this category!
Finding an escort when you're travelling can be a bit tricky. An ideal alternative to escorts is a girl who is looking for a mutually beneficial relationship. There are thousands of horny girls willing to do anything for a generous guy. Click Here to hookup with a beautiful young woman now.
Taxi girls are kind of escorts in Nha Trang, but usually moto drivers bring them to you and you cannot find them from internet. Thus, you can a get in touch with such moto drivers bringing girls at your service. However, it is to be noted that such activities might turn out to be a risky venture if the person you are getting in touch with is a fraudster. Thus, staying a bit alert and active in certain situations is extremely necessary.
Erotic Massage Parlors
Unfortunately we don't list in this category!
The massage parlors, barber shops, spas and salons are mostly known for offering brothel based services that are provided exclusively by the working girls over there. So, finding such erotic massage parlors offering adult oriented services in and around Nha Trang is not at all an issue to worry about. All you need to do is nothing but be a bit careful while entering these places and see if anything fishy is going on. If you find things that may appear to be suspicious, then it would be better if you avoid entering the place.
Here are some locations of massage salons and barber shops (Cat Toc's) in Nha Trang:
There are some massage places between Biet Thu and Nguyen Thi Minh Kai.
For a massage with extras, try the massage parlor on Phan Chu Trinh in the large hotel located on the east side of the street a couple of blocks away from the Banana Split cafes.
Green Hotel (FS possible)
Massage towards the Louisiana (FS possible)
Le Hong Phoung street (should be many places)
Van Don street (should be many places)
Massage Hong Bang on 118 Hong Bang.
Nha Trang Lodge Club, although no extras are allowed, many of the girls will come to your hotel room after they get off work.
Brothels and Sex Clubs
There are signs all over the place for "Massage", "Karaoke", "Steam bath" and "Sauna" - most of these venues are brothels. About 25% of the barber shops are brothels too. Barber shops are called "Cat Toc"s. So you can visit these parlors and spas that offer brothel based activities and services to the potential visitors. Well you need to stay alert and decide whether the place you are about to enter is a genuine one with all sorts of professional services in store that are provided by proper working girls.
Strip Clubs and Striptease
It's difficult to find strip clubs in Nha Trang but some underground clubs might be founded. You can try asking the local taxi drivers if they can drive you to places that offer similar services and performances as found in proper strip clubs and lap dance joints. They might come up with relevant solutions if any such place is known to them.
Karaoke and KTVs
It seems that most of the available KTVs and Karaoke bars in Nha Trang are family oriented. You can still ask the local guys if they are aware of any kind of underground KTV or venues similar to adult focused Karaoke bars and westernized KTVs.
Swinger Clubs and BDSM
ALT.com is the best place for local singles, swingers, and couples in the BDSM community to connect with those interested in submissive sex, power exchange, locating persons for new slave roles, erotic BDSM, bondage & fetish sex, as well as live sex dates. Find thousands of play partners for whatever your fetish may be; bondage, foot, cockold, spankings, role-play, electric or water play, sadism and masochism. So whether you have the desire to explore your unrealized fetish fantasies, or you are extremely experienced and would love to train someone new, ALT.com is a community designed for people with like-minded interests to find and connect with each other.
Chances seem scarce that you would find an official swinger clubs in Nha Trang. However, one can always choose to approach the foreigners in order to figure out if they are looking for swinging activities as well. One can join online swinger clubs too. There are many interested and likeminded swinger couples looking for other people to join them. Thus, joining such online forums and communities might be helpful too.
Sex Shops and Adult Stores
If you don't feel like visiting or cannot find any local sex shops in Nha Trang, you can easily order adult products from Online Sex Shop.
Going online and purchasing products via websites can prove to be one of the most discreet and easiest ways in this particular matter. You can still try and figure out if retail shops are available in this place offering products related to sexual interest.
Love Hotels and Short Time Hotels
Love hotels are basically short time hotels offering accommodations to people willing to bring female guests. At times, the sex workers are seen to be aware of such venues where they can take their clients for private activities. Always try and figure out if the place you are entering is absolutely genuine and properly maintained. These things are required to be ensured in order to stay safe and away from any kind of unfortunate incident.
Nightclubs and Bars
You can get lots of nightclubs and bars available in Nha Trang. Visiting such places might prove to be helpful if you are looking to get hooked up with female companions. However, one must try and stay alert while approaching a girl for sex or any other kind of intimacy. At all girls would like to get hooked up. The Vietnamese girls are generally conservative. So, try getting lucky with the foreigners and other bar girls.
Gay and Lesbian
Gay modeling in internet is getting more popular all the time and it's a big market alongside with gay porn. You can watch gay live sex also in Nha Trang as long as you are connected to internet. Check it out: Gay Live Sex Video Chat
Lesbian, gay, bisexual, transgender (LGBT) persons in Vietnam may face legal challenges not experienced by non-LGBT residents. Both male and female same-sex sexual activity is legal and has believed to never have been criminalized in Vietnamese history. It is said that Nha Trang is an excellent destination for gay travelers and couples looking for some relaxation and holiday. L' Alyana Ninh Van Bay is said to be one of the gay friendly hotels to be situated in and around Nha Trang.
Other Adult Services
You can always ask the working girls at bars, massage parlors, salons, coffee shops and even the escort service providers regarding the availability of any other kind of adult service apart from the regular ones. They might at times come up with personalized range of adult sexual services.
Dating
Dating in Nha Trang can be a bit tricky due to cultural differences, so your best bet is to sign up for a dating site before your trip so you can meet a few locals ahead of time. AdultFriendFinder.com lets you meet local members in Nha Trang and get to know them on a personal basis before you arrive. Take advantage of site features like live chat and member to member webcams so you can begin flirting before arranging a face-to-face meeting. Since your time in Nha Trang may be limited, get to know each other's desires beforehand, so that when you meet you can start having some real fun.
How to find Sugar Babies and Sugar Daddies
If you are looking for an alternative to escorts in Nha Trang with a girl who doesn't charge by the hour, sugar dating is the ideal solution. There are thousands of beautiful young women who are willing to do anything for a man who will help them pay their bills.
Often referred to as the "Tinder for Older Guys", Sugar Dating matches hot young women who are interested in pampering older gentlemen. You don't have to be a millionaire to meet a sugar baby. Click Here if you are a respectful gentleman who knows how to treat a woman.
Transsexuals and Shemales
One can hire the services of shemale escorts in Nha Trang by getting in touch with them via websites where they advertise and post details regarding their range of out call and in call services for the potential interested clients.
Finding someone for transsexual dating when you're on the road can be a bit tricky, so your best bet is to sign up for a dating site before you go so you can find locals ahead of time. TSdates.com is a dating site designed to help you find exactly what you are looking for in your hookup in Nha Trang. Take advantage of site features like live chat and member to member webcams so you can begin flirting before arranging a face-to-face meeting. With over 40 million members, and thousands of transsexual members around the world, TSdates.com is the world's largest site of sex-minded friends for discreet encounters and will help you find your next transsexual play partner.
Where can I find shemales in Nha Trang? You can watch transsexual live sex shows in Nha Trang as long as you are connected to internet. Check Now: Tranny Live Sex Video Chat
Sexual Services for Women
There are many Russian and western male tourists if you are searching for one night company. Also many local men are happy to have sex with tourist women. You can approach the local guys and other tourists in order to see if they are interested in having sex with you for free. If it doesn't work out well, then consider hiring the services that are provided by the professional male escorts and gigolos.
Sleeping and Girl Friendly Hotels
It's not easy to find a hotel in Nha Trang that allows you to take a working girl to your room. For some hotels it's OK but you have to negotiate this before booking the room and still you may have to pay for an extra room for the girl. Under $25US hotels should mostly be fine about taking a girl to your room.
You may find certain sleeping and girl friendly hotels that allow female guests to enter and spend time inside the rented rooms. Not all hotels are sleeping friendly. You need to know and recognize the ones that would allow female companions. One can also ask at the reception in order to figure this thing out.
Truc Linh Hotel should be girl friendly (see the description above).
Stay Safe
It is always important for an individual to stay safe whenever he/she is going to be associated with any kind of sexual activity with a stranger. You should also consider using condoms while having sex. This shall keep you safe and limit the risk of any kind of STD.
Corruption is a big problem in Vietnam and locals are convinced that the police are not to be trusted. For motorcycle driver, police officer may stop you for any reasons including missing insurance papers or driving license, fine you around US$20 for each offence (the average traffic fine should only be about US$5-10).
Petty crime in night clubs can happen. Avoid quarrelling with local people because drunken Vietnamese can be violent. Clubs are full of prostitutes looking for their admirers but be aware that they may also steal your wallet and mobile phone, etc. Walking very late by yourself on the streets in the tourist area is often unsafe.
Nha Trang generally has a low crime rate, though the risk of petty crime especially late at night is high compared to most other places in Asia. The most common crime is pick pocketing after midnight near the Sailing Club. During the day, it is relatively safe though bag snatching on the beach is no uncommon, so don't take any valuables to the beach. Staying cautious at all times is best. Do not wear too much jewellery, and keep an eye on your belongings. It would be smart to travel in groups when you are out roaming the streets at night. Also, people coming home from the clubs should take a taxi and not a motorbike taxi. Single males walking back to their hotels in the early hours from clubs and bars such as the Sailing Club and Why Not Bar, especially if a little drunk, should beware of ladies approaching, typically in twos or threes, but often with a couple of guys on motorbikes watching closely from a distance ready to be get-away drivers or to get involved if things get nasty. They come over all friendly and touchy-feely, first checking to see what valuables you have and where, then relieve you of them. Often the victim doesn't even know he's been robbed until he gets back to his room or after he wakes up. This is almost becoming a tourist attraction in the sense you can watch this spectacle almost nightly, perhaps helping out a fellow drunken tourist being robbed. Unbelievably, no police are seen, and no hotel or bar security gets involved.
Do not keep money in your passport. If you want your hotel to lock up your money, they will usually be happy to do so in their hotel safe and have procedures for doing that. Passports are kept separate from other valuables as they need access to these for reporting each day your stay to the government. Better than giving the passport to the hotel is handing over a photocopy (personal data page and visa). It is never a good idea to give your passport to anyone other than officials. Never store money in your passport. Keep some money in a different pocket to your wallet/money belt. No point in displaying it when paying for small purchases.
Drive-by motorcycle theft is fairly common in Nha Trang. Banknotes and wallets have been snatched from tourists' hands.
If hiring a motorbike, check what coverage your insurance company gives for riding motorbikes in Asia, and it is frequently none.
Do not argue with locals who try to hustle money from you. This includes tourist touts, moto taxis, etc. They can become violent and aggressive easily, often resorting to the use of rocks or even concealed weapons. Although they can be a bit harder to get rid of than in other places, it is best to avoid these people altogether.
See Also