Saint Martin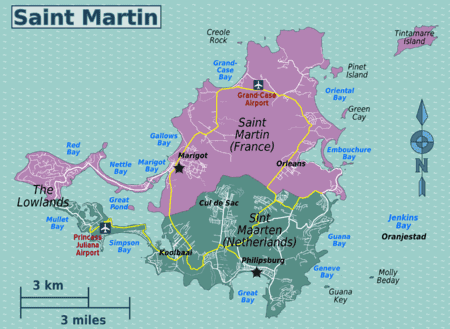 Saint Martin Sex Guide & Sint Maarten Sex Guide advises where to find sex, prostitution, hookers, brothels, erotic massage parlors and escorts in Saint Martin.
Saint Martin is an island split between the French collectivity of Saint-Martin and the Dutch territory of Sint Maarten (formerly part of the Netherlands Antilles, but now a constituent state of the Kingdom of the Netherlands). It is one of the smallest land masses divided between two countries.
Sex and Prostitution in Saint Martin
Prostitution is legal on the Dutch side and ignored on the French side. In 2011 it was announced by the St Maarten government that the number of houses would be increased by two. One can only conclude that this kind of business is rising. El Capitan is the former Seaman's Club on the back side of the pond in Philipsburg. A little further outside of town on the right is Defiance Haven, the former dorms of the American University School. Keep heading toward Oyster Pond and one gets to the Sunset Retreat (Yellow Building) and after that Casablanca (White House).
Red Light Districts
The Dutch are notoriously liberal and have cultivated a permissive attitude regarding prostitution on St. Maarten. Brothels operate around the island and must purchase a permit and supply affidavits on their employees (mostly Dominican, Venezuelan, Guyanese, and Jamaican immigrants who must submit to monthly medical checkups). Several brothels are situated just outside Philipsburg (if this is your thing, ask the security guards at your hotel for advice on where to go).
It all started with the Seaman's Club (79 Sucker Garden Rd.; tel. 599/542-2978), known to the locals as the "Japan club." It was founded in the 1940s to service Japanese tuna fishermen who'd been to sea for months at a time. These single men needed a place to carouse, and the government didn't want them hassling local girls, so a tradition was born.
One big difference from Amsterdam's red-light district is that possession of marijuana is not tolerated here. An infraction could lead to stiff fines or even imprisonment.
Prostitutes and Sex Workers
St. Maarten and Curaçao are particularly prime locations for sex tourism as they house the two largest biggest brothels in the Dutch Caribbean. The largest, Campo Alegre, is located on Curaçao while the smaller Seaman's club is located on St Maarten.
Street Hookers
It's much easier and convenient just to visit a brothel than try find a streetwalker in Saint Martin.
Live Sex Cams
Can I watch Live Sex Cams in Saint Martin? - Yes, you can! Basically you can watch our online live sex shows for free anywhere in the world if you're connected to internet. Join to get 10 free private teasers and 9.99 credits for free! You can choose any girl from our trusted Live Sex Cams!
Live Sex Cams are booming at the moment. Webcam models can be found from all over the world and you can find girls, guys, trannies, couples and groups of different ages performing to you. Watching live sex shows is usually free, but if you buy some credits, you will have much better chances to see adult action as desired! It's possible also to hire a webcam model to a private chat room where you can ask the person to fulfill your fantasies.
Where to Get Sex Now
It is easy to get sex online in Saint Martin. You just need to find the best available girls. See Girls Online Here!
Adult Locations
There are great bordellos in St. Martin.
Escort Services and Agencies
Unfortunately we don't list in this category!
Finding an escort when you're travelling can be a bit tricky. An ideal solution for having an alternative for escorts is Ashley Madison. There are thousands of horny girls waiting for you. Find all the beautiful young women at AshleyMadison.com!
Escorts in Saint Martin can be also found from the internet and some agencies provide a cruise ship to the brothel tours.
Erotic Massage Parlors
Unfortunately we don't list in this category!
There are few out-call erotic massage providers in Saint Martin, but so far there are no Thai massage salons opened.
Brothels and Sex Clubs
Normally drinks are around $10, lap-dances $20-$40 and sex with a girl around $100-200 per hour in touristy strip clubs and brothels. Non-touristy brothels are much cheaper and in those you can have sex for as little as $30-50 for 20-30minutes. Most strip clubs in St. Maarten also offer sex services.
Expect to pay an additional room fee of about 3 dollars per 30 minutes. At the casas. Excepted are El Capitan, Petite Chateau and Defiance, where the rooms are free in daytime but $10 per 30 minutes after 8 pm.
Strip Clubs and Striptease
Touristy [[strip club]] with private dance rooms and a balcony over looking Simpson Bay. They sometimes have featured dancers. A bar fee of $250. They encourage their girls to charge $500 for the night.10pm - 5 amNumber of girls: Around 25.Etnicity: A mix of EE girls (mostly [[Russia]]ns) and lat ...
12, Airport Road
´Open 10pm - 5 am. The fanciest, most expensive, club on the island (but not as great as the website). Girls mostly from Eastern Europe. $30/dance. $1,000 to leave the club with you for the night.Number of girls: Around 50.Etnicity: Mostly Ukrainians with a few Romanians and latinas (Colombians / ...
Maho Plaza - In the Maho Beach Resort area.
Maho Plaza - In the Maho Beach Resort area.
Number of girls: 20- 25.Ethnicity: A mix of Colombianas / Dominicanas.A / C: Yes, poor*Pricing: 40- 50 (20- 30 minutes CBJ / sex).
79 Suckergarden Rd
Dutch St. Maarten has its share of adults-only entertainment, from topless lounges to gentlemen's clubs. Most of these adult clubs can be quite raunchy.
Karaoke and KTVs
KTVs (hostess karaoke bars with beautiful female staff) are popular in some parts of Asia but you cannot find any of them from Saint Martin.
Swinger Clubs and BDSM
ALT.com is the best place for local singles, swingers, and couples in the BDSM community to connect with those interested in submissive sex, power exchange, locating persons for new slave roles, erotic BDSM, bondage & fetish sex, as well as live sex dates. Find thousands of play partners for whatever your fetish may be; bondage, foot, cockold, spankings, role-play, electric or water play, sadism and masochism. So whether you have the desire to explore your unrealized fetish fantasies, or you are extremely experienced and would love to train someone new, ALT.com is a community designed for people with like-minded interests to find and connect with each other.
There are no swingers clubs in Saint Martin. The nude beaches (officially the southern end of Orient and unofficially Happy Bay and the northern end of Cupecoy, see SXM-Beaches) would seem to be great places to pick up sexy girls, open minded couples and other people. If nothing else, it is a place to meet and greet.
There are two places that advertise a complete nude environment. Club Orient made Orient Beach famous and sits at the southern end of Orient Beach. The beach, grounds around the various cottages, and bars are nude. Club Fantastico has opened recently in a large villa up the hill from the beach. It is a nude bed & breakfast with six rooms and a pool. Their claim is that they are owned and staffed by nudists.
Sex Shops and Adult Stores
If you don't feel like visiting or cannot find any local sex shops in Saint Martin, you can easily order adult products from Online Sex Shop.
Pretty much all pharmacies have Viagra or other erection pills on sale. Phillipsburg Pharmacy has it in generic and price is $5 each (100 mg) in blister packs of 4.
Love Hotels and Short Time Hotels
Love hotels are popular in some parts of Asia, especially in Japan. There are also many love motels and short-time hotels in South America. Unfortunately you cannot find any real Japanese style love hotels in Saint Martin. If there are short-time hotels near by, usually the working girls know all of these places.
Nightclubs and Bars
There are many nice nightclubs and bars in Saint Martin where you can try your luck to find sex for free from tourists or locals.
Gay and Lesbian
Gay modeling in internet is getting more popular all the time and it's a big market alongside with gay porn. You can watch gay live sex also in Saint Martin as long as you are connected to internet. Check it out: Gay Live Sex Video Chat
Overall the gay scene in St. Martin is somewhat discreet and quiet with some busy nights especially on weekends. There are some gay guesthouses, art galleries, clubs and bars.
Eros Club on Rue Victor Maurasse behind Arawak on the Marigot Waterfront claims to be a gay club and bar. Nanou organizes Chippendale parties, Miss Drag Queen Shows, go-go boys, male lingerie fashion shows, etc. The patrons are mostly gay. Website: http://www.erosclub-saintmartin.com/ Address: Rue Victor Maurasse Marigot Saint Martin (Tel: 0690 88 19 30)
Just a note on gay acceptance. The tourists who come to SXM are rather worldly. For the most part they accept gays and lesbians, blacks, drinking, gambling, strip clubs, topless beaches, nude beaches, sex shops, even pleasure palaces. Even the locals are generally laid back, but there was an incident several years ago that received a lot of attention. The perps were caught and prosecuted. It offers a gay and a nude beach–for all, in front of Club Orient Resort.
Other Adult Services
You can ask different type of special services of the working girls in bordellos.
Dating
Dating in Saint Martin can be a bit tricky due to cultural differences, so your best bet is to sign up for a dating site before your trip so you can meet a few locals ahead of time. AdultFriendFinder.com lets you meet local members in Saint Martin and get to know them on a personal basis before you arrive. Take advantage of site features like live chat and member to member webcams so you can begin flirting before arranging a face-to-face meeting. Since your time in Saint Martin may be limited, get to know each other's desires beforehand, so that when you meet you can start having some real fun.
How to find Sugar Babies and Sugar Daddies
If you are looking for an alternative to escorts in Saint Martin with a girl who doesn't charge by the hour, sugar dating is the ideal solution. There are thousands of beautiful young women at SecretBenefits willing to do anything for a man who will help them pay their bills.
Often referred to as the "Tinder for Older Guys", SecretBenefits matches hot young women interested in pampering older gentlemen. You don't have to be a millionaire at SecretBenefits.com, you just need to be a respectful gentleman who knows how to treat a woman.
Transsexuals and Shemales
Finding someone for transsexual dating when you're on the road can be a bit tricky, so your best bet is to sign up for a dating site before you go so you can find locals ahead of time. TSdates.com is a dating site designed to help you find exactly what you are looking for in your hookup in Saint Martin. Take advantage of site features like live chat and member to member webcams so you can begin flirting before arranging a face-to-face meeting. With over 40 million members, and thousands of transsexual members around the world, TSdates.com is the world's largest site of sex-minded friends for discreet encounters and will help you find your next transsexual play partner.
Where can I find shemales in Saint Martin? You can watch transsexual live sex shows in Saint Martin as long as you are connected to internet. Check Now: Tranny Live Sex Video Chat

It's not usual to meet a tranny at Saint Martin.
Sexual Services for Women
There are lots of tourists in the party mood so it shouldn't be too difficult to find a male sex partner.
Sleeping and Girl Friendly Hotels
St. Martin's hotel rooms, almost without exception, rent for US$100+ per night and often much more, and generous taxes and service charges are then also applied. High season is from December through April. Accommodations are considerably less the rest of the year. If you are doing last minute travel when you call ahead ask for the "local rate" rather than what you will normally get which is the "walk-in rate", it can save you a considerable amount of money in some situations.
Stay Safe
Locate some common sense and bring it with you when vacationing anywhere in the Caribbean.
Sun You can burn within a remarkably short time; use sunscreen or block frequently depending on how long you're exposed. Do not fail to reapply it as recommended depending on where you are (e.g., swimming, on boat, beach walking), with special attention to feet and backs of knees and neck. Brimmed hats and umbrellas can offer further protection.
Crime Though the island is generally a safe place, like everywhere else in the world there is crime, and you should be aware of your surroundings at all times. Obviously you should lock your doors, avoid unpopulated areas and do not flash your money and jewelry around. Remember that this is a foreign country, and act accordingly. Tourists report many instances of parked rental cars being rifled. Organized teams can break in effortlessly. Best advice: Leave nothing of value in them at any time.
Drinking Be aware that drinking is practically a national pastime in St. Maarten, and it is relatively easy and inexpensive to obtain alcoholic beverages ($1.25 ice cold Heineken's are available almost everywhere including McDonalds and gas stations) and therefore extremely easy to over-do it. Driving while impaired on the island is very risky as there are many places where you could end up in the ocean or down the side of a cliff. When in doubt, call a cab.
Drugs Like most places, drugs are readily available for those interested, but despite what someone may tell you Marijuana is not legal and certainly is not regulated as in certain parts of the Netherlands.
Parking Take care in Philipsburg...there is very little parking and the tow zone areas are very poorly marked. If the spot is free and you think it shouldn't be then it is probably a tow area.
Jet blast If you're on Maho Bay, watch out for approaching and departing planes. Get too close and a jet engine from a plane taking off can blast a lot of air, sand, or water into your face, or worse cause serious injury or death.
GLBT travelers If you are GLBT be careful of your surroundings, as with many Caribbean islands the local culture doesn't have the same level of acceptance found in other countries. While not a large problem, each year there are reports of attacks based on sexual orientation. If you are considerate of your environment you won't have a problem but it should be noted that public displays of affection by GLBT individuals (especially on the Dutch side) may not be well tolerated.
Pharmacies are denoted by a cross symbol, usually in neon and there are Hospitals with ambulance service on both sides of the island.
See Also