Nijmegen
Nijmegen Sex Guide advises where to find sex, working girls, prostitution, street hookers, brothels, red-light districts, sex shops, prostitutes, erotic massage parlors, strip clubs and escorts in Nijmegen, Netherlands.
Nijmegen is a large city in the southeast of the Netherlands, population 160,000 (city proper). It's the largest city in Gelderland, and in the Arnhem-Nijmegen metropolitan area (pop. 725,000). Nijmegen is well-known for its left-wing politics, its prominent Old Town, and its large student population.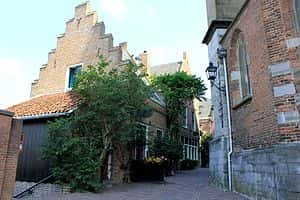 Sex Scene and Prostitution
Nijmegen has great and lively singles nightlife and prostitutes at the red-light district. Plenty of cosy pubs, hipster bars and few good single nightclubs. There is something to do for everyone until the early hours of the morning and hookers for horny guys during the day and nighttime. Also, if you like to gamble there is a good casino! Window prostitution in Nijmegen takes place at the Nieuwe Markt, which lies to the north of the Kronenburgerpark and if you are looking for more single girls and perhaps some dancing, Nijmegen has a rich variety of clubs. These are found primarily on Molenstraat.
Quite a few travellers visit the Netherlands to enjoy its famously tolerant attitude: prostitution is decriminalized but only for those prostitutes registered at a permitted brothel. Safe sex and use of condoms is common practice, and the prostitute will usually have these available. It is illegal for sex workers to solicit for customers on the street and prostitutes are most common in the capital Amsterdam, where red-light districts are popular, even if tourists only visit as a momento of the visit. In more rural areas, prostitution is almost non-existent. Sex shops, sex shows, sex museums and drugs museums are also popular amongst tourists. The sale, possession, and consumption of small quantities of cannabis while technically still illegal, is officially tolerated, but coffeeshops are subject to increasing restrictions. Harder drugs (eg. ecstasy or cocaine) remain illegal both in theory and practice. In the same open minded atmosphere is the Dutch ease towards homosexuality, gay marriage is legalized. Also the practice of euthanasia is legalized under strict conditions.
Where to Get Sex Now
It is easy to get sex online in Nijmegen. You just need to find the best available girls. See Girls Online Here!
Red Light Districts
Window prostitution takes place in Nijmegen in the Nieuwe Markt to the north of the Kronenburgerpark. Organised Window prostitution should only be located in the Nieuwe Markt lots 24 to 40 (even numbers).
Prostitutes and Sex Workers
According to Radio Netherlands, prostitution is concentrated in and around the big cities and in the border towns in the regions of Limburg, Groningen, Twente, West Brabant and Zeeland. Prostitution occurs in various forms: 'window' and street prostitution, clubs, escort agencies and home-based prostitution. 'Window' prostitution occurs in 12 cities in the Netherlands. It is estimated that on average some 2,000 prostitutes are engaged daily in this form of prostitution.
About 15 years ago there was a huge influx in Nijmegen of sex workers from Eastern Europe, which increases competition, which means that sex workers also went soliciting outside the designated zones and this caused problems. Thi is why the municipality did introduce a registration requirement in the autumn of 2007 and only the prostitutes who had been active in the zone at that time in the previous two years received a permit to still work there.
Street Hookers
Street prostitution exists in 10 Dutch cities and involves on average some 320 prostitutes daily.
Street Prostitution in Nijmegen
In 2000, the municipality opened a street prostitution zone on "Nieuwe Marktstraat" near the police headquarters. Part of the Nieuwe Marktstraat in Nijmegen is designated as a prostitution area. The location may only be used for street prostitution from 20.00 - 02.00 hours. Nieuwe Marktstraat located to the west of the Kronenburgerpark.
Security personnel monitor the area to order, security and hygiene. Large influx of prostitutes from Eastern Europe has been increasing the competition in the area. This have result prostitutes soliciting outside the Tippelzone, which in turn causes a nuisance.

See Also: Sex drive-in & Tippelzone
Strip Clubs & Lap Dance
Caro's Partyplace, Torenuilstraat 2-14
Brothels
Between 3,500 and 4,000 prostitutes are employed daily in 600–700 clubs and private brothels in Netherlands.
Erotic Massage Parlors
Most erotic massage studios in Netherlands are Asian massage parlors. Usually cost is 35-60€ per on hour of massage. Inside the massage booth you will pay for extras and prices start from 20€. There is however Asian massage studios that do not offer handjobs or other extra services. Usually the ones that are open late and have girls in smaller skirts or sexy outfits will offer sex services. You should also see that you are in a right place when you walk inside the parlor and girls will come and talk you with sexy voice and maybe touch you.
Massage parlors in Nijmegen
Bloemerstraat 15, 6511EB Nijmegen Open: 11:00 - 22:00
Voorstadslaan 4, 6541AC Nijmegen Open: 11:00 - 23:00
Heidebloemstraat 79, 6533 SM Nijmegen Open: 12:00 - 21:00
Live Sex Cams
Can I watch Live Sex Cams in Nijmegen? - Yes, you can! Basically you can watch our online live sex shows for free anywhere in the world if you're connected to internet. You can choose any girl from our trusted WikiSexLive.com! Join to get 10 free private teasers and 9.99 credits for free!
Live Sex Cams are booming at the moment. Webcam models can be found from all over the world and you can find girls, guys, trannies, couples and groups of different ages performing to you. Watching live sex shows is free, but if you buy some credits, you will have much better chances to see adult action as desired! It's possible also to hire a webcam model to a private chat room where you can ask the person to fulfill your fantasies. Try now! WikiSexLive.com
Dating
Dating in Nijmegen can be a bit tricky due to cultural differences, so your best bet is to sign up for a dating site before your trip so you can meet a few locals ahead of time. AdultFriendFinder.com lets you meet local members in Nijmegen and get to know them on a personal basis before you arrive. Take advantage of site features like live chat and member to member webcams so you can begin flirting before arranging a face-to-face meeting. Since your time in Nijmegen may be limited, get to know each other's desires beforehand, so that when you meet you can start having some real fun.
How to find Sugar Babies & Sugar Daddies
If you are looking for an alternative to escorts in Nijmegen with a girl who doesn't charge by the hour, sugar dating is the ideal solution. There are thousands of beautiful young women who are willing to do anything for a man who will help them pay their bills.
Often referred to as the "Tinder for Older Guys", Sugar Dating matches hot young women who are interested in pampering older gentlemen. You don't have to be a millionaire to meet a sugar baby. Click Here if you are a respectful gentleman who knows how to treat a woman.
Swinger Clubs and BDSM
ALT.com is the best place for local singles, swingers, and couples in the BDSM community to connect with those interested in submissive sex, power exchange, locating persons for new slave roles, erotic BDSM, bondage & fetish sex, as well as live sex dates. Find thousands of play partners for whatever your fetish may be; bondage, foot, cockold, spankings, role-play, electric or water play, sadism and masochism. So whether you have the desire to explore your unrealized fetish fantasies, or you are extremely experienced and would love to train someone new, ALT.com is a community designed for people with like-minded interests to find and connect with each other.
Transsexuals / Shemales
Finding someone for transsexual dating when you're on the road can be a bit tricky, so your best bet is to sign up for a dating site before you go so you can find locals ahead of time. TSdates.com is a dating site designed to help you find exactly what you are looking for in your hookup in Nijmegen. Take advantage of site features like live chat and member to member webcams so you can begin flirting before arranging a face-to-face meeting. With over 40 million members, and thousands of transsexual members around the world, TSdates.com is the world's largest site of sex-minded friends for discreet encounters and will help you find your next transsexual play partner.
Where can I find shemales in Nijmegen? You can watch transsexual live sex shows in Nijmegen as long as you are connected to internet. Check Now: Tranny Live Sex Video Chat
About 5% of prostitutes in Netherlands are estimated to be transgender.
Gay and Lesbian
Gay modeling in internet is getting more popular all the time and it's a big market alongside with gay porn. You can watch gay live sex also in Nijmegen as long as you are connected to internet. Check it out: Gay Live Sex Video Chat
As mentioned above, the Netherlands is quite liberal when it comes to homosexuality and by far is considered to be one of the gay-friendliest countries in the world. The Netherlands has a reputation of being the first country to recognise same-sex marriage, and openly displaying your orientation wouldn't cause much upset in the Netherlands. However, even a gay friendly country like the Netherlands has room for some criticisms of homosexuality, but this varies depending on where one travels. Regardless, with violence and discrimination against gays being rare as well as the legal status of same-sex marriage in the Netherlands, this country may be considered a gay utopia and should be safe for gays and lesbians (except sometimes in religious neighbourhoods in the major Dutch cities, after big football matches or in demonstrations if there is a violent attitude in general).
Sexual Services for Women
About 5% of prostitutes are estimated to be males.
Sex Shops and Adult Stores
If you don't feel like visiting or cannot find any local sex shops in Nijmegen, you can easily order adult products from Online Sex Shop.
Sex Shops in Netherlands usually have a good variety of sex toys, dvd´s, lubes and condoms. Some will also have a sex arcades, where mostly gay and bi-curious men go to masturbate while watching porn in a private rooms or cinema. There is also sex shops offering peep-shows and private strip tease. Usually peep show costs about 1 euro per 1 minute. Mostly there is a sexy girl posing behind the curtain, but example in Amsterdam you can see live sex acts between couples in a peep-show.
Ero World Nijmegen B.V., Van Welderenstraat 61, tel.: +31 24 323 6283
Manoes.nl, de Voorstenkamp 1210, tel.: +31 24 345 0411
ero-winkel.com, Meijhorst, 6537 GS Nijmegen, tel.: +31 24 844 3115
Escort Services & Agencies
Finding an escort when you're travelling can be a bit tricky. An ideal alternative to escorts is a girl who is looking for a mutually beneficial relationship. There are thousands of horny girls willing to do anything for a generous guy. Click Here to hookup with a beautiful young woman now.
The extent of escort agencies and home-based prostitution in Netherlands is difficult to estimate. Home-based prostitution occurs in at least 17 municipalities and escort agencies exist in at least 28 municipalities.
Sleeping
You should get a room somewhere neat the Nieuwe Markt, which lies to the north of the Kronenburgerpark if you want to have sex with the prostitutes. If you are in to a casual sex and want to hook up with sexy Dutch girls, then rent a hotel room near Molenstraat where the best nightlife and bar street is located at.
A wide range of accommodation is available, concentrated on the major tourist destinations. They include regions popular for internal tourism, such as the Veluwe. In non-touristed areas, accommodation may be very limited.
Prices are generally high. Budget accommodation starts at around €20 per person and prices go upwards from there. Seasonal demand affects availability and can cause prices to rise dramatically, especially in Amsterdam.
Official Dutch Youth Hostels are called "Stay Okay" [1], but they are not as widespread as in Great Britain. Also there is no kitchen available for guests, so either you eat what's on menu or you eat out. Besides the Official Dutch Youth Hostels there are plenty of other hostels spread around the country. Popular are The Flying Pig Hostels [2] in Noordwijk and Amsterdam, which do provide a kitchen for one's own use and they have a liberal smoking policy.
Another option is staying at a bed & breakfast. There is a wide choice in the big cities, but there are also plenty to be found in the smaller towns and villages. Prices are generally €40-100, depending on the number of occupants and the season. Bed & breakfasts may not offer all the facilities that bigger hotels do, but the service is generally friendly and personal. Also, many bed & breakfasts are to be found along popular hiking trails and cycling paths.
Short-term apartment rental is available in cities, but may not be legal. While most have a 3 night minimum stay, the process of making reservations and checking in is generally identical to that of staying in a hotel, the notable exception being that most require a credit card deposit, and the balance payment in € on arrival.
Vacation rental homes are popular in the Netherlands, especially in rural areas. These small homes come in broad varieties: they can be simple or luxurious, individual places or part of large parks with lots of identical homes and they are operated by private owners as well as large chains. Traversia has the largest collection of vacation rentals in the Netherlands, by Dutch owners [3]. Large chains of vacation rental home parks are Center Parks and Landal Greenparks. Where privately owned options can sometimes provide a more authentic, local experience (e.g. located in old, timber-framed houses in South Limburg), the parks will offer additional services, restaurants and swimming pools. In most cases, you have to book at least a weekend. Although generally not very cheap, they have kitchens and therefore allow for self-catering.
If you are traveling by bicycle or by foot, there is a list of 3600 addresses where you can stay at private homes with bed and breakfast for no more than € 18,50 per person per night, although you must also pay € 9 for membership of this scheme. It is called Vrienden op de fiets [4].
Stay Safe
The Netherlands is generally considered a safe country. However, be alert in Amsterdam, Rotterdam, The Hague and other large cities that are plagued by pickpockets and bicycle theft, violent crimes are very rare.
Police, ambulance and fire brigade have one general emergency number 112. There is one police force, organized in 25 police regions. Visitors will deal with mostly the regional police. Some specialized forces, such as the railway police and the highway police on main roads, are run by a separate national force (highway police being the KLPD - Korps Landelijke Politie Diensten, and railway police being the spoorwegpolitie). When calling 112, if you can, advise on what emergency services what you need. When you need police but there is no life in danger or crime being executed, you call +31900-8844, with this number they will come quickly but without sirens. If you want to report a crime anonymously [5](e.g. because you are in fear of reprisals or a confrontation with the perpetrator) you can call +31800-7000.
Border controls and port and airport security are handled by a separate police force, the Marechaussee (or abbreviation 'KMar' - Koninklijke Marechaussee), a gendarmerie. They are an independent service of the Dutch armed forces (making them a military service, not a civil one). City guards have security tasks among their duties in most cities such as issuing parking and litter fines. They often have police-style uniforms to confer some authority, but their powers are limited. For instance, only the police carry a gun.
Prostitution in the Netherlands is legal since 1988 if the prostitute consents. Pimping or otherwise exploiting women against their will is a crime, even in the Netherlands. Illegal prostitution in hotels can be raided by the police and the client as well as the prostitute can be fined or be put in jail. Hotel personnel are obliged by law to notify the police if they suspect these kinds of illegal activities. Having sex with a minor (18 for prostitutes, 16 for other people) is also illegal.
European Network against Racism, an international organisation supported by European Commission reported that, in the Netherlands, half of the Turks reported having experienced racial discrimination. The same report points out a "dramatic growth of Islamophobia" paralleled with antisemitism. Another international organisation, the European Monitoring Centre on Racism and Xenophobia, highlighted a negative trend in the Netherlands regarding attitudes towards minorities, compared to average EU results. The analysis also noted that compared to most other Europeans, in the Netherlands, the majority group is "more in favour of cultural assimilation of minorities" rather than "cultural enrichment by minority groups".
Unsafe parts of cities In the larger cities, certain areas are considered unsafe at night. A few are also unsafe in daylight:
Drugs
Gapers (Black Moors Head)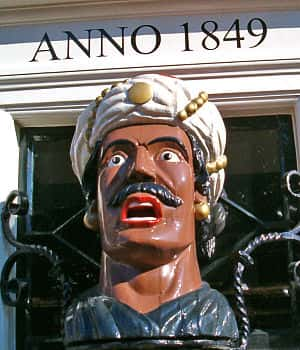 These are an ancient symbol of pharmacy in the Netherlands. They look like people yawning (gapers means yawners in Dutch), but really they have their mouths open to take medicine. Sometimes a pill can be seen on their tongue. These symbols were once common in the Netherlands, especially in Amsterdam. Today they are very rare on buildings.

Usually the head is of a black or Moor man. This is because in the 15-17th centuries, pharmacists would travel through the country with an assistant trying to sell their medicines. Before an audience the pharmacist would give a pill to his assistant. These were often Moors. The assistant would act better. So pharmacies became known by the assistant's head. Today some bars and restaurants are named after Gapers. There is also a large collections of them in the Netherlands Drugstore Museum in Maarssen.
The Netherlands is renowned for its liberal drug policy. While technically still illegal because international treaties, personal use of (soft) drugs are regulated by the Ministry of Justice under an official policy of gedogen; literally this means to accept or tolerate, legally it is a doctrine of non-prosecution on the basis that action taken would be so highly irregular as to constitute selective prosecution.
Note that this does not mean the Dutch are all permanently high. In fact drug usage is much lower in the Netherlands than it is in countries with more restrictive policies. Much of the clientèle of the coffeeshops (see below) is in fact tourists. Be sure you are among like-minded people before lighting up a spliff.
You are allowed to buy and smoke small doses (5 g or less) of cannabis or hash. You must be 18 or older to buy. For this you have to visit a coffeeshop, which are abundant in most larger towns. Coffeeshops are not allowed to sell alcohol. Minors (those under 18) are not allowed inside. Coffeeshops are prohibited from explicit advertising, so many use the Rastafari red-yellow-green colors to hint at the products available inside, while others are more discreet and sometimes almost hidden away from plain view. In the border provinces of Limburg, North Brabant and Zeeland it is now only possible to buy cannabis products in a coffeeshop if you've got a wietpas ("weed pass") from may 2012. Only residents of the Netherlands can get a pass! This measure will be introduced in an effort to combat drug related crime and nuisance.
Beware that cannabis sold in the Netherlands is often stronger than varieties outside, so be careful when you take your first spliff. Be particularly wary of cannabis-laced pastries ("space cakes") as it's easy to eat too much by accident — although there are also unscrupulous shops that sell space cakes with no weed at all. Wait at least one hour after eating!
Hallucinogenic ("magic") mushrooms, once legal, are banned as of December 1st, 2008. However, "magic truffles", which contain the same active ingredients as magic mushrooms are still technically legal and are sold in some Amsterdam head shops.
It is forbidden to drive any motorized vehicle while impaired, which includes driving under the influence of both illegal and legal recreational or prescribed drugs (such as cocaine, ecstasy, cannabis and mushrooms) as well as alcohol, and medication that might affect your ability to drive.
Buying soft drugs from dealers in the streets is always illegal and is commonly discouraged. The purchase of other (hard) drugs such as ecstasy, cocaine, or processed/dried mushrooms is still dealt with by the law. However, often people who are caught in possession of small amounts of illegal drugs for personal use are not prosecuted.
The act of consuming any form of drugs is legal, even if possession is not. If you are seen taking drugs, you may theoretically be arrested for possession, but not for use. This has one important effect; do not hesitate to seek medical help if you are suffering from bad effects of drug use, and inform emergency services as soon as possible of the specific (illegal) drugs you have taken. Medical services are unconcerned with where you got the drugs, they will not contact the police, their sole intention is to take care of you in the best way possible.
At some parties, a "drug testing desk" is offered, where you can have your (synthetic) drugs tested. This is mainly because many pills contain harmful chemicals in addition to the claimed ingredients; for example, many pills of "ecstasy" (MDMA) will also contain speed (amphetamines). Some pills don't even contain any MDMA at all. The testing desks are not meant to encourage drug use, since venue owners face stiff fines for allowing drugs in their venues, but they are tolerated or 'gedoogd' since they mitigate the public health risks. Note: the desk won't return the drugs tested.
Please note that there are significant risks associated with drug use, even in the Dutch liberal climate
while marijuana bought at coffeeshops is unlikely to be hazardous, hard drugs like cocaine and heroin and synthetic drugs like ecstasy are still illegal and unregulated. These hard drugs are likely to be in some way contaminated, especially when bought from street dealers.
some countries have legislation in place that make it illegal to plan a trip for the purpose of commiting illegal acts in another jurisdiction, so you might be apprehended in your home country after having legally smoked pot in the Netherlands.
Alcohol and weed
Be very careful with alcohol and weed, don't use any alcohol the first couple of times you smoke weed, drinking one beer after you've smoked can feel like drinking ten beers. However, alcohol and weed can be a very nice and trippy experience, especially for people who don't feel enough from just smoking weed (to some people weed might be a little bit disappointing, others can space the whole night on 0.5 g). Alcohol and weed amplify each other, a little bit of alcohol can cause you to intensely feel the effect of the weed, but a tiny bit too much can make you feel dizzy and/or nauseous. In the end, be careful, pace yourself and know your limits. There's loads of fun to be had, if you act responsibly.
See Also