Marseille
Marseille Sex Guide advises where to find sex, working girls, prostitution, street hookers, brothels, red-light districts, sex shops, prostitutes, erotic massage parlors, strip clubs and escorts in Marseille, France.
Marseille; also Marseilles in English, known in antiquity as Masalia, Massalia or Massilia (from Greek: Μασσαλία; probably adapted from an existing language related to Ligurian) is the second largest city in France, after Paris, with a population of 850,636 (January 2011) on a land area of 241 km2 (93 sq mi). It is the 3rd-largest metropolitan area in France after Paris and Lyon, with a population of 1,720,941 at the January 2011 census.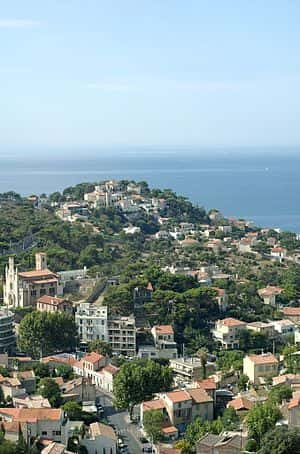 Sex Scene and Prostitution
Prostitution in France (the exchange of sexual services for money) was legal until April 2016, but several surrounding activities were illegal like operating a brothel, living off the avails (pimping) and paying for sex with someone under the age of 18 (the age of consent for sex is 15).
The stand-out measure from the bill and the one that has caused the most controversy is the law that will see customers fined if they are caught paying for sex.
By making the clients rather than the prostitutes the guilty party the reform will "turn the current law on its head," according to French Socialist MP Maud Olivier, who has been the driving force behind the change.
Marseille as a cosmopolitan port city, was, and still is, a centre for prostitution.
Under the new provision, buying sex acts in France will be punishable by a 1,500 euro fine. Repeat offenders risk a fine of 3,750 euros. The provision is part of a larger bill on prostitution.
Studies from 2003 estimated that about 15,000 – 20,000 girls work as prostitutes in France. In 2010, the number of full-time male and female sex workers was estimated at 20,000 – 30,000, with 80 to 90% being foreigners. Most of the sex workers come from Bulgaria, Romania, Nigeria, Cameroon, China and South America.
In 2004, the average earnings of a French sex worker were estimated at €500 a day. For Sub-Saharian sex workers living in France, it was less, around €200–300. Some barely made €50–150 a week.
Where to Get Sex Now
It is easy to get sex online in Marseille. You just need to find the best available girls. See Girls Online Here!
Red Light Districts
Following areas are considered as red-light districts in Marseille. There are no window girls like you may see in Amsterdam, but sex is still sold on the streets:
Sex at these areas usually costs around 50 Euro. There are many other areas where you can find sex in Marseille and these are mentioned below in the "Street Hookers" section.
Prostitutes and Sex Workers
The sex industry in Marseille is growing and there are now more prostitutes coming from Bulgaria, Albania, Romania, Russia and elsewhere from Eastern Europe. Big part of the prostitutes are also from African and South American countries. Foreign sex workers have been bringing the price of sex down for a years in Marseille.
Street Hookers
You can find street walkers in Marseille from these areas:
The area around Boulevard Michelet thrives with prostitutes (long straight line behind the stadium for 40e full service). Black and Arabic African prostitutes can also found in this area.
Rue Curiol, just above the corner of Rue Henri Messerer. You can find some sexy Algerian street prostitutes from this area.
You also will find street hookers in Rue Barthélémy. Price is 40 - 50 euros for a blow job and a quick fuck. A lot of the sex workers are fat and and old. But most of these older prostitutes know how to suck cock and if you want a good mouth job, they are the ladies you should choose, instead of the young girls.
Alléés Gambetta
Rue St-Bazile
Bd de la Liberte (Transsexual street whores)
Cours F. Roosvelt (trans prostitutes)
Rue St-Savournin
Rues Curiol et Senac (Spanish sex workers and trannies)
Cours Lieutaud
Opera House
Cenebiére
Rue Poids de la Farine
Bd MI Juin F Duparc et Sakakini (central European sex workers)
Further away in the east side of the Marseille you can find more working girls from the following areas:
Hookup and Pick Up Local Girls
Meeting local girls and getting laid for free is fun! Read more on how to pick up girls in Marseille: https://hookuptravels.com/wiki/Marseille
Strip Clubs & Lap Dance
There are about 17 "American Bars" in the neighbourhood around the Marseille Opera House. In the bars, the young "hostesses" welcome the clients and get them to drink. They are paid a certain percentage for each glass or bottle that the client drinks. The bars are open late at night, generally until the following morning. The inside is very dimly lit, facilitating erotic and often very risky behaviour for the women, working in these bars is a first step. They often change bars or get into prostitution from there.
Here are some strip clubs in Marseille:
L'Olympe, 29 rue Vallon Montebello. +33 4 91 53 18 94.
La Caproccio, 161 Ave des Chartreux. 04 91 64 80 67.
Le Jardin d'Eden, 63 rue d'Italie. +33 4 91 47 19 17.
Le Vigoleno, 57 bd de la Blancarde. +33 4 91 49 84 36.

If you want to have a small break from Marseille nude bars, then you can visit the best singles nightclubs and pick-up bars to pick up hot tourist girls and local Marseille chicks:
Bar Le Pelle Mêle, 8 Place aux Huiles
Le Baby, 2 rue André Poggioli
Le Bar de la Marine, 15 Quai du Rive Neuve
Le Bazar, 90 Boulevard Rabatau
Le Makeda, 103 Rue Ferrari
Les Berthom, 31 Cours Honoré d'Estienne d'Orves
La Caravelle, 34 Quai du Port
La dame Noir VII, 43 Quai de Rive Neuve
Trolleybus, 24 quai Rive Neuve
U.Percut, 127 Rue Sainte
Brothels
There are no legal brothels, cathouses or whore houses in Marseille. However you may be able to buy sex from some of the dancers at the Marseille strip clubs or at the erotic massage parlours which have mostly Chinese and Thai girls working in the premises. You should try to find out discreetly, if sex is being sold at these places because they do not advertise sex services openly. There are also some flats where more than one escort is working and these can be also called apartment or mini brothels. Cost at the Marseille apartment and mini bordellos ranges from 50€ to 250€.
Swingers Clubs in Marseille
There are swingers groups in Marseille that gather together in a private premises and have gang-bangs. Following swingers clubs in Marseille are worth to check out. Some only allow single women and couples, but the others also accept single men if they pay a higher entrance fee.
Le Vahiné - 35 rue Elimir Bourges 13004 Marseille
Phone : 04 91 34 76 56
Homepage : www.levahine.com
Open : couples only
Other : Sauna, hammam, jacuzzi, disco
Le Jardin d'Eden - 29 Rue du Vallon de Montebello 13006 Marseille
Phone: 04 941 53 18 94
Homepage: www.lejardindeden.free.fr
Open: Wed Sat 2pm-till.
Other : Sauna Disco
Le Millesime - 9 rue Fort du Sanctuaire 13006 Marseille
Phone : 04 91 37 69 69
Homepage : www.lemillesime.com
Open : Wed-Sat 8.30pm-2am Couple only Sat
Entrance : 0€/couple 40€/single 20€/couple on Sat
Other : Restaurant
Erotic Massage Parlors
You can find a lot of massage ads online and sometimes from the Marseille magazines. Running a [[brothel[whore house]] in France is illegal and this is the reason why part of the prostitution business in Marseille is done secretly at the massage salons.
Girls at the Marseille massage parlours are mainly Chinese, sometimes there are few Thai girls. Expect to pay 40-80€ for a massage. 20-50€ for handjob or a blow-job. Sex will cost a little more from 50 to 100€. You should avoid the so-called 'naturist' massage: they are extremely expensive and you shall be lucky if you get more than a hand-job. If you want a sensual or an erotic body rub, whether with a Happy Ending or not, you can also try many of the independent escorts in Marseille, as most of them do these types of services quite well.
Where to find Massage Parlors in Marseille
Orissens, 29 Rue Longue des Capucins, Marseille, France +33 6 82 10 10 54
Raspoutine, 3 Rue d'Italie, 13006 Marseille, France +33 4 91 94 26 52 - 50€ massage and average service.
Live Sex Cams
Can I watch Live Sex Cams in Marseille? - Yes, you can! Basically you can watch our online live sex shows for free anywhere in the world if you're connected to internet. You can choose any girl from our trusted WikiSexLive.com! Join to get 10 free private teasers and 9.99 credits for free!
Live Sex Cams are booming at the moment. Webcam models can be found from all over the world and you can find girls, guys, trannies, couples and groups of different ages performing to you. Watching live sex shows is free, but if you buy some credits, you will have much better chances to see adult action as desired! It's possible also to hire a webcam model to a private chat room where you can ask the person to fulfill your fantasies. Try now! WikiSexLive.com
Dating
Dating in Marseille can be a bit tricky due to cultural differences, so your best bet is to sign up for a dating site before your trip so you can meet a few locals ahead of time. AdultFriendFinder.com lets you meet local members in Marseille and get to know them on a personal basis before you arrive. Take advantage of site features like live chat and member to member webcams so you can begin flirting before arranging a face-to-face meeting. Since your time in Marseille may be limited, get to know each other's desires beforehand, so that when you meet you can start having some real fun.
How to find Sugar Babies & Sugar Daddies
If you are looking for an alternative to escorts in Marseille with a girl who doesn't charge by the hour, sugar dating is the ideal solution. There are thousands of beautiful young women who are willing to do anything for a man who will help them pay their bills.
Often referred to as the "Tinder for Older Guys", Sugar Dating matches hot young women who are interested in pampering older gentlemen. You don't have to be a millionaire to meet a sugar baby. Click Here if you are a respectful gentleman who knows how to treat a woman.
Swinger Clubs and BDSM
ALT.com is the best place for local singles, swingers, and couples in the BDSM community to connect with those interested in submissive sex, power exchange, locating persons for new slave roles, erotic BDSM, bondage & fetish sex, as well as live sex dates. Find thousands of play partners for whatever your fetish may be; bondage, foot, cockold, spankings, role-play, electric or water play, sadism and masochism. So whether you have the desire to explore your unrealized fetish fantasies, or you are extremely experienced and would love to train someone new, ALT.com is a community designed for people with like-minded interests to find and connect with each other.
Transsexuals / Shemales
Finding someone for transsexual dating when you're on the road can be a bit tricky, so your best bet is to sign up for a dating site before you go so you can find locals ahead of time. TSdates.com is a dating site designed to help you find exactly what you are looking for in your hookup in Marseille. Take advantage of site features like live chat and member to member webcams so you can begin flirting before arranging a face-to-face meeting. With over 40 million members, and thousands of transsexual members around the world, TSdates.com is the world's largest site of sex-minded friends for discreet encounters and will help you find your next transsexual play partner.
Where can I find shemales in Marseille? You can watch transsexual live sex shows in Marseille as long as you are connected to internet. Check Now: Tranny Live Sex Video Chat
France became the first country in the world to declassify transsexualism as a mental illness. In Marseille most trans-girls advertise online and price for sex starts from 50€, but can go up to a hundreds of euros per hour. Usually t-girl escorts are quite good looking and service is often good and not rushed. It is also often much safer than picking a tranny whore from the street, because some of the street level trannies do pickpocketing and other petty crimes, just like female street prostitutes. Shemale escorts in Marseille who work indoors at the private flats do ask from 50€ to 250€ for sex. So it is recommended to always negotiate the price and the service before hand!
Non working TG/TS/TV and CD girls can be found from the local gay venues. But it can take some time to get lucky.
Where to find Transsexual Street Prostitutes in Marseille:
You can find transsexual street prostitutes from La rue Curiol. Lately there was a documentary about French Polynesian transgender prostitutes who worked in the area. You can find tranny street whores also from the other street prostitution areas. Price to have sex with a tranny cost around 50 Euro. Blow-job cost a little less like around 30 Euro.
Following areas in Marseille had transgender and t-girl sex workers back in the days, and you could still get lucky if you look around in these areas at the nighttime:
Rues Curiol et Senac
Cours F. Roosvelt
Bd de La Liberté
Gay and Lesbian
Gay modeling in internet is getting more popular all the time and it's a big market alongside with gay porn. You can watch gay live sex also in Marseille as long as you are connected to internet. Check it out: Gay Live Sex Video Chat
Lesbian, gay, bisexual, transgender (LGBT) rights in France have been seen as traditionally liberal and some of the most advanced in Europe and worldwide.
France became the thirteenth country in the world to legalize same-sex marriage in 2013, despite receiving opposition from across the country. France has frequently been named one of the most gay friendly countries in the world.
Up to 15 percent of sex workers in France are men. This percentage also includes TG/TS/TV and CD sex workers. Most male prostitutes cater to gay men and only a small number of the prostitutes accept women as clients. A gay male prostitutes in France charge between (€120 to €200 ) per hour.
Here are some gay saunas and bathhouses in Marseille (men only):
Cargo Hammam Club, 9 rue Moustier. Mo, Tu, We, Th: 02:00 p.m. - 09:00 p.m.; Fr, Sa: 02:00 p.m. - 02:00 a.m.; Su: 12:00 p.m. - 09:00 p.m.
JL Olympic, 28 rue Jean Roque
Sauna Salvator, 20, boulevard Louis Salvator
MP Sauna, 82 La Canebière. Mo, Tu, We, Th, Fr, Su: 12:00 p.m. - 09:00 p.m.; Sa: 12:00 p.m. - 10:00 p.m.
Here are some bars and clubs in Marseille:
Le Trash, 28 rue du Berceau (for gay men)
Le New Cancan, 3-7, rue Sénac (mixed LGBT)
Le Bistrot Vénitien, 29, cours Julien (mixed LGBT)
Le Cerber, 147, avenue des Chartreux (for gay men)
L'Endroit, 8, Rue Bailli de Suffren (mixed LGBT)
Aux 3 G, 3, rue Saint-Pierre (for lesbians)
Gay Cruising Areas and Glory Holes:
Plage du Mont-Rose, Marseille
Plage du Mont-Rose is the closest nude beach to the Marseille and it is visited almost exclusively by gay men. Not officially clothing optional, nudity is freely tolerated. 5PM-8PM are the cruisiest times,
Aire de La Manon, A7, Marseille
A rest area with a lot of gay action.
BDSM
Some of the regular escort in Marseille can offer BDSM services such as light domination, role playing, bondage and other fetish services. These type of extra services cost always more. There are also dominatrixes in Marseille who are only specified on these type of services.
There are also groups with similar interest that meet in private venues and sometimes at the Marseille clubs. Swingers Clubs in Marseille are also great places to find other people with interest on BDSM.
Sexual Services for Women
Most talented male escorts working in Marseille have some type of foreign background like Arabic example and only a small part of them are born in France. Usual price for one hour is 100 to 200€, but some of the male prostitutes can also charge more or less than that. It is also very easy for tourist women to get sex from the local swingers clubs or just basic nightclubs.
Up to 15 percent of sex workers in France are men. Most cater to gay men and only a small number of the prostitutes accept women as clients.
Sex Shops and Adult Stores
If you don't feel like visiting or cannot find any local sex shops in Marseille, you can easily order adult products from Online Sex Shop.
Entrance to the most adult theaters in Marseille is around 10 Euro and often this allow you to enter the sex cinema for multiple times in one day. Sex shops and adult arcades in Marseille carry a wide range of poppers, condoms and sex toys.
Cinema De LEtoile, 19 Boulevard Dugommier, 13001
Open 7 days a week, 8am - midnight on Sunday to Thursday, and 8am - 1am on Friday and Saturday. Very crowded on weekend afternoons. Large Cinema (1000 m2) and dark room at the back of the top cinema.
Eros Centre, 5 Boulevard Garibaldi, Marseille
This sex shop has a large dark theatre showing porn. It draws a mixed crowd of straight and gay men and there is sometimes action in the seats. Upstairs are cabins and in the basement the kino and GH cabins. Tel. : 04 91 92 72 30
Hot Factory, 21, rue Chateauredon (33) 04 91 33 44 15
Open from noon until 01:00. Sex shop with video cabins, backroom and cinema.
Lovapink, 72 Avenue du Maréchal de Lattre de Tassigny, Marseille, France +33 4 91 80 53 56
Raves Intimes, 155 Route des Trois Lucs à la Valentine, 13011 Marseille, France +33 4 91 44 88 46
X MINI-STORE, 63 cours Lieutaud, Marseille, France
X Mega Store, 5 rue d'italie, 13006 Marseille, France
Yzy Lingerie & Love shop, 42 Rue de Rome, Marseille, France +33 4 91 04 07 36
Escort Services & Agencies
Finding an escort when you're travelling can be a bit tricky. An ideal alternative to escorts is a girl who is looking for a mutually beneficial relationship. There are thousands of horny girls willing to do anything for a generous guy. Click Here to hookup with a beautiful young woman now.

Average price for one hour with escort in Marseille is somewhere between 150-300€. Short time like 15 to 30 minutes can be purchased for around 100€. Most escort work from the private flats. Foreign escort and working girls from the other French cities often work from the hotels. You should always negotiate beforehand with the girl about the services you require. Anal sex, role playing, pissing and other fetishes always cost a little extra like around 50€ more. You can find many good looking escorts in Marseille who has an Arabic roots. Moroccan escort girls in Marseille are super hot and very wild in the bed.
Sleeping
If you are planning to bring girls to your place and have sex with them, it is more recommended to rent apartment from Marseille. There are many good flats for a rent under 100 Euro per night and basic rooms are as cheap as 50 Euro a night. Hotels may give you a trouble especially if you bring a sex worker to your room at the middle of the night.
If you are strictly in to the sex workers of Marseille. You should look for the rooms around Rue Thubaneau, Bd du Prado, Rue Curiol & Rue Barthélémy because most of the prostitution in Marseille happens at these areas wether it is street prostitution or escorting.
If you wish to sometimes fuck Marseille whores and sometimes party and have sex with the hot single girls of Marseille, then the main area for party and the singles bars would be the Vieux Port and Place Thiars. There are also many pick up clubs around Cours Julien and Saint Victor District. These nightlife areas are very close to each other, try to get a centrally located airbnb or a hotel to increase your chances of having sex with Marseilles women if you are a tourist. There is also more nightlife at the south by the beach in Escale Borely, but it is very far from the city centre of Marseille.
Stay Safe
Note that there are many reports of muggings and pickpockets so avoid carrying valuables and always watch your surroundings, like in most cities. You will want to stay away from Gare St Charles and the upper part of La canebière at night. Most of the northern neighbourhoods, known as "quartiers nord", are sensitive areas and should be avoided by tourists.
The area around Boulevard Michelet thrives with prostitutes and should be avoided on soccer nights, as you can meet potentially angry and drunk Olympique de Marseille hooligans.
When driving a car, make sure the doors are locked. There have been occurrences of motorcyclists opening the doors of cars while the driver is sitting in it, and quickly snatching the bags and valuables from the seats.
Overall the city is fairly safe, as is Paris.
See Also