Wrocław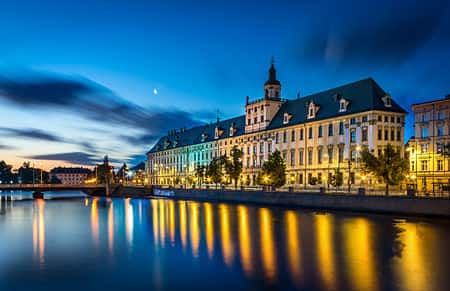 Wrocław Sex Guide advises where to find sex, working girls, prostitution, street hookers, brothels, red-light districts, sex shops, prostitutes, erotic massage parlors, strip clubs and escorts in Wrocław, Poland.
Wrocław[1] (Polish: Wrocław , pronounced Vrots-waf; also known as Breslau, its German name, and English name until 1945) is the largest city in the Dolnoslaskie (Lower Silesian) Voivodeship in Poland.
Sex and Prostitution in Wrocław
Prostitution (Prostytucja) in Poland is legal, but operating brothels or other forms of pimping or coercive prostitution and prostitution of minors are prohibited.
The research, which refers to "Newsweek" that every fifth student in Poland regularly sells sex, is not completely true. Some of the girls in Poland want money directly, but other girls only want a sponsorship, so they can they will not be identified as a prostitutes
Finding sex in Wroclaw is very easy because there are many brothels, erotic massage parlours, strip clubs and independent escorts working all over the city. Street prostitution is slowly disappearing from the streets of Wroclaw, but it was very active back in 1990s. Sex can be purchased as cheap as 100zl (25€) from the independent escorts, but in the clubs it will cost more. Night clubs are also filled with young beautiful girls who are quite active sexually and open minded. These days it is also quite easy to score in the Wroclaw nightclubs and fuck girls for free of charge. You do not even need to be a player to do this.
Red Light Districts
There is no specified Red-light district in Wroclaw like there is in some other European cities like in Amsterdam and Frankfurt. There are lots of great brothels and sex workers though, but they are scattered all over the city.
Are near the train station is considered as an unofficial red light district. Streetwalkers can be found at the intersection between General Tadeusza Koscuiski street just before the Pulaskiego street intersection. Prostitutes can be found in a shack opposite Zielony Dom building when it gets dark.
See Also: List of red-light districts
Prostitutes and Sex Workers
Wroclaw is a great place as most cities in Poland, when it comes to mongering. You can fuck in independent escorts as cheap as 100zl (25 euro) and still get a good quality girls. Brothels will often charge couple of hundreds of Zloty, but quality is not always better in these places even though you pay more. Only the rooms and building may be fancier. Part of the prostitution business in Wroclaw also happens at the massage salons and strip clubs.
Street Hookers
Streetwalkers in Wroclaw ask 50 to 150 Zloty (12,5 to 37.5 Euro) for sexual services at most of the time. Drug users and older sex workers are always cheaper, but it is also more risky to have sex with them. It is recommended to use a car when picking up street walkers, but if you do not have one, you can also have sex with them in the back alley. Some of the street whores use cheap nearby hotels or their own flats if they have one nearby.
You can find street walkers in Wroclaw from these areas:
There are sometimes pretty looking prostitutes hanging out in the lobby of Sofitel Hotel, located in Old Town at Ul. sw. Mikolaja 67, Wroclaw 50-127.
There are some street prostitutes hanging near the train station at the intersection between General Tadeusza Koscuiski street just before the Pulaskiego street intersection. Streetwalkers hang around a shack opposite Zielony Dom building after 8 or 9 pm. You can see the area from map wikimapia
Also in the streets up north of the main square and around the railway station in Wroclaw you can sometimes spot streetwalkers at evenings.
There are sex workers at the front of the Hostel Zielone Mazowsze (Green Mazovia), ul Nowogrodzka 46/6.
Live Sex Cams
Can I watch Live Sex Cams in Wrocław? - Yes, you can! Basically you can watch our online live sex shows for free anywhere in the world if you're connected to internet. Join to get 10 free private teasers and 9.99 credits for free! You can choose any girl from our trusted Live Sex Cams!
Live Sex Cams are booming at the moment. Webcam models can be found from all over the world and you can find girls, guys, trannies, couples and groups of different ages performing to you. Watching live sex shows is usually free, but if you buy some credits, you will have much better chances to see adult action as desired! It's possible also to hire a webcam model to a private chat room where you can ask the person to fulfill your fantasies.
Where to Get Sex Now
It is easy to get sex online in Wrocław. You just need to find the best available girls. See Girls Online Here!
Adult Locations
There is a quite good selection of adult venues in Wroclaw.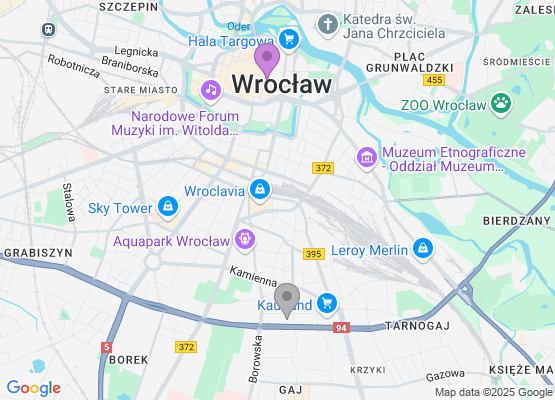 Escort Services and Agencies
Unfortunately we don't list in this category!
Finding an escort when you're travelling can be a bit tricky. An ideal solution for having an alternative for escorts is Ashley Madison. There are thousands of horny girls waiting for you. Find all the beautiful young women at AshleyMadison.com!
Average price for 1 hour with escort is 200 zl (50 Euro) per hour in Wrocław. Some of Wrocław escorts can have special like 100 zl (25 Euro) for a short time (30 minutes). There are plenty of escorts to choose from as the most street girls have moved in to the online prostitution business.
Some escort agencies are asking for 600 zloty per hour. It is very expensive for one hour but cheaper escorts sometimes have fake advertisements.
Erotic Massage Parlors
Unfortunately we don't list in this category!
Here is some massage studios listed, where you can get a happy ending. Some of the massage salons offer just a basic sensual massage and a HJ in the end. But the other erotic massage centers have specified in to the Tantric Massage, Lingam Massage, Nuru Massage and even on Prostate Massage.
Rasputin Night Club, Wita Stwosza 12 street. Nice erotic massage parlor.
In Pub 22 (Robotnicza street 74) you can also go private with the hostesses and massage and outcall escort service is offered as well.
Emmanuelle on Bogusławskiego street 75.
Abab Abi on Slezna street 88 C1.
Dakini Tantra Spa, ul.Biskupia 8/10 (V-Floor), specialized in tantra massage servcies for men, women and couples.
Phone number 664556943. Ul. Biskupie. 150 PLN/hr.
Phone number 691064944. Plac konstytucja 3 maja. 200 PLN/hr.
Phone number 530782505. No address known. 120 PLM/hr.
Brothels and Sex Clubs
Sex Clubs
In Club 22 (Robotnicza street 74) you can also go private with the hostesses and massage and outcall escort service is offered as well. Club 22, is a centrally located strip club and escort agency. This glam club offers a scintillating atmosphere in a safe, discrete environment. Club 22's multi-talented, seductive young girls are not only skilled striptease dancers but are also great company being impressively multi-lingual (English, Spanish and German). Along with an air-conditioned space and a wide assortment of drinks available, Club 22 also boasts a hydromassage shower in one of its 9 rooms. In addition, you can book a special private event or stag night at the club for a night to remember!
Close to the Sofitel Wroclaw Old Town hotel you can find nightclubs Angels (Olawska street 19/8) and Club Eden (Św. Mikołaja street 13/2). there is eden massage and its total lie. dont go there.
Atina is an upscale nightclub on Krzywoustego street 260 with pretty girls who have a decent grasp of English and who are available for outcall escort.
Brothels
Small brothels and private houses (prywatnys) are spread all over the city but not always easy to find. Many nightclubs and striptease bars in Wroclaw are in fact sex clubs/brothels and offer the opportunity to spend private time with the club girls. If you are just walking around the Wroclaw centrum, you may see brothel ads on car windscreens and these ads have often either address and a contact number, or just an address. Most of these whore houses advertise on the car windscreens on the nearby the whore house, so you do not need to walk far away.
Venus on Wawrzyniaka Street 33.
You can find a brothel on Kosciuszki street 35/3, between post office and Poker Club.
Another one is Laluna Klub on Bolesława Prusa street 32.
Club Aftrodyta is a quite nice brothel in Wroclaw. You can take a taxi from anywhere in the city (around 30-50zl), but always pay the fee price of the run when you arrive. Otherwise, the taxi driver will charge you for the waiting time. Once you leave the club, just ask them to call you a cab. There is a nice choice of all style of girls. Classic price for one hour 250zl or half hour is 150 zl. If you buy a drink for a girl it will cost about 40zl. You can ask for some speciality services and pay them directly to the girls. Try to avoid the women from ukraine working there, they try to hassle you for an extra tip for merely, touching their tits.
Club Eden is a another place close to Sofitel Hotel. There is a small line up, 2 to 5 girls. Style very different from Aftrodyta. One hour 100zl or 30 minutes 80zl. You can fuck more than one time with the girl, just agree on it before, otherwise girl will try to leave after one shot. Customer review 7th of August 2015: Eden massage is total lie. Don't go there.
Here are some other brothels in Wroclaw.
Angel Club, Michalczyka 17
Sweet Cabaret, Wroclaw. Bielany, Sloneczna 1: bit outside the city.
Apartment brothels
Brothel located in Studio apartments are not as popular anymore in Wroclaw as they were 5 years ago. Many of the girls who use to work at the apartment bordellos, have gone working independently because it is so easy to post ads online and seek customers this way.
These apartment whore houses keep changing the locations quite often and all of the following places may not be open anymore. Prices range from 120 to 200 Zloty (30 to 50 Euro) at these brothels.
Lelewela 23/6: Was the best place years ago, but when it reopened the lineup just was average, location is above standard as the prices are too.
Pradzynskiego 20/13: They always had a good selection.
Rejtana 8/1c: Selection often was just a little less good than on Pradzynskiego.
Mikolaja 13/2: Mixed experiences, but worth to try.
Sliczna 22c / 39: Just average brothel.
Hallera 41/8: May not exist anymore.
Kosciuszki 145/1: Not very pretty ladies.
Strip Clubs and Striptease
Nightclub with private rooms, strip tease shows, pole dancing etc.
Wita Stwosza 12
Here is a list of strip clubs in Wroclaw. Entrance fee is usually 20 to 30 Zloty, other costs are open limit.
Gogo.pl • pl. Orlat lwowskich 20a • 21.00 - 04.00
Open 21.00 - 04.00. Quite cheap place.
Hot Girls Club • Lelewela 23/6 • (071) 795 75 76
Le Secret, club is located at level 1 of the arcade at 9-11 św. Mikołaja Street, near Manaana, Il Gusto, Lewitacja and Nagi Kamerdyner. Open Monday to Thursday from 9:00 PM until the last client leaves (Entrance fee: PLN 20), Friday to Sunday (Entrance fee: PLN30). You can have unforgettable bachelor party at Le Secret and they know how to run all kinds of corporate and special occasion events - both open and closed ones. The Exclusive Striptease Club Le SECRET has a well-stocked bar (both as far as alcohols, cigars and small snacks are concerned), a room for smokers, three separate VIP rooms, a dance floor and profession bar tender and waiter services. The doorman decides who can get into our club!
Night Club Atena • Krzywoustego 260 • 071 345 83 80
Pruderia is an upscale striptease club in Wroclaw located on pl. Solidarności 1/3/5.
Strip Night Club Afrodyta • ul. Strachocinska 21 • + 48 (71) 3458380
Club Afrodyta brags on its posh interior, with Indian stylings and even a fine-tiled jacuzzi. 25 beautiful ladies on the poles every night. With that many lovely lasses, Afrodyta has something for everyonw. The biggest strip club in Wroclaw, Afrodyta has private show rooms reminiscent of a luxury hotel suite. Then there's the Jacuzzi.
Karaoke and KTVs
KTVs (hostess karaoke bars with beautiful female staff) are popular in some parts of Asia but you cannot find any of them from Wrocław.
Swinger Clubs and BDSM
ALT.com is the best place for local singles, swingers, and couples in the BDSM community to connect with those interested in submissive sex, power exchange, locating persons for new slave roles, erotic BDSM, bondage & fetish sex, as well as live sex dates. Find thousands of play partners for whatever your fetish may be; bondage, foot, cockold, spankings, role-play, electric or water play, sadism and masochism. So whether you have the desire to explore your unrealized fetish fantasies, or you are extremely experienced and would love to train someone new, ALT.com is a community designed for people with like-minded interests to find and connect with each other.
There are no actual Swingers clubs in Wroclaw, but swingers parties are held occasionally, usually couple times a year and most of these parties can be hard to find. First you need to get in to the open minded couples groups which mostly can be found on online discussion boards.
Sex Shops and Adult Stores
If you don't feel like visiting or cannot find any local sex shops in Wrocław, you can easily order adult products from Online Sex Shop.
This is a guide on where to find sex cinemas, adult arcades and porn shows in Wrocław.
Pink Shop - Ul. Biskupia 10 10b - Video shows, Gay friendly place.
Annmarie Sex Shop - Stanisława Worcella 5 (+48 696 969 802) - Opening hours: 7 days a week: 11-21
There are four sex shops along W. Boguslawskiego. They are in the arches underneath the railway line, along with a number of bars. To find them, go to the main railway station then head west, just to the north of the railway line. Cross one main road and you will find the first two. Cross a second main road, and there are the other two.
Love Hotels and Short Time Hotels
Love hotels are popular in some parts of Asia, especially in Japan. There are also many love motels and short-time hotels in South America. Unfortunately you cannot find any real love hotels in Wrocław.
Nightclubs and Bars
There are many nice nightclubs and bars in Wrocław where you can try your luck to find sex for free.
Sogo Night Club Wroclaw, Świdnicka 13, tel.: +48 533 639 400
Sweet Dream Night Club, Świętego Mikołaja 13/2, tel.: +48 71 341 84 00
Angel, Kazimierza Michalczyka 17, tel.: +48 662 800 056
Grey Music Club, Świętego Mikołaja 8, tel.: +48 887 222 112
Gay and Lesbian
Gay modeling in internet is getting more popular all the time and it's a big market alongside with gay porn. You can watch gay live sex also in Wrocław as long as you are connected to internet. Check it out: Gay Live Sex Video Chat
Wrocław's gaylife is limited in extent but active. There are also branches of Poland's two main LGBT organisations. The gay march is held annually.
Gay Friendly Bars, Cafes, Pubs & Clubs:
Cactus Club (aka Woda Pub or H2O Club) - Ul. Zelwerowicza 18A, Wroclaw (+48) 71 359 27 70
Wrocław's oldest gay club located just beyond the city's medieval moat. A winding space lit in pink and blue with lots of timber framing, vaulted brick ceilings, a bar, quiet drinking/socialisng areas, a video room, sling rooms, glory holes, and booths. All is spotlessly clean. With occasional karaoke parties and drag queen shows, there is a proper dance-floor somewhere, a raised platform with a dance pole for exhibitionists and plenty of cosy corners for those more interested in cuddling. Open 18:00 - 02:00, Sunday to Thursday, entrance 10zl; 18:00 - 05:00 Friday and Saturday, entrance 15zl. Friday is often a theme night (wear a mask, underpants only etc). Saturday is very busy.
Coffee Planet - Rynek Starego Miasta, Wroclaw
Orthopedia - Ul. Piotra Skargi 18, Wroclaw (may be closed now).
Other Adult Services
BDSM
There are no actual BDSM clubs in Wrocław. Most escorts who work in Wroclaw, also do soft dominating, role playing and other naughty things. There are also dominatrix escorts in Wroclaw and couple of them are actually very well experienced and have good variety of BDSM items and dungeon. Expect to pay a little bit more for these Domina escorts, often around 300zl (75 Euro) an hour.
Dating
Dating in Wrocław can be a bit tricky due to cultural differences, so your best bet is to sign up for a dating site before your trip so you can meet a few locals ahead of time. AdultFriendFinder.com lets you meet local members in Wrocław and get to know them on a personal basis before you arrive. Take advantage of site features like live chat and member to member webcams so you can begin flirting before arranging a face-to-face meeting. Since your time in Wrocław may be limited, get to know each other's desires beforehand, so that when you meet you can start having some real fun.
How to find Sugar Babies and Sugar Daddies
If you are looking for an alternative to escorts in Wrocław with a girl who doesn't charge by the hour, sugar dating is the ideal solution. There are thousands of beautiful young women at SecretBenefits willing to do anything for a man who will help them pay their bills.
Often referred to as the "Tinder for Older Guys", SecretBenefits matches hot young women interested in pampering older gentlemen. You don't have to be a millionaire at SecretBenefits.com, you just need to be a respectful gentleman who knows how to treat a woman.
Transsexuals and Shemales
Finding someone for transsexual dating when you're on the road can be a bit tricky, so your best bet is to sign up for a dating site before you go so you can find locals ahead of time. TSdates.com is a dating site designed to help you find exactly what you are looking for in your hookup in Wrocław. Take advantage of site features like live chat and member to member webcams so you can begin flirting before arranging a face-to-face meeting. With over 40 million members, and thousands of transsexual members around the world, TSdates.com is the world's largest site of sex-minded friends for discreet encounters and will help you find your next transsexual play partner.
Where can I find shemales in Wrocław? You can watch transsexual live sex shows in Wrocław as long as you are connected to internet. Check Now: Tranny Live Sex Video Chat

It can be quite hard to find any TG/TS/TV or CD girls in Wroclaw. You have higher chance to find t-girls in Warsaw, but overall Poland is not a typical shemale lover destination.
Most famous tranny escorts in Wroclaw are Nicolle Shemale and Sandra Shemale. Both of these tranny escorts charge 200 Zloty (50 Euro) per hour, which is quite cheap compared to the Western European trans-girl prices.
Sexual Services for Women
There is quite high prevalence of male prostitution in Poland, with 15% of prostitutes being said to be male, more than double the European average of 7% (the study states that "Austria, Finland, Denmark, Estonia and Lithuania report almost exclusively female sex workers, while Poland reports that 15% of its sex worker population is male"). However most of these male sex workers only take male customers and only a small part of them take female clients.
However there are many good nightclubs in Wroclaw where single women can easily find sex partners for free.
Sleeping and Girl Friendly Hotels
You should not have a problem in most hotels in Wroclaw if you bring a guest to your room. If you bring street hookers who look like junkies to your room, then the hotel management may give you a trouble.
Girl friendly Hotels:
Many hotels in Wroclaw have a relaxed attitude when it comes to bringing girls to your hotel room.
The comfortable 5 star Sofitel Wroclaw Old Town has a girl friendly attitude and you can usually find pretty pro-girls in its lobby bar. The Sofitel Wroclaw Old Town is located on Świętego Mikołaja street 67 in the heart of the old city centre, close to the beautiful market square and the Hala Ludowa concert hall.
In the same area as Sofitel on Kielbasnicza street 20 is the beautiful decorated Art Hotel. This 4 stars hotel is situated in a beautiful historical building, just 150 m away from the medieval Market Square.
Close to Strachowice Airport you will find Campanile Wroclaw (Jagiełły street 7) which is girl friendly as well.
The girl friendly hotel HP Park Plaza at the bank of the Oder river (Bolesława Drobnera street 11/13) provides good value for money and its reception and security staff does not object bring ladies for the night.
Another girl friendly hotel in Wroclaw is Radisson Sas on Jana Ewangelisty Purkyniego street 10. The hotel has a very convenient location within short walking distance to all highlights of the city and shares its beautiful courtyard with the Academy of Arts.
A smaller but cosy and also girl friendly hotel is Hotel Tumski on Wyspa Słodowa street 10.
In the centrally located hotel Orbis Wroclaw on Powstańców Śląskich street 7 bringing in girls in not a hassle either.
Stay Safe
Wrocław, like most of Poland, is a very safe city and violent crime is very rare.
You should exercise the usual caution and keep guard of your valuables especially around crowded places. In pubs and clubs, don't leave your belongings unattended.
See Also