Oslo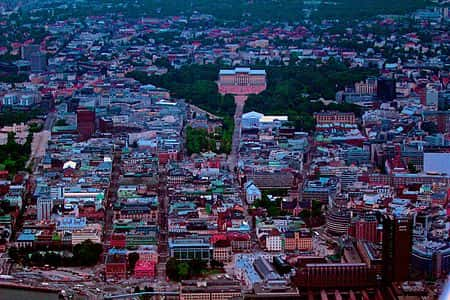 Oslo Sex Guide advises where to find sex, working girls, prostitution, street hookers, brothels, red-light districts, sex shops, prostitutes, erotic massage parlors, strip clubs and escorts in Oslo, Norway.
Oslo is the capital and largest city of Norway, and the third largest city of Scandinavia. In 2010 it was ranked as the world's most expensive city to live in by the Swiss wealth management company UBS AG.
Sex and Prostitution in Oslo
Prostitution in Norway is illegal in that paying for sex is a crime (the client commits a crime by purchasing sex. The Norwegian law prohibiting the buying of sexual services (sexkjøpsloven) came into effect on January 1, 2009, following the passing of new legislation by the Norwegian parliament (Storting) in November 2008.
In Oslo, convicted sex buyers face a 25,000 crown ($4,000) fine. Street prostitution in Oslo, the country's biggest city, is down between 35 to 60 percent from before the prostitution ban, while the indoor sex market has shrunk by 10 to 20 percent.
It is estimated there are 3,000 sex workers in Norway today, and earn 390 million kroner. The current law banning purchase creates an administrative anomaly, since any money earnt is illegal, yet is taxable. Recent legislative proposals have included a ban on advertising. Sex workers have complained about the lack of government consultation with them.
Even though the current bans and the regulations, the Oslo has good opportunities for punters; whether it's finding a gentlemen´s club or hooking up with an escort.
Red Light Districts
There is no specified Red-light district in Oslo like the ones in Amsterdam and Germany. But Karl Johans Gate is a place to go for street prostitution action, but overall there is very little of prostitution activity these days, compared to the golden 1990s.
However, sometimes pretty East European hookers will approach single, middle aged men standing on Karl Johan's. It always starts with a bright smile she gives to the bloke, from across the street. If you respond, she'll hurry over the street to negotiate with you.
If you're a nice enough guy, and she obviously likes you, you can negotiate even a discount. Always go to her place, if you go to your Hotel the nosy-pokers at the reception are quite capable of ringing the police, when they see a young woman disappearing into a Hotel room with a man a lot older than her!
In the streets around Karl Johan and on Karl Johan itself, has in the last 10 to 15 years been swamped with Nigerian prostitutes. A direct result of the Schengen passport free travel rules. The anti-prostitution laws of 2009 seems to have totally unaffected them. They hang out in groups of two to three and are rather quite aggressive in their soliciting. So you have absurd situation of single men, quickening their pace while passing them on the street, while being cat called or wolf whistled! It's not because of any sexual prudishness, but because if the guy is alone and drunk (or gives that impression), the girls will hurry over to him to caress, rub him up and whisper sexual innuendos, while stealing his wallet! So now single guys even have to worry about their wallets, which is why, most men would rather not be in contact with them. Nigerian prostitutes are expert pick-pocketers. Well trained by the Benin City Nigerian mafia. So watch out!
Prostitutes and Sex Workers
If you want to get yourself a sexy hooker, then Oslo is the place go! In Oslo, there is a prostitute for every taste. You want a naturally blonde Norwegian? No problem! An Eastern European beauty with a little too much gloss on her lips? You got it! A little short on cash? No problem either. Usually prostitutes who advertise online in Oslo charge 1000-1500kr (US$130 to 195) for half hour and 2000kr-3000kr (US$260 to 390) for one hour. There is also a possibility to negotiate about the price when having sex with a prostitute in Oslo.
Street Hookers
Street prostitution in Oslo, the country's biggest city, is down between 35 to 60 percent from before the prostitution ban.
In fact, some of the African hookers are giving blowjobs for as little as couple of hundred krowns, which is relatively very cheap in this wealthy country.
Close to the central station Karl Johans Gate (Oslo's main parade street), Skippergate and Tollbugaten have prostitutes who usually charge 1,500 [kroner] per hour. Looking around, there seems to be a ratio of three Nigerian women to every non-Nigerian on Karl Johans Gate. Other hookers come from Thailand, Russia and Norway (most of the Norwegians are on drugs). Some nights there is nothing, but Friday and Saturday it gets packed, drunk ones. These are the good ones to get, but they cost 2000-4000kr for hour. You may have to look around a little, as the police sometimes forces the hookers away.
Hookup and Pick Up Local Girls
Meeting local girls and getting laid for free is fun! Read more on how to pick up girls in Oslo: https://hookuptravels.com/wiki/Oslo
Live Sex Cams
Can I watch Live Sex Cams in Oslo? - Yes, you can! Basically you can watch our online live sex shows for free anywhere in the world if you're connected to internet. Join to get 10 free private teasers and 9.99 credits for free! You can choose any girl from our trusted Live Sex Cams!
Live Sex Cams are booming at the moment. Webcam models can be found from all over the world and you can find girls, guys, trannies, couples and groups of different ages performing to you. Watching live sex shows is usually free, but if you buy some credits, you will have much better chances to see adult action as desired! It's possible also to hire a webcam model to a private chat room where you can ask the person to fulfill your fantasies.
Where to Get Sex Now
It is easy to get sex online in Oslo. You just need to find the best available girls. See Girls Online Here!
Adult Locations
Most of the singles nightlife is along Karl Johans Gate, the main road going through the center of the city. Pubs and clubs in here are great if you want to meet and have sex with the local Norvegian girls.
Youngstorget and Grunerloka are also great for the nightlife.
Overall thge Oslo has a large and varied entertainment industry offering everything from drinking bars, nightclubs, massage parlours, showgirl bars, escorts and sensual spas.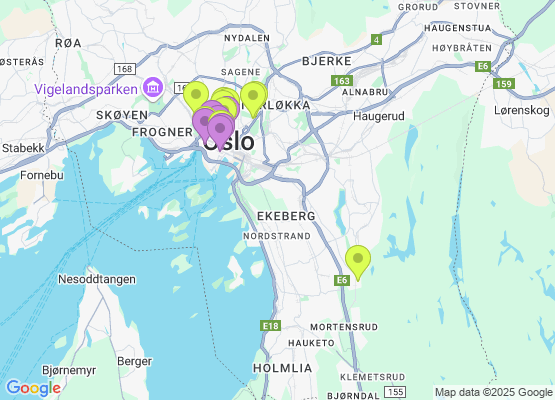 Escort Services and Agencies
Unfortunately we don't list in this category!
Finding an escort when you're travelling can be a bit tricky. An ideal solution for having an alternative for escorts is Ashley Madison. There are thousands of horny girls waiting for you. Find all the beautiful young women at AshleyMadison.com!
The most escort girls in Oslo are mostly Eastern European, from Poland, Czech Republic, Romania & Bulgaria, but you will find Danish and Norwegians sex workers there as well. The prices have risen like in most other European countries for the last couple of years and the going rate on a top girl is 2000 kr hour (255 $). There are only very few rip offs, but you should still be careful and watch out for the common scams. Like bait and switch jobs. Check always the photo through Google Image or Tin Eye. If it appears in other web sites or even worse, it's clearly some well known actress or photo model, well, then it's obviously a fake. Some photos are obviously fakes. If it's a high quality modelling type of photo with the 'escorts' face in full view, then most likely it's a fake. Almost all prostitutes hide their faces. If it's a rough, selfie type of photo with the girl's face hidden, then it could be genuine.
Erotic Massage Parlors
Unfortunately we don't list in this category!
Some of the massage parlors in Oslo will provide handjobs, and some will provide full service.
Thai massage parlors increased dramatically over the years 2005-2010 in Oslo. The going rate is 500-600 kr for one our of regular massage. Probably 9 out of 10 will provide handjob as an extra, for an additional 500 kr. So this is not very cheap if you look current compare the price to the other countries.
Luckily if you know how to talk, this can be negotiated down to 200-400 kr for extra HJ.
Some of these massage salons which provide even more, covered full service, asking 1500-2000 kr in addition to the massage fee. This can be negotiated down to 1000-1500 kr. However do not expect to find these places at first try.
Brothels and Sex Clubs
There are no legal bordellos anywhere in Oslo or in any other city in Norway. Some of the massage salons that offer erotic massage, do sell sex behind the curtains. Other places where you can buy sex in Oslo are the strip clubs and gentlemen´s clubs. Not all of these premises sell sex, but some do and in quite expensive price. Massage salons are always better option than nude bars, if you want to save some money.
Strip Clubs and Striptease
According to VG- based on a new and controversial documentary, prostitution and alcohol abuse are common in Oslo strip clubs. The documentary "Insider," which was broadcasted on the TV channel Max, put the strip industry in Norway under microscope. The producers of the documentary used a spy camera and they documented the sale of sexual service in a strip club in Oslo. In the scenes supporting the claims, the reporter pays 2400 NOK for 20 minutes to spend time with the stripper into a back room. Several customers have claimed that these practices are common in Oslo. Most foreign strippers who have worked in Norway have told that the strip club "management" often pushes the girls in to a close contact with customers.
Paradise Showbar, Rådhusgata 4, 0151 Oslo - fully nude dancing. The Paradise show bar is open Monday to Sunday from 9pm to 3am.
Lotus Show Bar, Dronningens gate 17, 0154 Oslo - Private dances start from around 700 NOK (€75).
Xposed Show Bar, Bernt Ankers gate 5, 0183 Oslo - Xposed was first opened in 1989 to combine champagne and striptease. This is the Norways oldest strip bar.
String Show Bar, Skippergata 21, 0154 Oslo - Entry fee 150 NOK (€16) and private dances start at 1000 NOK (€107).
Karaoke and KTVs
There are no KTVs in Oslo.
Swinger Clubs and BDSM
ALT.com is the best place for local singles, swingers, and couples in the BDSM community to connect with those interested in submissive sex, power exchange, locating persons for new slave roles, erotic BDSM, bondage & fetish sex, as well as live sex dates. Find thousands of play partners for whatever your fetish may be; bondage, foot, cockold, spankings, role-play, electric or water play, sadism and masochism. So whether you have the desire to explore your unrealized fetish fantasies, or you are extremely experienced and would love to train someone new, ALT.com is a community designed for people with like-minded interests to find and connect with each other.
You can find some swinging action in Oslo. There aren't many swinger clubs in Norway. Infact, in the whole of Norway, there is only one (!) VIP room (see below).
This more extravagant, non-traditional type of sex is not really popular in Norway. Despite their reputation for being sexually promiscuous, Norwegians are quite conservative as regarding sexual practice, and regard it as something very private, not to do with other couples or 'gasp', 'horror of horrors' - orgies. There is a lot of ads in specialist web sites, perhaps, again because of need to protect their privacy, sex parties are preferred to swinging couples clubs (sex clubs - is a better term, as three somes, gang-bangs, orgies happen too, more in the rest of Europe's clubs, rather than Oslo's only swinging club!)
You will get the address when you contact them.
Email: [email protected]
Tel. +47 96699309
Club Size: 200 square meters. Max. Occupancy: 80 people. Entrance fees for couples: 60 € weekdays and 90 € on weekends.
Beginners will be taken good care of. There are always new and exciting guests in the club. Many of the guests only wants to see and feel the excitement (like in most other European swinging clubs). They have a jacuzzi or sauna, relax and enjoy their partner in a different environment away from their own home. For some, it's exciting enough just to hear others have the erotic experience in the relaxing play rooms. It is a criteria that members always show considerations to new visitors at the club so they will feel welcome and safe to join the action.
Sex Shops and Adult Stores
If you don't feel like visiting or cannot find any local sex shops in Oslo, you can easily order adult products from Online Sex Shop.
There are couple good sex shops in Oslo. Few of them have sex cinemas attached to them.
Love Hotels and Short Time Hotels
Love hotels are not common in Norway.
Nightclubs and Bars
Oslo had lots of great nightclubs and bars where you can try to hook up with local girls. Getting laid is not impossible at all because Norwegian girls are pretty open-minded when they are drinking alcohol and partying. Even though like in the rest of Europe, they are skeptical of tourists. Foreigners living in Norway have better chance, but less so, compared to the past. In the 1970's and 1980's, some Norwegian women found it exciting to have relationship with foreign man, especially if he was colored (Pakistanis,Africans,etc). But this fashion has died away, so the result is that the male ethnic group with the best chance with Norwegian women are - Scandinavian men.
Locals will gather for pre-game parties, and then often leave early to go to after parties at apartments or houses as well. Oslo is a very expensive city to visit and to keep your costs down try to bring as much alcohol with you as you are allowed and pre-game instead of buying pricy coctails at the club.
Most of the sngles nightlife will mostly be along Karl Johans Gate, the main road going through the center of Oslo. Youngstorget and Grunerloka have also more clubbing and parties.
Nox, Henrik Ibsens Gate 100
The Villa, Møllergata 23
Dattera til Hagen, Grønland 10
Strato, t Youngstorget 2
Ingensteds , Brenneriveien 9
Herr Nilsen, C. J. Hambros plass 5
Jæger, Grensen 9
Skaugum, Solligaten 2
Blå , Brenneriveien 9C
Café Sara , Hausmanns gate 29
Dr. Jekyll's Pub , Klingenberggata 4
Oslo Mekaniske Verksted, Tøyenbekken 34
Kulturhuset, Youngs Gate 6
Parkteatret, Olaf Ryes plass 11
Jaeger, Grensen 9
Night Life Bar, Inngang: Tordenskioldsgate 8, tel.: +47 913 15 686
Lawo OSLO, Universitetsgata 26, tel.: +47 23 35 63 10
The Club, Karl Johans gate 17, tel.: +47 22 47 44 77
The Villa Oslo Dancing, Møllergata 23-25, tel.: +47 932 55 745
Gay and Lesbian
Gay modeling in internet is getting more popular all the time and it's a big market alongside with gay porn. You can watch gay live sex also in Oslo as long as you are connected to internet. Check it out: Gay Live Sex Video Chat
Since gay equality and high quality of life usually correlate almost precisely, it is no surprise Norway was also the 2nd country in the world to legalize same-sex partnerships, and in 2009 it granted marriage equality to same-sex couples.
The gay scene is not the biggest and best in Europe, but most visitors will find something to their taste, whether bars, discos, saunas, s & m clubs, nude beaches or simply cruising the blond boys and girls.
Gay Clubs, Bars, Cafes, Pubs & Parties
Bob's Pub, Grønland 3, Oslo+47 404 70 863
Weekday opening times: 08:00 - 03:00, Sat 08:00 - 23:00; Sun 12:00 - 03:00. Bar catering for the gay crowd. Bob's Pub also serves food and has outdoor seating during the summer. Mainly older men.
Elsker, Kristian IVs gate 9, Oslo +47 915 17 793
Gay café and coctail bar. Open: Wed, Thu 16:00 - 24:00, Fri & Sat 16:00 - 03:30. This place was opened in 2006, Elsker (which means 'love' in English) is a favorite hangout for Oslo gays and lesbians. This bar also serves food and gets crowded on the weekends with young crowds dancing to pop and Eurovision songs, otherwise a great place to chill out, have a few drinks and make friends. Features: bar, music, dancing, cafe, restaurant
Ett Glass, Karl Johans gate 33, Oslo +47 223 34 079
Weekday opening times: 11:00 - 03:30, Weekend: 12:00 - 03:30. Not exclusively gay, Ett Glass is popular with the gay crowd, especially for pre-dinner cocktails on the weekend. The diner/café serves all-day meals and drinks, every day of the week. Outdoor seating available.
Exit @ Diplomaten, Fridtjof Nansens plass 8 Oslo +47 22 33 11 00
Open Fri 17:00 - 03:30 & Sat 20:00 - 03:30. Popular gay dance party in Oslo. Held every Friday and Saturday at Club Diplomaten, Exit boasts some of Norway's best DJs who know how to party. Whether it's a quick drink after work or a hardcore dance session right into the night, Exit is the place to be every weekend.
London Pub, C J Hambros plass 5, Oslo.
Open: Fri 15.00-03.30. The largest gay nightclub/pub in Oslo that has been around for over 30 years. London Pub offers Saturday night DJ's and talents as well as performances, shows, live comedy, karaoke and weekly themed events. Gets very busy on the weekends. The best place to meet gays day or night-time.
So -for jenter som liker jenter, Girls who like girls! Every Wednesday to Saturday. So, Arbeidergata 2, Oslo. Open: Fri 18.00-03.00.
The Villa, Music and dance club popular among Oslo queers. The Villa, Møllergata 23, Oslo. Open: Fri 23.00-03.30.
Gay Indoor Cruising, Saunas & Bathhouses
Club Hercules, Storgatta 41, Oslo. Phone +47-22 11 11 13.
Home page http://www.gsauna.com. Oldest gay sauna in Oslo. Three floors. Entrance 130/ NOK (90 NOK if you are under 26). Facilities: Dark room, Gay (men) only, Video shows, Bar (no alcohol served), Sauna, Steam bath/Turkish bath, Jacuzzi/Whirlpool, Solarium. Phone: (221) 111-13 http://www.gsauna.com/ Opening hours: Sun - Thursday: 15.00 - 02.00, Friday and Saturday: 15.00 - 08.00. Entrance: NOK 150,-, Under 26: NOK 90,-. Includes: 1 x towels, condoms, lubricant, soap, disinfectant and tissue paper. Extra towel NOK 5,-
My Friend Club (CLOSED), Calmeyers gate 15 B, Oslo.
Facilities: Dark room, Gay (men) only, Video shows, Sauna, Steam bath/Turkish bath, Solarium. My Friend Club is a safe and exciting gay sauna for those who want to meet other boys and men. Open around the clock every day of the week.
SLM Oslo, Rådhusgata 28, Oslo+47 414 44 666
Open every day from: 23:00 - late. SLM, which stands for "Scandinavian Leather Men" is a Oslo gay cruise club for leather & fetish fans. Features include dark room, play zone, cruising area, play zone, cabins, maze, bar, etc. Membership is required and you can register online.
Gay & Nudist Beaches
Homolulu Gay Beach, Huk near Paradisbukta, Oslo
This is called a gay "beach", but it is cliffs and rocks instead of a sand. You will get in here if you take bus 30 from the National Theatre to its final stop. Follow the path to Paradisbukta. About 200 metre after Paradisbukta take the path to the right down to the sea. Nude sunbathing and some gay cruising in the bushes on the other side of the path.
Other Adult Services
BDSM is slowly becoming more popular in Norway and some BDSM parties are now being held in Oslo.
Dating
Dating in Oslo can be a bit tricky due to cultural differences, so your best bet is to sign up for a dating site before your trip so you can meet a few locals ahead of time. AdultFriendFinder.com lets you meet local members in Oslo and get to know them on a personal basis before you arrive. Take advantage of site features like live chat and member to member webcams so you can begin flirting before arranging a face-to-face meeting. Since your time in Oslo may be limited, get to know each other's desires beforehand, so that when you meet you can start having some real fun.
How to find Sugar Babies and Sugar Daddies
If you are looking for an alternative to escorts in Oslo with a girl who doesn't charge by the hour, sugar dating is the ideal solution. There are thousands of beautiful young women at SecretBenefits willing to do anything for a man who will help them pay their bills.
Often referred to as the "Tinder for Older Guys", SecretBenefits matches hot young women interested in pampering older gentlemen. You don't have to be a millionaire at SecretBenefits.com, you just need to be a respectful gentleman who knows how to treat a woman.
Transsexuals and Shemales
Finding someone for transsexual dating when you're on the road can be a bit tricky, so your best bet is to sign up for a dating site before you go so you can find locals ahead of time. TSdates.com is a dating site designed to help you find exactly what you are looking for in your hookup in Oslo. Take advantage of site features like live chat and member to member webcams so you can begin flirting before arranging a face-to-face meeting. With over 40 million members, and thousands of transsexual members around the world, TSdates.com is the world's largest site of sex-minded friends for discreet encounters and will help you find your next transsexual play partner.
Where can I find shemales in Oslo? You can watch transsexual live sex shows in Oslo as long as you are connected to internet. Check Now: Tranny Live Sex Video Chat

You can find a Shemale and Transexual escorts in Oslo from internet and usually a Shemale or Transexual escort will charge 1500-2000 kr for half hour or 2000-3000 kr for one hour. There are not so many local Norwegian TG/TS/TV or CD sex workers, but because wages and prostitution prices are very high in Norway, Oslo is a very popular working destination for internationally known shemale escorts. Many of these sexy foreign t-girls will often come to Oslo and stay for a week and make big money. Every day there are about 10 to 20 tranny escorts working in Oslo.
Some of the gay clubs is Oslo will have some transvestites and transexuals partying during the weekends, so you can get lucky and get in bed with a t-girl for free of charge. Gay clubs will also have occasional drag-queen shows.
Sexual Services for Women
Internet is full of male escorts selling sex for men and women in Oslo. But most of the male escort are for "men only", so make sure you find out first if he also likes women.You can get sex from the male prostitutes as cheap as 500kr for hour. But high-class male escorts usually charge $1500-2000kr an hour.
There are also many good night clubs in Oslo where it is very easy to get sex and Norway is very open minded country where people are not going to judge you if you have a one night stand.
Sleeping and Girl Friendly Hotels
Getting a hotel in Oslo can potentially be difficult. In peak periods, when big fairs or conferences visit Oslo, tourists have been sent as far as Lillehammer (170 kms, 2h 15 min by train) to find accommodation. It would be smart to reserve a room in advance. There are also relatively few youth hostels, etc., for backpackers and people travelling on a budget. During Nobel Prize week room availability will fall and prices may double.
It is quite easy to bring a sex worker to the most big hotels in Oslo as they can not be sure who stays in the hotel and who not. Usually there are no door security who would ask a room key or something else that proves you are staying in that place. But it has been reported of reception personnel ringing police when they see an older man with a young foreign woman going into his room. So watch it! Renting a private flat is always a better option if you are planning to have orgies in your room. But don't tell the owner of your plans, especially if it involves sex workers.

You should stay along Karl Johans Gate, the main road going through the center of the city. Here you will find many of the best nightclubs to hook up with Oslo girls and also most escorts operate in this area.
Youngstorget and Grunerloka are also two good areas for nightlife here and have decent hotel and airbnb options nearby.
Stay Safe
Crime
Crime is not a major problem in Oslo, but as in any metropolitan area, some caution is warranted. Violent crime is quite frequent, and are most ofen done by non ethnic norwegians. Avoid getting in to quarrels in taxi queues after closing hours of bars. The police advise that the area along the Akerselva river from Grønland to Cuba is best avoided after dark. It is notorious for multiple instances of rape, muggings and drug dealing.
There has been an increase of rape in Oslo. Authorities have increased the frequency of patrols and have made arrests. Women should remain highly vigilant, particularly at night and when clubs and pubs are closing. Avoid walking alone through parks and poorly lit areas of the city. Do not, under any circumstances, use "pirate taxis" or other unofficial transportation.
The lower parts of the Karl Johan street (down towards the Central station) is best avoided at night. Be aware of prostitutes approaching you; they often do pickpocketing by coming close to you, "flirt" and try to hold around you. And, for the record: buying sex is strictly illegal in Norway, and can result in a heavy fine on up to as much as 25 000 NOK, about 4000$.
Since some time back, drug dealers and addicts are less prevalent than before around the Central station (Oslo S). This is partly due to crackdowns by police. Currently, the drug trade has mainly moved to the area around Brugata, Hausmanns gate and Torggata. It is possible that drugs might be offered to tourists passing by, but the dealers will accept no for an answer and won't further hassle you. The area is also crowded at most hours.
Theft and pick pocketing is a relatively big problem in Oslo, and the rate is said to be as much as four times higher than in New York. Police blame itinerant criminal bands from abroad for some of it. Normal precautionary rules apply:
Watch out for pick pockets in crowds. Especially packed trams and buses passing through the eastern part of the city (Grønland, Grünerløkka).
Do not leave your belongings unattended.
Avoid leaving your mobile phone and wallet on café tables.
Even though homosexuality is generally accepted, and most people would probably do no more than raising an eyebrow, homosexuals should avoid holding hands or kiss in public. This applies especially for the Grønland-Tøyen area in the eastern parts of the city centre, where such things have caused violent reactions from the many Muslim inhabitants several times earlier.
Scams
Common scams occur in Oslo, and there are recent (2008) reports on the "guessing game" being perpetrated on the street - don't get involved in street-betting as it is certain to be a scam.
Winter conditions
In winter watch out for icy patches, and when wandering in the forest beware when crossing snowy clearings - they may well be frozen lakes with snow over them, which may look safe but could crack. Finally, beware of snow and icicles falling from the roofs in Oslo - there are usually red/yellow signs upwards, and some areas are occasionally cordoned off.
Politics
Politics is a none-too-sensitive subject in Norway, and is often discussed in public. Like in other western countries, political views differ, and most people seem to tolerate this. There are both far-right and far-left opinions in the everyday crowd, but true extremism is rare. Pay normal attention when expressing your political opinions; violent and autocratic ideologies are generally not tolerated in Norway. In addition, being a highly diverse city, racism and sexism is generally not tolerated among most people in Oslo. In environmental policies, Norwegians have a fairly European-minded attitude when climate issues are discussed, but fewer people (including activists) will be vegetarian.
Water
The tap water of Oslo is among the cleanest in the world. Do drink tap water instead of bottled water, which does nothing but drain your pocket of much needed kroner.
Traffic
Cars are required to yield to pedestrians at marked and signed crossings, and will be heavily fined if they don't. However, this rule does not apply to trams (streetcars); the trams have the right of way. Oslo has a web of tram lines downtown and as the trams are fast and heavy, you will certainly lose if you attempt to challenge one.
See Also