Syria
WARNING: ALL travel to Syria is discouraged in the STRONGEST possible terms, and nationals of other states are strongly recommended to leave quickly.

The savage civil war between government and rebel forces continues. As of January 2013, the latest UN estimates are in the range of 50-60,000 deaths, over 600,000 refugees in other countries, and as many as 2 million internally displaced persons. In addition, sexual violence against women is widespread. Any travel to Syria that is not absolutely necessary would place you at a severe risk of serious injury or death. In August 2013, chemical weapons were released in Damascus. In addition, there have been several Israeli air strikes that reportedly targeted weapons intended for shipping to Hezbollah in Lebanon, and discussions are ongoing in the U.S. (and other Western countries) on whether to attack Syria.

If you are already in Syria, stay as far away as possible from large public gatherings or any military activity, which is probably widespread. If you require assistance, EU citizens should contact the embassy of another EU state if they cannot make contact with their home country's representatives. Consult your country's travel warnings for more specific information.

Government travel advisories: Australia • Canada • New Zealand • United Kingdom • United States
Syria Sex Guide advises where to find sex, working girls, prostitution, street hookers, brothels, red-light districts, sex shops, prostitutes, erotic massage parlors, strip clubs and escorts in Syria, Asia.
Syria (الجمهوريّة العربيّة السّوريّة Al-Jumhuriya al-`Arabiya as-Suriya, the Syrian Arab Republic) was one of the larger states of the Middle East but is now in prospect of fragmentation. Its capital, and second largest city after Aleppo, is Damascus, the world's oldest continuously inhabited city. Syria is bordered to the north by Turkey, to the east by Iraq, by Jordan and Israel to the south, and by Lebanon to the south-west. In addition, the country has a short coastline on the east Mediterranean Sea.
Sex Scene and Prostitution
Prostitution in Syria is technically illegal. Beyond the practice of prostitution by an undisclosed number of Syrian women, many women fleeing the war in Iraq are practicing underworld prostitution for living. Some sources claim up to 50 thousand Iraqi refugee women in Syria, many of them are recent widows or orphans with no professional qualification, started prostitution as the only source for earning a living.
Regions
Syria officially has 14 governorates, but the following conceptual division used to make more sense for travellers: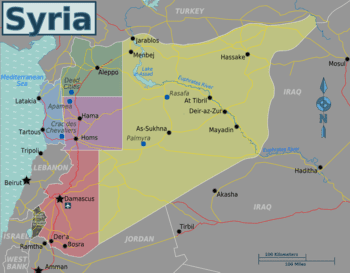 Northwestern Syria
Aleppo, one of the oldest cities in the world, as well as the Dead Cities, 700 abandoned settlements in the northwest of the country
Hauran
A volcanic plateau in the southwest of Syria, also includes the capital Damascus and its sphere of influence
Orontes Valley
The Orontes Valley, home to the towns of Hama and Homs
Syrian Coast and Mountains
Green and fertile, relatively Christian, somewhat liberal, and dominated by Phoenician and Crusader history
Syrian Desert
A vast empty desert with the oasis of Palmyra, as well the basin of the Euphrates, which is historically associated with the Assyrian and Babylonian history
Occupied territory
Golan Heights
Occupied by Israel in 1967 and formally annexed in 1981, the Golan Heights is claimed by Syria. The annexation is not recognized by the United Nations. A small area of land centred on Quneitra was transferred back to Syria in 1974. This deserted town, kept in its ruined state as monument to the war (or as propaganda depending on your perspective) used to be able to be visited with permission from the Ministry of Interior (open 08:00-14:00, Su-Th, authorisation requires your passport and took around 30 min).
Cities
Live Sex Cams
Can I watch Live Sex Cams in Syria? - Yes, you can! Basically you can watch our online live sex shows for free anywhere in the world if you're connected to internet. You can choose any girl from our trusted WikiSexLive.com! Join to get 10 free private teasers and 9.99 credits for free!
Live Sex Cams are booming at the moment. Webcam models can be found from all over the world and you can find girls, guys, trannies, couples and groups of different ages performing to you. Watching live sex shows is free, but if you buy some credits, you will have much better chances to see adult action as desired! It's possible also to hire a webcam model to a private chat room where you can ask the person to fulfill your fantasies. Try now! WikiSexLive.com
Dating
Dating in Syria can be a bit tricky due to cultural differences, so your best bet is to sign up for a dating site before your trip so you can meet a few locals ahead of time. AdultFriendFinder.com lets you meet local members in Syria and get to know them on a personal basis before you arrive. Take advantage of site features like live chat and member to member webcams so you can begin flirting before arranging a face-to-face meeting. Since your time in Syria may be limited, get to know each other's desires beforehand, so that when you meet you can start having some real fun.
How to find Sugar Babies & Sugar Daddies
If you are looking for an alternative to escorts in Syria with a girl who doesn't charge by the hour, sugar dating is the ideal solution. There are thousands of beautiful young women at SecretBenefits willing to do anything for a man who will help them pay their bills.
Often referred to as the "Tinder for Older Guys", SecretBenefits matches hot young women interested in pampering older gentlemen. You don't have to be a millionaire at SecretBenefits.com, you just need to be a respectful gentleman who knows how to treat a woman.
Gay & Lesbian
Lesbian, gay, bisexual, transgender (LGBT) persons in Syria face legal challenges not experienced by non-LGBT residents. Same-sex sexual activity is illegal in Syria and the government does not allow for a LGBT rights movement to exist. Culturally, traditional religious mores assert that homosexuality and cross-dressing are also seen as signs of decadence and immorality.
Syrian law criminalizes homosexual conduct under penal code article 520, which states that each sexual act "contrary to nature" is punishable by as long as three years in prison.
Escort Services
Finding an escort when you're travelling can be a bit tricky. An ideal solution for having an alternative for escorts is Ashley Madison. There are thousands of horny girls waiting for you. Find all the beautiful young women at AshleyMadison.com!
Stay Safe
Since January 2011, Syria has been gripped by a political crisis. Thousands of people have been killed by armed insurgent groups, government security forces and the military and shelling is largely indiscriminate. The developing military insurgency in Syria that is opposed to the Assad regime has carried out several high profile attacks on government targets. Stay away from government buildings, demonstrations and military forces as much as possible.
Travellers should avoid all large gatherings as they may turn violent. Foreign travellers have been targeted by political groups, especially in the south of the country.
You could find yourself in trouble if you engage in open criticism of and against the Syrian government or the president. Your best bet is to avoid political conversations altogether just to avoid any possible problems. If you do engage in political discussions with Syrians, be aware that they might face intense questioning by the secret police (mukhabarat) if you are overheard. As a general rule, always assume that you are being watched by plain clothes policemen. You will notice that not many uniformed policemen can be seen in the streets, but this is because the police have a wide network of plain clothes officers and informants.
Slightly inconvenient for some is the attention of children begging for money, pens, or snacks around some tourist sites (usually those outside of Damascus). Compared to many third world countries beggars are rare in much of Syria. The child beggars are more embarrassing than intimidating, but if you are being hassled consistently, say "lah" ("no" in Arabic) forcefully and the children will scamper.
Since begging is common in some parts of Syria, particularly outside of tourist attractions, mosques, and churches, it has been known that beggars occasionally demand money and may follow you around until you give. Some have even been known to "attack" some tourists just for money and food. It is advised to wear appropriate Arab clothing and try to blend yourself in. It also better to keep your money in your front pockets and safe with you. Many scams by beggars have also led many foreign tourists to lose quite a bit of money; be aware of these scams.
Death penalty for drug trafficking or cultivation.
Syrian law criminalizes homosexual conduct under penal code article 520, which states that each sexual act "contrary to nature" is punishable by as long as three years in prison.
See Also