Kaunas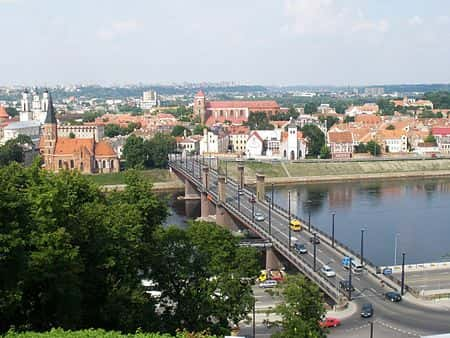 Kaunas Sex Guide advises where to find sex, working girls, prostitution, street hookers, brothels, red-light districts, sex shops, prostitutes, erotic massage parlors, strip clubs and escorts in Kaunas, Lithuania.
Kaunas is the second biggest city in the centre of Lithuania. It is very well connected by Ryan Air to the Birmingham (England), Bristol, Dublin, London, Moss, Paphos, Shannon abd also seasonally to Alicante, Cagliari, Edinburgh, Kos, Malta, Palma de Mallorca, Rhodes (city) and Trapani.
Sex and Prostitution in Kaunas
Prostitution in Lithuania is illegal, but it is common. The penalty for prostitution is a fine of 95 to 160€ for a single offense and up to 320€ for repeat offenses.
Red Light Districts
There is no actual Red-light district in Kaunas and anywhere else in Lithuania. You have to go all the way to the Germany to find official red light areas.
Prostitutes and Sex Workers
Traditionally, since the fall of the Soviet Union, mongers/punters had to use newspaper and magazine ads (in the 1990's and beginning of 2000) to contact escorts. Today, 'classified' internet ads are used and there are several of them. In Lithuanian these ads has offers like masažai (massage) or Seksas (sex ads).
Escort business is big in Latvia and most girls work independently while there are still some WG´s who work for the agencies. These type of services are often very affordable and actually not much more expensive than street prostitutes, which are often not very attractive in Latvia and are almost completely gone.
Your most expensive option is to search sex from the Latvia strip clubs or gentlemen´s clubs. Working girls at these places often ask high prices. Massage salon business is also growing in Lithuania.
Street Hookers
Street prostitution does not exist in Kaunas anymore. It was common in 1990´s but today the sex workers know hoe to use internet and find it much easier than standing on the street corner. Street prostitutes in Lithuania cost around 20 to 50 Euro. Usually 20 to 30 Euro will give you a Blow Job and sex will cost from 30 Euro up to a 50 Euro.
Live Sex Cams
Can I watch Live Sex Cams in Kaunas? - Yes, you can! Basically you can watch our online live sex shows for free anywhere in the world if you're connected to internet. Join to get 10 free private teasers and 9.99 credits for free! You can choose any girl from our trusted Live Sex Cams!
Live Sex Cams are booming at the moment. Webcam models can be found from all over the world and you can find girls, guys, trannies, couples and groups of different ages performing to you. Watching live sex shows is usually free, but if you buy some credits, you will have much better chances to see adult action as desired! It's possible also to hire a webcam model to a private chat room where you can ask the person to fulfill your fantasies.
Where to Get Sex Now
It is easy to get sex online in Kaunas. You just need to find the best available girls. See Girls Online Here!
Adult Locations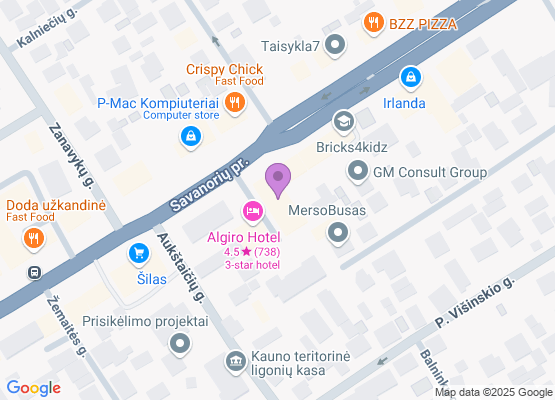 Escort Services and Agencies
Unfortunately we don't list in this category!
Finding an escort when you're travelling can be a bit tricky. An ideal alternative to escorts is a girl who is looking for a mutually beneficial relationship. There are thousands of horny girls willing to do anything for a generous guy. Click Here to hookup with a beautiful young woman now.
Your best bet to find escorts in Kaunas is to try find escort girls from internet. There are at least 3 to 4 girls advertising full sex escort service based in Kaunas. Like in Vilnius it's all based in Lithuanian and Russian, so use google translation service, and when you get the phone number ask a taxi driver to speak to the girl. Of course, you'll have to use his taxi to get to her. The taxi driver might have a personal list of escort girls, so you should ask him as well!
Erotic Massage Parlors
Unfortunately we don't list in this category!
In the Akropolis Shopping Centre (Karaliaus Mindaugo avenue 49) there is an erotic massage salon of the chain of Aistra located. Other erotic massage salons of the same brand are located in trade center Molas (K.Baršausko street 66a) and Hyper Maxima XXX (Savanorių avenue 255).
Brothels and Sex Clubs
Some of the independent escorts work together from the private flats and these places are called small studio brothels as there are only 1 to 3 girls selling sex. Some escort agencies have also brothels which are also mostly in a private apartments. Taxi drivers will know some of these places and sometimes the girl you find online will work from this type of mini whore house.
Strip Clubs and Striptease
Savanorių pr. 124, Kaunas 44148
Some of the strip bars in Kaunas only offer striptease, while others also sell sex, but not openly. There are couple good nude bars in the town, but overall it is not the best city for a strip club lover.
Versailles in the Akropolis Shopping Centre (Karaliaus Mindaugo avenue 49) is part of the erotic night clubs chain Escape in Lithuania.
Vegas, Kaunas strip club located on Kestucio 32 belonging to Escape chain.
Atlantes Strip Club, Maironio g. 28, tel.: +370 647 88277, working hours: 22.00-6.00
SUGAR, Savanorių pr. 124, tel.: +370 677 23833, working hours: 22.00-6.00
Karaoke and KTVs
You can come to local karaoke clubs with your friends to sing and have fun. It is also easy to get acquainted with a woman or a man for a one night stand in such a venue.
Swinger Clubs and BDSM
ALT.com is the best place for local singles, swingers, and couples in the BDSM community to connect with those interested in submissive sex, power exchange, locating persons for new slave roles, erotic BDSM, bondage & fetish sex, as well as live sex dates. Find thousands of play partners for whatever your fetish may be; bondage, foot, cockold, spankings, role-play, electric or water play, sadism and masochism. So whether you have the desire to explore your unrealized fetish fantasies, or you are extremely experienced and would love to train someone new, ALT.com is a community designed for people with like-minded interests to find and connect with each other.
There are no swingers clubs in Kaunas. But you can seek other couples from online and maybe you will be lucky enough to find swinging opportunities in Kaunas. Panemunė and Lampėdžiai are clothing optional beaches, so you may see some nudists and swingers over there. Most action happens between the gay men, but there are also some couples, straight men and women seeking company. For swingers parties you can check www.sugarclub.lt
Sex Shops and Adult Stores
If you don't feel like visiting or cannot find any local sex shops in Kaunas, you can easily order adult products from Online Sex Shop.
Kaunas is not the best destination for someone who is into the sex shops and adult cinemas as there are only a few erotic shops in the city. Of course you can buy condoms and lube from the supermarkets, but this is not always enough for experienced mongers.
Sex Shop Kaunas, Savanorių 204, Kaunas.
Sex shop located in Kaunas Savanoriu pr. 204 (near the Blind and Visually Impaired junction, near the "Food for sport). Various kinds of vibrators, anal and phallic conventional treadmills, strap ons, lubricants, condoms (many kinds), masturbators, sex dolls, penis pumps. Those looking for subtle gifts also will be able to choose from a wide range of erotic souvenirs and sexy lingerie. The shops are open weekdays 10: 30-18: 30; Saturday: 10-17h; Sunday: 10-16h. Phone: +370 617 00 069
Aistra, K. Baršausko g. 66A, tel.: +370 646 54333
Love Hotels and Short Time Hotels
Nightclubs and Bars
These are the best night clubs and bars of Kaunas. If you are looking for a good place to start your naughty night adventure, you can definitely come here:
Shamrock Pub, Vilniaus g. 13, tel.: +370 641 54100
Nisha Bar, M. Daukshos g. 29, tel.: +370 611 30030
Mojo Lounge Kaunas, Rotušės a. 20, tel.: +370 699 11500
DJANGO, Rotušės a. 29, tel.: +370 608 07400
Gay and Lesbian
Gay modeling in internet is getting more popular all the time and it's a big market alongside with gay porn. You can watch gay live sex also in Kaunas as long as you are connected to internet. Check it out: Gay Live Sex Video Chat
Both male and female same-sex sexual activities are legal in Lithuania, but neither gay-marriage nor civil same-sex partnership are available. Although homosexuality was decriminalised in 1993, the historic legacy has resulted in limited rights for gays and lesbians. Protection against discrimination was legislated for as part of the criteria for European Union accession and in 2010 the first gay pride parade took place in Vilnius.
Some outdoor gay cruising happens in Ažuolynas park, Panemunė and Lampėdžiai beaches, which are clothing optional beaches, so you may see some nudists over there. Most action happens between the gay men, but there are some couples too.
Gay Friendly Clubs
Lu Lu Club, Laisvės al. 54, Kaunas, Lithuania +37064054554
Sugar Club, Savanorių pr. 124, Kaunas, Lithuania. Check more at www.sugarclub.lt
Other Adult Services
Taxi drivers
Every experienced international traveler knows that taxi drivers working the night shift, will have a good knowledge of what's happening in the at night, both officially and in disguise (e.g. prostitutes) - Kaunas is no exception. All drivers working in places with tourists and major Hotels will help you in this way. Due to the very liberal taxi licensing laws in Lithuania, there is a huge number of taxis plying their trade in a city with limited money supply and clients, and some drivers are downright poor, consequently the drivers have to be more resourceful in finding other income sources! For example... They will try to persuade you to go to the strip club, because they get a commission from the venue. If you ask about getting a prostitute, many will already have a list available in their pocket or cell phone. But the quality varies a lot. Clever taxi drivers, shave a few semi pros available, whom they have convinced to turn a 'trick' now and then, while driving them home previously, if she agrees, from that moment on, the taxi driver will act as her agent and guarantee (re-assuring the girl that the guy is clean, gentle, handsome etc). Of course, the price will be 100 to 150 Euro, but sometimes the quality in services and looks of these girls, can be fabulous. It's well worth to try out these taxi drivers, but expect anything - from downright scams to the most heavenly women! A good idea is to start talking to your taxi driver about Kaunas night life and ask about how to get a prostitute (like in your country its the most normal thing to ask for!) on the way to your hotel, expect any sort of answer and if he is friendly, ask if he has a list of girls in his cell phone! If you're lucky, you could be pleasantly surprised! For sure you'll find an extremely semi pro girl, even not semi, like she does 'tricks' just occasionally to tide things over, or buy those wonderful shoes she's seen in an upmarket shoe shop! (has happened in reality).
BDSM
There are few dominatrix escorts and their services usually cost from 50 to 150€ an hour depending what kind of punishment you like. There are also few groups who have an interest on BDSM and they meet on regular bases, but it can be hard to get into these private parties. There the only BDSM room in Kaunas at www.sugarclub.lt
Dating
Dating in Kaunas can be a bit tricky due to cultural differences, so your best bet is to sign up for a dating site before your trip so you can meet a few locals ahead of time. AdultFriendFinder.com lets you meet local members in Kaunas and get to know them on a personal basis before you arrive. Take advantage of site features like live chat and member to member webcams so you can begin flirting before arranging a face-to-face meeting. Since your time in Kaunas may be limited, get to know each other's desires beforehand, so that when you meet you can start having some real fun.
How to find Sugar Babies and Sugar Daddies
If you are looking for an alternative to escorts in Kaunas with a girl who doesn't charge by the hour, sugar dating is the ideal solution. There are thousands of beautiful young women who are willing to do anything for a man who will help them pay their bills.
Often referred to as the "Tinder for Older Guys", Sugar Dating matches hot young women who are interested in pampering older gentlemen. You don't have to be a millionaire to meet a sugar baby. Click Here if you are a respectful gentleman who knows how to treat a woman.
Transsexuals and Shemales
Finding someone for transsexual dating when you're on the road can be a bit tricky, so your best bet is to sign up for a dating site before you go so you can find locals ahead of time. TSdates.com is a dating site designed to help you find exactly what you are looking for in your hookup in Kaunas. Take advantage of site features like live chat and member to member webcams so you can begin flirting before arranging a face-to-face meeting. With over 40 million members, and thousands of transsexual members around the world, TSdates.com is the world's largest site of sex-minded friends for discreet encounters and will help you find your next transsexual play partner.
Where can I find shemales in Kaunas? You can watch transsexual live sex shows in Kaunas as long as you are connected to internet. Check Now: Tranny Live Sex Video Chat
It can be very hard or even impossible to find any TS/TV/TG or CD escorts in Kaunas. Even in the capital city Vilnius there are only few tranny escorts. Because Ryanair does fly to Kaunas, it is very easy and cheap to take a flight to Dublin or London where you can find plenty of high class transsexual escorts.
Sexual Services for Women
Male escorts in Latvia usually charge about 50 to 100 Euro per hour. Some male prostitutes are strictly for men only, so make sure you find out if your boy toy is also willing to serve women if you are hiring one.
Sleeping and Girl Friendly Hotels
In the Kaunas 2-star hotel Metropolis it is usually not a problem to bring in a female company for the night. The hotels is located on Daukanto street 21, in the very heart of downtown close to museums, art galleries, theatres, cafes and nights clubs. Metropolis is located in a historic building with a grand staircase, wonderful stained glass windows and despite renovations, still keeps a bit of the soviet-style charm.
Stay Safe
Kaunas is usually a safe place but everyone should take some precautions against pickpockets and baggage theft, especially in public transport and at stations.
Opposite of the central train station there is a "Station' market" - a rough area, especially on evenings. The baggage lockers in Kaunas railway station are a cheap and secure place to store bags and other items.
See Also