Honolulu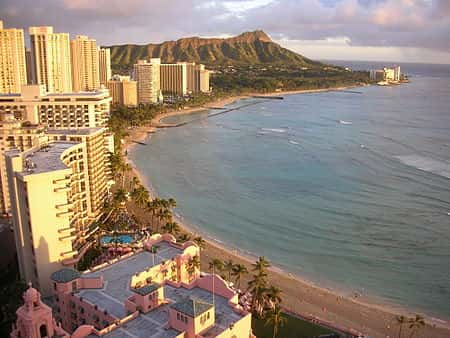 Honolulu Sex Guide advises where to find sex, working girls, prostitution, street hookers, brothels, red-light districts, sex shops, prostitutes, erotic massage parlors, strip clubs and escorts in Honolulu Sex Guide, Hawaii.
Honolulu, on the island of Oahu, is the capital and largest city of the state of Hawaii. It is the center of government, transportation, and commerce for the state; home to a population of nearly one million people in the metro area (80% of the state's population) and Hawaii's best known tourist destination, Waikiki Beach.
Sex and Prostitution in Honolulu
WikiSexGuide Does Not Support Any Illegal Actions.

Prostitution is illegal in the vast majority of the United States, except some rural counties within the state of Nevada. Due to a US law FOSTA/SESTA, WikiSexGuide doesn't publish any ESCORT, MASSAGE or BROTHEL ads in the United States.
For sex travellers planning a visit to Hawaii, there are some things that will seem very familiar. But in the way plants and animals that are isolated evolve (or, if you're a creationist, THE WAY GOD MADE EVERYTHING) their own peculiarities, so does the sex industry in the islands.
A quick note about women from Hawaii: the first thing that strikes tourists from the mainland and the newly relocated is how white people are in the minority. The ethnic makeup of Hawaii is made up of — for the most part people from Japan, Korea, China, Philippines and Portugal. Full blooded Hawaiians are extremely rare to find. More likely, though, the locals you meet (that includes hookers and strippers) will be a combination of all the above.
Honolulu Female Escorts
You can find very exotic looking escorts in Honolulu.
Red Light Districts
Kuhio Avenue is crawling with prostitutes soliciting sex at the night time and it is mainly called Red-light district of Hawaii. There is a variety of sexy escorts for everyone.
Kuhio ave is also full of hidden cameras used by police. Local pimps own most good looking prostitutes and strong arm robbery is very common.
Prostitutes and Sex Workers
First thing that comes to most peoples mind in Honolulu is "why are there so many prostitutes in Hawaii?" Is it legal there?...Answer is NO. But the locals does care about it because it brings so many tourists and money to the island. They have kind of attitude like the people living in Amsterdam. You can find one of the most beautiful escorts working in Hawaii.
A beautiful island 'style' girl will cost you hundreds even thousands of dollars. Quality and price are no different than a Las Vegas whore house.
Street Hookers
If you're walking down Kuhio Avenue or Kalakaua Avenue, Waikiki's two main drags, late at night you will see some of the most beautiful street hookers in the world. They are dressed in skin tight dresses and fuck-me pumps, there's no mistaking why they're out. They all have pimps and are connected to the local beach boy drug dealer thieves and strong arm robber types.
If you talk to them, though, they'll have no interest in you. But if you look like a tourist from Asia, they'll walk down the street with you, try to hold your hand and speak nearly flawless Japanese or Chinese. It's quite amazing, actually.
See, if you're a local that happens to be in Waikiki (most locals avoid Waikiki like the way Las Vegas locals avoid the strip), the street whores will probably pay no attention to you. If you're a tourist from the mainland, they won't be very interested either, though they might talk to you on a quiet night.
If you do pick up a street hooker in Waikiki, don't expect a girlfriend experience. It'll be full service, and once you're done, it's done.
Forget about the whole "not a clock watcher" thing, they're back out to find an Asian tourist who is willing to pay big money to lay a six foot tall blonde. Hawaii has more ladyboys and men dressed as women per capita than anywhere in the world. They're almost never local. They usually run a circuit from mainland cities like Los Angeles, Las Vegas, and Seattle before stopping off in Hawaii for two weeks.
If you go into downtown Honolulu, the area that seems to get most of the action is on the corner of Pali Highway and Kukui Street behind the Longs Drugs. Street hookers from Waikiki have been known to relocate downtown, but that's only if there's no action in Waikiki. This area is never a good spot for a prostitute since monitored by cameras and as well the local Chinatown gangs. Most common what you will find anywhere along hotel street or Kukui street downtown is a ladyboy, an old hideous woman, a drug addict or etc etc. Kukui street is a very popular spot for police decoy arrests also.
The downtown prostitutes are, for the most part, average to low quality. Don't expect much and if there's a time to make sure your cover up, it would be there. It is most likely for you to find a drunk American tourist downtown than a worthwhile hooker.
BJ in downtown is usually $40-$100 and full service costs $60-$200 and in other areas prices are higher., NONSENSE!
You might also want to make sure you're getting a woman who was born a woman, as transexuals are known to work the area.
See also: How To Pick Up Hookers in North America
Hookup with Local Girls
Meeting local girls and getting laid for free is fun! Read more on how to pick up girls in Honolulu: https://hookuptravels.com/wiki/Honolulu
Live Sex Cams
Can I watch Live Sex Cams in Honolulu? - Yes, you can! Basically you can watch our online live sex shows for free anywhere in the world if you're connected to internet. Join to get 10 free private teasers and 9.99 credits for free! You can choose any girl from our trusted Live Sex Cams!
Live Sex Cams are booming at the moment. Webcam models can be found from all over the world and you can find girls, guys, trannies, couples and groups of different ages performing to you. Watching live sex shows is usually free, but if you buy some credits, you will have much better chances to see adult action as desired! It's possible also to hire a webcam model to a private chat room where you can ask the person to fulfill your fantasies.
Where to Get Sex Now
It is easy to get sex online in Honolulu. You just need to find the best available girls. See Girls Online Here!
Adult Locations
There are good adult venues in Honolulu, for example the some of the rare full nude strip clubs in USA.
Escort Services and Agencies
Escorts in Honolulu who provide sexual services for money are considered as prostitutes. Prostitution is illegal in the United States, except some rural counties of Nevada.
WikiSexGuide Does Not Publish Any Escort Ads in USA.

Due to a US law FOSTA/SESTA, WikiSexGuide doesn't publish ESCORT ads in the United States. WikiSexGuide respects the FOSTA and SESTA Acts.

Finding an escort when you're travelling can be a bit tricky. If you are looking for escorts in Honolulu, Escort Directory is the ideal solution. There are thousands of beautiful young women at EscortDirectory.com waiting for your call!
Erotic Massage Parlors
Massage parlors in Honolulu are illegal if they are offering sexual services or happy ending, such as hand job, blow job or full service.
WikiSexGuide Does Not Publish Any Massage Ads in USA.

Due to a US law FOSTA/SESTA, WikiSexGuide doesn't publish MASSAGE ads in the United States. WikiSexGuide respects the FOSTA and SESTA Acts.
Brothels and Sex Clubs
Brothels in Honolulu are illegal. Many massage parlors, saunas, spas, and similar otherwise-legal establishments which serve as fronts for prostitution, are also considered as brothels. With the exception of some rural counties of Nevada, brothels are illegal in the United States.
WikiSexGuide Does Not Publish Any Brothel Ads in USA.

Due to a US law FOSTA/SESTA, WikiSexGuide doesn't publish BROTHEL ads in the United States. WikiSexGuide respects the FOSTA and SESTA Acts.
Strip Clubs and Striptease
Unlike many cities in the U.S., the City and County of Honolulu (all of Oahu falls under the City and County of Honolulu) allows a full bar with full nude strippers. This means that you have to be over 21 to get into the club.
The other big difference is that there's multiple ladies on the stages in most of the clubs. There's anywhere from two to six dancers on a stage at one time, depending on the club and what time you show up. However, there's no lap dancing in the City and County of Honolulu. The local police decided in the late '90s that a girls wearing a thong grinding against your trouser-, jeans- or shorts-covered junk constitutes prostitution. It's a shame, as the lap dancing scene was quite amazing back in the '90s.
Also, know the difference between hostess bars and strip clubs. The lady in hostess bars are just hustling for someone to buy them drinks. A little backroom action is not unheard of, but for what you're going to pay you might as well hit a massage parlor or an escort (more on those later). Exotic dancers get naked (obviously), but they'll also hustle for drinks, in addition to private dances and the making a play for the sucker's room (champagne room).
There's strip bars scattered around the island, from Waihiwa (which is adjacent to Schofield Barracks in central Oahu) and Pearl City, but you'll want to stick to "town" as the local folks call it.
Within walking distance of Waikiki and across the street from the Convention Center, you'll find two of the busiest strip bars on the island, Rock-Za and Femme Nu.
Femme Nu is off Kapiolani Boulevard (1673 Kapiolani Blvd., to be exact), and across the street from Ala Moana Shopping Center, an extremely high end mall. Femme Nu played the home away from home for many university students working their way through the University of Hawaii and Hawaii Pacific University. The strippers are mostly younger, a lot of them white, or as the locals call them haole, though there's a smattering of local dancers as well.
Rock-Za is a little further down Kapiolani Boulevard (1770 Kapiolani Blvd.) and within easy walking distance of Femme Nu. The girls here are slightly older and there's usually more plastic surgery than the dancers at the other clubs on the island. Again, the mix of dancers is mostly white with some local ladies, but the last time I was there in February, there were a fair amount of white local girls. A note about these clubs: don't go in expecting something swank or upscale like a Spearmint Rhino. These clubs are usually dark, usually lit by neon and the music is very loud with lots of hip-hop with decor from the early '90s. The attitude of the owners seems to be that if it works, why change it? Especially if it's cheaper not to change anything in their style.
But Club 939 (939 Keeaumoku St.) is like those upscale strip clubs in Los Angeles and Las Vegas and the only club in Hawaii that brings in features, though the club seems to charge more at the door for the privilege when they're there. Unlike most of the other strip clubs, there's usually one girl on the stage at a time, with those really plush chairs and tiny tables (like the upscale mainland clubs). It's within the same walking/stumbling distance of Femme Nu and Rock Za, depending on your level of sobriety.
Also, don't go in expecting to get laid at these bars. Most of the strippers will tell you straight up that they don't hook, though a few might lead you on and just leave you with an empty wallet and a very swollen case of blue balls. If you are going to try for something more, your best bet is at the smaller dive strip clubs.
Exotic Nights (909 Halekauwila St.) is closed. It was within a stone's throw of Ward Warehouse and Ward Center, but unlike Rock-Za and Femme Nu, you will need a ride to get there from Waikiki (or really, really like walking). It was in a more industrial part of Honolulu called Kaka'ako. This used to be the place to go if you wanted to see local ladies and you wanted the strong possibility of something a little more back in its heyday in the '90s. In its last days it was not as popular anymore.
Club Hot Ash is in Pearl City. There's no way you'll walk this from Waikiki or Honolulu and you'll need a ride. It's off Kamehameha Highway (593 Kamehameha Hwy.), and while it's not the best strip clubs on the island, it has its following because of its food and reasonable prices for drinks.
See also: Hawaii Strip Clubs
Karaoke and KTVs
KTVs (hostess karaoke bars) are popular in some parts of Asia but you cannot find any of them from Honolulu.
Swinger Clubs and BDSM
ALT.com is the best place for local singles, swingers, and couples in the BDSM community to connect with those interested in submissive sex, power exchange, locating persons for new slave roles, erotic BDSM, bondage & fetish sex, as well as live sex dates. Find thousands of play partners for whatever your fetish may be; bondage, foot, cockold, spankings, role-play, electric or water play, sadism and masochism. So whether you have the desire to explore your unrealized fetish fantasies, or you are extremely experienced and would love to train someone new, ALT.com is a community designed for people with like-minded interests to find and connect with each other.
Hawaii is a great destination for swingers. The weather is almost always great and there are also many open minded tourist couples. You can choose to opt for the paradise-erotica808 Group in order to enjoy swinging actions. One can even send emails at [email protected] for further enquiry.
Sex Shops and Adult Stores
If you don't feel like visiting or cannot find any local sex shops in Honolulu, you can easily order adult products from Online Sex Shop.
There's Aaxtion Video (1661 Kapiolani Blvd.), which mainly does business as an adult movie store. But being in the business of video rental or sales is dead end street and a good portion of the club is dedicated to a non-alcoholic strip club. It's the only strip club that allows 18-year-olds and up onto the premises, though to be fair most of the customers are soldiers, sailors and marines who are not old enough to get into the 21-plus clubs. The dancers are nothing to write home to, but there are private rooms in back where the dancers do their erotic shows. These rooms were, before the video store opened a strip club, peep show rooms.
Love Hotels and Short Time Hotels
Love hotels are popular in some parts of Asia, especially in Japan. There are also many love motels and short-time hotels in South America. Unfortunately you cannot find any real love hotels in Honolulu.
Nightclubs and Bars
There are many nice nightclubs and bars in Honolulu where you can try your luck to find sex for free.
Gay and Lesbian
Gay modeling in internet is getting more popular all the time and it's a big market alongside with gay porn. You can watch gay live sex also in Honolulu as long as you are connected to internet. Check it out: Gay Live Sex Video Chat
Between the Waikiki beaches, the Bishop Museum, the USS Arizona Memorial and rainforest hikes, you can find something for both the adventurous and laid-back gay and lesbian traveler. The best places for food are Downtown where you can find authentic Hawaiian meals and luaus. There are many gay beaches, surf clubs, and gay sporting events year-round to making it easy to plan a trip to the islands. Things are laid-back in Hawaii in general, but the gay scene can be a little bit closeted. You can find many great gay clubs, bars, indoor gay cruising places and saunas from Honolulu.
Gay Beaches
The most gay Oahu beach is Queen's Surf Beach, at the Diamond Head end of Kalakaua Avenue in Waikiki. A secluded area at the base of the lighthouse, off Diamond Head Road, is another good spot.
Other Adult Services
BDSM
There are few BDSM parties held occasionally and many escorts who offer dominatrix, fetish and role playing services. These types of services always cost extra.
Dating
Dating in Honolulu can be a bit tricky due to cultural differences, so your best bet is to sign up for a dating site before your trip so you can meet a few locals ahead of time. AdultFriendFinder.com lets you meet local members in Honolulu and get to know them on a personal basis before you arrive. Take advantage of site features like live chat and member to member webcams so you can begin flirting before arranging a face-to-face meeting. Since your time in Honolulu may be limited, get to know each other's desires beforehand, so that when you meet you can start having some real fun.
How to find Sugar Babies and Sugar Daddies
If you are looking for an alternative to escorts in Honolulu with a girl who doesn't charge by the hour, sugar dating is the ideal solution. There are thousands of beautiful young women at SecretBenefits willing to do anything for a man who will help them pay their bills.
Often referred to as the "Tinder for Older Guys", SecretBenefits matches hot young women interested in pampering older gentlemen. You don't have to be a millionaire at SecretBenefits.com, you just need to be a respectful gentleman who knows how to treat a woman.
Transsexuals and Shemales
Finding someone for transsexual dating when you're on the road can be a bit tricky, so your best bet is to sign up for a dating site before you go so you can find locals ahead of time. TSdates.com is a dating site designed to help you find exactly what you are looking for in your hookup in Honolulu. Take advantage of site features like live chat and member to member webcams so you can begin flirting before arranging a face-to-face meeting. With over 40 million members, and thousands of transsexual members around the world, TSdates.com is the world's largest site of sex-minded friends for discreet encounters and will help you find your next transsexual play partner.
Where can I find shemales in Honolulu? You can watch transsexual live sex shows in Honolulu as long as you are connected to internet. Check Now: Tranny Live Sex Video Chat
Fusion Waikiki, Honolulu (Waikiki) - 2260 Kuhio Ave. (2nd floor) , Honolulu, HI
Popular dance spot, open late, strippers/drag shows on Fri/Sat.
Downtown / corner of Pali Highway and Kukui Street
This area is known for streetwalkers and also popular area for transexual and Ladyboy hookers. Usually the cost is $50-$200 for full service depending your negotiation skills.
Most simple and maybe the safest way to find TS/TV/TG and CD girls is to look for the internet classifieds section. Price for half-hour with a tranny escort is $100 to $200 and full hour goes for $200 to $300. You have lots of options to choose from different looking trans-girls.
Sexual Services for Women
There are many male escorts in Honolulu and price for their services vary from $100 to $300 an hour. It is also very easy to find male company from the island.
Sleeping and Girl Friendly Hotels
Not surprisingly, most hotels in Honolulu are found in Waikiki or its vicinity. Generally Hawaii is most popular when the weather is the worst on the U.S. mainland. High season in Hawaii is mid-December to March (high rates and tight booking), and June to September (high rates but somewhat easier booking). Low season is from spring (April to June) and fall (September to mid-December), when the best bargains are available.
Stay Safe
Although Honolulu is relatively safe as far as violent crime goes, the risk of property crime is much greater. Take particular care when parking vehicles in popular tourist spots, especially Diamond Head and the Halona Blowhole near Sandy Beach; always lock your vehicle; and do not leave ANY valuables in your car. Keep all valubles within sight and within reach at all times. Your car is not a safe place to store anything: Thieves have commonly dismantled locks and broken into vehicles, or conversely will just bash open your window to get in. Use extra caution when visiting less savory parts of town, including the Chinatown district after dark, but during the day you should have no problem.
See Also