Herbertstraße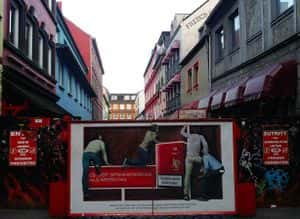 Herbertstraße Sex Guide advises where to find sex, working girls, prostitution, street hookers, brothels, red-light districts, sex shops, prostitutes, erotic massage parlors, strip clubs and escorts in Herbertstraße, Hamburg.
WARNING: Some women are scamming people on the Reeperbahn in Hamburg, both street walkers, who will take you to an apartment, and women in windows on Herbertstrasse. They will agree to things for 30 or 50 Euros, take your money, put it away out of the room, then return and demand more money and never render the service. Instead, they will insist you go to an ATM for more money. I would avoid going to Hamburg until someone ends this practice. (WikiSexGuide User, June 2016)


Recommendation: Never pay anything advance, just show her the money if the girl insists you to pay first. If showing the money is not enough for her, just walk away.
Sex Scene and Prostitution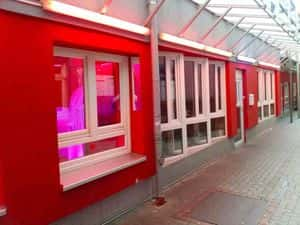 The Herbertstraße (formerly Heinrichstraße) is a street in Hamburg's St. Pauli district. The narrow, short street is notorious for its prostitution (about 250 women work here), with the prostitutes sitting in windows and waiting for customers.
Historically, Herbertstraße was the only area where prostition was tolerated in Hamburg. In 1933, the nazi authorities erected wooden screens to hide the illegal activities. Today, prostitution is legal in Herbertstraße as well as in surrounding parts of St. Pauli and other designated areas within Hamburg.
In the 1970s police added signs advising youths and women against entering: the former for reasons of protection against harmful influence, the latter because prostitutes would actively seek to chase any women who entered away, thus cause trouble.
At present, Herbertstraße is still in operation and has become a tourist attraction for visitors of Hamburg. Similar brothel streets of less publicity exist in various German cities, e.g. Aachen (Antoniusstraße), Bochum (Im Winkel), Braunschweig (Bruchstraße), Bremen (Helenenstraße), Bremerhaven (Lessingstraße), Hagen, Minden (Rampenloch), Mannheim (Lupinenstraße), Essen (Stahlstraße), Duisburg (Vulkanstraße), Oberhausen (Flaßhofstraße), Düsseldorf (Hinter dem Bahndamm), Dortmund (Linienstraße), Hannover (Ludwigstraße) and Karlsruhe (Brunnenstraße).
Herbertstraße isn't named after a person, but is part of a system of streets in the area named alphabetically after male given names (just as Davidstraße, Erichstraße, Friedrichstraße, Gerhardstraße etc.).
See Also