Antigua Guatemala
Antigua Guatemala Sex Guide advises where to find sex, working girls, prostitution, street hookers, brothels, red-light districts, sex shops, prostitutes, erotic massage parlors, strip clubs and escorts in Antigua, Guatemala.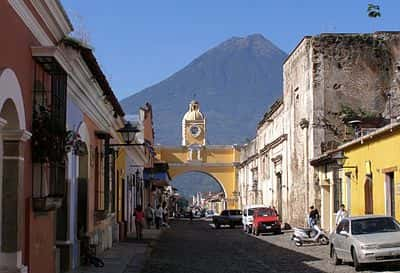 La Antigua Guatemala was the colonial Spanish capital of Central America. It is a World Heritage Site, and is perhaps the most popular tourist destination in Guatemala.
Sex Scene and Prostitution
In Guatemala, prostitution itself is legal but procuring is prohibited (brothels or prostitution rings are illegal).
Antigua is one of the world capitals of the "Ladies Night". Pretty much every night of the week there is a ladies night going on with cheap or free drinks for ladies and some minor restrictions on guys. Usually this means something like a 10Q cover or the requirement of actually buying a drink if you're a guy. Make sure to pick up a free copy of Que Pasa Antigua which will have all the listings of music, art, etc. They even have a Ladies Night Calendar and a map inside. Backpacker tourist girls should be quite easy. Problem with the local girls is that they are mostly ugly.
Where to Get Sex Now
It is easy to get sex online in Antigua Guatemala. You just need to find the best available girls. See Girls Online Here!
Red Light Districts
There is no red-light district in Antigua.
Prostitutes and Sex Workers
Prostitutes in Antigua are asking around 150Q for 30 minutes in clubs or brothels.
Street Hookers
You cannot see many street walkers in Antigua.
Strip Clubs & Lap Dance
Strip clubs in Antigua:
A part of Antigua called " La Colonia de las Bellezas " where for 15Q a tuk-tuk driver can take you. There are 2 clubs operated by the same owner.
The first one can bear the comparison with a North American strip-tease club : modern comfortable chairs with table or semi-circular padded seating for 3 or 4 persons against the wall, modern bar well stocked with drinks in the range of 3-4 dollars a glass, one large flat-panel color TV screen showing music videos and one small screen, a dancers pole stage, a good multicolor lighting system. Just ask the tuk-tuk driver to take you to the more modern club in this square called "La Colonia de las Bellezas". About 6 to 7 young girls. About 6 on a scale of 10. All in a G-string showing their nude behinds assorted with sexy brassieres; they look at you but will not bother you unless you signal for them. The going rate 200Q for 20 minutes.
The second club operated by the same owner in the same square is located 150 steps on the right side from this modern one; it is smaller in size, with less comfortable chairs, smaller bar and with girls older in their thirties and generally fully dressed. About eight girls. About 5-7 on a scale of 10. The going rate is 150Q for 20 minutes.
From these two clubs for 1000Q (about 125 USA dollars) you can take a girl out for the night to your place.
Brothels
Brothels (casas) in Antigua:
Colonia de Bellezas area. Several casas in the neighborhood. At night. It's just a long walk from the main park.
Jocotenango area (a very small town at 5 minutes' ride from Antigua) and it's hookers place called by tuk-tuk drivers as " La Plazuela" where you can find young girls 20 - 35 years old for 100 Quetzales for a 20-minute play in bed. Be careful here! This club works directly with the cops and they have stole many customers' money.
Erotic Massage Parlors
Erotic massage parlors in Antigua:
Nefertiri Spa, normal massage around 200Q and happy ending (HJ) around 400Q. Pretty expensive for a HJ.
Live Sex Cams
Can I watch Live Sex Cams in Antigua Guatemala? - Yes, you can! Basically you can watch our online live sex shows for free anywhere in the world if you're connected to internet. You can choose any girl from our trusted WikiSexLive.com! Join to get 10 free private teasers and 9.99 credits for free!
Live Sex Cams are booming at the moment. Webcam models can be found from all over the world and you can find girls, guys, trannies, couples and groups of different ages performing to you. Watching live sex shows is free, but if you buy some credits, you will have much better chances to see adult action as desired! It's possible also to hire a webcam model to a private chat room where you can ask the person to fulfill your fantasies. Try now! WikiSexLive.com
Dating
Dating in Antigua Guatemala can be a bit tricky due to cultural differences, so your best bet is to sign up for a dating site before your trip so you can meet a few locals ahead of time. AdultFriendFinder.com lets you meet local members in Antigua Guatemala and get to know them on a personal basis before you arrive. Take advantage of site features like live chat and member to member webcams so you can begin flirting before arranging a face-to-face meeting. Since your time in Antigua Guatemala may be limited, get to know each other's desires beforehand, so that when you meet you can start having some real fun.
How to find Sugar Babies & Sugar Daddies
If you are looking for an alternative to escorts in Antigua Guatemala with a girl who doesn't charge by the hour, sugar dating is the ideal solution. There are thousands of beautiful young women at SecretBenefits willing to do anything for a man who will help them pay their bills.
Often referred to as the "Tinder for Older Guys", SecretBenefits matches hot young women interested in pampering older gentlemen. You don't have to be a millionaire at SecretBenefits.com, you just need to be a respectful gentleman who knows how to treat a woman.
Swinger Clubs and BDSM
ALT.com is the best place for local singles, swingers, and couples in the BDSM community to connect with those interested in submissive sex, power exchange, locating persons for new slave roles, erotic BDSM, bondage & fetish sex, as well as live sex dates. Find thousands of play partners for whatever your fetish may be; bondage, foot, cockold, spankings, role-play, electric or water play, sadism and masochism. So whether you have the desire to explore your unrealized fetish fantasies, or you are extremely experienced and would love to train someone new, ALT.com is a community designed for people with like-minded interests to find and connect with each other.
Transsexuals / Shemales
Finding someone for transsexual dating when you're on the road can be a bit tricky, so your best bet is to sign up for a dating site before you go so you can find locals ahead of time. TSdates.com is a dating site designed to help you find exactly what you are looking for in your hookup in Antigua Guatemala. Take advantage of site features like live chat and member to member webcams so you can begin flirting before arranging a face-to-face meeting. With over 40 million members, and thousands of transsexual members around the world, TSdates.com is the world's largest site of sex-minded friends for discreet encounters and will help you find your next transsexual play partner.
Where can I find shemales in Antigua Guatemala? You can watch transsexual live sex shows in Antigua Guatemala as long as you are connected to internet. Check Now: Tranny Live Sex Video Chat

You have to be lucky to find shemales in Antigua.
Gay and Lesbian
Gay modeling in internet is getting more popular all the time and it's a big market alongside with gay porn. You can watch gay live sex also in Antigua Guatemala as long as you are connected to internet. Check it out: Gay Live Sex Video Chat
Lesbian, gay, bisexual, and transgender (LGBT) persons in Guatemala may face legal challenges not experienced by non-LGBT residents. Both male and female same-sex sexual activity is legal in Guatemala, but sexual or gender identity is not expressly protected from discrimination and same-sex couples and households headed by same-sex couples are not eligible for the same legal protections available to opposite-sex married couples.
Antigua Guatemala is a very popular place for gay tourism. That means there's a lot of good restaurants, art, etc. It's an excellent location for a gay couple's trip or even for a getaway apartment purchase.
Sexual Services for Women
If you like local men (they are mostly short), it's not difficult to find sex. There are also male tourists looking for some fun.
Sex Shops and Adult Stores
If you don't feel like visiting or cannot find any local sex shops in Antigua Guatemala, you can easily order adult products from Online Sex Shop.
Escort Services & Agencies
Finding an escort when you're travelling can be a bit tricky. An ideal solution for having an alternative for escorts is Ashley Madison. There are thousands of horny girls waiting for you. Find all the beautiful young women at AshleyMadison.com!
Great Companion Beautiful ladies, good service, all fantasies and very discret 24/7 WA +502 48775645 talk with Susana
Sleeping
There is a good selection of places to stay. From cheap hostels to expensive hotels.
Stay Safe
Due to the presence of the "Tourist Police", Antigua is much safer than any other city in Guatemala. However, the tourist police are present only within the city. During the daytime, your risk of getting robbed in Antigua is small. If you leave the tourist areas, carry valuables conspicuously, or walk the streets at night, there is risk. This is especially true when the police change shifts. It is probably best to leave your passport in your hotel safe or local home and to carry a photocopy instead. If you are robbed, you will not need to go the consulate for paperwork. ATMs are available, so an ATM card should be carried for instant cash. Never resist an armed robbery anywhere in Guatemala, as criminals will not hesitate to use their weapons on uncooperative victims.
Hiking the Volcan de Agua is highly discouraged. Numerous robberies and some kidnappings have occurred there. Most reputable tour operators do not offer this hike, as it is too dangerous. Some guides will take groups up, but it is not recommended unless they are armed and willing to give their lives in your defense (such as a police escort).
If you have to travel much, a money belt can be strapped to your waist, and a simple wallet with few dollars can be handed to a robber if one is encountered. There are many places on your body and clothing to hide a few extra bucks or a credit card. Crime committed against women is often not publicized. While Guatemala might be a safe place for some, a woman might be safer riding on a crowded public bus than hailing a tuk-tuk or taxi from an unknown driver.
Almost all bars and restaurants will be happy to call you a taxi. Asking the bar staff to call the taxi for you, instead of looking for one yourself, can be a good idea since the staff tend to know the drivers they are calling. Ask them what the price should be beforehand, and also ask them to confirm the price with the taxi or tuk-tuk when they arrive. In Antigua, many locals consider the buses safer than a tuk-tuk.
In crowds, it is unlikely that you will be robbed. However, tuk-tuks have been blamed for taking tourists to obscure areas to rob them. If your bar or lodging arranges your tuk-tuk, it likely will be safer.
During peak tourist times, like Semana Santa or any major festival in Antigua, pickpockets abound and it is wise to keep a hand on your wallet. When walking through the crowded market, keep your bags in front of you, since there are thieves who use razors to cut the fabric to gain access to the contents.
If you plan to visit sights like "La Cruz" outside town, make sure you go with an officer of the tourist police who accompany tourists there at least once a day.
The municipal water supply in Antigua is treated with chlorine. However, it is not completely safe. Still, drink agua del garrafon or agua embotellada (purified bottled water), and not agua del chorro (tap water). Some homes and restaurants have purified water in 5 gal bottles and serve it in glasses. Ask if the ice is made from purified water.
If you are lucky, you will not have any illnesses in Antigua. However, most long-term visitors may encounter a case of food poisoning or bacterial or viral enteritis. The best way to treat it without a physician's intervention is to buy packages (sobre) of re-hydration solution (solución de rehidratación oral). It is a simple mix of potassium, sodium, and glucose. Most cases of food poisoning or intestinal infections can be blamed on street vendors with unrefrigerated sauces or paste, but home cooked meals can also be the cause. Street vendor food is cheap, but you should avoid it unless you have been eating it daily. A virgin stomach often cannot handle the common bacterial toxins found in unrefrigerated sauces, slaws, and cold marinades. Piping hot, wrapped, boiled food is likely safe, but might not be completely free of all toxins.
It is best to avoid ceviche due to potential risk of bacteria like cholera. Fresh salads should not be consumed for concern of contaminated irrigation water. Strawberries have been known to pass hepatitis A due to contaminated irrigation water. If you prepared your own salad or strawberries, soaking in bleach solution or iodine is advised. All fruits should be washed or peeled before eating. Undercooked meat should be avoided due to encysted parasites, unless imported high grade beef is assured at a well-known restaurant. Fresh cream is often served at the table, but unless you are sure it is pasteurized or precooked by the family, it is best to avoid putting it on your food. Going barefoot or with sandals is the norm, however hiking with them or going barefoot might lead to "cutanous larva migrans", where hookworms larvae penetrate and cause itchy red curves and lines a few days later. Wear shoes and socks, if you walk off the pavement.
See Also